Incredible skating at 4CC this year!! For the last few years 4CC has been like a small preview of worlds. Well if the main event is anything like the preview, we are in for at treat in London this year!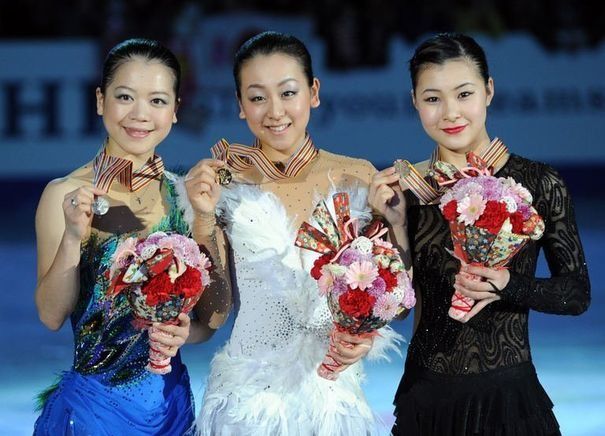 Japan sweeps the podium!
Final results:
Mao Asada (JPN): 74.49 (SP) + 130.96 (FS) = 205.45 (1st)
Say what you will about my girl Mao but there is one thing no one can deny: she is one ballsy skater! Regardless of what happens at worlds next month, this competition is proof that no matter what people say about her, Mao is an amazingly talented and gutsy competitor.
The top skaters in this sport have been under fire for the last few seasons. There's been a lot of rumbling about how ladies' skating has regressed in terms of technical content since the 2009-2010 season. I agree to a certain extent, but then again the warm and fuzzies I get from skating never had anything to do with the jumps; I'm much more invested in the artistry, expression and overall aesthetic appeal of the sport. Don't get me wrong, good jumps are a necessity…but I haven't been shitting bricks like some fans are just because skaters aren't doing 3-3s in every program. Perhaps no one took more flak for the lesser content than Mao Asada, who was known as a jumping powerhouse back in the day with her various 3-3s and her famous 3A. We hadn't seen those highlights in a very long time…until this past weekend…
Mao pulled a lovely 3A out of her back pocket in the SP and got full credit for it. The rest of her elements were pristine and well executed and she electrified the home crowd and judges alike with her amazing footwork, earning seven out of nine +3s in GOE which added 2 whole points to her score. I tend to have issues with PCS propping but I think Mao's PCS for this program were very fair, averaging low to mid 8s. She posted the highest SP score we've seen since Vancouver and set herself up nicely for a stroll to gold in the FS.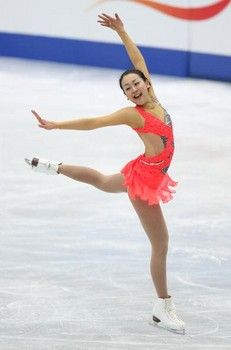 Line + Extension + Joy
Considering all she needed was a semi-solid performance of the content she's been doing all season long, I was shocked to see Mao go all-out for this FS. No one can accuse her of playing it safe anymore: 3A, 3F-3L and 2A-3T plus four other triples…an eight triple program! That's what Mao is shooting for. Unfortunately she doubled her salchow and got
<
calls on all three of her difficult elements but the point is she went for them and stood up on them. That kind of determination will pay off in the end…it always does. Even with the deductions Mao scored a season's best in her FS, broke the 200 point mark, won gold and brought her season record to 5 for 5. Undefeated.
I take my hat off to this girl, I really do. With this level of content and the determination and fight Mao has become known for, she's definitely someone to look out for. The main thing is having the big tricks hit when they're needed. The danger of pulling out the 3A in the SP is if she misses it, she's basically out of the medal hunt…however, with her content in the FS (3A + 7 triples) she may be able to afford a mistake in the SP but only if she's clean in the FS. If by chance the stars align and she nails everything, I don't think anyone can beat her…not Yu-Na, not Carolina. When Mao is at the top of her game both artistically and technically, she is untouchable. As always, the difficult jumps are a gamble for Mao. But with the trump cards she has up her sleeve, everyone else may want to check the table for now…
Akiko Suzuki (JPN): 65.65 (SP) + 124.43 (FS) = 190.08 (2nd)
I won't lie. I was worried about Akiko after nationals. She seemed really down and a little defeated by her placement there. I wasn't sure if she was injured or just tired or what…but I was worried. Needless to say I was thrilled with her performances here.
Akiko's SP was perfection. You know, at the beginning of the season I wasn't a fan of her Kill Bill program but it has really grown on me. Now that I'm used to the music and the overall feel of the program I can really appreciate what she's done. It's so different from anything else she's ever done but it really works for her. Akiko hit her 3T-3T and the rest of her elements, earning level 3s and 4s for everything. The crowd absolutely loves her and, thankfully, the judges showed some appreciation as well.
Akiko is comin' for ya...
Akiko's Cirque FS has become a highlight of the season for me. After the disappointment at nationals, to deliver this program so well should be a great confidence boost for Akiko heading into worlds. Other than the popped axel at the beginning, Akiko fought for everything and landed all of her jumps (no
<
). Her step sequence is so beautiful (wonderful use of her upper body in time with the music) and the spiral sequence at the end…I doth swoon! Hands down, the best spiral sequence of the season. Akiko posted a great score and easily sailed into second place and a silver medal.
I'm so proud of her for bouncing back so well. Akiko's chances of getting to the podium this year aren't that great but with performances like these she'll be able to put pressure on the favorites to perform. I simply adore her and I'm so proud of what she did here.
Kanako Murakami (JPN): 64.04 (SP) + 116.99 (FS) = 181.03 (3rd)
It has been so much fun watching Kanako grow up into the skater she's become. She's slowly coming into her own as a skater and really creating an identity for herself. Kanako started off roughly at the beginning of the season but she's been gaining steam heading for worlds…
I give a lot of credit to whoever picks Kanako's music: they really know what they're doing. She has lovely music selections. Her SP music is so beautiful! I really like the delicacy of the program and I thought she did a wonderful job with it here. Kanako's 3T-3T received full credit plus an extra point from GOEs which gave it a total value of 10.02 points. Putting it in the second half pays off well when she hits it…same with the 3F. Kanako posted a season's best score and was about a point and a half out of second place going into the FS.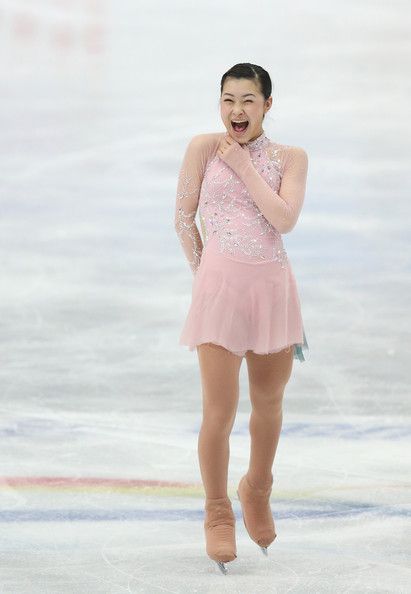 I just love her spirit!
This FS is another program I really love. Kanako's face isn't nearly as expressive as her movement is during most of the program. Usually, you need to see it both in the face and in the movement…but for Kanako it works. I totally believe what she's selling because I can
see
it in her movements. Jump wise however, this performance wasn't her best. Three
<
calls shaved some points off of her score but she did enough to secure third place in the segment and third overall.
If Kanako can clean up some of those
<
calls she'll be in much better shape. Her 5th place finish at worlds last year was excellent, but it will take a lot more to make the top five this year. The field is much deeper and much more competitive this year than it was last year so she'll need every point she can get. Great to see her do well here!
As for the rest…
Suck on that, USFSA!
Christina Gao (USA; 176.28)
placed
4th
and continued the tradition of the lower ranking US skater beating out the higher ranking US skaters. Christina placed 5th at nationals but managed to outskate both the silver and bronze medalists (Gracie Gold and Agnes Zawadzki) at this competition. Her SP was lovely and her FS was solid enough (one fall on the 3Lz). Not only was Christina's placement here a great way to end her season, it was a perfect F-U to the USFSA for not giving her her due for what she's done this year. Let's face it, she got hosed at nationals...she should have placed 3rd, not 5th.
For next season I'd love to see Christina work on her on-ice presence. Visually, she's striking: tall, long arms and legs, gorgeous face, nice lines, beautiful jumps. Unfortunately, the impact of her skating isn't big enough. Like I said after nationals, Christina and her team need to come up with something that's going to get her noticed. She needs music or a character that's going to jump out at the judges and really grab them. As of now her skating is nice but doesn't leave a big enough impression. But for now, this was a solid competition for her and she should be very proud.
Under the radar and flourishing
Zijun Li (CHN; 170.42, 5th)
has had a wonderful debut senior season. She hasn't medaled but she's placed top 5 at
every single event
. That shows she is skating strongly but more importantly, it shows that the judges
do
see her… they just aren't
focusing
on her right now which, for a newbie senior, is perfect. She's flown under the radar and I think that's the best possible way to debut. Unlike Gracie Gold and Kaetlyn Osmond who have been deluged with hype, expectation and pressure, Zijun has quietly made her mark this year. She's been able to adjust to senior level skating away from the limelight and, ultimately, I think that has worked out in her favor. She's been able to produce some very nice performances and good results. I'm so proud of her!
Still not golden...
Gracie Gold (USA; 166.66; 6th)
is looking more like pyrite right now (…I couldn't resist). After nationals I think people were hoping she'd finally gotten a handle on her nerves but no such luck. Judging by her performances so far this season, I am very worried about her going to worlds. She has yet to put together two great performances. The closest she came was COR but that score of 175.03 (her highest internationally) would have only been good enough for 5th place here, and that's not including where she would place if Yu-Na, Carolina, Ashley and the Russians were in the mix.
It's a tall order to ask a newbie to deliver at the most stressful event she's ever competed in but that's what Gracie is going to have to do at worlds. For me, her skating is something akin to staring at a blank wall; she bores the snot out of me. However, her jumps are some of the best in the field. The rest of her skating will develop (hopefully) but for now, she has to do what she does well and that is jump…and
land
the jumps and, unfortunately, she hasn't been doing that consistently at all this season. My confidence in her abilities is pretty low right now...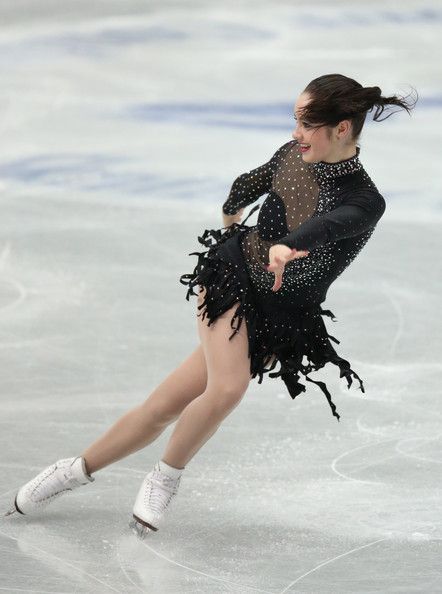 Welcome to the senior level, newbie!
Kaetlyn Osmond (CAN; 159.38)
was a victim of the over-hype monster as well, though to be fair she's the greenest of the newbies. Her only major senior event was Skate Canada; the rest of her competitions have been Senior B types…nothing on the big stage. She struggled through both of her programs and was unable impress the international judges. This was something Kaetlyn needed to get out of the way. Hopefully the initial shock of competing on the big stage will wear off and she'll be able to relax a bit more heading into worlds. However, like Gracie, Kaetlyn is untested. She'll have an advantage skating in front of a home crowd but in order to benefit from that she'll have to deliver.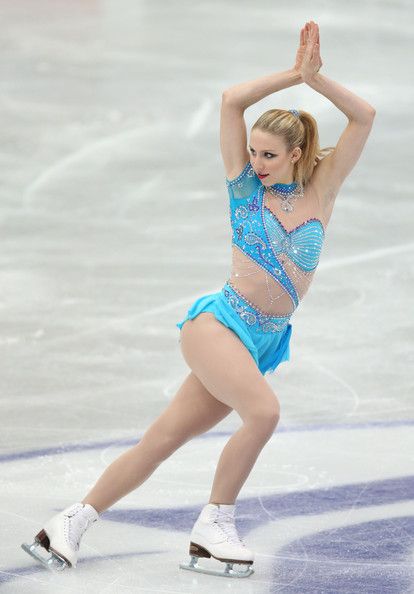 Still not buying it...
Agnes Zawadzki (USA;158.99; 8th)
is not inspiring much confidence either. Agnes is in a Rachael Flatt-type relationship with the USFSA right now. The USFSA held Rachael in very high esteem while she was competing; internationally, however, she was nowhere near as revered or respected. We're getting the same thing with Agnes right now only to a higher degree. At least Rachael medaled consistently while the USFSA was pushing her. I see their motive behind pushing Agnes: her jumps are monstrous and she's pretty decent at everything else. But she's not producing internationally and, in turn, the international judges don't give two farts about her. If Agnes can't deliver some decent skating she'll never get the international cred she needs. At some point the USFSA will realize this…at some point.
Amelie Lacoste (CAN; 155.08; 9th)
is still searching. I'm sure she wanted to leave a better mark than that as her exit for the season but…oh well.
Kexin Zhang (CHN; 148.34; 10th)
had a decent enough return to skating. Is it just me or did she look as though she didn't really want to be there? Especially in her FS...after she missed that spin I thought she was about to quit. Kexin could be a real player in this sport but she is just so dead when she skates. No kind of anything on her face…she's very cold which makes her tough to enjoy. Good to see her back though.
4CC was a wonderful competition for some and not so great for others. With worlds about a month away, we have plenty to speculate about and this competition did nothing but add more fuel to the fire. One thing is for sure…worlds is going to be intense this year! I can't wait!