And the Russian domination continues! For the second year in a row the Russian ladies made it a clean sweep, nabbing all three spots on the podium.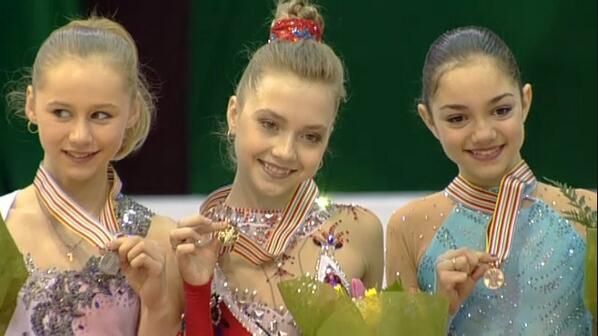 Back-to-back titles for Elena, and back-to-back sweeps for Russia
The final standings: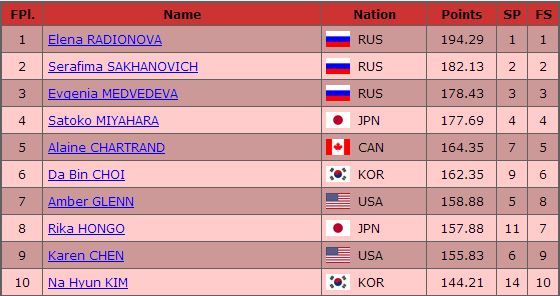 Elena Radionova (RUS): 66.90 (SP) + 127.39 (FS) = 194.29 (1st)
Can't say that I'm surprised to see Elena come out on top here. She has been extremely consistent and very focused all season long. I was a little worried about her coming into this competition only because she'd had an injury and sometimes it takes skaters a minute to get their legs back under them...not Elena. Her SP was perfection: 3Lz-3T, all level 4 elements and the highest PCS of the segment. She went into the FS and nailed everything yet again: 7-triple jumps including two 3-3s, all level 4 spins, level 3 footwork and, again, the highest components of the segment. With this win, Elena becomes the first junior lady to defend her world title. Perfect ending to an amazing season!
Serafima Sakhanovich (RUS): 64.75 (SP) + 117.38 (FS) = 182.13 (2nd)
Serafima delivered two of her strongest performances of the season. It took her a while to get going on the JGP earlier last year but she seems to be much better at controlling her nerves and delivering under pressure. Serafima had a strong SP (3F-3T, all level 4 elements) and placed 2nd, right on Elena's heels. She gave it everything she had in the FS, including 7 triples (two 3-3s) and all level 4 elements. She did lose points on both of her lutzes (
e
) but overall, she was very strong, finished 2nd in the segment and 2nd overall. I'd like to see her stand up a little straighter on her landings (she lands very low in her knees and drops her back) as well as work on centering her spins (her layback traveled non-stop in both programs). Great ending to her season as well.
Evgenia Medvedeva (RUS): 63.72 (SP) + 114.71 (FS) = 178.43 (3rd)
Evgenia was a last minute replacement for the injured Maria Sotskova, so I wasn't too sure what to expect from her. Thankfully, like the rest of her Russian teammates, Evgenia showed up to compete. She gave a very strong and charming performance in the SP (3F-3T, all level 4 spins, level 3 footwork) and landed in 3rd place. The FS wasn't as smooth for Evgenia. A fall on a 3F(
<
),
e
on her 3Lz, and a level 1 spin cost her several points. I do think Evgenia was slightly overscored in PCS but, lucky for her, she was able to retain her positioning and finish in 3rd in the FS and 3rd overall, edging out Satoko Miyahara for bronze.
As for the rest...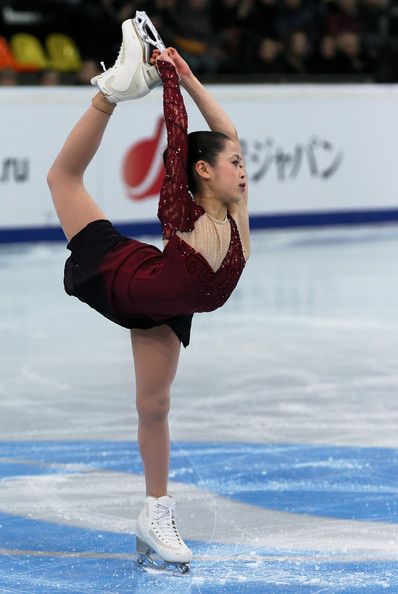 Lowballed again...
Satoko Miyahara (JPN; 177.69, 4th)
was robbed here. I do feel and have always felt as though Miyahara gets the short end of the stick when it comes to PCS. I think she was lowballed on CH and IN, and should have been higher in SS and PE as well. Miyahara wasn't perfect here (two
<
in the FS) but I do think she should have edged out Medvedeva for bronze.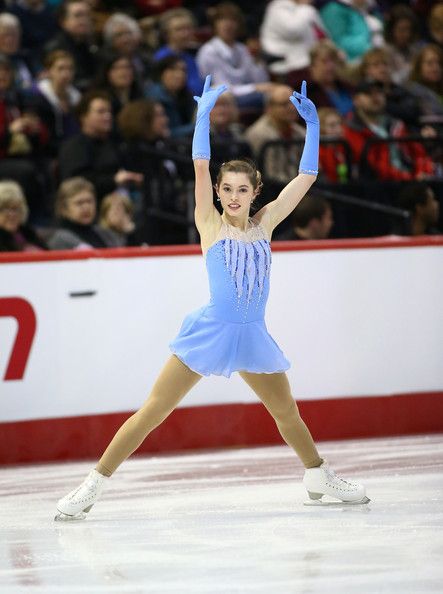 Another potential player for Canada
Alaine Chartrand (CAN; 164.35, 5th)
was another surprise here. She has really stepped her game up and it appears to be paying off. Alaine struggled in the SP, falling on her opening 3Lz-3T and flubbing her 2A, but she fought back in the FS with 7 triples including a 3Lz-1L-3S. She finished 5th in the segment and moved up from 7th to 5th overall.
Da Bin Choi (KOR; 162.35, 6th)
looks as though she could be one of the brighter prospects for Korea. She's got the jumps and the good technique, now all she needs is to deliver consistency and really learn to perform and sell her programs. I was impressed with her here.
Lots of potential here...
Amber Glenn (USA; 158.88, 7th)
was the top US finisher here. I think she shows a lot of promise moving forward. She's gutsy enough to go for the two 3-3s in the FS but she'll have to work on cleaning up her technique (3F got dinged with
e
) and getting the jumps around (two
<
s and one
<<
). Very strong showing in her only her 2nd international event.
Karen Chen (USA; 155.83, 9th)
is still recovering from her injury. I think she's been out of the game for a while so it's going to take her a while to get back into the swing of things. She struggled in the SP and was the only skater in the top 10 not to attempt a 3-3. She fought back in the FS but several
<
s and smaller mistakes took her out of it.
Strong skating from the junior ladies to wrap up this season. Congrats to Elena, the only two-time world junior champion! Next will be the final event of the senior season: the world championships in Saitama, Japan! Ladies preview coming soon!