Lordy, this has been one busy year for figure skating! After a very long season we're down to the final events: the World Championships. Junior Worlds takes place in Sofia, Bulgaria from March 10-16. Let's take a look at the top contenders on a team by team basis...
Elena Radionova, Serafima Sakhanovich, Evgenia Medvedeva
Russia's depth in the ladies field (both junior and senior) is
redonkulous
. Russians have owned this event for the past five years, winning gold 4 out of 5 times. Additionally, there have been at least two Russian ladies on the podium the last three years running, including last season where they swept the podium. Given the strong competitors this year, there's a very big possibility Russia may sweep again.
Elena
has had an amazing season. Her debut on the senior level was excellent: medals at both of her GP events and 4th at the Final. She placed 3rd at senior nationals but, due to an injury, did not compete in junior nationals. Originally, Elena was listed as a substitute but now that her injury is healed, she is on the roster and will lead this Russian ladies team. No lady has ever won back-to-back junior world titles so, as defending junior world champion, Elena could make history here. She'll face some solid competition but given Elena's technical content, experience, momentum and "it" factor, I think her chances of repeating are very good.
Serafima
had a great JGP debut season. She finish 4th at JGP Slovakia before winning gold at JGP Estonia and taking silver at the JGPF. Serafima placed 6th at senior nationals but rebounded at junior nationals where she won gold. She has the technical goods to go head-to-head with Elena and the rest but she will have to stay focused, especially in the SP where she tends to make mistakes.
UPDATE: Maria Sotskova
was originally listed as the third member of the Russian ladies team but she has had to withdraw due to injury.
Evgenia Medvedeva
is now listed as Maria's replacement. Evgenia won both of her JGP events this season and placed 3rd at the JGPF. She was 7th at nationals and 4th at junior nationals. Like her teammates, Evgenia is in a great position to medal. Even with Maria out, Russia's chances of a sweep are still very strong.
Karen Chen, Amber Glenn, Tyler Pierce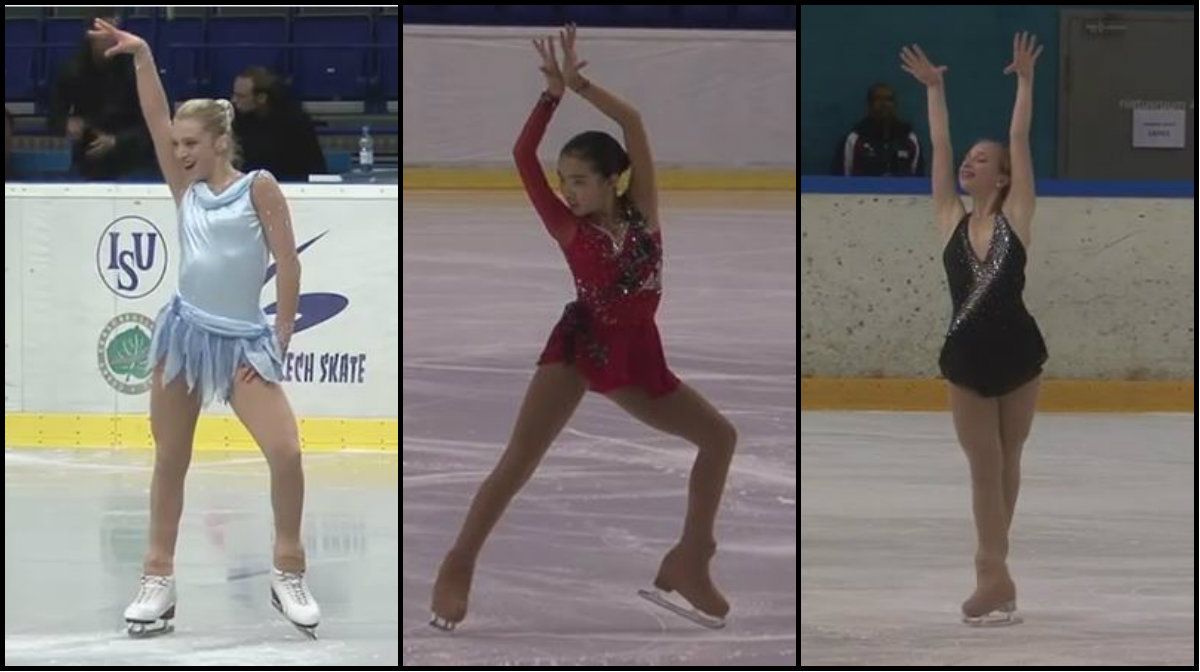 L to R: Glenn, Chen, Pierce
The American ladies aren't nearly as deep as the Russians but they have a strong podium threat as well as a skater who can shake up the standings.
Karen
started off her season well by placing 3rd at JGP Riga Cup and winning JGP Kosice; however, an injury forced her to withdraw from both the JGPF and junior nationals. Karen has excellent speed and ice coverage and an expressive personality on the ice. She has the goods to compete with the Russians though she has struggled with getting her 3-3s ratified in the past. The biggest issue is no one is sure what shape Karen is in after being down with the injury for so long. If she can get those jumps around and sell her programs, I think a podium finish is a strong possibility for her.
Amber
placed 3rd at her only JGP event this season (JGP Czech) and is the 2014 US junior national champion. Where the Russian girls tend to rule everyone is in the technical content but Amber has a full arsenal of triple jumps that includes a 3F-3T in her SP and two 3-3s in her FS (3F-3T and 3Lz-3T). If she can hit her jumps and sell her programs, she may be able to put pressure on the favorites.
Tyler
placed 6th at her JGP event this season (JGP Estonia) but went on the capture silver at junior nationals. I love Tyler's expressive skating and she has really lovely programs as well. Unfortunately for her it's going to be an uphill battle to make it to the podium. Tyler doesn't have enough technical content to challenge for the top but if she skates cleanly and sells her program, she should place well.
Rika Hongo & Satoko Miyahara
Miyahara and Hongo
The depth of the Japanese ladies isn't what it used to be. Unlike Russia and the US, whose team is not the same as last year, both Satoko and Rika represented Japan at junior worlds last year.
Rika
has had a solid season. She placed 4th at JGP Mexico Cup and 3rd at JGP Minsk. After a 6th place finish at senior nationals, she won junior nationals and earned herself another trip to these championships where she placed 9th last year. Rika has improved this season but she's still not a stand out competitor. She has lovely jumps, good speed and great edges, but she's still getting the hang of really performing and selling a program. If she can skate well, she should place in the top 10.
Satoko
had a solid debut on the senior level, placing 5th at both of her events. She placed 4th at nationals but went on to win silver at Four Continents. Like Elena, Satoko is one of the few who comes into these junior championships with senior level experience. Satoko has the difficult content and consistency to compete at the top but her one downfall could be her under/pre-rotation issues. Last year at this event, where she finished 7th, Satoko was hammered with
<
calls; only one triple in the
entire competition
received full credit. Satoko isn't getting called as much this season but on the junior level she has a reputation for under-rotating which means the callers will be looking closely. The good news is Satoko has two of the best programs in the field as well as excellent skating skills and transitions. If she can rotate her jumps cleanly she'll have a good shot at a top 5 finish or possibly the podium.
Also competing will be
Da-Bin Choi
and
Na-Hyun Kim (KOR)
,
Alaine Chartrand (CAN)
,
Anais Ventard (FRA)
and surprise silver medalist from JGP Minsk,
Elizabet Turzynbaeva of Kazakhstan
.