It has been one long exhausting season for everyone. To be honest, I wasn't expecting to see good skating at this event but some of the world's best turned in some amazing performances to close out this Olympic season in style.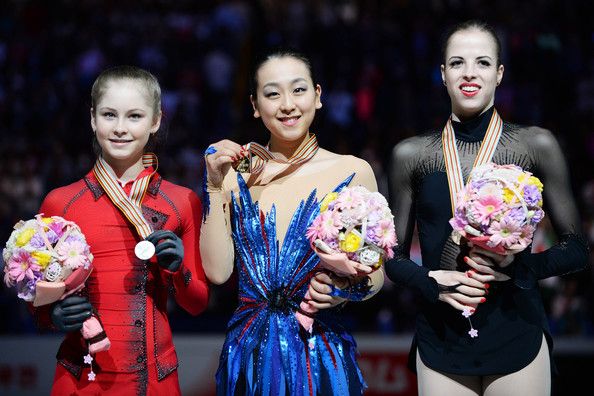 The 2014 World Championships medalists
Final results: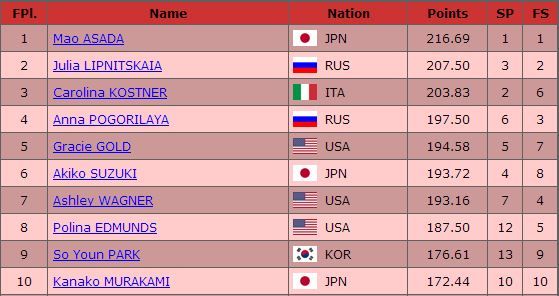 Mao Asada (JPN): 78.66 (SP) + 138.03 (FS) = 216.69 (1st)
I am so proud of Mao. I really am. She is the most gutsy, determined and resilient skater I've ever seen. I could tell that after the disappointment of Sochi she wasn't going to give up anything in Saitama without a fight.
Mao started off brilliantly by finally delivering that picture perfect performance of "Nocturne" she's been searching for all season. She opened with a
gorgeous
3A...the best we've seen from her in years: good height, great coverage, and wonderful speed and running edge on the landing. It was amazing. Seven of the nine judges gave it a well-deserved +2 in GOE which added 1.86 points. Grand total for that one jump: 10.36 points. Mao finished the rest of the program perfectly: 3F, 3L-2L, all level 4s on her elements. It was a glorious performance and now has the distinction of being the highest scoring SP of all-time. Mao's score of 78.66 set a new world record previously held for four years by Yu-Na Kim (78.50 at the Vancouver Olympics). Despite Mao's record score, she went into the FS with only a slight lead. She'd have to deliver in the FS to stay on top.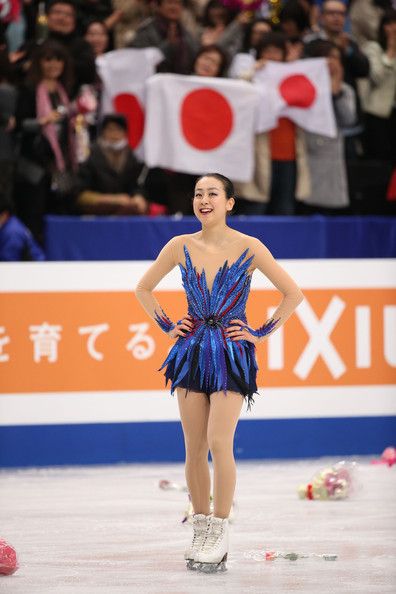 Satisfaction: Priceless
In Sochi, Mao held nothing back in the FS. She approached her FS here with that same mentality, going for all of her big tricks. Mao's only major error was a step out on her 2A in what was supposed to be a 2A-3T combo. It was a solid performance; on paper, however, she made several mistakes: the opening 3A appeared clean but got hit with
<
; the 3F-3L was landed cleanly but the 3F was
<
; her 3Lz always gets an
e
but she landed it cleanly as well; and both loops in her 3F-2L-2L were
<
. It wasn't her best but it was a strong performance overall. In the end Mao won the FS by a nice margin and walked away with her third world title.
This third win gives Mao the most world titles of anyone in her era; Yu-Na Kim and Miki Ando each have two, Carolina Kostner has one. This title puts Mao in an exclusive club of women who have won at least three world titles including Michelle Kwan, Katarina Witt and Peggy Fleming.
Julia Lipnitskaya (RUS): 74.54 (SP) + 132.96 (FS) = 207.50 (2nd)
Julia came to Saitama looking for redemption after her disappointing performances in the individual event in Sochi. She wasn't her usual
BEAST MODE
self here, but I think it's safe to say Julia is back.
Julia did get back into
BEAST MODE
for her SP. She was perfect: 3Lz-3T, 3F, 2A, all level 4 elements. There was a question of what would happen with the scoring for the Russian ladies after all of the uber-inflation we saw in Sochi. From the looks of it, the inflation is still there (several +2s for her jumps, 33+ in PCS)...but it's
proportionate
, which wasn't the case in Sochi. Julia scored very high with this SP (only 0.10 less than Adelina Sotnikova's SP score from Sochi) but next to the higher scores of Mao and Carolina, it's not bad. The balance of the scale is still maintained because there is a clear separation between Julia and the top two ladies. I do think Julia's score was very high but, for the most part, I think it's fair. Julia placed 3rd in the SP and was in a prime position to make a run at gold in the FS.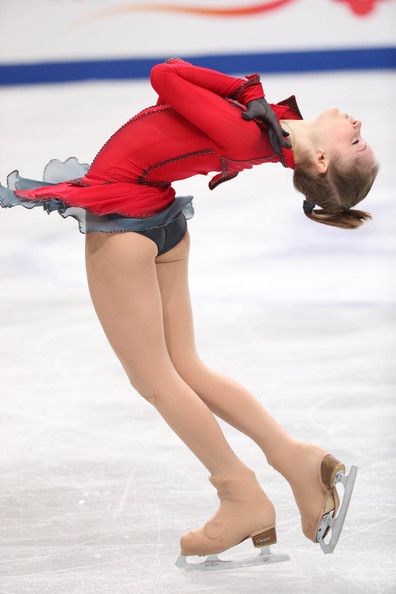 The leader of the post-Sochi crowd
The FS didn't go as smoothly as Julia would have liked but it was still a great performance. She opened with a nice 3Lz-3T though her lutz got dinged (
e
) and she lost 0.40 points for the combo. Her next jump is usually a 2A-3T-2T combination but she changed it to a 2A-2T-2T. I thought she'd missed the harder combo but it turns out she purposely moved the 2A-3T to the bonus to get more points. Very smart. Julia's only major mistake was a fall on her 3S(
<
<
), the same jump she missed in Sochi. Other than another ding on her 3Lz (
e
), Julia finished out the rest of the program cleanly. She placed 2nd in the FS and finished 2nd overall, winning a silver medal in her first trip to senior worlds.
It has been an incredibly long season for Julia but I think she wrapped up her sophomore year with a flourish. She's a very special skater and an incredible competitor. I think Julia is the main one to watch as we move into this next quadrennial of figure skating.
Carolina Kostner (ITA): 77.24 (SP) + 126.59 (FS) = 203.83 (3rd)
Carolina was pretty much perfect in Sochi. She delivered the two best performances of her life there so I was unsure if she'd be able to replicate those performances.
Carolina was able to deliver another beautiful SP. It's her fourth one in a row: Euros, team event in Sochi, individual event in Sochi, and now here. Carolina opened with a wonderful 3F-3T that earned seven +2s and two +3s from the judges. Everything else was wonderful, including her amazing level 4 footwork sequence which earned eight +3s from the judges. Once again, Carolina was the recipient of the highest PCS of the segment (37.46) which included three perfect 10s from the judges for interpretation. These were the kinds of scores I felt she deserved in Sochi... She scored a personal best and was only 1.42 points off the lead heading into the FS.
Fabulousness on ice
Unfortunately, this was not the kind of FS Carolina wanted to end her season (and possibly her career) with. She opened with a huge 3Lz that earned 1.50 points in GOE. The next jump was supposed to be a combination 2A-3T but she doubled the second jump before going into a 3F-3T. She wasn't able to hold on to the landing and went down. After that I think she lost her nerve. At the beginning Carolina attacked the program, but as things started to go south she backed off. She popped two triples and only completed one triple in the second half of the program. She finished strongly with her footwork (straight +3s) and choreographed spiral sequence, but this was definitely not the performance she wanted. Carolina placed sixth in the FS but still managed to hang on to 3rd place overall and a bronze medal.
It would have been nice to see Carolina replicate the brilliance of her Sochi FS here, if only to see how the judges would have scored her. Still, she medaled at worlds yet again.
It should be noted that Carolina is the only skater to medal at worlds every year of this last quad (2011- 3rd; 2012 - 1st; 2013 - 2nd; 2014 - 3rd)...and that's something to be proud of.
As for the rest...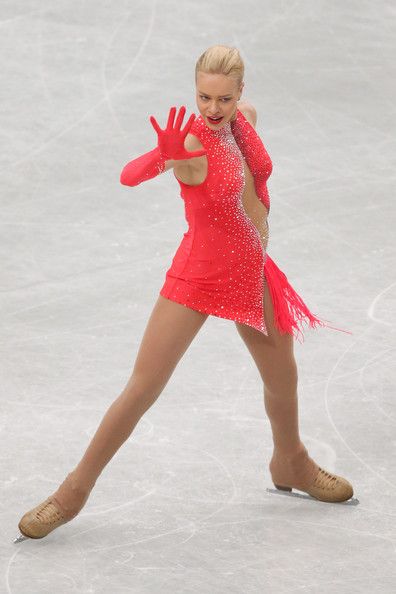 No one even saw her coming!
Anna Pogorilaya (RUS; 197.50, 4th)
was a huge surprise here. I don't think anyone had her picked to come in 4th in this field of ladies. Flying under the radar definitely has its advantages. Anna is a technical powerhouse and when she delivers you have to take notice of her. These judges don't really know her yet and, lest we forget, this is the 15-year-old's debut at worlds. She wasn't on anyone's radar for a top 5 finish but she did her job by skating very well in her SP and then backing it up with an excellent FS. The result? Her scores jumped in the FS: a huge score of 131.24 including 64+ in PCS and the highest TES of the segment. She finished 3rd in the FS and moved from 6th place to finish 4th in her first trip to worlds. Notice has been served. Russia has yet another world podium contender on its hands.
A missed opportunity
Gracie Gold (USA; 194.58, 5th)
had a strong SP and a decent FS, but she did let a medal slip past her here. She earned a personal best 70.31 in the SP and was perfectly positioned to make a run at the podium. Gracie opened her FS with a big 3Lz-3T (+2s from eight of the nine judges) but then singled the axel in what was supposed to be a 2A-3T combo. That combo usually earns Gracie around 8.50 points with GOE. She got through the rest of her triples cleanly enough before falling on her 2A(
<<
) which cost her nearly 5 points when you add up the value of the jump, GOE and the point she lost from the fall. All in all Gracie gave up
at least
13 points which would have given her a total of about 206+ or higher considering PCS boost clean programs receive. Julia's silver medal total was 207.50. This was a missed opportunity but hopefully it will motivate Gracie to continue working hard for next season.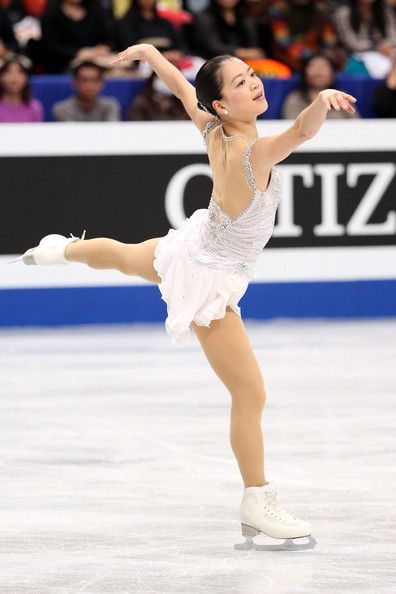 She'll always have my heart
Akiko Suzuki (JPN; 193.72, 6th)
had her best SP of the season. She hit her 3T-3T cleanly and earned level 4s on all of her elements. It was a lovely performance and the crowd really appreciated it..and so did the judges. Akiko scored a personal best 71.02 and placed 4th in the SP. Her FS wasn't as great as it needed to be to keep her in the top 5 but it was much better than what she delivered in Sochi. Akiko started off roughly (2Lz-2L-2L(
<
) and 2A-3T(
<
<
)) but she fought through the rest of the program. Other than a
<
on her 3F, it was a solid effort to end the season and her career.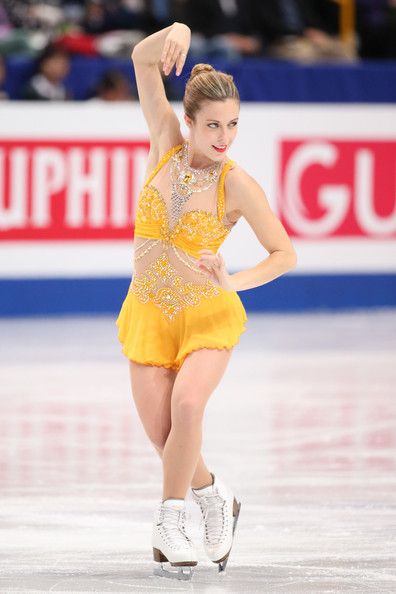 Still Diva Wagner
Ashley Wagner (USA; 193.16, 7th)
continues to fight and that's why I love her. The 3F-3T seems to have abandoned her in the second half of the season. She went for it in the SP but was hit with a
<
<
and -GOE across the board. The rest of the program was finished cleanly but she ended up 7th in the SP. Never one to be deterred, Ashley came out with a different game plan in the FS. She ditched the 3F-3T and went with a 2A-3T instead. It still got hit with
<
but it seemed to be less costly than flubbing a 3-3. Other than her usual
e
on her 3Lz and a
<
on her final 3F combo, Ashley rocked. She sells her programs so well and she really sold this final run of "Samson & Juliet" (haha) as best as she could. Ashley finished 4th in the FS but was unable to move up in the standings overall and had to settle for 7th. Still, I'm proud of her. Nice way to end the season Diva Wagner!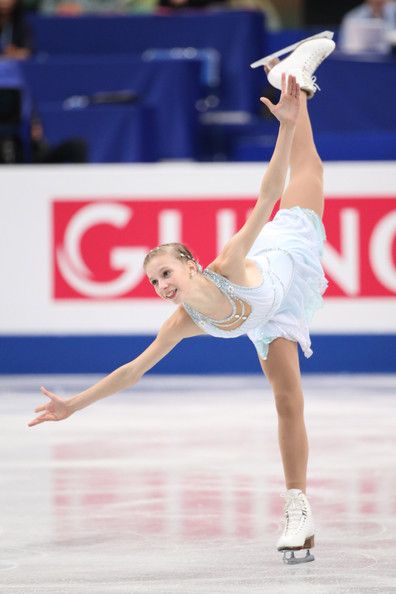 Another strong performance
Polina Edmunds (USA; 187.50, 8th)
started off roughly in the SP but ended on a high note. Polina had a rough landing on her opening 3Lz-3T(
<
) and the judges hammered her with several -3s and -2s for GOE which cost her 1.90 points. She finished up the rest of the program cleanly but finished the SP in 12th place. Polina stormed back with a 7-triple FS including a clean 3Lz-3T and a 3F-1L(
<
)-3S. Other than the
<
on her 1L, there were no mistakes in the program. Polina scored a personal best 126.91, finished 5th in the FS and 8th overall. This was a very strong debut for Polina at worlds and another top 10 finish.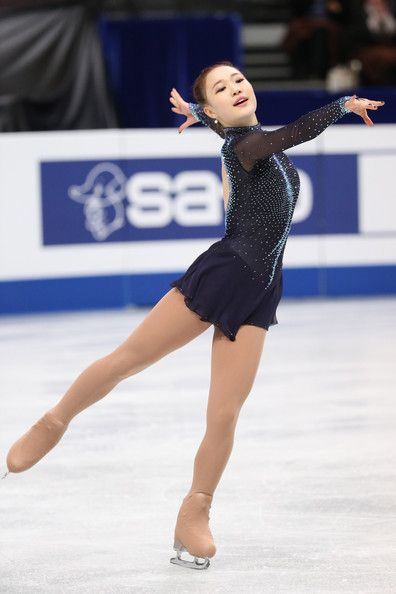 Way to make your mark!
So-Youn Park (KOR; 176.61, 9th)
was another surprise here. I've always admired her skating and I think she has the goods to be Korea's flagship skater for Pyeongchang, but she struggles with consistency. So-Youn opened her SP with a lovely 3S-3T but then fell on her 3Lz which left her in 13th place. Thankfully, she showed the judges just what she can do in the FS by nailing all six of her triples including a lovely 2A-3T. She scored a personal best 119.39 and was able to move into the top 10 with her performance. So-Youn still needs to work on getting her levels up but she has the talent to move up in the ranks.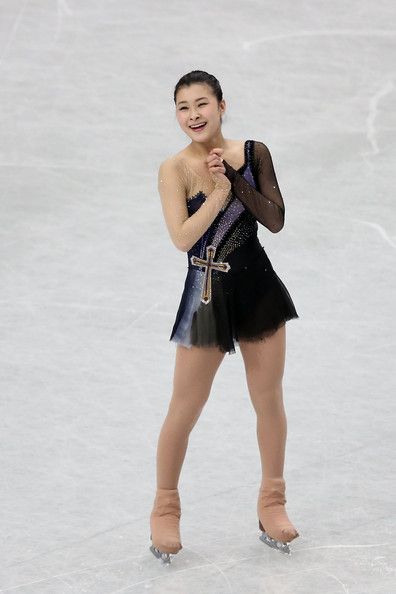 Definitely not her best
Kanako Murakami (JPN; 172.44, 10th)
had a rough showing here. It seems as though Kanako peaked at 4CC because she hasn't been able to get anywhere close to that level since. She was plagued by
<
in both segments of the competition. Her 3T-3T and 3F both got hit in the SP and all but three triples were called
<
in the FS. After placing top 5 the past two seasons in a row, this was not the way Kanako wanted to end her season.
Other placements:
Kaetlyn Osmond (CAN; 170.64, 11th), Mae Berenice Meite (FRA; 158.72, 15th), Valentina Marchei (ITA; 157.64, 16th)
and
Zijun Li (CHN; 150.34, 17th).
And so ends the 2013-2014 season of figure skating! Congratulations to the 3-time world champion, Mao Asada, as well as Julia Lipnitskaya and Carolina Kostner. Even though this was supposed to be the final event of their competitive careers, as of now, both Mao and Carolina are still on the fence about whether or not they will retire. I suppose we will get more information once they make their decision. On one hand I'd love for them to continue...but on the other, I am ready for the newbies to take over.
I guess we'll have to see what happens!