I spent nearly my entire weekend watching skating and I have to say I enjoyed all of it! Men, pairs, ice dance and, of course, the ladies...it was an excellent competition across the board. As always, I have to take a look back at the ladies and give my thoughts on this Olympic season Grand Prix opener.

First podium of the season...I approve!
Final results: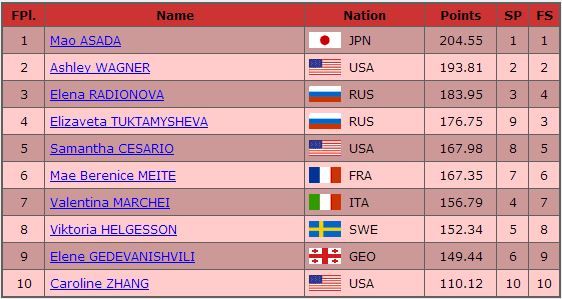 Mao Asada (JPN): 73.18 (SP) + 131.37 (FS) = 204.55 (1st)
Mao is looking more ready than I've ever seen her look before. She's never been known for being a strong beginning of the season skater, but after her performance at Japan Open and both performances here at Skate America, Mao may be shedding that late-season bloomer image...
Mao's SP to "Nocturne" is absolutely gorgeous. Elegant, graceful, ethereal, so soft and light; it's every good quality about Mao rolled into two minutes and fifty seconds of
heaven
. "Nocturne 2.0" is amazing and Mao's delivery of it was outstanding. I've never seen her bring that kind of expression and emotion to her competitive programs. Not only was it beautiful artistically, it was a phenomenal technical display as well. Mao landed a fully-ratified 3A, though she did two-foot the landing which cost her 1.43 points. She followed it up with two more triples, including a 3L-2L combo in the bonus, and all level 4 spins and footwork. She was glorious, and how incredible
is that dress? Mao always looks stunning in lavender...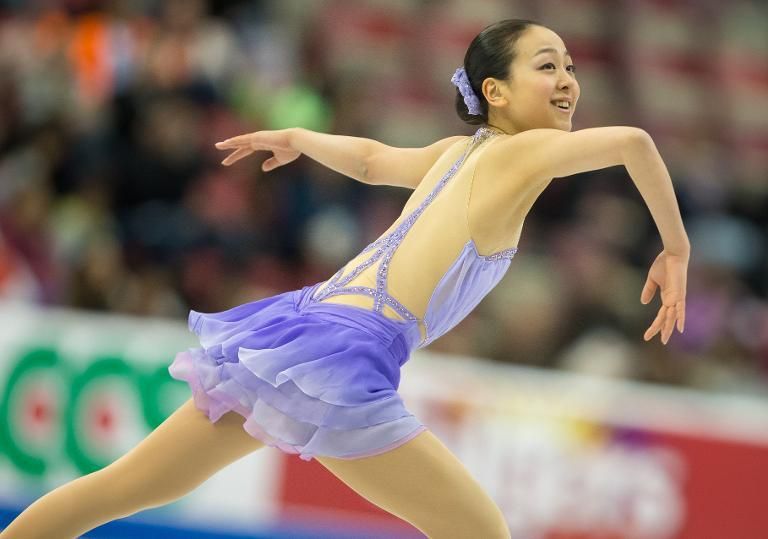 A sparkly lavender angel, she was...
Most of Mao's GP victories last season came from her PCS; she didn't land more than three triples until later in the season. Thankfully, Mao isn't following that trend this year. She landed five triples out of a planned seven. Mao went for the 3A but under-rotated it and fell. Luckily, missing the 3A isn't the death sentence it was this time last Olympic cycle when Mao was depending on the 3A to carry the bulk of her TES. She's got a full arsenal of jumps and can now use the 3A as the kicker, which is how it should have always been in my opinion. After the fall on the 3A, Mao lost a little bit of her nerve and decided to played it safe. She opted out of the 3F-3L and 2A-3T (doubled the second jump in both) but still managed to execute the rest of her elements well. She received
<
on the loops in her 3F-2L-2L combo but I'm extremely encouraged by what I saw here. No other under-rotated triples! The program is very well suited to her: nice pacing, lovely moments,
fantabulous
footwork...it's a vast improvement over the heavy and mostly bare "Bells of Moscow" FS she had for Vancouver. I thought her 131+ score was a tad bit high but I don't disagree with the outcome. Mao easily won gold here and with this victory becomes the first woman to win all six Grand Prix titles.
I'm so impressed! Two great programs, she's going for (and hitting) the 3A early, minimal under-rotation issues, room to improve in both programs, she looks comfortable and secure...dare I say Mao Asada has never looked better?
Ashley Wagner (USA): 69.26 (SP) + 124.55 (FS) = 193.81 (2nd)
Let it be known far and wide that Miss Ashley "Swagner" Wagner means business this season! The 3-3 is here and, if this competition is any indication, it's here to stay.
I like Ashley's Pink Floyd SP! I applaud her for stepping outside of the box and going for something a little risqué for this Olympic season. I like the feel Shae-Lynn Bourne has brought to Ashley's skating...it's very Diva Wagner. Ashley opened with her much anticipated 3F-3T and it was great: fully ratified, nice height on the 3F, tight rotations on the 3T and good ride-out on the landing. Take that haters! Both the 3L and 2A are smartly in the bonus and both jumps were solid as a rock. The footwork received a level 4 and I thought it was well earned. It highlights the music very well and Ashley really gets into it and sells it. The only thing wrong with this program is the spins. Ashley is leaving several points on the table by not maxing her levels (all level 3s). Overall though, this was a stellar debut of a really good program.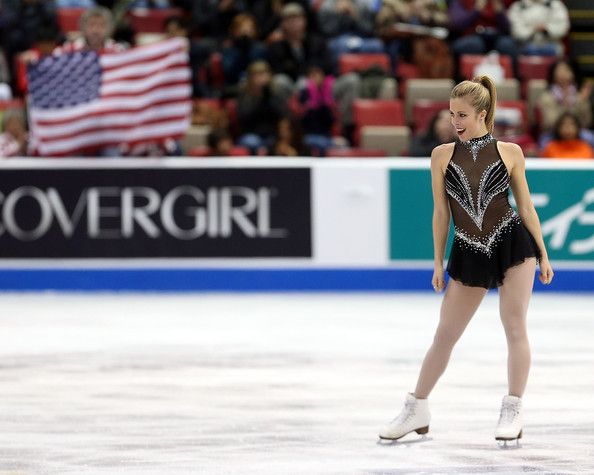 #DivaWagnerBitches
I'm not as thrilled about Ashley's "Romeo & Juliet" FS as I am her SP. I don't know if it's the music, the choreography or what, but it's not drawing me in the way it needs to. Even though I'm not sold on the program yet, Ashley turned in a very solid performance. She opened with the 3F-3T again and received full credit for it, but to me it looked like it may have been
<
. There was more of a hook on the landing that I didn't see in the SP. We'll have to see how lenient the judges are outside of the US... Ashley was solid the rest of the way though she did receive
<
on two triples: a 3L, which she had a slight stumble on the entry but still landed it, and her 3Lz which also received an
e
(-1.70 points total). Like her SP, she forfeited several points with her spins but in the end it didn't matter. Ashley was very good but only two people in the world can catch Mao when she skates as well as she did, and neither of those two were at this competition.
Another great start for Ashley. She is serious about making a run at that Sochi podium. Last season Ashley started very strongly but faded somewhat after the GPF. She has to pace herself and keep her intensity up all season and not peak too soon. Go'head Miss Swagner...I see you, girl.
Elena Radionova (RUS): 67.01 (SP) + 116.94 (FS) = 183.95 (3rd)
Even though Elena can't be included in the discussion for Sochi she went out and skated as if her spot on the team was on the line. I can't get over how adorable this girl is and I'm thrilled she had such a strong debut.
Elena is something special. There's a real sparkle to her when she's out there on the ice. Her personality shines through completely and you can tell she's really enjoying what she's doing. I thought her SP was great. There's just something about the way she performs that pulls me in and makes me want to cheer for her. Yes, she's tiny and still very much looks like a junior out there, but she performs with energy and brings life to whatever she's skating to in addition to jumping like a little bean. Elena's base value was second only to Mao's and she was the only one other than Mao to max the levels on all of her non-jump elements. Her PCS were high but when you break it down component by component and pay attention to the program, I think one can argue that they're pretty much fair. A lot of time people tend to gloss over the complexity of what a skater is doing based on their presence. Elena is tiny but her program was packed with difficulty.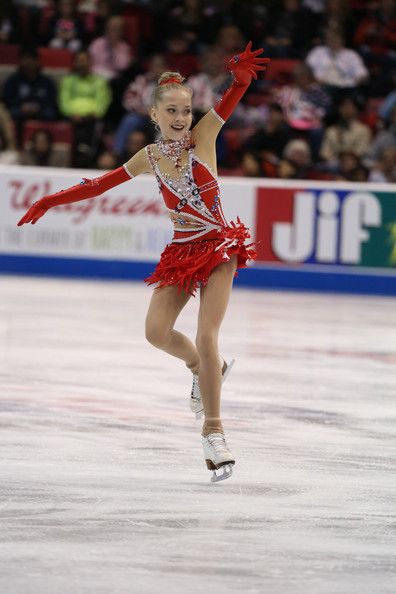 The adorable future of the Russian ladies
Elena's FS started off a little shaky but she managed to pull herself together by the end. She fell on her opening 3Lz (supposed to be a combo) and then received an
e
on her 3F. Even with the mistakes Elena was able to stack points left and right in this program doing a 3L-1L-3S and followed by a 3Lz-3T. The program is heavily front-loaded and needs to be arranged better to earn more points, especially given two the 3-3s she's including. It was a slightly shaky performance but Elena still landed 7 triples and earned level 4s for all of her spins. I'm not as big of a fan of her FS as I am her SP but even when I'm not feeling her program (I didn't like her SP from last season either) I still enjoy watching her. She placed 4th in the FS and finished securely in 3rd place, winning her first GP medal.
I don't care what anyone says I'm an Elena Radionova fan! She's so cute, I love her personality on the ice, I love the way she performs and I love that she has the tough jumps and spins on top of all of that other stuff. I'm excited to see her continue to grow and mature.
As for the rest...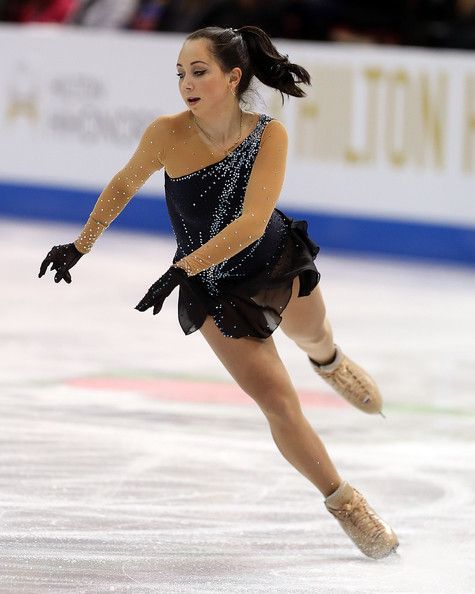 Gone are the hideous black tights, hallelujah!
Elizaveta Tuktamysheva (RUS; 176.75, 4th)
has got to stop shooting herself in the foot in the SP. It has become a habit of hers and she's killing her chances in these competitions! She finished 3rd in the FS, only
1 point
off of Ashley Wagner's FS score. Had she performed a clean SP she'd have been in contention for bronze or possibly even silver. Liza T had the highest TES of the night and completely redeemed herself after her 9th place SP. She's good enough to be a podium threat at these competitions but she'll never reach it if she keeps flubbing the SP...oh and +3 for ditching the black tights. Now if she'd only add some color in there somewhere...

Sassy, sexy Sammi!
Samantha Ceasrio (USA; 167.98, 5th)
is quickly becoming one of my US favorites. I loved both of her programs especially her "Carmen" FS, which is the best "Carmen" I've seen in quite a while. Samantha has oodles of charisma and sass and she put it all together really well here. The
<<
on her 3L-3L combo in the SP hurt her but she fought back and delivered a very solid FS with only one
<
on her 3L-2A sequence. So glad to see her do well and kudos for a top 5 finish at her first GP event.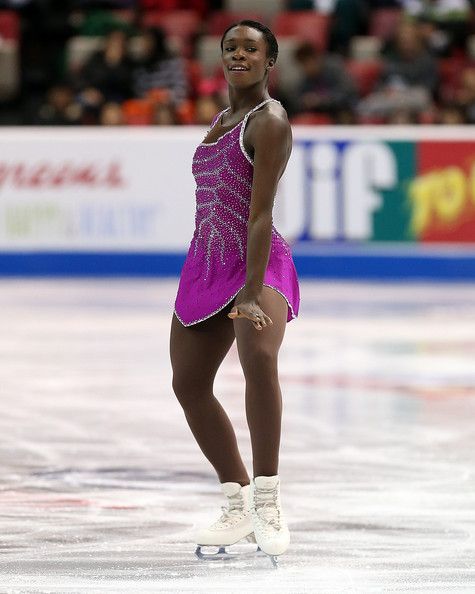 So impressed with her performances here...
Mae Berenice Meite (FRA; 167.38, 6th)
had the best showing I've ever seen from her. She hit her 3T-3T in the SP albeit a little shakily; however, Mae's FS was
perfection
. She knocked out 7 triple jumps including a 3S-3T. Not one single call on any element...she was wonderful! I think she lost out on extra points by only putting two triples in the bonus...but still, I've never seen her perform better than she did here. I love her power and strength and the crowd really enjoyed her as well. Good job Mae!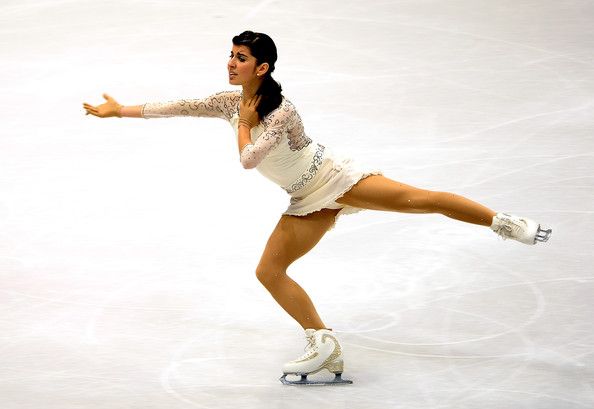 She cast a beautiful spell in the SP
Valentina Marchei (ITA; 156.79, 7th)
was sublime in the SP. She always seems to have a very strong SP at Skate America but then hits a lot of trouble in the FS. Valentina couldn't seem to get her feet under her in the FS. The program is very sultry and seductive and you can tell a good performance would really bring the house down...but she's gotta get those jumps under control first.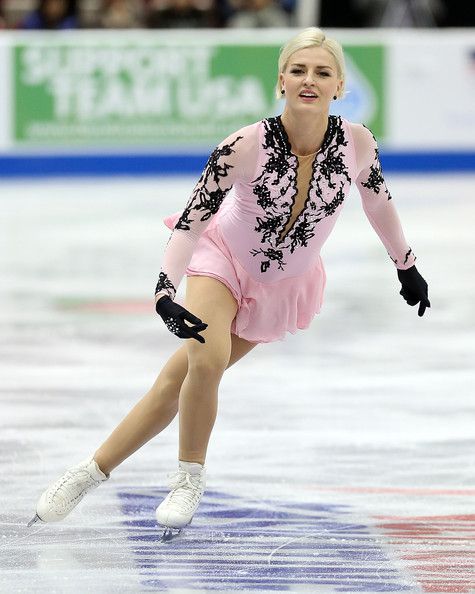 I hated both of her dresses...
Viktoria Helgesson (SWE; 152.34, 8th)
had a steady and solid SP, though it lacked the difficulty needed to compete at the top. I wasn't a fan of her pink and black dress (WTF is up with those gloves?) but she was pleasant to watch. Unfortunately her FS was an utter disaster. Three falls killed any chance she had at a top 5 finish here. Sweden only has one spot in Sochi and it will go to either Viktoria or her sister, Joshi. Viktoria didn't inspire much confidence here...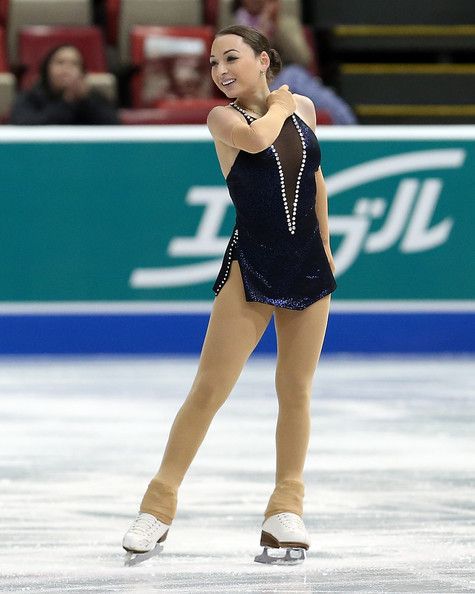 It's still not there...
Elene Gedevanishvili (GEO; 149.44, 9th)
had a decent SP. I believe she was supposed to go for the 3Lz-3T but she doubled the back end of it. Even though the program lacked difficulty, she skated the rest of it cleanly and reminded me how lovely she is to watch when she's not falling all over the place. Unfortunately she was not able to hang on in the FS, falling twice and completing only three clean triples. Her programs are nice but she really needs to find a way to get her focus under control.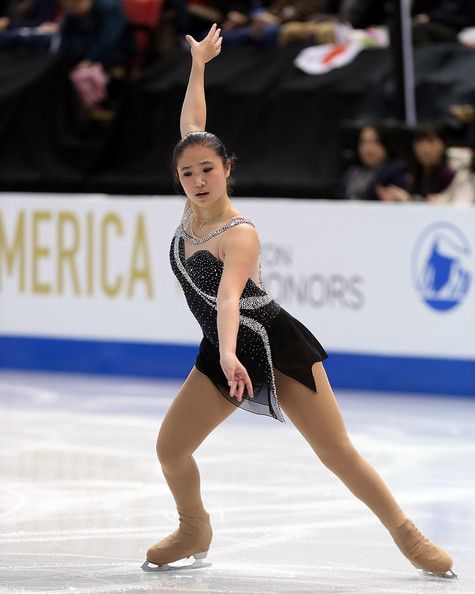 Poor Caroline...poor poor Caroline...
I feel absolutely terrible for
Caroline Zhang (USA; 110.12, 10th)
. This is by far her worst outing to date. She did not land one triple jump in the entire competition; she received
<
and
<<
in the SP and it was obvious she was completely out of it in the FS because she popped every triple except her final 3L, which she under-rotated and fell on. My heart really breaks for her. It seems like the progress she made two years ago has all but disappeared. I don't know where she'll go from here...
Skate America was a great season opener. I think it's safe to say a lot of these ladies already have their game face on for Sochi. This week is
Skate Canada
and the much anticipated season debut of (the new?)
Gracie Gold (USA)
. She's a favorite coming into the event but it will not be an easy win for her. She's up against
Akiko Suzuki (JPN), Julia Lipnitskaya (RUS)
and
Courtney Hicks (USA)
. We'll also see the debuts of
Kaetlyn Osmond, Amelie Lacoste
and
Veronik Mallet
of
Canada
, as well as
Christina Gao (USA)
and
Natalia Popova (UKR)
. This should be a good one!