YAY!! It's the first JGP event of the season! I always love to see the fresh new faces that emerge each year on the junior level. Needless to say there are a number of new names that caught my eye here...
The final results: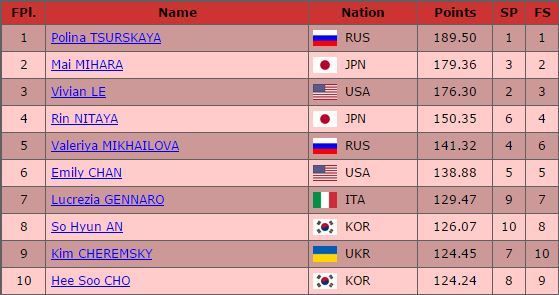 Polina Tsurskaya (RUS): 66.08 (SP) + 123.42 (FS) = 189.50 (1st)
I knew Polina was going to be one to watch this season. I'd seen videos of her at some of the Russian events and the thing that stands out the most about her other than her long limbs (she looks rather tall already) is her incredible jumps. She has gorgeous technique on her jumps; she gets up in the air and then rotates, all while maintaining the speed and flow through the jump and she even has a nice extended landing position to boot. Polina was nearly flawless here: huge 3Lz-3T (+1.60) and 3F in her SP with all level 4 elements, a big opening 3Lz-3T-2T (+1.40) and a 3Lz-3T in the bonus along with three other triples and all level 4s again in the FS. Her only mistake was a ding on 3F (
!
) but it didn't cost her anything. Polina is rather unrefined and kinda clunky but I see the potential there. She won this one by more than 10 points and while I don't agree with the PCS gap between her and some of the other ladies, this was a great debut and a great win.
Mai Mihara (JPN): 60.81 (SP) + 118.55 (FS) = 179.36 (2nd)
Mai reminds me a lot of Satoko: lovely flow across the ice, great edges, bouncy knees, nice presentation and polish. The good thing about Mai is that she jumps a bit higher than Satoko which definitely helps her overall impression on the judges. Mai opened her SP with a solid 3Lz-3T (+0.90) and had solid elements (level 4s and a level 3 step sequence). Her only error was a ding on her 3F(
!
) at the end of the program. Mai's FS was solid as well: 3Lz-3T to open, 2A-3T in the bonus and all level 4s this time...and again the ding on the 3F(
!
). After placing 5th and 6th at her events last year, it was a great to see Mai come out and make a statement in the season opener by taking silver. If she can keep it up she will definitely help Japan to stay in the mix this year.
Vivian Le (USA): 61.45 (SP) + 114.85 (FS) = 176.30 (3rd)
Holy skyscraping lutzes Batman!
Vivian Le has one of the biggest lutzes I've ever seen. She
literally
jumped out of frame
on her opening 3Lz-3T in the SP...her head goes completely out of frame for a moment during her massive opening Rippon 3Lz-3T combo. Six of the nine judges gave her +2 for that combo and two gave her +3 which added +1.50 to the value of the jump. Aside from a ding on her 3F(
!
) (lipping was going around like the flu at this event), she was excellent. Vivian started off well in her FS, opening with another big Rippon 3Lz-3T before going down hard on her 3L. Luckily she rebounded with a solid 2A-3T and two more triples, though she did lose points on a doubled lutz as well as another ding on her 3F(
!
) (like the flu...). Overall, she gave up too many points in the FS and had to settle for a bronze. Still, it was a great first outing from Vivian.
As for the rest...
Rin Nitaya (JPN; 150.35, 4th):
Rin dropped a ton of points in the SP. She singled her flip (the required solo jump this year) and also singled her axel (required as well). As a result, she received no credit for either jumping pass which left her in 6th place after the SP. Rin had a few errors in her FS (a fall on a 3S and a popped lutz) but she also nailed two 2A-3Ts in the bonus back to back. I think Rin is a very pleasant skater to watch and I like her programs (choreographed by the lovely Akiko Suzuki).
Valeryia Mikhailova (RUS; 141.32, 5th):
Valeryia had some trouble on her opening combo in the SP (3Lz(
!
)-3T(
<
)) but she finished out the rest of her program strongly. She ran into trouble in the FS. Two dings, two under-rotations, two falls, two downgrades...it wasn't a good outing for her.
Emily Chan (USA; 138.88, 6th):
I abhor Emily's busy all-over-the-place choreography to the Whitney Houston ballad "I Will Always Love You." I mean come on...she didn't even try to match her movement to the music. Epic fail there. Emily struggled in both portions of the competition. She's a lovely skater but the jumps (and the programs) just were not up to par here.
You can watch all of the skaters on the
ISU's JGP YouTube channel
. This week is JGP Riga Cup which takes place in Riga, Latvia. We'll get to see the season debuts of a number of ladies including
Maria Sotskova (RUS), Kaori Sakamoto (JPN), Da Bin Choi (KOR)
and
Amber Glenn (USA)
as well as the JGP debut of
Yuna Aoki (JPN)
and
Alisa Fedichkina (RUS)
. Later peeps!