The second event of the JGP season was full of some really great skating!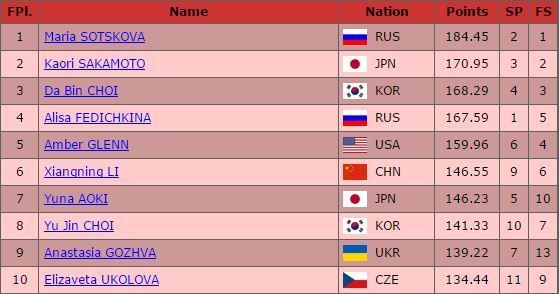 Maria Sotskova (RUS): 62.73 (SP) + 121.72 (FS) = 184.45 (1st)
I must say Maria is looking better than ever this season! She appears to have grown and, in a best case scenario, it seems to be helping her skating. She looks more mature and commanding on the ice and, as an added bonus, her jumps look bigger and more secure. I love her SP to "Black Magic Woman." It's definitely got an Diva Wagner-ish vibe to it but it works for her. Maria hit a gorgeous 3Lz-3T (+1.20) and was solid on her other jumps as well. She had scattered levels on her non-jump elements which she'll need to work on, but her maturity and presence earned her the highest PCS of the segment. Maria's FS was flawless: another big 3Lz-3T (+1.40) as well as a 3F-1L-3S in the bonus. It was a close race after the SP but Maria blew the door open in the FS and won the event by more than 13 points. She may be the one to watch this season...


Kaori Sakamoto (JPN): 58.75 (SP) + 112.20 (FS) = 170.95 (2nd)
Kaori almost looks like a new skater. Last year she looked very juniorish and unpolished to me but I can see the improvement in those areas this year. Kaori, like so many Japanese skaters, has lovely skating skills: smooth deep edges and wonderfully soft knees. I find her rather pleasing to watch. Sometimes it's tough to tell with skaters but I think Kaori may mature into a really gorgeous skater in the next few years. She had a solid SP with her only mistake being an edge call on her 3F and delivered a strong FS as well. Even with a fall on her 3L(
<
) and only two jumps in the bonus half of the program, Kaori placed 2nd in the FS and was able to move up from 3rd to finish 2nd overall and earn her first JGP medal.
Da Bin Choi (KOR): 57.21 (SP) + 111.08 (FS) = 168.29 (3rd)
After three years of competing on the junior level, Da Bin finally seems to be breaking through. She struggled to get her 3-3s ratified last year which hurt her score against many of the other ladies. So far it looks as though she's found a combination she can really work with. In both segments of the competition her 3Lz-3T was clean and received +GOE. Da Bin had a very solid SP with her only "mistake" being a level 2 on her step sequence. She went into the FS only 1.54 points out of 3rd. With a chance at the podium on the line Da Bin put up a good fight in the FS, landing 6 triples and placing 3rd in the FS. She had a few under-rotations but overall, it was a strong performance and it landed her on the podium. Da Bin joins the very short list of South Korean skaters who have medaled at an ISU event.
As for the rest...
Alisa Fedichkina (RUS; 167.59, 4th): Alisa stole the show the SP. Her program was so light and easy and watchable...which is not something you get with a lot of junior skaters. I really enjoyed her. In addition to a lovely program, Alisa played the IJS game the best in the SP by putting both her combination (3Lz-3T) and 3F in the bonus half of the program. Those few bonus tenths along with the strength of her non-jump elements (all level 4 spins and level 3 steps) gave Alisa the lead going into the FS. Unfortunately, she was unable to replicate her magic in the FS. She started off strongly in the first half but her nerves got the better of her in the second half. She under-rotated her 2A-3T-2T combo and popped two triples. She left too many points on the ice and it cost her a medal.
Amber Glenn (USA; 159.96, 5th):
Amber started off poorly in her SP, going down on her opening combo but recovered well. Despite placing 6th after the SP, she was still in a position to move up. Amber has firepower for days and she put a fair amount of it on display in the opening moments of her FS. She hit a big 3F-3T (+1.40) and followed it up with a 3Lz-3T (+0.90). Amber hit two more solid jumps...and then everything went downhill. She went down on her 3S(
<
<
) and all of her jumping passes in the second half received -GOE. If Amber ever gets herself together she'll be lethal...
Yuna Aoki (JPN; 146.23, 7th):
Yuna opened her SP with an impressive 3Lz-3L combination and received full credit as well as +GOE (+0.60). I'm trying to think of the last time I saw a lady land that combination cleanly and get full credit...I can't recall at the moment. Yuna was on her way to a great score but popped her axel which cost her at least 3.63 points (base value of the jump in the bonus). The FS was not good. Multiple errors including two falls cost her too many points.
As always check out all of the videos on the
ISU's YouTube channel.
This week is
JGP Colorado Springs
and the debut of
Marin Honda (JPN)
. I've been hearing about Marin for a while now so it'll be great to finally see her out in competition. We'll also see
Vivian Le (USA)
in her second event,
Valeriya Mikhailova (RUS)
and
Paige Rydberg (USA)
. Later peeps!