A lot of the top names were invited to this event but only a few of them came...and even fewer actually showed up.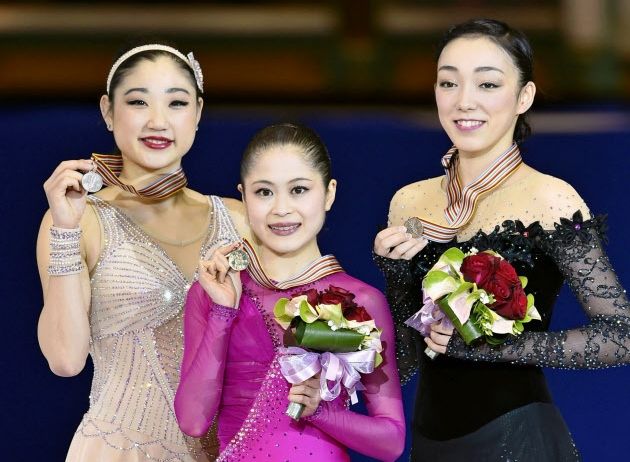 Not the podium I was expecting but, I'll take it!
The final results:
Satoko Miyahara (JPN): 72.48 (SP) + 142.43 (FS) = 214.91 (1st)
Satoko has been so on it this year. Last year she was good but she struggled with inconsistency at times. At this event last year she lost her focus and ended up losing out on the gold medal. She came here determined not to be a bridesmaid again.
The SP was a breeze for Satoko. She opened with a solid 3Lz-3T. The combo was small (as are all of her jumps) but it was clean and easy. Same for the rest of her jumps. We've already established that Satoko will not go down in history as one of the most amazing jumpers...but girlfriend gets the job done! Besides jumps aren't Satoko's forte as far as I'm concerned. It's everything else. Her "Firedance" SP is so fabulously choreographed and beautifully delivered and she nailed it here. She's grown in terms of her performance level and ability to connect to the judges and the crowd. Level 4s on all of her non-jump elements helped her earn the highest TES of the night, a personal best score and the lead going into the FS.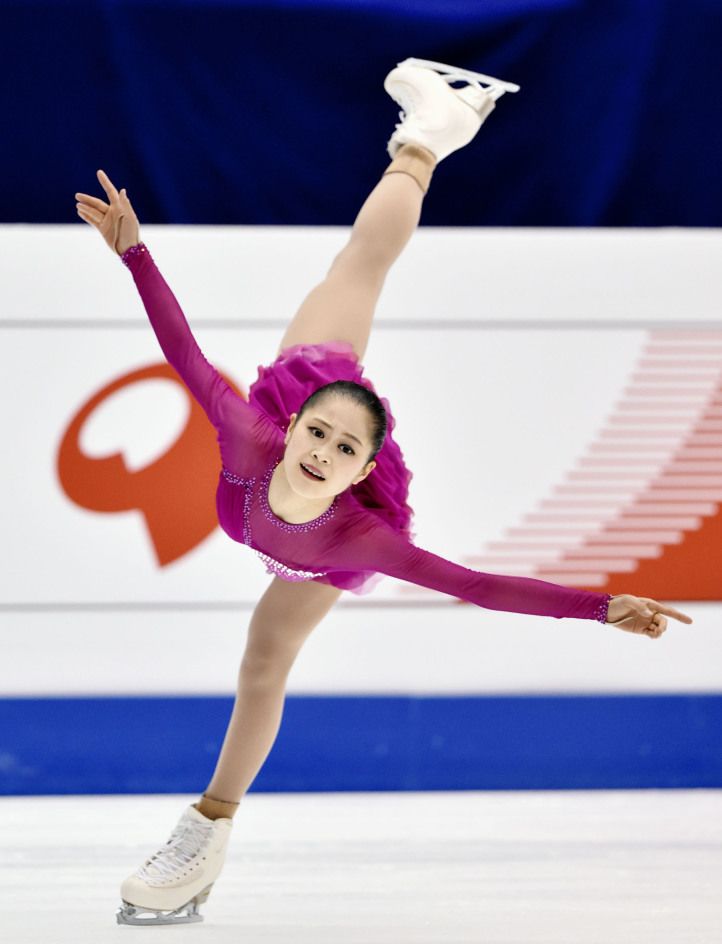 Tiny Queen is mightier than ever
Satoko skated second to last and, again, it was like a stroll in the park for her. I have really fallen in love with her "Un Sospiro" FS. I was so obsessed with her "Miss Saigon" from last season that it took me a minute to warm up to this one. But I have and it is gorgeous. Satoko is one of the few skaters in the field who has
actual choreography
between the elements. There are a number of little moments that highlight the music and the mood of the program and make it beautiful. No 3-3 in this program but two 2A-3T combos including one at the end of the program. Satoko hit everything again, all level 4s again and earned another personal best again with her score. She blasted past the rest of the field and won this one by 21+ points. After two years of being the runner-up Satoko is finally the gold medalist at this event.
This performance was just the kind of boost Satoko wanted going into Worlds next month. It's clear that she's ready to compete and face off against the Russians and any other challengers.
Mirai Nagasu (USA): 66.06 (SP) + 127.80 (FS) = 193.86 (2nd)
It's never smart to count someone out, especially a hard worker. It's obvious that Mirai has been working really hard and after some hiccups here and there, she's finally beginning to emerge as a skater who deserves attention again.
Unlike several of the other top contenders at this event, this competition was Mirai's last
hoorah
of the season. She said herself she wanted to go out with bang and she definitely started with one. Mirai opened her "Demons" SP with the best 3F-3T I've ever seen from her. I was one who doubted she'd ever get that combination around. Not only did she get it around here, she did it well. The judges agreed to the tune of +1.30 points in GOE. She had a good riding edge on the 3F which gave her enough speed for the 3T. Additionally, she's getting better elevation on the second jump which gives her enough time to get around. She followed it up with a shaky but clean 3L and a big 2A. From a technical standpoint this was Mirai's best performance ever. The strong jumps and clean performance boosted Mirai's PCS into the 30s (31.01) which hasn't happened internationally in a very long time. She went into the FS in 3rd place.
The hard work is starting to pay off
In the past Mirai has struggled with maintaining her focus and nerves, especially in the FS. There were several times earlier in her career where she'd gone into the FS in a good position to land on the podium only to knock herself out of the running. Thankfully, that was not the case here. It's clearer than ever that Mirai's decision to go to Tom Z was the best coaching choice she's ever made. He's instilled a confidence and calmness in Mirai that I've never seen before. She's focused and determined and all of that focus and determination were on display in this performance. The jumps were all there: 7 triples including another 3F-3T and a 2A-3T-2T in the bonus (full credit for both). She was virtually flawless with her only mistake being an edge call on her lutz. Level 4s on all spins and a level 3 on her steps, plus 61+ in PCS (again,
when
was the last time that happened internationally?), 127+ score in the FS and her best total score
ever
...Mirai said she wanted to go out with a bang but it was more of a
BOOM!
...
drop the mic and all
. Mirai walked away with the silver medal, her first major international medal since bronze at Rostelecom Cup in 2013.
This is the way Mirai wanted to end her season. Her strong performances here prove that nationals wasn't a fluke and that she really has improved and is continuing to improve. If she keeps working on the jumps and reintroduces that old Mirai charm and sparkle back to her programs, she will be an international contender again.
Rika Hongo (JPN): 64.27 (SP) + 117.51 (FS) = 181.78 (3rd)
Rika came into this event with something to prove. After narrowly missing the podium at nationals, she needed a strong performance here to get her momentum going for Worlds next month.
Rika's SP wasn't her best but it was good enough to keep her in the mix. She opened her "Incantation" SP with a 3F-3T but under-rotated the back end of the combination and lost some points. Rika's 3-3s always look a little dicey to me. The opening mistake didn't shake her and she went on to finish out the rest of her program cleanly, landing a solid 3Lz and 2A and maxing the levels on all of her non-jump elements. Rika put a lot of energy and life into her step sequence and it paid off. She received almost straight +2s for the element (only one +1) which added +1.40 points to her score. Rika went into the FS in 4th place but less than 2 points out of 3rd.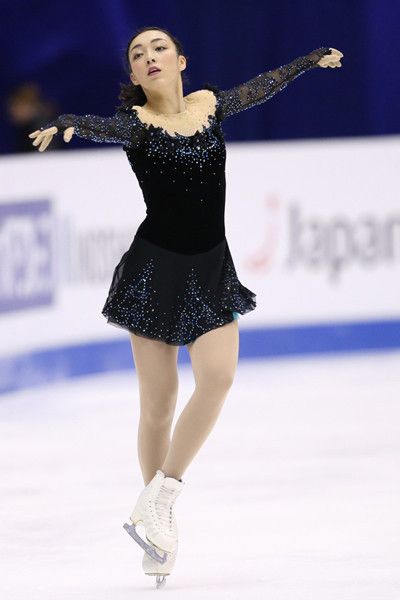 Time to step it up
With a podium position on the line Rika opened her FS with a 3F-3T. She didn't get nearly enough height on the second jump and went down. The fall in addition to the downgrade on the 3T hurt the element score quite a bit. A lot of times opening a program with such a bad jump can knock the whole program out of whack but, luckily, Rika was able to refocus and continue on. Other than an edge call on her 3Lz she was able to deliver the rest of the program cleanly, including a nice 2A-3T-2T in the bonus as well as all level 4 spins and a level 3 on her step sequence. I'm a big fan of this "Riverdance" FS for Rika. The program itself is very strong and builds which really helps to bring the audience into the program and get them cheering along. Despite a 5th place finish in the FS Rika's stronger SP was enough to carry her over and capture the bronze medal.
Rika isn't a medal favorite as we head to Boston but she is expected to be in the top 7. Her performances here weren't great but they weren't bad either. If she can build on both of them she should be in good shape.
As for the rest...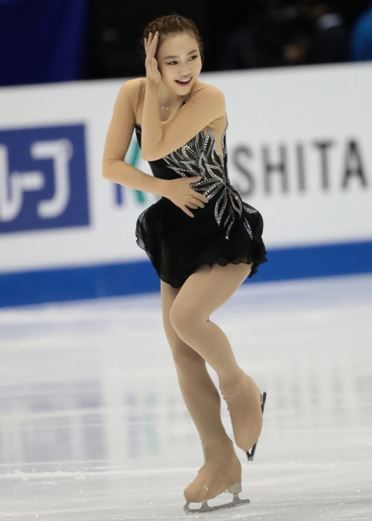 Finally! A clean SP!
So Youn Park (KOR; 178.92, 4th):
It was so nice to finally see So Youn deliver a clean SP. It feels like it's the first time she's managed this feat in ages. She opened with a solid 3Lz and then hit a nice 3S-3T. The performance was lovely and she finished the SP in 5th place. So Youn was the last to skate in the FS. She wasn't perfect (a fall, under-rotation and a few wonky landings) but she was solid enough to put up a decent score. In the end So Youn edged out Gracie by 0.53 points to take 4th place.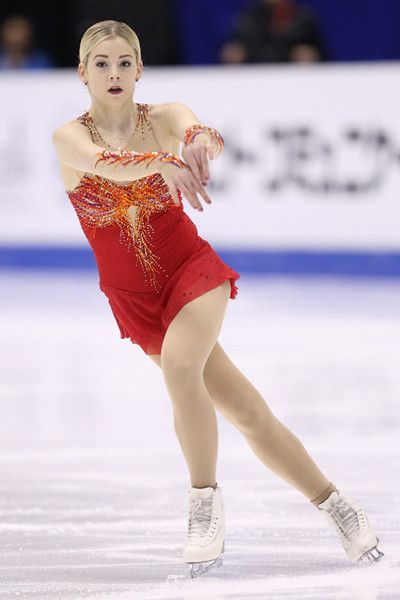 Oh Gracie...Gracie, Gracie, Gracie...
Gracie Gold (USA; 178.39, 5th):
I
want
to say I'm shocked to see Gracie finish off of the podium here but it'd be a total lie. I'm not shocked. I've kinda come to expect it actually. Gracie doesn't skate well when she's expected to win. As big as Satoko's scores were here, had Gracie skated both of her programs cleanly she'd have beaten Satoko. Gracie can't handle that kind of pressure. She tends to skate better when there's someone else in the field who is expected to win. The SP was a total disaster: two falls, no combo, and her delivery of the program was flat as week old soda. There was none of the spice, fire or flair that she brought to her SP in TEB or even at nationals after she messed up. She was a zombie. Despite two falls and no triples, Gracie still scored decently (57+) and was in a good position to move up with a strong FS. Sadly, Gracie completely backed off. I don't know if it was a mistake or if it was intentional, but she didn't skate to win. She took all of the difficulty out of the routine which left her with 5 triples. No 3-3 or 2-3. It was a clean yet dull and boring performance that placed 3rd in the FS and helped her move up from 9th to finish in 5th place. It's good she was able to move up but I'm really disappointed with her lack of fight here.
Gracie admitted to
not being "in proper shape"
for this event and it's obvious she was not. Losing to Satoko shouldn't have surprised anyone (she's been on fire this year); but losing to Mirai, Rika and So Youn Park before Worlds does not look good. Perhaps she should have taken the same route Ashley and Polina took and sat this one out? She's definitely zapped any momentum she had from nationals. Or maybe she needed to get these bad performances out of the way and now she'll be brilliant in Boston...I guess we'll find out.
Maybe next season?
Kaetlyn Osmond (CAN; 175.63, 6th):
She started off decently in the SP. Her feet didn't seem to be under her yet she managed to land both her 3F-3T and 3Lz. I figured she was on her way to a clean SP but then she blanked on her axel, singled it and fell.
*sigh*
The mistake left her in 11th place. Thankfully Kaetlyn fought back with one of her better FSs of the season. She landed 5 triples en route to her 119+ FS score. Based on Kaetlyn's stronger SP and her better overall performance in both programs, I'd have had her 5th here...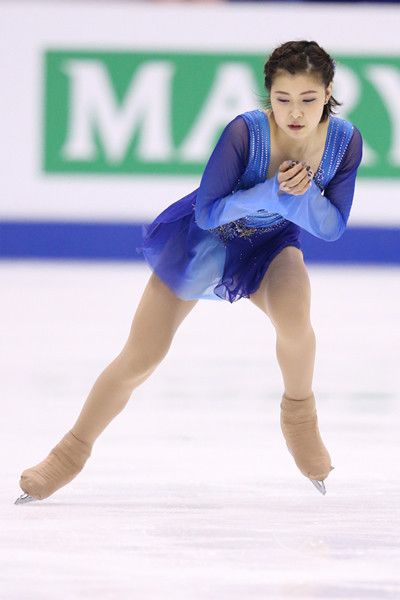 Not the finish she wanted
Kanako Murakami (JPN; 175.12, 7th):
Kanako's SP was wonderful. We got to see a bit of that "old" Kanako again. She opened with a big 3F (+1.20) and followed it up with a 3T-3T (+1.30) in the bonus. I really love this SP for her. The whole ending is just all kinds of spectacular. Kanako finished 2nd with a personal best score (68.51). Unfortunately, she wasn't able to maintain that level in the FS. Several under-rotations and only 3 clean triples dropped her in the standings and she finished 7th.
Na Hyun Kim (KOR; 170.70, 9th):
I was impressed with Na Hyun. I enjoyed her SP, especially her 3L-3L combo. She kinda reminds me of Yu-Na Kim circa 2006/2007. She's still a little awkward, not fully in control of her limbs, but I can tell Na Hyun could be a really lovely skater down the line. She hit the 3L-3L again in the FS but a few under-rotations as well as her "unknown" status with the judges limited her scores. I'll keep my eye out for her.
Perform from start to finish
Zijun Li (CHN; 167.88, 10th):
Zijun started off really well with her SP. I just love "Clair de Lune" for her...it fits her so nicely. Other than an under-rotation call on her combo (3T-3T(
<
)) she was solid and finished 6th. She opened her FS with a nice 2A-1L-3S and a 2A-3T(
<
) that she had to put her hand down on. The rest of the program went along nicely until she under-rotated and fell on her final jump. The mistake took all of the air out of her sails. She dropped the performance and basically finished in a huff. I wish she'd learn to perform more...she'd score much better if she did.
Alaine Chartrand (CAN; 165.73, 11th):
It was sad to see Alaine do so poorly here. I was so impressed with what she did at Canadian nationals; unfortunately, that momentum didn't carry over to this event. Alaine messed up her combo in the SP (3Lz-3T(
<
)) which left her in 7th place. Four under-rotations, a fall and an edge call really took her out of it in the FS.
Karen Chen (USA; 161.52, 12th):
More disappointment from Karen. It's been a tough year for her all around. I think the boot problems really set her back this season. She was not good here in either program. The SP was lovely but she singled her solo loop which put her behind the field by about 6 points. She fought back somewhat in the FS but two falls, multiple under-rotations and an edge call left her no hope of a good finish.
That's it. Next stop: Worlds! My junior and senior Worlds previews are coming soon. Later peeps!