More skating! The 2016 European Championships took place last week. The ladies event at Euros is more like a mini rematch of Russian nationals. The top 3 competed again here and the results were...eh, the same. I'll also take a look at the ladies from last weekend's Canadian National Championships.
2016 European Championships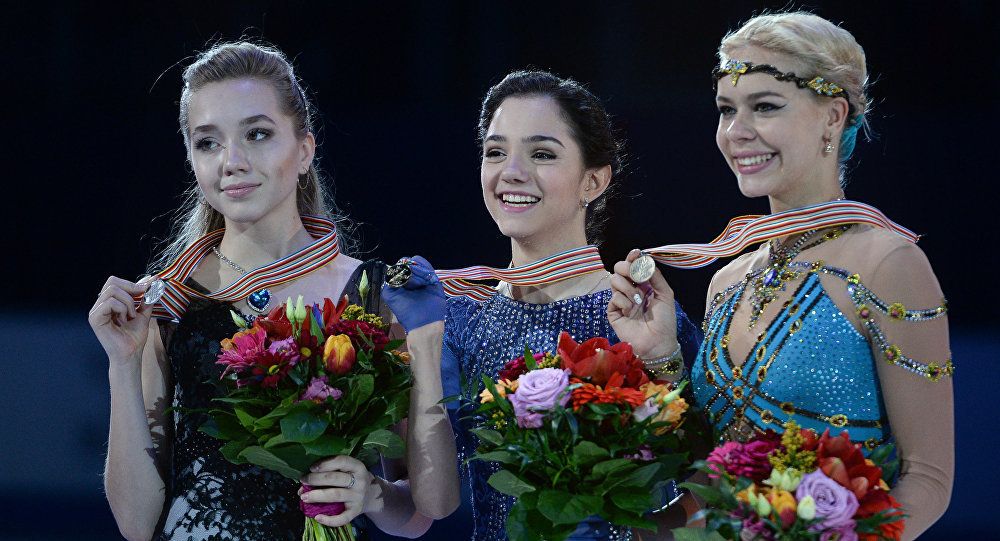 Another Russian sweep this year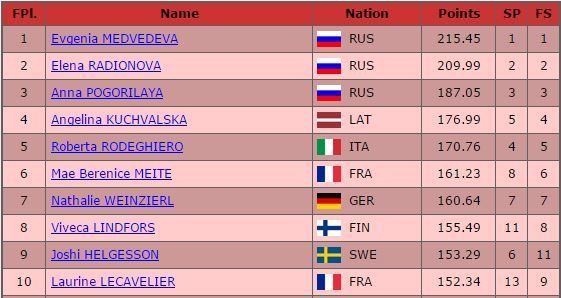 Evgenia Medvedeva (RUS): 72.55 (SP) + 142.90 (FS) = 215.45 (1st)
Evgenia's final stop before Worlds was just another feather in her cap. There seems to be no stopping her at this point! Evgenia's SP was strong but not perfect. Her 3F-3T was solid and racked up plenty of points (+1.40) but she lost points on a step out of her 2A. Luckily she rebounded immediately and finished off her 3L with no problem. Despite the mistake she went into the SP with a 1.59 point lead. As usual, she was able to pull off another top-scoring FS. Evgenia's only mistake was a fall on her 2A in the second half of the program. If there's one jump that's a bit sketchy for her, it's the axel. It will be interesting to see how that jump treats her in another 12 months. I found it hilarious that she looked so shocked when the numbers came up and she realized she'd won. There wasn't a doubt in my mind... Fall and all, Evgenia won the FS easily and walked away with the title. Next stop, Worlds!
Elena Radionova (RUS): 70.96 (SP) + 139.03 (FS) = 209.99 (2nd)
Elena turned in a solid performance of her SP. Her opening 3Lz-3T was good but not great. The landing of her lutz has always been scratchy, but she knows how to get up in the air and complete the 3T. Obviously looking to get herself a little closer to Evgenia technically, Elena opted for a 3F instead of the 3L. It worked out okay I guess; she received GOE ranging from -2 to +2...really don't know what happened there. Elena scored well and was a close 2nd going into the FS.
Side note
: Elena has stepped up her fashion game this year. I really loved her first FS dress and this one is lovely as well. The skating was, well not so
lovely
per se, but she got it done. The jumps aren't that pretty but she rotates them and stays upright so that's a win for her. Overall Elena turned in a clean program but it wasn't enough to overtake Evgenia for the title and she had to settle for silver for the second year in a row.
Anna Pogorilaya (RUS): 63.81 (SP) + 187.05 = 123.24 (3rd)
Anna's SP started off with a huge 3Lz-3T (+1.10). When her jumps are on they are really nice. Unfortunately she lost focus on her solo triple and ended up doubling her 3L which resulted zero points. Anna finished out the rest of the program strongly (good energy and commitment to the choreography) but the loss of that 3L hurt her score and she finished the SP in 3rd place, more than 8 points off of the lead. The FS started off well with another great 3Lz-3T and 3L-1L-3S...and then came the
ouch
. Anna had not one but
two
bone-jarring falls (which shall henceforth be known as a
PogoSplat
(TM)
), one on her second lutz and the other on her 3L. I don't know what she does to fall so horribly. It's almost like she launches herself into the jump without taking a moment to check her technique. The falls looked awful but she got up and kept going. She obviously had no hope of catching Evgenia or Elena after the first fall but her overall skating was good enough for a bronze medal. It will be interesting to see what the Russian Federation does regarding that 3rd spot at Worlds. Will it go to Anna or someone else? I think Anna has earned it but we'll have to see what they decide...
And that's that...onto Canadian Nationals...
2016 Canadian National Championships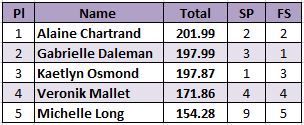 Alaine Chartrand: 68.81 (SP) + 133.12 (FS) = 201.99 (1st)
Alaine really threw it down at these championships. She started off beautifully with her "Pina" SP. She opened with a big 3Lz-3T (+1.10) and followed it up with a clean 3L and 2A as well as two level 4 spins and a level 4 step sequence that earned her +1.50 points in GOE. I thought she should have placed 1st in the SP but she settled for a close 2nd. Alaine had to skate after Gabrielle's high scoring FS but rather than balk at the challenge, she met it head on. Up until this point we haven't had an opportunity to really
see
this "Gone With the Wind" FS. Team Chartrand's insistence on the 3A earlier in the season always took her out of the program right at the beginning. Thankfully Alaine ditched the 3A and went for a clean skate. I have to say this is a very effective "GWTW" program, especially when she skates like this. She was virtually flawless, though she did lose points on an under-rotation and edge call. Still, Alaine really gave it her all, performed her ass off, and totally brought the house down. She finished a narrow 2nd in the FS but her lead from the SP put her on top for her first national title. I'm very impressed with Ms. Chartrand. Very well done!
Gabrielle Daleman: 64.44 (SP) + 133.55 (FS) = 197.99 (2nd)
It's always tough to defend a title and Gabrielle learned that the same way every other defending champion learns it: the hard way. She started off well in her SP with a massive 3T-3T (+1.60) but then fell on her solo 3Lz. The mistake left her in 3rd place heading into the FS, more than 6 points off of the lead. Gabrielle was the first of the medal contenders to skate and she threw down the gauntlet. Other than an under-rotation and close call on her 3T-3T, she was excellent. She nailed all of her jumps and maxed the levels on all of her non-jump elements. I don't think she gave the performance as much energy and emotion as Alaine did but she did give a solid performance. It was a wonderful way to rebound after the disappointment of the SP. In the end Gabrielle won the FS (by 0.43 points) but she wasn't able to make up the deficit from the SP and had to settle for silver.
Kaetlyn Osmond: 70.63 (SP) + 127.24 (FS) = 197.87 (3rd)
After missing nationals last year, Kaetlyn came back this year to claim her throne. She started her title bid decently. The SP was solid but it wasn't her best. She opened with her 3F-3T combination but doubled the 3T. Thankfully she recovered with a massive 3Lz and went on to finish out the rest of the program cleanly. When Kaetlyn skates well, she really does stand out. This "La Vie en Rose" SP is very lovely and despite the crappy version of music she chose, I really love the program. The judges loved it as well and placed her 1st. Unfortunately for Kaetlyn she had the misfortune of skating last, right after Alaine's epic performance. Overall it was an up and down performance, though I will say I love the FS for her as well. I see where Kaetlyn has grown...she just has to find some consistency. The mistakes cost Kaetlyn and placed her 3rd in the FS and left her in 3rd place overall by only one-tenth of a point.