I was geared up for this to be a pretty decent Russia vs. Japan competition. Thanks to not one but
two
freak accidents in two days, this ended up not being the match I was expecting.
The Russian streak has been broken!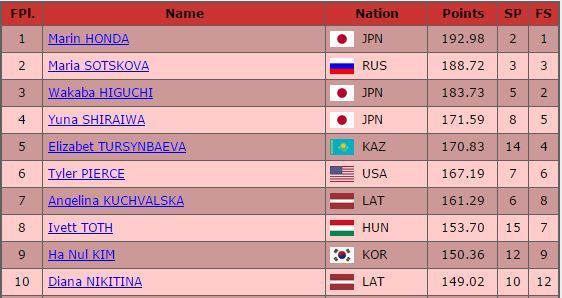 Marin Honda (JPN): 66.11 (SP) + 126.87 (FS) = 192.98 (1st)
That phrase "save the best for last" seems to apply to Marin's performances at this event. Marin's skating has been some of my favorite from the junior ladies this season; however, her uneven and inconsistent performances prevented her from really shining. That wasn't the case here. Marin turned in a lovely SP, nailing all of her jumps including a lovely 3L-3T (+1.40) and receiving level 4s on all of her non-jump elements. She tied for 1st place with her score but due to a slightly lower TES, she placed 2nd going into the FS. Alisa Fedichkina's withdrawal before the FS came as a shock but Marin saw the opportunity and seized it. She was flawless in the FS. 7 triples including a 3S-3T and a 2A-3T in the bonus. Marin won the FS and the gold medal, and finally snapped Russia's five-year winning streak at these championships.
Maria Sotskova (RUS): 64.78 (SP) + 123.94 (FS)= 188.72 (2nd)
With both Polina Tsurskaya and Alisa Fedichkina out of the competition, the pressure fell to Maria to place no lower than 2nd in order to maintain Russia's three spots to these championships next year. Luckily Maria did her job. Her SP was solid in terms of her jumps but her non-jump elements (level 2 on one spin and level 3 on another) left her slightly behind the top 2 heading into the FS. With all of the pressure to skate well on Maria's shoulders she held up very well in the FS. With the exception of an under-rotation on her final 2A, she was solid. Again the mix of levels on her non-jump elements hurt her a bit in terms of base points, but she handled the unexpected pressure of being the only Russian in the field and walked away with a silver medal and 3 spots for Russia next year. Very well done.
Wakaba Higuchi (JPN): 58.08 (SP) + 125.65 (FS) = 183.73 (3rd)
Wakaba has been up and down this season and, unfortunately, that's what she did here. Wakaba lost major points on her combo (3Lz-3T(
<<
), fall) but was able to recover and finish out the rest of the program well and place 5th. She went all out in the FS and nailed everything including a 3Lz-3T and 2A-3T in the bonus half of the program. I also saw improvement in Wakaba's presentation in terms of her outward performance; she engages the crowd and judges more and that's always a plus. Wakaba's strong FS placed 2nd in the FS but due to her rough SP, she couldn't overtake Maria and had to settle for bronze. If she ever gets herself together she's going to be a beast...
As for the rest...
Top 5 finish for all 3 Japanese ladies
Yuna Shiraiwa (JPN; 171.59, 4th):
Yuna struggled a bit in the SP. She ended up doubling her combo (3Lz-2T) which really hurt her score and left her in 8th place going into the FS. She regrouped well in the FS hitting two 3-3s (3Lz-3T and 3S-3L) and keeping her mistakes small minimum (a ding on her 3F(
!
) and an under-rotation on a 3Lz). In the end she placed 5th in the FS and 4th overall.
Nice comeback!
Elizabet Turzynbaeva (KAZ; 170.83, 5th):
Elizabet's SP was rough. She fell on her opening jump and then had to stop her program for several minutes to tend to a nosebleed. Once she restarted the program she finished out the rest of it cleanly. Unfortunately, the fall plus the interruption deduction cost her a total of 6 points and left her in 14th place. Thankfully Elizabet is a little fighter. She stormed back in the FS and nailed all 7 of her triples cleanly. She placed 4th in the FS and leapfrogged from 14th to finish 5th overall.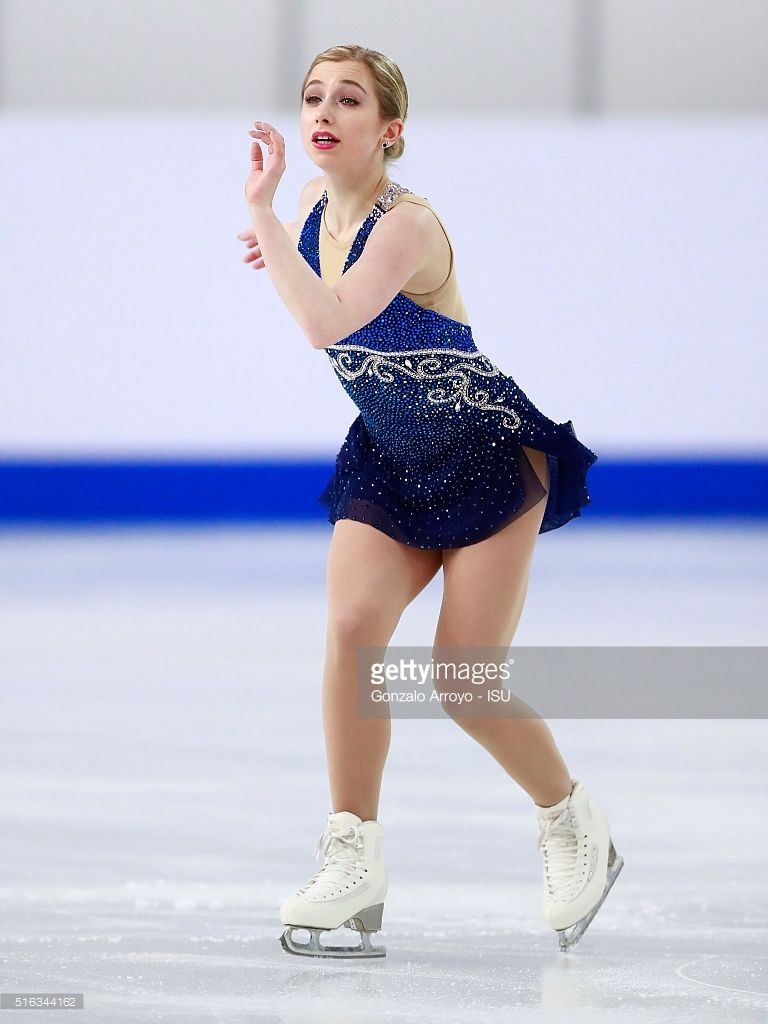 From 19th to 6th in one year
Tyler Pierce (USA; 167.19, 6th):
Tyler opened her SP well with a nice 3T-3T (+1.00) but lost points on an under-rotation and fall on her 3F. Her non-jump elements were strong and helped her to finish 7th in the segment. The FS was stronger though she did lose points on two under-rotated triples and a ding on her 3F(
!
). Overall she turned in a strong performance which placed 6th in the FS and helped her to finish 6th overall, a major improvement over her 19th place finish last year.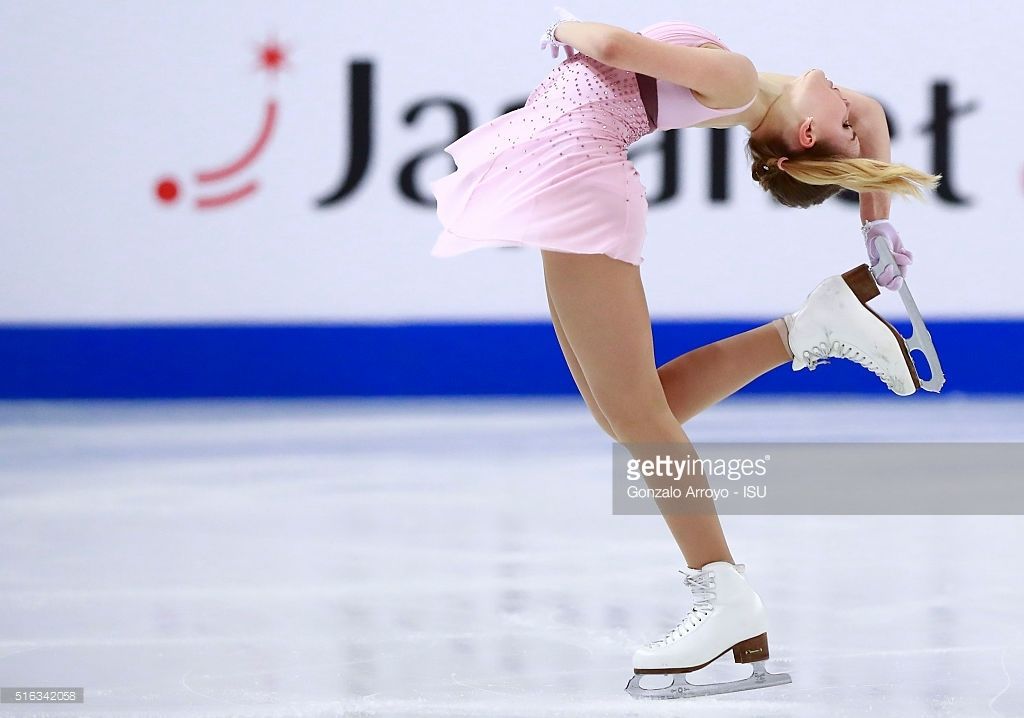 Drink more milk!
Alisa Fedichkina (RUS; 66.11, WD):
Alisa was lovely in the SP. Other than a ding on her 3Lz(
!
)-3T combo, she was wonderful. She and Marin Honda tied in points in the SP, but thanks to Alisa's higher TES (38.16 vs. 37.57), she placed 1st. Unfortunately news came that Alisa sprained her ankle in off-ice training and she had to withdraw.
Other notes:
Polina Tsurskaya (RUS)
, the favorite coming into these championships, withdrew before the SP...
Bradie Tennell (USA)
started off well in SP by placing 4th but had a disastrous FS which placed 14th in the segment and left her in 11th place overall...Even with a somewhat depleted field, the US ladies were not able to secure that 3rd spot to next year's junior worlds *sigh*
That's it for the juniors! Congrats to the winners and a speedy recovery to Polina and Alisa. The major event, the
2016 World Championships
, is coming up next. I'll have my ladies preview for that next week!