We're almost there! The 2016 World Championships start in just a few days and I'm so excited! This is the first time these championships have been held here since 2009 and we are all dying to find out how this event will turn out. As is customary for my previews, I'll take a look at where each competitor is coming and give them a bottom line for these championships.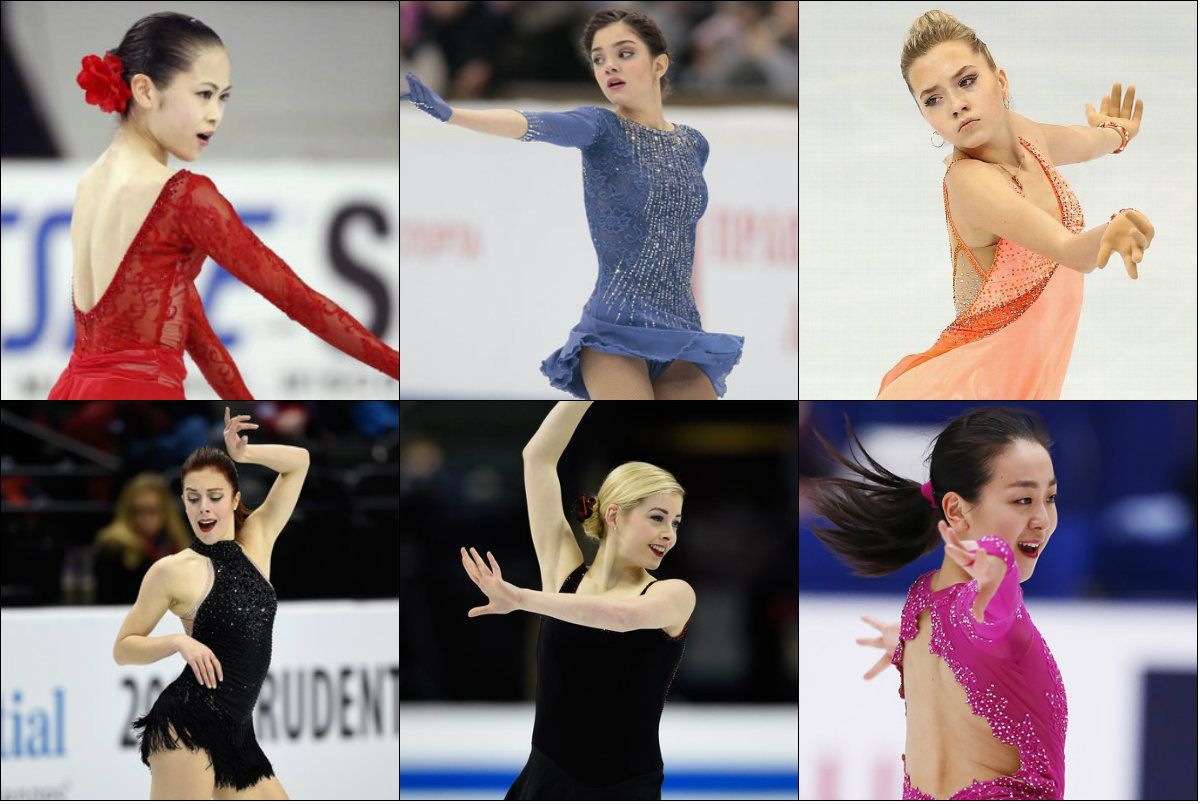 Who will show up and show out in Boston?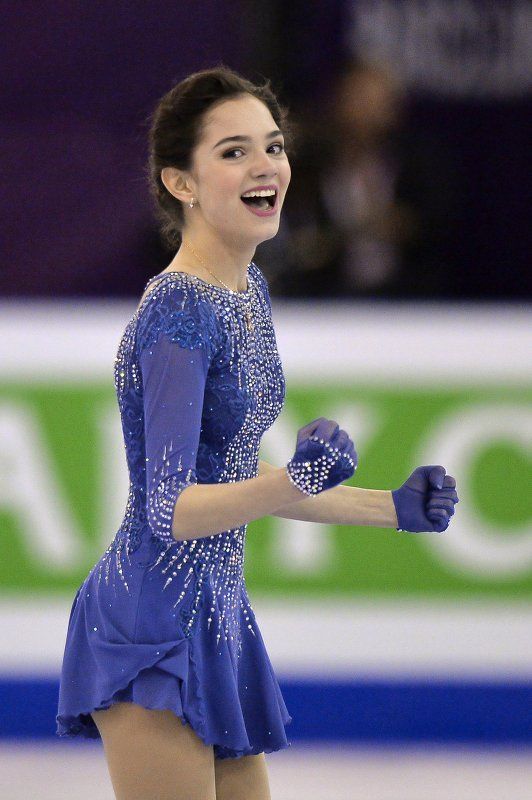 A clean sweep of the major titles is in sight...
Coming In:
No one has been more on fire than Evgenia this season. She's had one of the most spectacular senior debuts I've seen in quite a while. It doesn't seem like this is her first senior year at all. She's skating like a seasoned veteran and pulling down the scores of one too. After winning the Final she went on to capture the Russian national title and the European title. She's consistent, she's calm, she has that "it" factor and she has momentum. It's tough to imagine anyone beating her, but I don't doubt it can be done. However, Evgenia is the odds-on favorite for the title and almost a lock for a medal. I'd be shocked if she doesn't' win...
Bottom Line:
Keep doing what you're doing and you're golden.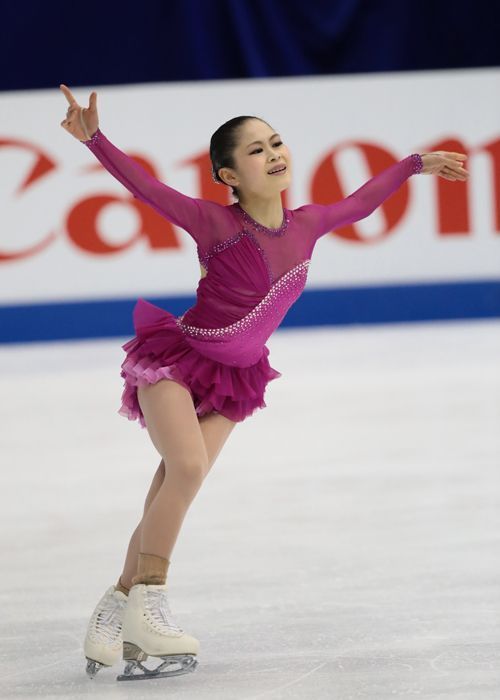 Tiny Queen can stand on back-to-back podiums
Coming In:
Satoko has always been in the shadow of bigger jumpers and flashier skaters. Even as the World silver medalist she didn't always receive the respect she was due...that has all changed. Satoko's beautifully and smartly constructed programs plus her insane consistency this year have given her the boost she needed to move from possible threat to bonafide gold medal contender. She defended her national title this year and set personal bests at Four Continents where she claimed the gold medal. Now that Satoko's PCS have caught up to her TES, she's in a great position to repeat as a World medalist. I do feel that Satoko may be pushed aside if some of the other big names actually show up...however, given her season and what she's accomplished (and the track record of those other names), a clean Satoko will likely place in the top 2 this year.
Bottom Line:
Keep it up and you'll be on that podium.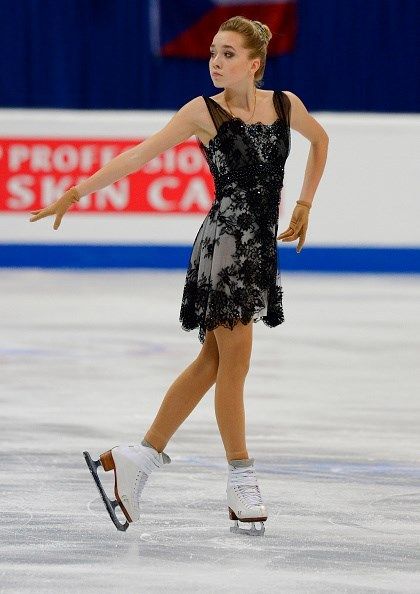 She won't go down without a fight
Coming In:
Elena hasn't been the constant she was last year but she's still in the mix. She lost her national title to Evgenia and had to settle for silver, and she placed second behind Evgenia at Europeans as well. Elena's star may have fallen a bit this season but she's still a tough competitor who can do major damage when she's on. She's a fighter who won't back down...that makes her a podium threat each and every time. Elena has great technical content but her somewhat sloppy jumps don't rack up nearly as many points as others in GOE, and that could make the difference in where she places. If she wants to land on the podium this year she'll need to hit all of her elements and hit them cleanly.
Bottom Line:
Land the jumps as cleanly as possible and
sell, sell, sell.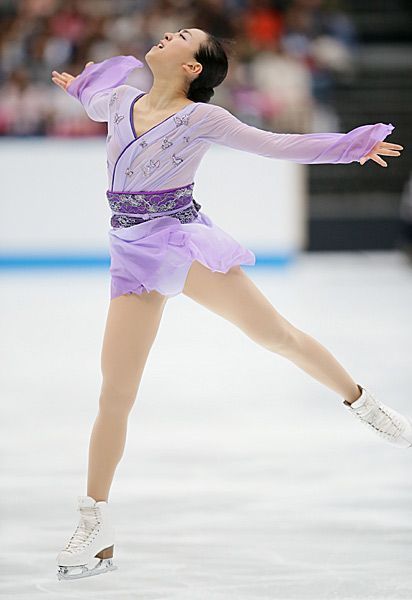 Underdog? Mao?
Coming In:
Mao hasn't had the best season. She started off strongly but has yet to reach the level necessary to make her a favorite for a medal here. She finished 3rd at nationals this year and skipped Four Continents. When you think about it, Mao is an underdog of this competition. Of course counting her out is a terribly stupid idea. At her best Mao is still the strongest skater in the field, and clean performances in Boston (especially if she includes a 3A or two) will undoubtedly land her on the podium, if not the gold medal. The eyes will be on the Russians, Americans and Miyahara at this event. Perhaps without the limelight on her Mao may be able to relax a little and let the jumps just come to her.
Bottom Line:
Embrace the underdog position. Fly under the radar and kick some ass.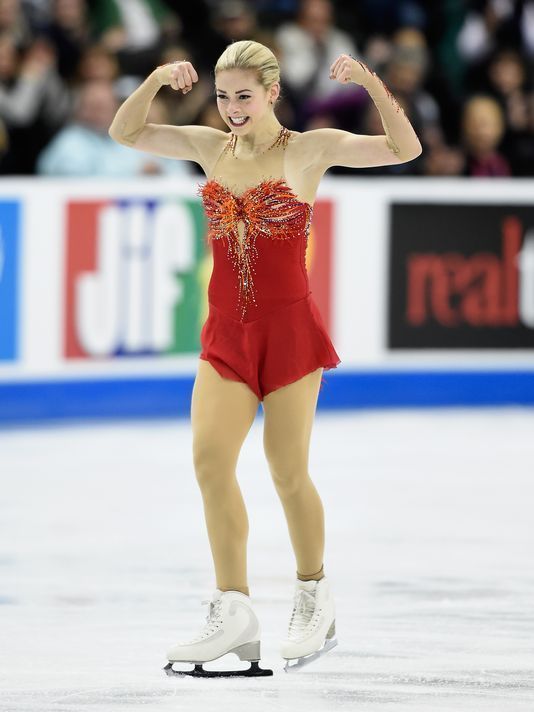 There will never be a more perfect time to strike...
Coming In:
Gracie is back to being a box of chocolates: we never know what we're going to get. After storming back in the FS to claim her second national title, Gracie decided to compete at Four Continents. In hindsight, it was a terrible idea. She choked in the SP and backed off in the FS which left her in 5th place overall. The momentum she managed to generate with her win at nationals has been zapped away and now we're all back to wondering which Gracie will show up in Boston. The pressure will be on her to skate well as the national champion on home ice in front of a home crowd. The good news is Gracie usually skates better when she's up against tougher competition. Having the home ice advantage will definitely help her, but she's going to have to back that up with some clean and inspired skating to get past the gauntlet of teenagers standing in the way of the podium.
Bottom Line:
Use the home ice and home crowd advantage and just skate.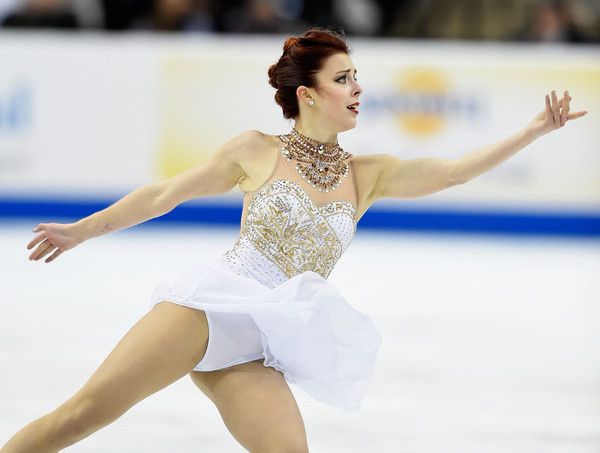 This may be her last chance to make it happen
Coming In:
Ashley's last performance was a good one so she carries that bit of momentum with her. As is always the case the SP will be the major test for Ashley. Her
modus operandi
of dropping the SP and storming back in the FS will not fly here. In a smaller field that might work but not at the World Championships. Ashley will need to be on top of her game in both programs if she hopes to have a shot at making it to the podium this year. The 3F-3T is crucial for her in both programs and she'll need to make sure she milks every possible point out of her non-jump elements as well. Boston may very well be Ashley's last chance at securing a World medal. If she goes out and attacks it like she wants it, she just may get it...
Bottom Line:
Attack the jumps and make sure to get those levels.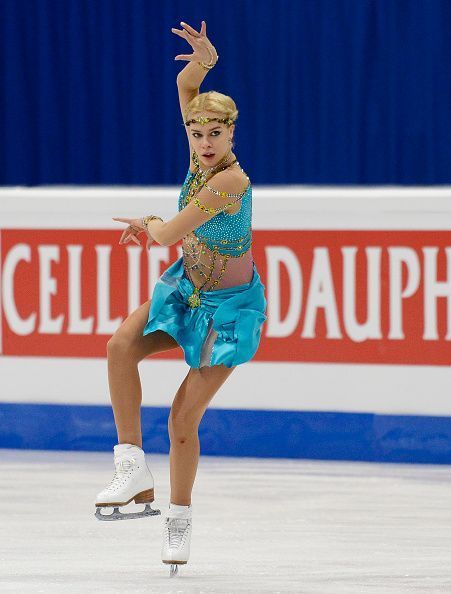 No PogoSplats please...
Coming In:
Anna went from having a disastrous season to somewhat getting a grip on her skating. She turned in two clean performances at nationals which landed her in 3rd place and secured her a trip to Europeans. She struggled somewhat at Europeans but was able to capture the bronze medal and earn herself a trip to Worlds. Anna's trademark
PogoSplats
are flat-out terrifying, but when she's
on
she has the ability to deliver some pretty nice skating. There is enough content in her programs for a top 5 finish but it will come down to what kind of skating she delivers on the day. If she stays on her feet and sells her programs, Anna could be the dark horse of this event. If not she could easily
PogoSplat
her way out of the top 10...
Bottom Line:
Take your time on the jumps and stay on your feet...
please
.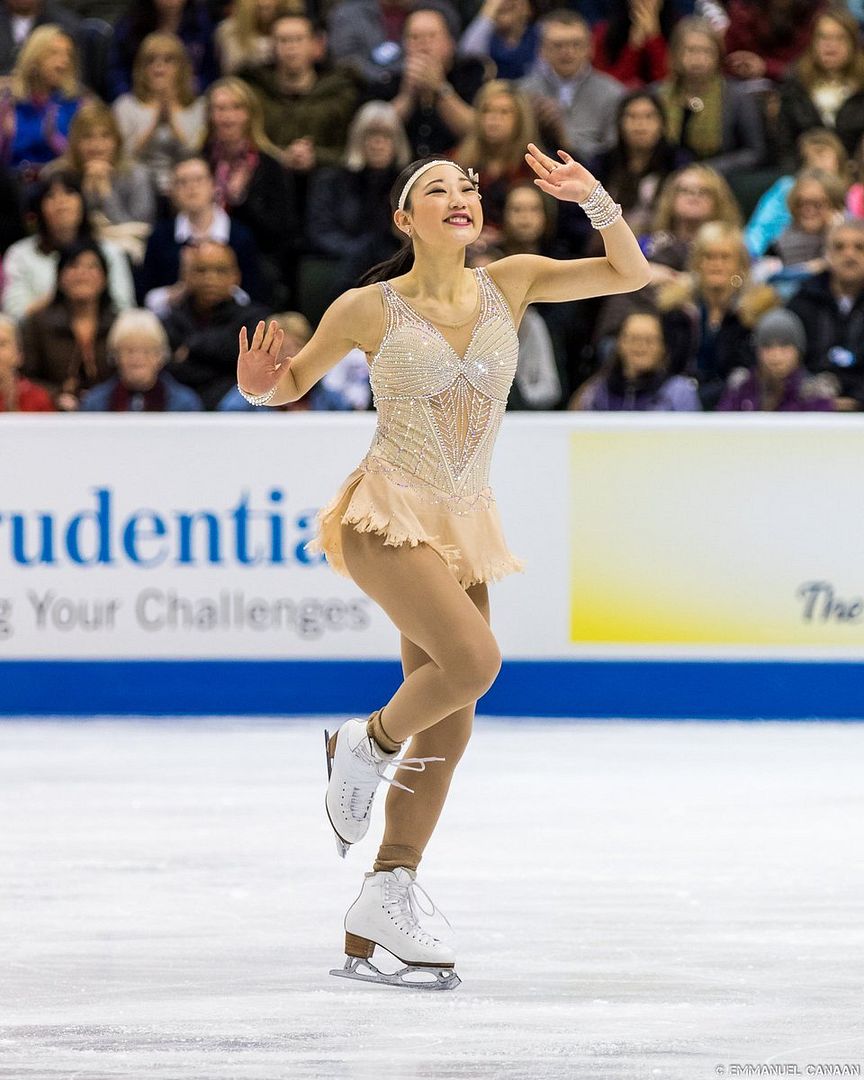 No pressure, no worries. Just go out and have fun!
Coming In:
News came last week that U.S. bronze medalist
Polina Edmunds had to withdraw from Worlds
due to a bone bruise. Everyone was sad for Polina but thrilled for Mirai who as the first alternate will now fill that third spot for the U.S. ladies. It seems like a fairy tale ending for Mirai who has been steadily gaining steam all year long. She turned in strong programs to finish 4th at nationals and then turned in her best international total score to date with strong back-to-back performances and a silver medal at Four Continents. As the U.S. #3 there isn't a lot of expectation on Mirai; everyone will be looking to Gracie and Ashley to do the heavy lifting. For that reason Mirai can skate pressure-free and just enjoy her second trip to Worlds. However, if she's able to turn in strong performances, I wouldn't be surprised if she shocks a few people...
Bottom Line:
Soak up the experience and have fun. You've earned it.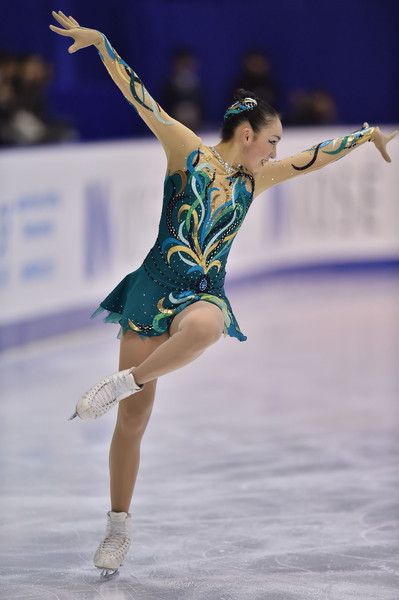 Bring the energy and the fun!
Coming In:
Rika made some progress at the beginning of the year but she's been having a hard time getting herself back to that level. She missed the podium at nationals this year and finished a distant 3rd at Four Continents. Even so Rika has a great shot at staying in the top 10 but she will need to nail everything. She's often hit with under-rotations on her 3-3s and even though she has improved her presentation and performance over the years, the judges still don't give her the kind of marks she'll need to make it to the podium. However, if Rika can go out and perform her entertaining programs well, she can put pressure on the other skaters battling for a position in the top 6 or 7.
Bottom Line:
Rotate the 3-3s and sell your programs.
We'll also see G
abrielle Daleman (CAN), Alaine Chartrand (CAN), Zijun Li (CHN), Mae Berenice Meite (FRA), Elizabet Turzynbaeva (KAZ), So Youn Park (KOR), Joshi Helgesson (SWE)
and more.
The
2016 World Championships
will take place
March 28-April 3
in Boston, Massachusetts. The ladies will take the ice for the SP on Thursday March 31st at 12:10pm. I'll be stuck at work but I plan on sneaking to watch video and tweeting as much as I can (
@NakedIceBlog
) and I'll definitely be in front of the television Saturday night for the FS. As I tweeted earlier last week I sold my Cirque du Soleil tickets for that very reason. I just couldn't miss watching the ladies skate for the title live. Don't worry, I bought better tickets for the March 9th show!
Time for a poll! This one is going to be a little different. With Gracie's performances being hit or miss, Ashley never really being a sure thing and Mirai thrown into this event at the 11th hour, no one is sure just how well the American ladies are going to do at this event. So my poll question is
Which American lady will shine in Boston? Gracie, Ashley or Mirai?
Make sure to vote! Later!