With two competition series going on there's plenty to cover. This week was JGP Cup of Mordovia and the second event of the ISU Challenger series, U.S. International Classic.

Polina Tsurskaya (RUS): 183.73 (1st)
I've always been a fan of Polina's jumps (
amazeballs!
) but her skating was rather blah for me last season. Wow...what a couple of months can do! She has definitely worked on her skating overall during the off-season and it shows. She's grown a bit and looks more mature which makes her stand out from a lot of the other girls. Additionally she's paying more attention to the choreography and feel of the music. Her skating is a lot cleaner this season and that makes her so much easier to watch. The SP was amazing and though she had some trouble in the FS her large lead from the SP was enough for gold. You could tell she was disappointed in her performance but to say she's coming back after an injury, I think she should be very proud of herself.
Stanislava Konstantinova (RUS): 175.20 (2nd)
Stanislava had a solid first outing. I feel like a year or so down the line I may feel the same way about her as I feel about Polina now. I think Stanislava has a bit of flair about her skating, especially in the SP, but I'm not getting much a performance from her right now. She's a bit sloppy at times but that's something that can be fixed. Stanislava had issues in the FS but thanks to a strong SP she was able to stay ahead of Elizaveta and take silver. Hopefully we'll see her at another event this season.
Elizaveta Nugumanova (RUS): 173.13 (3rd)
I've been hearing about Elizaveta for the past year or two so it was nice to finally see her make it to the JGP. She's a lovely skater and her spins are Lipnitskaya-esque. She had some trouble with under-rotations in the SP but only had one in the FS. Her 3L-3L combo in the FS received full credit and was well-executed, so I don't know if it was nerves or if she has issues rotating...I suppose we'll find out from her next event. It was a solid debut and I'm excited to see more from her this season.
As for the rest...
Yuna Shiraiwa (JPN; 169.67, 4th):
Yuna definitely had a shot at a medal here but she ran out of gas in the FS towards the end. A stumble and a fall allowed Nugumanova to slide ahead of her onto the podium.
Only three events left to go! This week will be
Ljubljana Cup
which takes place in Slovenia. We'll get to see
Marin Honda (JPN), Alina Zagitova (RUS), Rika Kihira (JPN)
and
Alisa Lozko (RUS)
in their second event. Spots to the Final are on the line for several skaters so this should be a good one.
Moving on...
U.S. International Classic
Second event of the Challenger series...not much of a competition really...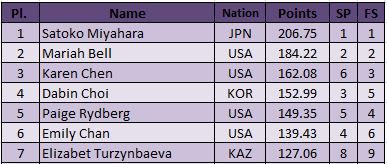 Satoko Miyahara (JPN): 206.75 (1st)
It's nice to be able to rely on things. The sun will set and rise the next day, the tide will come in and then recede, and Satoko Miyahara will deliver at a competition. These are things you can set your watch by and they never fail to happen. Satoko has been the most consistent competitor in the field for over a year. For that alone she deserves a ton of respect especially when you consider there are some skaters who couldn't buy a clean competition if their life depended on it. Both programs were lovely though she did lose a few points on under-rotations. Still she was as gorgeous and elegant as ever. Rock on Tiny Queen!
Mariah Bell (USA): 184.22 (2nd)
I thoroughly enjoyed Mariah's "Chicago" SP. She struggled with the jumps but the choreography and delivery were very well done. I'm not as crazy about the FS but she turned in one of the strongest performances she's had in a while. She hit both 3-3s (3Lz-3T and 3F-1L-3S) but she did fall on her second lutz. I think Mariah is a star but she continues to struggle to find her stride competitively. If she ever gets herself together she'd be something special.
Karen Chen (USA): 162.08 (3rd)
Here's another skater who would be a star if she could get herself together. Karen totally bombed the SP but, like Mariah, turned in a better effort in the FS. Karen has the goods: speed, spins, presence, "it" factor, but she can't seem to return to that brilliance we saw from her back in 2015 when she finished 3rd at nationals. I'm trying to be patient but I'm ready for her step up. She could be a legitimate competitor internationally but she's never going to get anywhere if she can't stay focused and deliver.