Lots of skating has taken place in the last few days. I'm going to take a quick look at the third JGP event, JGP Yokohama, and the first event of the ISU Challenger Series: Lombardia Trophy. Here we go!
Kaori Sakamoto (JPN): 187.81 (1st)
With a trip to the Final on the line Kaori showed up ready to battle. She delivered well in both programs and ended with the gold. I love Kaori's skating skills and her big jumps...and by big jumps I mean
massive
! Her opening 3F-3T in her FS was amazing: huge air on the 3F, lots of speed and ice coverage and a nice riding edge into and out of the 3T. Next to Marin she's a bit plain in terms of her performance so that's an area she needs work. But for now, she's got the gold medal and a trip to the Final. Nicely done!
Marin Honda (JPN): 184.11 (2nd)
Marin had issues in the SP but stormed back with a gorgeous skate to win the FS. Her FS was on a different level than the rest of the field. Her speed across the ice, the ease of her jumps and her maturity and polish really set her apart from the field for me. I really hope to see Marin find some more consistency this season. She's definitely got the goods and then some to compete at the top, but she has to put together two clean programs if she hopes to have a shot.
Mako Yamashita (JPN): 182.43 (3rd)
Great debut for Mako. I really love the spring she gets in her jumps. She goes up very straight in the air and lands with a soft knee that helps her landings flow nicely. I want to see a bit more from her in transitions but she has great skating skills and a really good base to build upon. Hopefully she'll continue to grow as a performer and really learn to reach the crowd.
As for the rest...
Sofia Samodurova (RUS; 180.69, 4th):
It's definitely a shock not to see a Russian on the podium. Even though she missed a medal this was a strong debut for Sofia. I think she needs work in terms of skating skills, power, and technique (edge call on the lutz) but I enjoyed her. Hopefully we'll get to see more of her this season.
Ye Lim Kim (KOR; 165.89, 5th):
Ye Lim improved upon her scores from JGP St. Gervais which is always good to see. I think she's going to need more in order to really make a splash. Good job though...
Alisa Fedichkina (RUS; 165.25, 6th):
Alisa had a pretty decent showing here but lower scores in the SP and only 5 triples in the FS kept her well away from the podium. It's very doubtful she'll make the Final if she has another event. I'm sad about that. I really enjoy her skating...
Gabrielle Noullet (USA; 128.76, 7th):
I feel like Gabrielle has the potential to be pretty amazing. She totally tanked her FS but that opening 3Lz was so gorgeous (+1.40) that she gave me hope for the future. I'm crossing my fingers to see her in some future events. Gotta keep my eye out for her...
We're at the midway point of the JGP season. This week is
JGP Cup of Mordovia
which takes place in Russia. Headliners at this event include
Polina Tsurskaya (RUS)
and
Yuna Shiraiwa (JPN)
as well as the JGP debut of
Elizaveta Nugumanova (RUS)
.
Moving on...
The ISU Challenger Series began last week. This is an opportunity for us to see some of the Grand Prix seniors before the real portion of the season kicks off. This first event was a close one...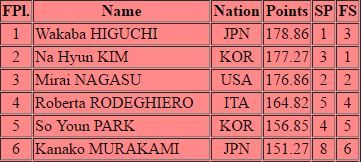 Wakaba Higuchi (JPN): 178.86 (1st)
This was a very close competition with only 2 points separating 1st from 3rd, but Wakaba came out on top. I'm really happy to see that Wakaba has made quite a bit of improvement when it comes to feeling her music and connecting to her program. I loved her SP! She won the segment by over 5 points which came in very handy because she ran into a bit of trouble in the FS. A doubled lutz and an invalid element cost her some points and left her in 3rd in the FS, but the lead from the SP was enough for her to edge out Kim for gold.
Na Hyun Kim (KOR): 177.27 (2nd)
If I'm not mistaken the last time a Korean woman stood on an international podium was when Yu-Na Kim finished 2nd in Sochi in 2014...so this is actually a pretty big deal. Na Hyun was very strong in this competition. She successfully completed a 3L-3L combo in both segments and earned full credit plus positive GOE (+0.70 on both attempts). She won the FS here with a lovely skate and nearly stole the gold medal but ultimately settled for silver. Na Hyun lacks the drama and intrigue of Yu-Na but she does have a certain flair about her that I like. Maybe she'll be the flagship skater for Korea in 2018?
Mirai Nagasu (USA): 176.86 (3rd)
For an early season competition this was a good outing for Mirai. She had falls in both programs but she did hit her 3F-3T in the FS and she earned the highest PCS in both segments of the competition. I hope she can work the kinks out in these early events so that she can be at her best for the GP. If Mirai is shooting for a spot on the Pyeongchang team, now is the time to start building her case. She's looking strong so far...she'll just need to build on each performance as she continues to move forward.
I'll be posting again soon. The Russian test skate videos are up and you know I have plenty to say about those! Laters!