I should really just stop trying to predict who is going to win these things...I'm never right...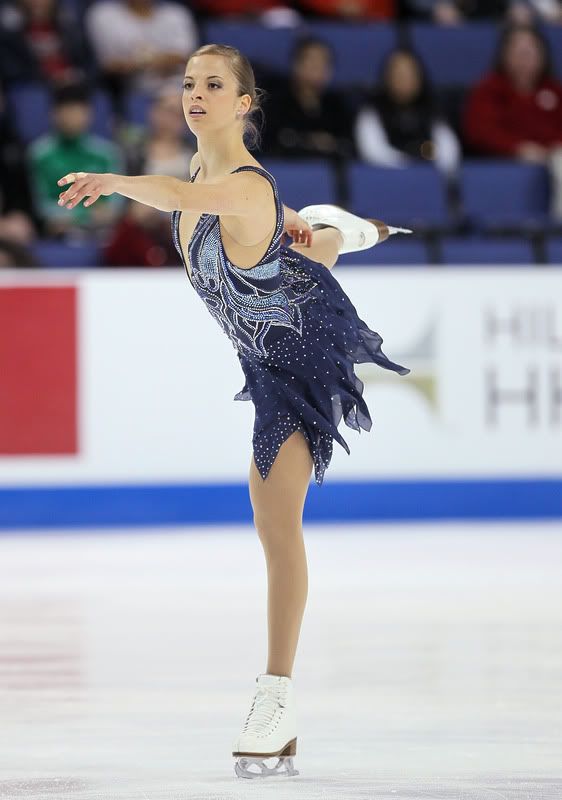 If I find a podium pic I'll post it...
The final standings for Cup of China:

Carolina Koster (ITA): 61.88 (SP) + 120.26 (FS) = 182.14 (1st)
I have to say I am enjoying Carolina's skating more and more each time I see her. Her approach of taking the easier route has paid off, not just in medals, but in her skating. I think Carolina is the only skater who can cut back on the technical content and still manage to outscore people. Her skating skills are amazing and that's what she's been winning with the past few competitions. Her speed, lines, edging, interpretation and performance shine brightly when she's not bogged down with jumps and that's what she did here. She had a problem in the SP but recovered well in the FS. A few bobbles--nothing major--but it didn't matter. Everything else is so strong that even with the mistakes, Carolina was the clear cut winner here. Her programs are my favorite again this season and I'm actually starting to believe that she could end up being the world champion this year.
Mirai Nagasu (USA): 60.96 (SP) + 112.26 (FS) = 173.22 (2nd)
As soon as I think she'd flat-lined, she showed some signs of life. Mirai delivered two solid performances here and I'm happy to say I was wrong. I am proud of her for pulling herself together but there's still a lot that needs to be fixed. I liked her SP but I think she was missing the energy and fire that are capable of really bringing this program to life. She scored very well which lets me know if she adds that spark to it, she'd score even higher. Her FS wasn't as zombiefied as Skate Canada but it wasn't wonderful either. She stood up on all of her jumps, though UR and edge calls on both of her lutzes undoubtedly cost her a handful of points. Also, she only earned a level 3 for her famed layback spin (why the hell is she having issues with her best feature?!) which means she lost points on that as well. I believe if her program was stronger, she could have really challenged Carolina especially given how well she skated.
Mirai has a long break before nationals so I'm really hoping we'll see a different skater come January. My wish is that she finds a FS more suited to her personality and that she ups her technical content (gets her flip back, gets her lutz more consistent, and goes for that 2a-3t). I haven't given up on her yet...but these next few months are really important if she plans on making the world team.
Adelina Sotnikova (RUS): 53.74 (SP) + 106.21 (FS) = 159.95 (3rd)
Adelina didn't have the best first-time outing, but it wasn't the worst either. I watched this girl compete all last season so I know she's a strong competitor. I just think her nerves got the better of her here. She looked pretty shaky before her SP and ended up falling on her opening combo. She finished strong and landed in third place going into the FS. Adelina managed to crack off a huge 3lz-3lp that was ratified, though many of the judges must have thought otherwise. She received several -GOEs and ended up losing 0.50 on the combo. My guess is the judges don't know the last time a skater successfully pulled off that combo so their automatic reaction was, "Underrotated!" They'll learn. She had a few problems in this skate including a popped lutz--both lutzes received edge calls--and bad landings on both of her axels. Even with the issues she finished third in the FS too and earned a bronze medal.
I'm sure she was feeling the pressure of competing at the senior level for the first time and the knowledge that her teammate, Elizaveta Tuktamysheva, won her first event. I'm thinking that sort of seeped in and shook her a bit. Hopefully she'll rebound at her next event and skate better. I'm proud of her! I did expect her to debut stronger than that but hey, there's nothing wrong with bronze in your first senior GP event. Just ask Yu-Na Kim...
As for the rest:
Kexin Zhang (CHN):
Kexin (
4th
) surprised a lot of people here. She has a very solid 3t-3t and lovely spins. China hasn't had a top lady in the standings for a while, so with Kexin's success here and Zijun Li's success on the JGP, China has a good chance of reaching the senior level podium in the future.
Christina Gao (USA):
Christina (
5th
) started off well with her gorgeous Yu-Na-esque 3f-3t combo...but ended up butt-planting on her 2a. She repeated her success with her 3-3 in the FS but had a fall on her 3lz. Though she skated well, Kexin Zhang ended up beating her by less than a point. It was a solid first-time outing for her...
Kanako Murakami (JPN)
: I have no idea what happened to Kanako here. Originally, I thought she'd adjusted to her growth spurt well...but she had a lot of problems here. She went for her 3f-3t in the SP but URed the back end of it and received a downgrade on her solo 3lp. Even with the mistakes she was right on Adelina's heels in fourth place going into the FS. Four UR calls, one edge call and a fall placed Kanako seventh in the FS and
sixth overall
. I like the improvements to her skating; there's an elegance and maturity there that wasn't present last year. The downside is her jumps seem to have gone south. I really hope she can address those issues...but at this point, it looks as though the puberty monster has claimed another victim.
Ksenia Makarova (RUS)
: She's still having a tough time...yeah. That's it.
I'm proud of the top three ladies. My predictions were a off again but at least I predicted two of the three medalist...even if they were in the wrong spots. This week we'll get to see the season debut of Mao Asada. Is it just me or have people almost forgotten about Mao? With the reemergence of Carolina and Alissa, the hyped debuts of Elizaveta and Adelina, and the conundrum that is Mirai, it feels like people aren't paying much attention to Mao. Maybe that will work out for the better. We'll see...