Man, I've been so busy this week! I usually try to post this a few days before the competition but hey--better late than never...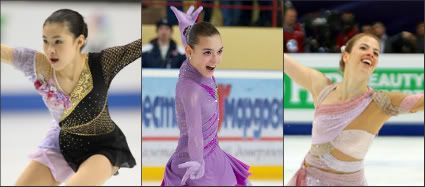 Another showdown is on the way...
After last week, I've decided there's just no point is wishful thinking when it comes to skating. It's better to be realistic which means I'll be doing that this week. So here we go.
Adelina Sotnikova (RUS) - Gold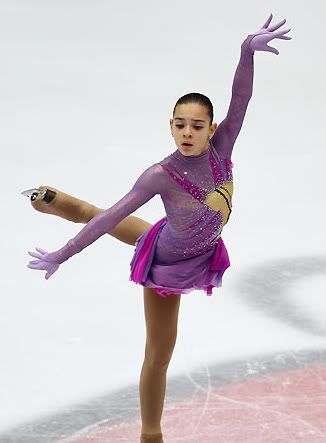 My bet for gold in Sochi!
I'm really excited to see Adelina! She's my favorite of the Russian newbies. If you've seen this girl skate then you know why I've picked her. Adelina is probably the most gifted jumper in this pre-Sochi crop of girls. Her technique isn't as solid as her Russian teammate, Elizaveta Tuktamysheva, but Adelina's power, height, coverage and difficulty are unmatched. She has gorgeous lines, great speed, wonderful flow and a maturity that you don't normally see at this age. Adelina went undefeated last year, going head-to-head with Elizaveta several times. We've all seen how tough Elizaveta is, so that tells you something.
Adelina has made some improvements in the off season. Her spins (the main part of her skating that irked the hell outta me) have definitely improved as well as her presentation and transitions. Adelina's SP to "Bolero" is rather interesting. I've never been a fan of the music, but she carries it very well in her program. If she performs it cleanly and includes her 3lz-3t or 3lz-3lp, she'll easily go into first place. I am worried about her "Libestraum" FS though. Mao is also skating to "Libestraum" again this season and her program is probably the best FS she's ever had. Adelina's falls woefully short of that...it's packed with jumps but not much else. Like Elizaveta, Adelina front-loads her FS with tons of difficult jumps, stacked one on top of the other. The program just doesn't utilize the music or Adelina's wonderful qualities. Still, if she manages to skate decently, she is almost a lock for the gold medal.
Kanako Murakami (JPN)- Silver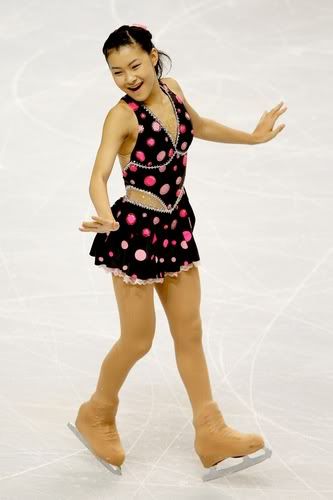 Say bye-bye to cutesy Kanako...
Kanako was the break-out newbie senior last year. She medaled at each of her events, including the GPF, and went on to have a good showing at worlds (despite what her scores said). Gone is the "Jumpin' Jack" music and the Hello Kitty dresses, replaced by a more elegant and mature style that's sure to go over well with the judges. I really like Kanako. I find her to be a very versatile skater when it comes to music and her new SP and FS music bring out a different side of her. She doesn't have the best posture or technique, but when she's on, she's a tough cookie to compete against. With a year of senior level competition under her belt, she does have a slight advantage because the judges already know her. We'll have to see how they respond to the newer, more mature Kanako as opposed to the happy bouncy girl we saw last season.
Kanako has been working on her 3f-3t combo and from the videos I saw, it looks good. She's grown a bit over the summer but she hasn't lost any of her speed, which is great. If she can deliver two solid programs with 3-3s, she will be in a great position to medal. That's why I'm choosing her for the silver medal.
Carolina Kostner (ITA) - Bronze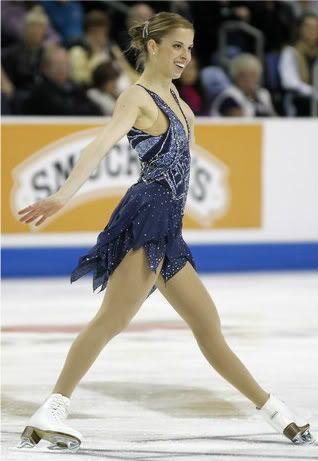 Can she have a repeat of Skate America?
Usually, I would have picked Carolina to be first or second, but I'm a little wary of doing that...especially after Skate America. She turned in one of the cleanest programs I've ever seen from her. Carolina is not known for having numerous clean performances; she tends to have at least one mistake in every program she skates. For this reason, I'm having a hard time conceiving the possibility of her having a repeat performance like she had at Skate America. I just can't see it...
I do think her programs are wonderful this year and her easier layout should help her. Still, I don't think she's going to be clean enough to beat Adelina or Kanako this time. I think Carolina will be narrowly beaten by Kanako and settle for bronze.
There are a number of other ladies who are capable of shaking up the standings.
Mirai Nagasu (USA):
Normally, I'd have placed Mirai first or second...but after last week, I just can't even go there again. I would be thrilled if I ended up being wrong and she wound up on the podium, but Mirai's
boy-do-I-suc
k attitude is really starting to bother me. I want to see her do well so badly, but until she wants that, it ain't gonna happen. My hope is that she turns in two solid and inspired (or as inspired as you can be skating to that edit of "Spartacus") performances and redeems herself from her melatonin-laced performance at Skate Canada last week. If she medals, I'll be thrilled...but I'm not expecting her to.
Christina Gao (USA):
Christina reminds me of a C-version of Yu-Na Kim. She's got the long arms and fast speed, big jumps and David Wilson choreography...she just reminds me of her. Christina has been growing slowly, but I think she's reached a point where she'll be able to turn a few heads if she performs well. She has wonderful spring to her jumps and a big 3f-3t combo. If she can include it in both of her programs, she'll have a pretty decent shot a making it onto that podium. The only question mark hovering over her head has to do with an injury she had over the summer and whether she's back in form...we'll see.
Ksenia Makarova (RUS):
Ksenia had a disastrous outing at Skate America, so I'm sure she's anxious to erase that memory. If she's managed to get herself together, she too has a shot at sneaking onto the podium. Her 3t-3t is solid when she hits it and her charisma and performance ability make her a pleasure to watch. If she skates well, she might find herself in one of those spots too.
Again, another deep field with a lot of talent. So to recap:
GOLD
-
Adelina Sotnikova
SILVER
-
Kanako Murakami
BRONZE
-
Carolina Kostner
We'll see if I'm right. Doubtful but, you know how these things go...