I'm so behind!! Thanks to new responsibility at work (and stupid internet restrictions) I'm no longer able to update my blog while I sit at work waiting for something to do. So, expect my postings to be a lot less frequent than they were a few months ago. I don't want to shut it down because I really enjoy brain-dumping about skating on this blog, so I'll keep it up and do what I can to keep it going.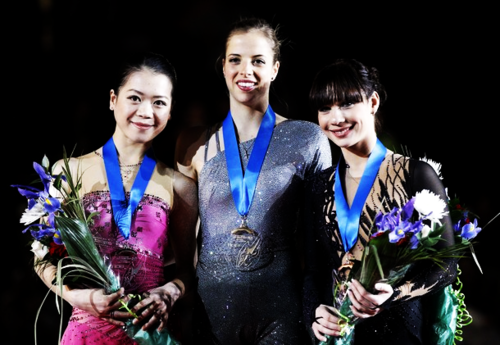 The 2011-2012 Grand Prix Final Medalists
I'm so far behind on posting and commenting that I'll just skip trying to do a complete review for all of the events. Instead, here's my quick thoughts on everyone at the end of the Grand Prix season:
Mao Asada (JPN)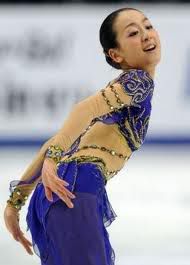 Mao seems to have found the joy in her skating again. I was so happy to see her win gold at COR and devastated to hear the news about her mother before the GPF. My heart goes out to her and her family. Mao is a fighter so I wasn't surprised to hear that she'd be taking part in nationals. She such a strong young woman...I know she'll be okay. She and Akiko will go head-to-head at nationals, and with the two of them on the world team this year, Japan has a good shot at two podium finishes this year.

Carolina Kostner (ITA)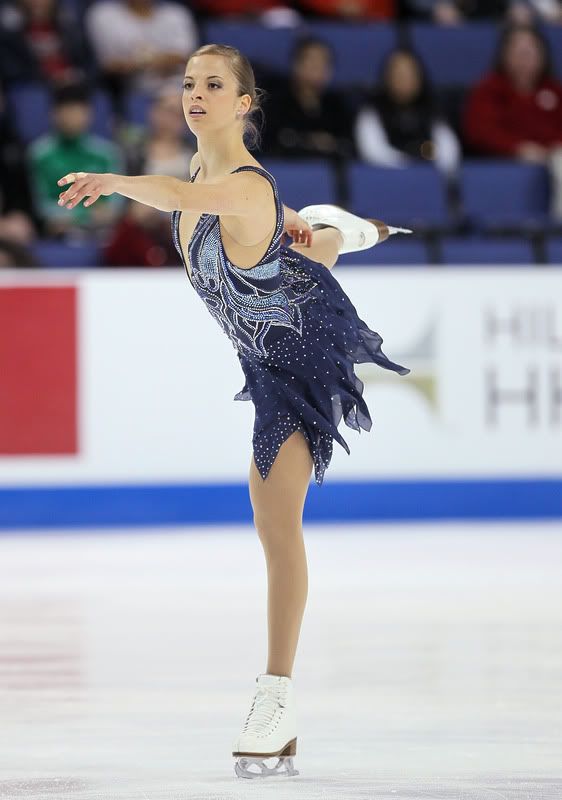 Carolina's the favorite heading into worlds at this point. Even with a reduced technical layout, she can still outscore everyone based on her speed and edging alone. Her programs are two of my favorites this season. She looks comfortable and confident out there and when she skates well, you can't help but admire her. I've found a new appreciation for her this season and I'm actually cheering for her (something I thought I'd never do!). Of course, I can't remember a time where she was a favorite going into worlds, so we'll have to see how she holds up under the pressure...but if she does, I think she'll be the new world champion.

Akiko Suzuki (JPN)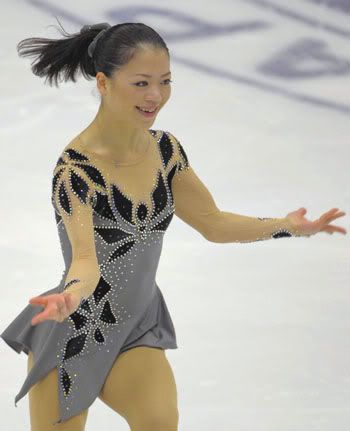 I love Akiko and I'm so happy she's finally getting the recognition and attention she deserves. Akiko is another favorite for gold at this point. Her programs are strong and her stock with the judges is very high. I think she and Mao will definitely make the world team this year and both will have a great shot at that podium. If she keeps her 3t-3t or finds a way to make that 3f-3t materialize, I think she has a great shot at silver or better this year.

Alissa Czisny (USA)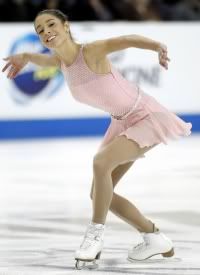 I'm not feeling that hopefully about Alissa this year. She's not as strong as she was this time last year and she doesn't look nearly as confident or sure of herself. Nationals will be a big test for her. As per her up one year, down the next pattern, this would be a down year for her. Given her standing with the judges, she's still one of the best bets for the US in terms of medaling...but I'd hate to see a repeat of the 2009 nationals where they basically turn their head the other way and just hand her the gold. I'd like to see her earn it...

Alena Leonova (RUS)
Alena's really holding her own even with the emergence of Elizaveta and Adelina. Her 3t-3t is pretty solid for her and if she can perform well at worlds I think she has a great shot of sneaking onto that podium. I abhor her Pirates SP (way too campy for my taste) but her FS is much better in terms of smoothing her out and slowing her down...until the footwork. I still don't like her style but I appreciate her big jumps and high energy. With Elizaveta and Adelina too young to participate in senior worlds, Alena's ticket is pretty much set. She just missed the podium last year, so it'll be interesting to see what happens.
Elizaveta Tuktamysheva (RUS)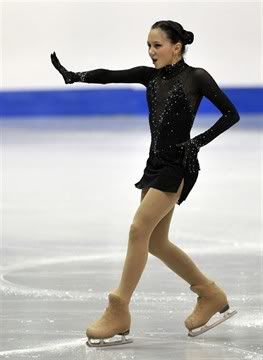 Elizaveta had an amazing debut season and should be very happy. I think her jumps and her energy are fantastic, but she still has a lot to work on in terms of her programs, presentation, ice coverage and overall appearance. That costume and all of that makeup...I just think of my favorite line from Dance Moms when the one of the moms commented that the girls looked like "prosti-tots." Elizaveta looked like a "prosti-tot" out there. Showing "skin" and wearing a pound of makeup doesn't make you look mature...it makes you look trashy. She's still got a lot to learn, but that's okay; she has time.

Adelina Sotnikova (RUS)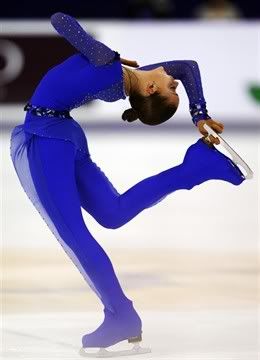 Adelina didn't have the breakout debut I thought she'd have, but medaling at both of her events and just missing the final is a very respectable debut. Plus, it gives her time to work on her issues without all of the eyes on her. Adelina's consistency took a hit this year, I'm assuming because she must be trying to tweak her lutz technique. She'll go into Russian nationals as the defending champion but she'll have to work to get past Elizaveta, Julia Lipnitskaya, the two or three Polinas and a few others. Still, I think she'll be fine. Even with her falls this season her speed, big jumps, improved spins and presentation stand out, so I expect her to make that junior world team and medal there.
Mirai Nagasu (USA)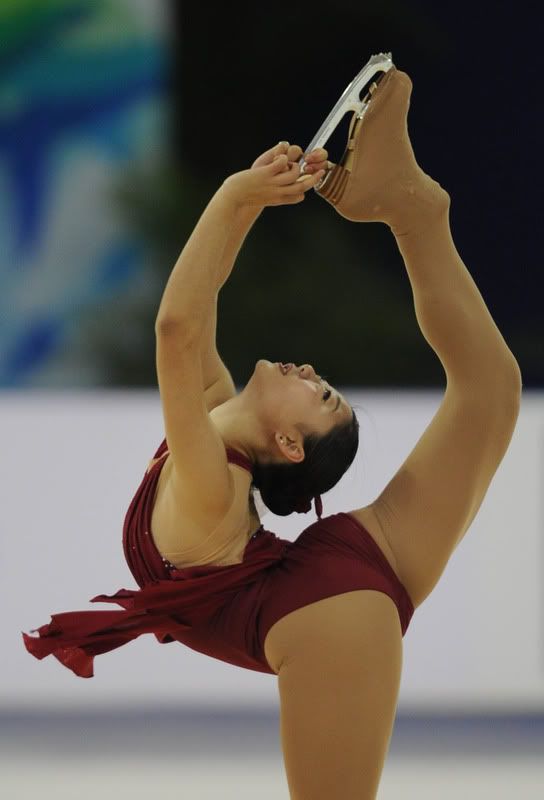 I'm not completely satisfied with Mirai this season, but I'm not completely unsatisfied either. I know she can be a lot better than what she's put out this season. Her programs, her performance, her energy...all of it can be better. BUT I'm kinda sick of waiting on her to do it. I hope she does well at nationals--she and Alissa are the US's best bet of finally regaining that 3rd spot we've been missing for the past couple of years. But if she doesn't make the world team I won't be angry, or even surprised for that matter.
Ashley Wagner (USA)
Ashley's had a rather productive season in terms of turning things around for herself. She looks very strong and motivated and I think that's what will make the difference this year at nationals. Ashley's the one with something to prove, so I feel like this year's nationals will mean more to her than anyone else. If she can get past her nemesis, the SP, cleanly she should be in the running for one of those spots on the world team. Her programs are strong this year and her performance level has gone up as well. I'm feeling like she's the one to watch this year...
Rachael Flatt (USA)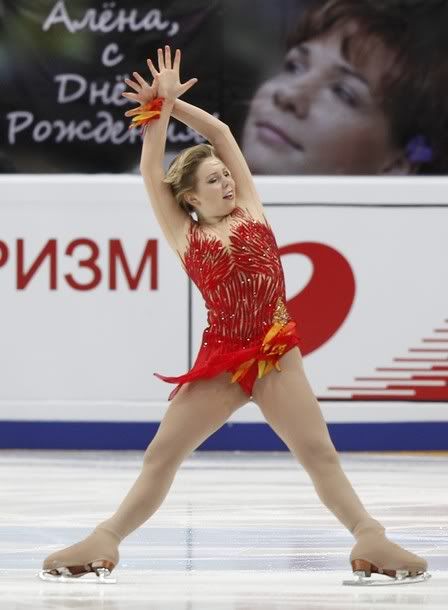 I don't think Rachael will be competing much longer. She's had a rather meteoric meltdown in terms of her placement this year. Her jumps seem to have abandoned her and without them, Rachael doesn't have much to fall back on. The judges didn't bother to spot her any points this season resulting in a 9th and 10th place finish in her two assignments. For her sake, I hope she has a strong skate at nationals but I really can't see the USFSA naming her to the world team again after the season she's had...not to mention what happened last year.
Those are my end of the Grand Prix season notes! Hopefully I'll be able to post something after the Japanese nationals and I'll definitely post once the US nationals get under way. Ta for now!