I'm so, so, SO late again! I just don't have the amount of free time I used to have when I first started this blog. Still, I wanted to give my belated thoughts on US Nationals and Four Continents and a few other things.
2012 U.S. National Championships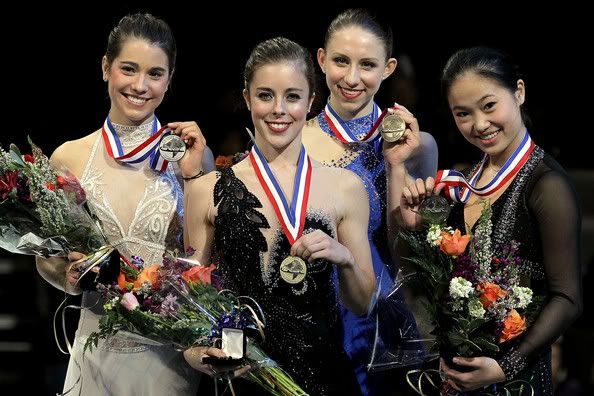 2012 U.S. National medalist
The "Almost Girl" is now the "It Girl"
Well my full congratulations goes out to the new US champion, Ashley Wagner. I was never a big fan of hers until recently here, but her confidence and hard work have won me over completely. I think she made a pretty bold statement heading into this event by saying it was hers to lose but there's nothing better than talking trash and then backing it up. Ashley has had a very solid season and it all culminated in a nearly perfect showing at nationals. I love both of her programs. Her SP is wonderful and her FS to Black Swan is now her signature piece. I never thought of Ashley as balletic, seeing as she's such an athletic-looking skater...but boy does she pull it off well. I'm one of the ones who loves the staccato arm movements in the spiral by the way...I know there's some debate about that on the boards, so I'll just throw in my 2 cents.
I'm proud of Ashley for being so bold, confident and strong. The US ladies field is full of talented skaters but none of them have the correct mix of ability and conviction; Ashley does. She's a good jumper, good spinner, her artistry is excellent and, most importantly, she's confident. She knows she can kick some ass and she doesn't doubt herself. She skated here like a champion and that's why she won.
I'm still not convinced Alissa's going to do well at worlds. Sorry but she just looks far too fragile this year. I don't know what happened to that confidence she had last year. It's not completely gone but the quantity has been reduced significantly. I was happy to see her fight in FS but that was a weak-ass performance. Alissa is going to have to come a lot better this year at worlds. This is the first time in two years that I feel the US is in a good position to earn those spots back. Ashley has proven she's about her business...it's going to be on Alissa to prove she's about hers too.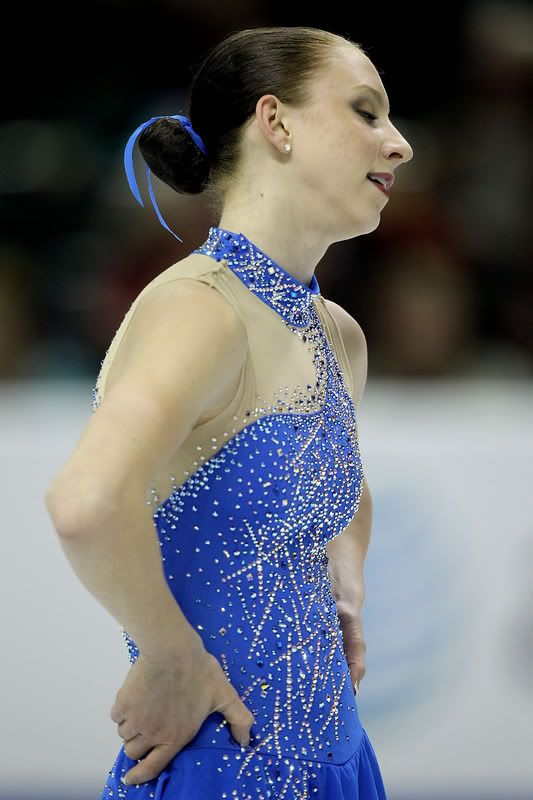 Agnes couldn't hold on in the FS...
Agnes had a killer SP but died in the FS. She's probably the most gifted jumper in the pool of US ladies (yeah, even better than her prematurely-crowned highness, Gracie Gold). Agnes is fast, her spins are decent and her jumps soar...but she's never been the picture of consistency. As usual, the pressure of being in first place and skating last took its toll and she crumbled. I thought she was great in the SP but I didn't think for one second that she'd win. Still, if she can ever get her nerves under control, she'd be a medal contender every time.


WOW! Anyone who'd previously stuck a fork in her had better remove it. Caroline's SP and FS comprise two of my top three moments at nationals. Her SP was fantabulous! That 3l-3l was legit and they know it; I don't know why they judged it as underrotated. It didn't matter though. The rest of the program was gorgeous, mainly because you could see the happiness in her skating...that light that had been missing for so long is back. She just breathed with that music and it was so wonderful to see. She wasn't as free in the FS, mainly because she was so focused. After the initial stumble on the flip, she composed herself and nailed her remaining jumps, complete with that gorgeous Pearl spin at the end. Say what you will about Alissa's spins, but nobody's layback is better than Caroline's: the back position, the extension of the leg, the way she folds herself in half to do the Pearl and then transitions straight up into the Biellmann...untouchable.
I'm so proud of her. Caroline jumped from 12th place last year to 4th...that's a huge leap in one year, especially for someone who most thought would never recover enough to challenge for a medal. Caroline has had it pretty rough but she's another example of what hard work will yield. She lost the extra weight, worked on her technique and speed and it's all paying off. She's got a lot of work left to do but being that she's only 18 years old, I think she's got a lot of time left. As long as she continues to work hard, the only way she can go is up.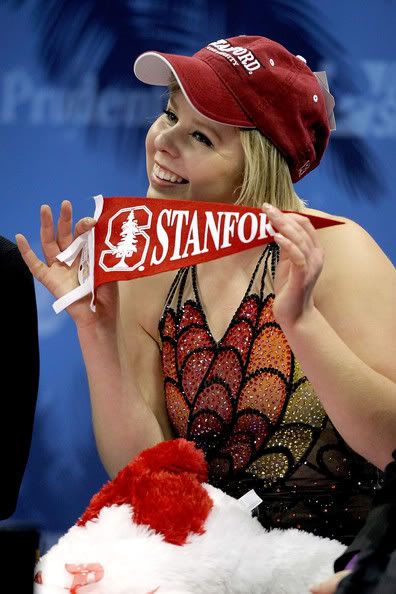 Good luck at Stanford Miss Flatt!
As for Rachael, I was happy for her to go out on a high note. I thought the dress she wore in her FS was lovely...probably the best she's ever worn. I watched the FS in HD on my television and you could see every shimmer and sparkle of the outfit. It was gorgeous! It sucks that it took her until (what appears to be) the end of her career to find a flattering style of dress. She wasn't perfect and her 6th place finish isn't stellar, but she gave a strong performance that she can be proud of and for her, that's all that should matter.
I'm one of the ones who thinks that Rachael has maxed out her potential in this sport. She's got a very impressive record: national champ, world and Olympic team member...but I don't think she'll be going much farther, especially if she plans on staying in school. If she wants to compete just to compete, then that's between her and her parents' checkbook. Personally, I think she should focus on her schooling. Given her results this year (10th and 9th at her GPs, 6th at nationals) I think school is the way to go.
A scene we've seen way too many times...
Mirai is on my shit list, where she's pretty much been all season. I'm really over her at this point. Mirai has a lot of soul searching to do in the off-season. Her coaching situation needs to be examined thoroughly. She's stagnant in my opinion. She's made no kind of progress since hooking up with Frank, with the exception of that very first year with her performances at nationals, the Olympics and worlds. Since then I've seen no forward movement whatsoever. Technically, she's dumbed down her content; artistically, she's as stale as a two-month old cibatta loaf. Something needs to change and as much as I love Frank Carroll, I think Mirai needs to move on.
Across the board, Mirai is still the most talented senior lady the US has. It's a shame she can't seem to get herself under control and just skate. Reports the week leading up to nationals were that she'd been kicking ass in practice. Then she goes out there and tanks. What that tells me is that she was completely trained and ready...it's a mental issue with her and until she sorts that out, she's going to continue to be a disappointment. Unlike Ashley, who knows she's the shit and skates like it, Mirai doesn't believe in herself. Despite everyone telling her how good she is, she doesn't believe it. And until she does we'll be treated to more of the same disappointing, hair-pulling-out, nail-biting, throw-a-chair-across-the-room performances we've been treated to for the last two years.
Hall of Fame Class of 2012: Michelle Kwan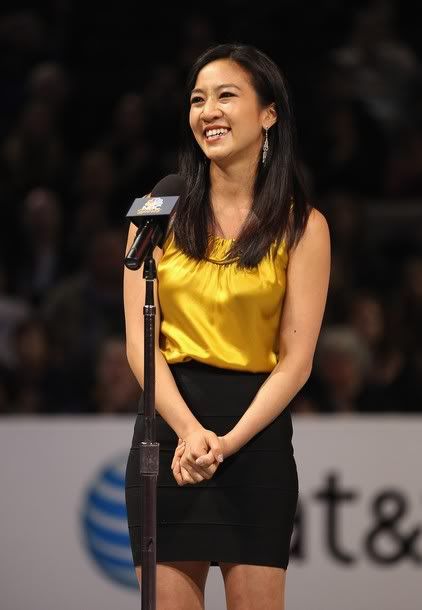 The Kween looked radiant!!
To get a full account of my Michelle gushing, check out my
Long Live the Kween
post from back in December. I just wanted to say she looked so beautiful, the crowd in San Jose was amazing (they applauded a full two minutes when she came out), and I'm so proud of her and I love her so much. It was an induction fitting for a Kween and she deserved all of that and more. Long Live Kween Kwan!
2012 Four Continents Championship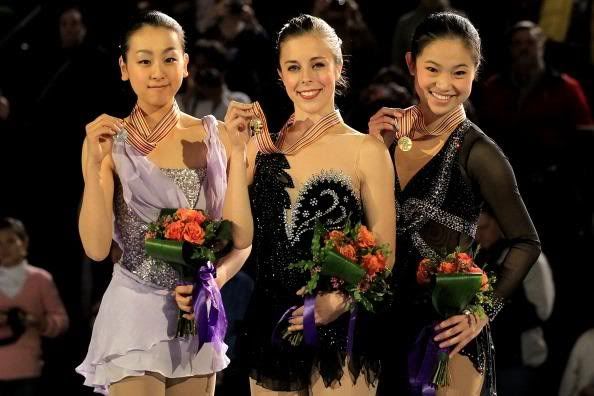 Just a few weeks after nationals Ashley, Caroline and Agnes were sent to 4CC to face off against Mao Asada and Kanako Murakami. Thankfully, two of our girls showed up and showed out!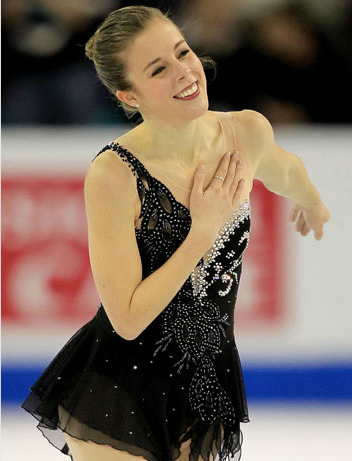 Ashley's the real deal
Ashley Wagner used this competition very wisely. A few weeks prior, she showed the US that she's ready to be that go-to girl the country has been searching for since the days of Kwan. She used 4CC to show the world she's ready to go head-to-head with the top names in the sport. Ashley nailed her programs. I love how she talks the talk and walks the walk. After nationals she said she needed to up her technical content and she did. Her 3f-3t was 2-footed but, dammit, she did it! Major points in my book. Ashley went into the FS just a hair out of first and skated like she had nothing left to lose. Her reward, a humongous score and the gold medal--the first ISU championship for a US lady since Kimmie Meissner back in 2007.
What this victory accomplished is huge. Ashley now has the attention and respect of the international judges, something she didn't have at the beginning of the season. Despite Ashley's decent success on the GP (5 medals (4 bronze, 1 silver), never placing lower than 5th) she's never been a judge favorite. Her performance at 4CC and the scores she earned are the highest of the season by any lady. When you compare her to the major medal contenders at this year's world championships (Carolina Kostner, Mao Asada, Akiko Suzuki), you can totally see Ashley fitting in among them easily...the question is where. If she turns in a performance similar to what she did at 4CC, I wouldn't be surprised to see her second or, depending on how others skate, even first.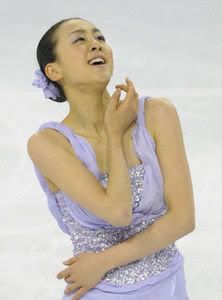 The resilient Miss Mao
Mao has had a solid season all around. After losing her mother a day before the GPF, she continued on like the fighter she is and rebounded back at nationals to win another title. She had a solid showing here. I like her SP (the first one I've liked since her SP to Claire de Lune back in 2008-09) and I love her FS. I'm happy to see that some of her consistency is returning. Her triple axel is still a work in progress in my opinion and unless she can nail it at worlds, she'll be jeopardizing her chances at the podium.
She had a good FS but made a few too many mistakes and next to Ashley's flawless skate, there was no way to hold her up. Had she not made as many mistakes, she would have won...no doubt about it. A flawless Ashley can beat a flawed Mao, but I don't think a flawless Ashley can beat a fully-loaded (3A in hand) flawless Mao...I don't know if anyone can beat a fully-loaded flawless Mao. I'm hopeful for her chances at medaling at worlds this year.
Caroline is on the rise...
Caroline, like Ashley, continued on proving that the US ladies are not dead in the water. She wasn't as flawless in her SP, stepping out on her 3l-3l, but she did rotate it and finish out the rest of the program cleanly, earning all level 4s for her spins. She backed up her solid SP with a flawless FS. Caroline nailed all of her jumps easily and received +GOE for all of her elements, including +3s across the board for her layback.
I'm so proud of Caroline! Her strong performances at nationals and 4CC will assure her some GP assignments next year. Another good thing for Caroline is her consistency. Back in 2008-2009 even with her wonky technique, there was a solid consistency to her skating. Caroline was able to put out virtually flawless programs on a regular basis and that's what carried her. She's got that competitor's focus. As her technique started to fail, her confidence failed and so did her consistency. Now with her better technique, her confidence is growing and so is her consistency. I'm so excited for her and I can't wait to see her continue next year. Caroline Zhang is back y'all!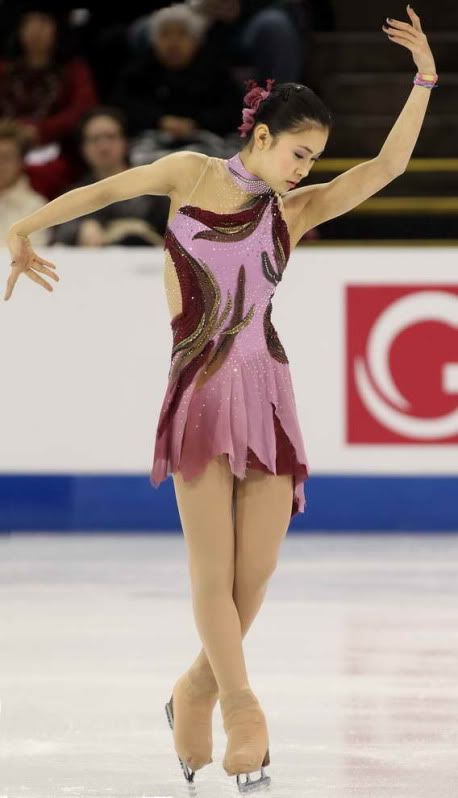 Bye-bye Hello Kitty, hello maturity
Kanako struggled a lot this season with injuries and boot problems, but she's back and I'm happy to see her! Her SP was awesome! Her huge 3t-3t is back. I love her speed; she just flies around the rink. I think Kanako's expression has grown a lot in the last year and she really commits to her choreography which is something I love to see in a skater. She had a few problems in the FS and wasn't able to hold onto her 3rd place spot, but this is definitely a step in the right direction for her. I really enjoy her skating and I hope she has a good showing at worlds too.
So I guess, I've caught up on everything. The world championships are a couple of weeks away. I think the field is pretty deep this year and with Ashley stepping in and mixing everything up, the results will come down to who puts out the best performance. Also, the World Team Trophy will be held this year after worlds, so there's still more skating to be had. Whoo!