JGP Austria took place last week and the results weren't that shocking if you've been paying attention so far this season. There were a few surprises (both good and bad) but overall, it was a good competition. But before I get to that…
The Kween is Engaged!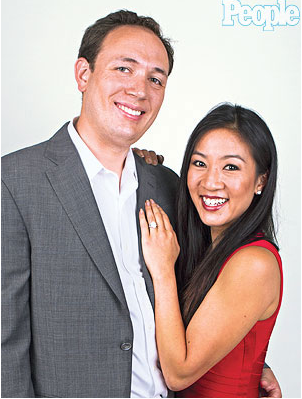 You better treat her well, Pell...or there will be hell!
OMG! This is exciting news that has the figure skating world buzzing. On September 3, Clay Pell (a U.S. Coast Guard Lieutenant) popped the question and the Kween accepted. The two met back in April 2011. Of course I will have plenty more to say about this as more news becomes available but for right now, I'm just thrilled for her. Like so many, I grew up watching Michelle so it's such a joy to see her continue to grow and take this step in her life. Given Michelle and Clay's ties to the White House and other government officials, this wedding has the potential to have a guest list full of prominent names…not to mention all of the figure skating royalty who will be in attendance. This speculation will go on for weeks until we get more concrete details but one thing is certain: in terms of the figure skating world, this is the wedding of the century.
Okay, on to business...
The final results:

Elena Radionova (RUS): 62.71 (SP) + 120.15 (LP) = 182.86 (1st)
Call Elena butter, cause she's on a roll! She's blown the competition away at both of her events and leads the JGP standings with 30 points. It's similar to Julia Lipnitskaya last season: skating lights out like it's nothing and posting massive scores. The only difference is I like Elena a lot more than I like Julia. I admire Julia's polished presentation but her skating is quite boring and empty in my opinion. The enthusiasm and energy Elena skates with is infectious; I really can't help but smile when I watch her. In addition to that, she's got the goods to back it up: she reeled off her 3lz-3t in both programs with no problem, achieved level 4s on all of her spins (even earning eight out of nine +3s for her layback in the LP), no edge calls in either programs, no falls…Elena is kicking ass! I do think some of her PCS were a little exorbitant (all the way up to 7.50) but that's how judges treat the favorites so, what can you do?
With both of her assignments out of the way, her season on the JGP is finish. She has a long wait until the Final in December. If she can keep this up she'll be the third Russian in a row to win the JGP Final and probably the third Russian in a row to win junior worlds too.
Hannah Miller (USA): 55.47 (SP) + 103.05 (LP) = 158.52 (2nd)
I definitely like what I see from Hannah so far. She really feels her music and skates outwardly, which is something I love to see in junior skaters. For some reason, she reminds me of Tara Lipinski when she jumps. Hannah doesn't jump particularly high (some of her jumps did look a bit low to be honest) but I think it's more her air and landing position that reminds me of Tara. It's not a bad thing…just an observation. Overall, this was a solid competition for Hannah. An edge call on her lutz and an URed loop lost her a few points in the LP but there were no major mistakes. I enjoyed both of her programs and I'm looking forward to seeing more from her in the future.
Samantha Cesario (USA): 54.38 (SP) + 103.34 (LP) = 157.72 (3rd)
Samantha had a strong showing and just barely missed a silver medal. I love her presence on the ice: long arms, long legs, good posture, nice lines…I appreciate those kinds of things. I'm also a fan of her skating. She maintains good speed across the ice, tight air position and I love the softness of her knees when she lands. Both of her programs were nicely done and well presented. I really enjoyed her "Black Swan" LP, but Ashley Wagner's is still my favorite. I think Samantha's lack of difficulty held her back here (no 3-3 and only one lutz with an edge call), but some of it is lowballing from the judges as well. I thought her PE, IN and CH should have been higher in both programs.
The JGP spots for the US girls are a bit of a toss-up. Hannah Miller and Courtney Hicks are the only ones guaranteed a second event right now; Courtney, who has already competed once, is actually slated to compete at two more events. Based on their performances so far, I think one of those spots should go to Samantha or Angela Wang or some other unknown…but not Courtney.
Ziquan Zhao (CHN): 53.87 (SP) + 92.35 (LP) = 146.22 (4th)
I SO want this girl to get her stuff together because she will be amazing once she does. Ziquan is gorgeous to watch: lovely presence and lines, wonderful use of her arms, nice jumps and great spins, especially her layback spin. Ziquan opened her SP with a nice 3t-3t but stumbled out of her 3f. The beginning of her LP looked like she was on a roll: 3lz-2t (no edge call), 2a-3t-2t and 2a-3t, all clean. However, she imploded in the second half of the program falling on 3 out of her 4 jumping passes. Her last fall on a 3s had that distinct
lost-in-the-air
look which usually indicates the skater's timing and nerves are completely shot to hell. Even with that meltdown Ziquan still managed to wind up 4th in this competition which does speak to the great qualities of her skating.
Hae Jin Kim (KOR): 54.36 (SP) + 86.83 (LP) = 141.29 (5th)
Hae Jin has grown since the last time I saw her, both in size and skill. She's taller now and seems to be interpreting the music even better this year, not to mention the entrance her flip looks a lot better. This is another skater who has been taking lessons from Yu-Na Kim's
Guide to Awesome Skating
. The feeling in the movements and the musicality in Hae Jin's programs (particularly her SP) were great. Unfortunately, she's still searching for that consistency. A fall, a DG and two URed jumps placed her 9th in the LP and destroyed any hope she had of getting on the podium. I think South Korea has two promising up and comers in Hae Jin Kim and So Youn Park. Both have the goods…it's just up to them to show it.
As for the others…
Gabrielle Daleman (CAN)
was the good surprise of the competition
(6th)
. There may be hope for Canada yet! Good speed, decent spins and great energy…almost too much! After landing her opening 3t-3t you could tell she was really excited, which led to her other two jumps getting away from her. Gabrielle controlled herself a bit more in the LP though she wasn't without problems. Still, I was pretty impressed with her. She has excellent lift and nice air position in her jumps. I'm interested in seeing how she develops…lord knows the Canadian women have been dead in the water since Joannie left.
Risa Shoji (JPN)
was the bad surprise of the competition. Risa
(12th)
looked so promising a few years ago but I'm not so sure anymore. As she's grown it appears as though she has lost her ability to rotate. She received five DGs and two URs, plus an edge call and had two falls in this competition. What's more, Risa had only two clean jumping passes in this entire competition: 2a in the SP, and an impressive 3s-3t-2t in the LP. Risa's rotation issues have gotten worse since last year and this performance did not inspire any kind of confidence. She has another assignment (JGP Croatia) in three weeks and she desperately needs a better showing there. With Satoko Miyahara doing well and numerous other talented Japanese skaters waiting in the wings, Risa may be booted to the curb in favor of someone who can rotate their jumps.
The series continues with JGP Bosphorus in Istanbul, Turkey this week. We'll get to see Japan's
Satoko Miyahara
go for another gold medal. Also Russia's
Uliana Titushkina
, South Korea's
So Youn Park
, and
Nina Jiang
and
Leah Keiser
for the United States.