So far we've been given a small preview of what we can expect to see from the US ladies when the season officially begins in about a month. I'm hopeful for just about all of these ladies but it's inevitable that the great attitudes and happy-go-lucky sentiments won't last past November…
Ashley Wagner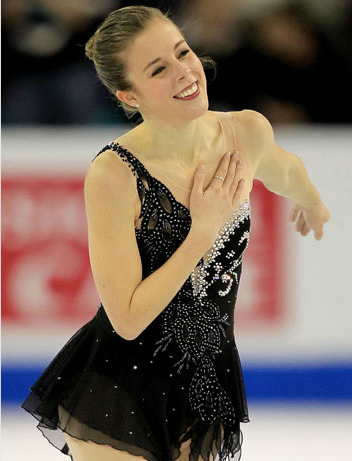 This season is going to be a rough one and it's going to be up to Ashley whether she sinks or swims. Being at the top is awesome but sometimes that target on your back is hard to handle. History has shown defending a title ain't no cakewalk which is probably why it hasn't happened since the Kween's exit. I said last season that Ashley is the only US champ since Michelle who I feel actually has the potential to defend her title. It's all up to her though.
This season she'll be skating her SP to "Red Violin" and her LP to "Samson and Delilah." Usually when skaters use iconic Kween music I boil the oil and grab my pitchfork…so I was shocked I didn't have that outraged reaction when I found out Ashley will be skating to it. It's a SP instead of an LP which will give me less time to compare so that's a plus. It's a tough piece of music to skate to but her presentation and interpretation impressed me last year… I think she might actually pull it off! Ashley also has plans to include a 3F-3T in her SP and I say more power to her, especially if she does it. We get a shitload of 3-3 talk at the beginning of the season from skaters but it rarely materializes more than once if at all (did we ever see that fabled 3Lz-3L from Rachael Flatt?). Ashley has shown she walks it like she talks it so I'm hopeful she'll deliver on her word.
Joannie Rochette skated to "Samson and Deliah" for her 2010 LP and I remember it was a well-done program. Ashley's style is different from Joannie's, so I'm not concerned with her choice of music here. I like that Ashley went in a different direction this season and I'm excited to see what she'll come up with. She's carrying the torch for the US ladies now. I sure hope she doesn't drop it like the last few did…
Agnes Zawadski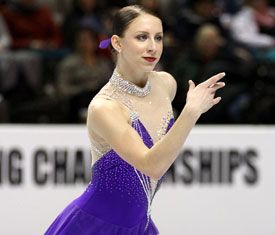 Agnes is doing the whole school-and-skating combination as well. She's attending University of Colorado at Colorado Springs this year. Add that distraction to her summer injury (a sprained SI joint) and I'm not too sure what we'll see from Agnes this year. The girl is the biggest baddest jumper the US has…but in terms of landing those jumps, not so much. This summer injury prevented Agnes from training her 3Lz-3T combo which means we probably won't see it until much later if at all. Damn…that sucks.
Agnes will be channeling her inner Carrie in the SP where she'll be skating to music from the "Sex in the City 2" soundtrack. When I read that, I frowned. Huh? But then I remembered the second movie took place in Abu Dhabi and everything about the Middle Eastern theme made sense. Agnes skates with energy and pizazz and has been known to light the arena up when she skates well. It doesn't happen often but it's something she's very capable of doing.
I think Agnes is immensely talented but her mental game is lacking. Like so many skaters she psyches herself out and it usual knocks her out of the running. She's got everything she needs to be a top contender: huge jumps, speed, good spins, charisma and attitude…she's just gotta pull it together. I'll have a Cosmo and cross my fingers for her…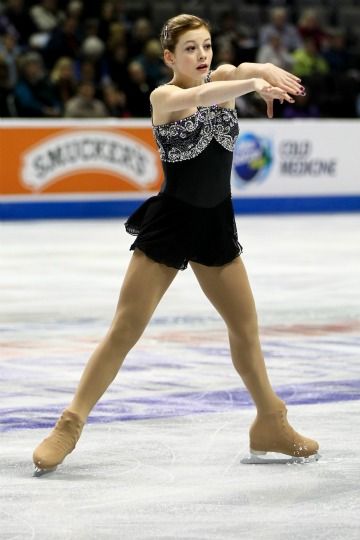 She's the most-hyped US skater we've seen in a long time and she's finally making the full jump to the senior level. Despite all of the hype, I'm not on the Gracie bandwagon; I'm just not that impressed with her. Gracie is an impressive jumper: big and difficult jumps, great technique, good success rate. My issue is aside from her jumps, I don't see much else about her that impresses me.
I like a blend of the technical and the artistic and right now, Gracie leans heavily toward the technical side. However, this year's programs have the potential to change my mind if she can manage to perform them. Her "Life is Beautiful" LP is decent and I really like the direction she went with her "Hernado's Hideaway" SP. It's cheeky and has attitude and I'm all for that, but Gracie's challenge is going to be bringing out that cheekiness and attitude throughout the program instead of in tiny bursts. She doesn't have a good grasp on the performing aspect of the sport. 90% of the time she looks as though she's thinking herself through the choreography rather than performing it. Things like projection and connection to the audience may come with time so I'll cut her a bit of slack for now.
Gracie is coming in with a lot on her shoulders. I doubt she's unaware of the hype that's been surrounding her since the beginning of the year. She handled herself well at junior worlds and WTT but the senior GPs are a completely different story. Her head is definitely in the right place in terms of the pressure, but can she keep it there? Saying "I'll just focus on my skating and not let the pressure get me" is one thing…doing it is the challenge.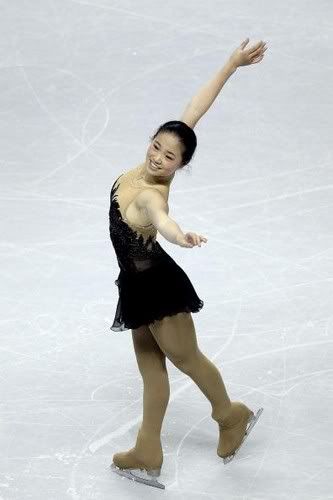 If anyone has proved that you can fall into obscurity and then work your way back to the top, it's Caroline Zhang. Last year she had the Hail Mary spot at Skate America and most were thinking it'd be the last time we'd ever see her on the GP. Flash forward to nationals and 4CC where she placed 4th and 3rd respectively and now Caroline has two GPs again.
Caroline was written off so many times it makes it all the more satisfying to see her back in the mix. She's keeping her "Rushing Wings of Dawn" SP from last season and I'm glad to hear it. It's a gorgeous program and she just breathes with the music. The 3L-3L combination is set as part of the program and I really hope she sticks to it. She got a UR call when she performed it at nationals (total BS) but she got it ratified at 4CC even though she stepped out of it. That combination is very difficult and very rare. If that becomes a constant element in her programs, Caroline will always find herself in the medal hunt going into the LP.
Her LP is to "Nessun Dorma," choreographed by David Wilson. We got a glimpse of the program earlier this year and it has some potential based on the music alone. It's a sweeping piece of music that pretty much does all of the work which can help mask some of the weaker parts of Caroline's skating. Still, I hope David adds a bit more choreography to it between now and the beginning of the season. One addition we'll definitely see this year is a triple salchow, a jump Caroline hasn't done since 2009. Adding that jump gives her more flexibility in her jump layout so I really hope it's ready to go. Plus we can expect to see a few new spins in addition to the Pearl this season so that should be interesting too.
I'm crossing my fingers for Caroline. I'm hoping with her increased confidence we'll see that increase in consistency she used to have. If she can get that consistency back, she'll be a real contender again.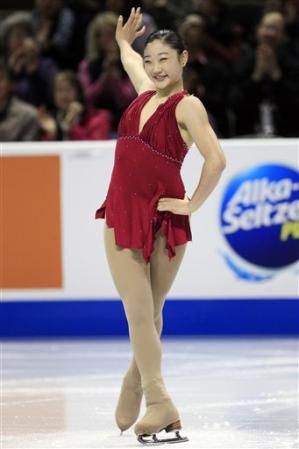 Mirai is on her final leg at this point. I've said this is her make it or break it year the last two years in a row, but I really mean it this time! With only one GP assignment, Mirai's chances to prove herself are very limited. No second GP assignment, no shot at the final; she's got Cup of China and nationals…that's it. Two chances and zero room for error.
Overall, Mirai was a big ol' disappointment for me last season: her programs were bad, her jumps were bad, her content was bad, her attitude was bad…it was just bad. This season appears to be all about change for Mirai: she has two new coaches, Wendy Olson and Amy Evidente (farewell Frank, your bitchface stares in the K&C will be greatly missed); she's training at a new rink only thirty minutes away as opposed to two hours away which means all of that time she used to spend sitting in the car is now used to get in some off ice training; and lastly, she has a new choreographer (cue the Hallelujah choir!), Susan Austin. Austin already seems to understand Mirai's style more than Lori did. Mirai's SP to "Downhill Special" is fun and upbeat and seems much more suited to her personality. I'm not so sure about her "Symphony No. 3" LP. It's very rare that I fall in love with an LP right away; they take a while to grow on me, so I'm not worried just yet.
Mirai has made the outside changes she needs to make but what remains to be seen is if she's made any inner changes. All of her self-doubt and
boy-do-I-suck
thinking needs to go out of the window. There's no more time for that. If she wants to be considered for the Sochi Olympic team, she needs to get her shit together ASAP. This really is her last shot…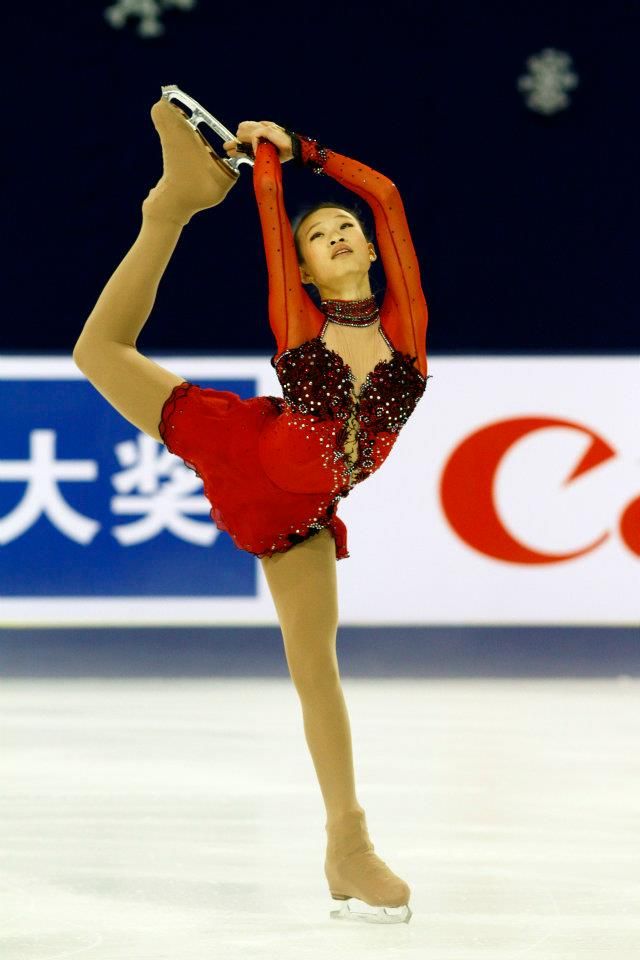 Will this girl ever break through? I'd really like to see it happen but I'm not too sure if it will. It's been a combination of injuries and bad timing that's placed her no better than fifth at nationals for the last three years in a row. Christina has improved her skating over the last two years but she's still having a problem getting to that next level. She had a rough run on the GP last year finishing 5th at COC and 10th at COR, which undoubtedly did her no favors at nationals.
She'll try again this year using a slightly revamped version of her LP to Piazzola's "Libertango." I think the program is excellent, especially the way she performed it at nationals. I'm glad to see she's giving it another season. Her SP is to "Close Without Touching" and is supposed to reflect her competitive journey so far (never quite reaching the podium). If she can't find some consistency and make those judges take notice of her, she should plan to skate to that every season.
Christina is another skater who will be attempting the elite collegiate-elite skating juggling act; she is attending Harvard University this year. It doesn't work out well for many (poor Rachael) but who knows? Maybe the distraction of school will be some kind of magic solution for Christina's
I-blend-into-the-background
problem.
Alissa Czisny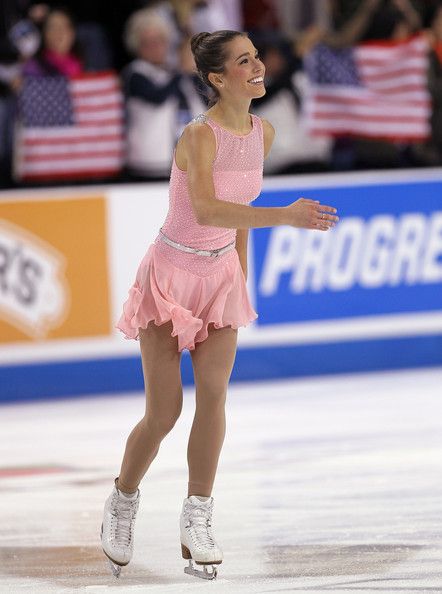 Alissa had the mother of all meltdowns last year at worlds. After that horrifying performance I wasn't sure if she'd have the courage to ever step onto competitive ice again. She found out afterwards that she had a torn labrum in her hip and underwent surgery in June to correct it. Alissa recently returned to the ice but I think it's safe to say it's going to take a while for her to regain her form. She is scheduled to compete at NHK, the last event in the series which gives her several more months to get herself together.
I'm happy to know it wasn't a complete and total mental breakdown that caused her to perform so poorly last season because she tanked in a huge way. Still, given her age and fragile mental state already, how much more can we really expect from Alissa? I'd like to think she has one or two good years left but when you look at the competition she'll face nationally, there's a good chance she might not get one of those top two spots. When you look at international competition the bar moves even higher, and I don't think Alissa will be able to keep up. I'm glad to hear she's coming back and I wish her a speedy recovery. No word yet on her programs though I truly hope she keeps her "La Vie en Rose" SP and trashes her "Valse Triste" LP.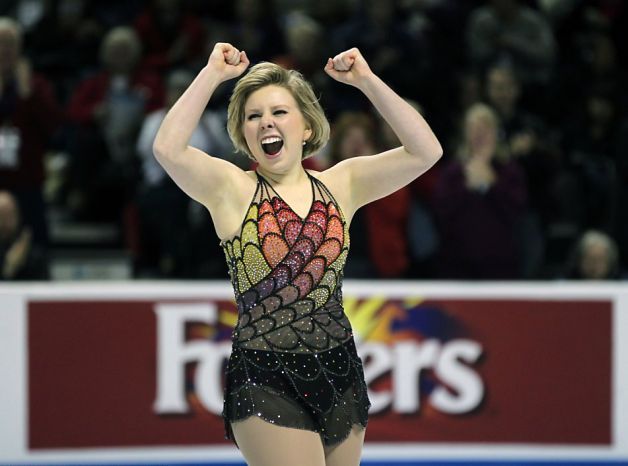 Last season Rachael tumbled down the standings in the GP but managed to redeem herself with a respectable LP at nationals. She's been granted the third spot (aka the Hail Mary spot) at Skate America this year. It's the only GP invite she got so, like Mirai, she has to make it count. While most (me included) are of the opinion that she should hang up her skates and focus on her Stanford education, Rachael obviously still wants to skate. She's a smart girl so I'm sure she knows where she stands. Skating is something she enjoys and apparently doesn't mind paying for so I say go for it.
Rachael took some time off to heal her achy ankles (tendonitis) and has a better schedule this year which should allow for some better training. Overall, she seems better settled into her life as a skater/scholar so maybe she'll have better results this year. Rachael is keeping her Firebird LP from last season. I wasn't a fan of it but her performance at nationals was nice. Rachael co-choreographed her SP to Piazolla's "Contrabajissimo" with her coach, Justin Dillon, and I'm interested to see what they came up with. I'm always intrigued when skaters do their own choreography. Will it be a masterpiece or a hot mess?
I don't know what is in store for Rachael after this season. A lot of where she goes next will be determined by what she does at Skate America and nationals this year. If she has a decent performance at nationals she may be able to get another GP assignment next season. If not, she'll more than likely fade farther into the background. She's already been overshadowed by a number of newcomers and re-emerging skaters. Something really drastic would have to happen in order for Rachael to find herself back at the top but…stranger things have happened.
This should be a very interesting season not only within the ranks of the US ladies, but also in the world rankings. There are a lot of new skaters jumping to senior, newbie seniors settling into being seniors, former champions making a return to competitive ice...this is going to be one massively competitive and immensely important season...and I can't wait!