Lots of skating went on last week and the results were a bit surprising all around. The JGP series continued with JGP Sencila Bled Cup plus one of the major international "Senior B" events, Nebelhorn Trophy, took place as well. I'll get the JGP stuff out of the way first and then talk about Nebelhorn...
2012 JGP Sencila Bled Cup
There was quite a bit of strong skating at this competition. Here are the results:
Hae Jin Kim (KOR): 53.64 (SP) + 93.66 (FS) = 147.30 (1st)
I'm thrilled for her! This was a strong competition for Hae Jin: no major mistakes, she went for the 3T-3T in both programs (though she URed the second 3T in both) and she really sold her lovely programs. Hae Jin held herself together and didn't freak out, and that's something to cheer about. The last time she was in first heading into the FS she imploded and fell four times if I'm not mistaken. It's a lesson that has to be learned and I'm glad to see she's learning it. Despite finishing fourth in the FS, Hae Jin was able edge out Long for the win. I believe this makes her only the second South Korean lady to win a JGP championship...the first being Queen Yu-Na of course. Hae Jin is improving very well though I'd like to see her work on setting up her jumps a little quicker. She telegraphs her takeoffs a bit too long and that could affect the GOE she receives. Still, I'm proud of her. I adore her skating and it's great to see her get this win.
Barbie Long (USA): 52.24 (SP) + 94.95 (FS) = 147.19 (2nd)
There are a number of things I really like about this girl. Firstly, she has a wonderful appearance on the ice: long arms, long legs, very balletic looking. Secondly, I love her air position on her jumps. She gets good spring, tight legs and rotation in the air, especially on her lutz. And lastly, I'll say kudos to her for not playing it safe and going for the big tricks and even more kudos for hitting them. She got full credit for her 3Lz-3T in both programs. It was a strong competition for her but too many little mistakes, particularly in the FS, are what cost her gold here. Without a second event Barbie doesn't have a shot at the Final, but her strong performance here should put her higher up on the USFSA's list for next years assignments.
Evgenia Gerasimova (RUS): 46.79 (SP) + 96.14 (FS) = 142.93 (3rd)
Evgenia didn't start off so well, finishing 5th in the SP. However she came motoring back in the FS, landing seven triples including a 3Lz-3T, and leapfrogged her way onto the podium. Did anyone else notice she's wearing Alena Leonova's 2010 FS dress? She totally is. Anyhoo, Evgenia doesn't have the charisma and sparkle of some of the other Russian ladies but she proved here that she has the guts and technical goods to make a comeback. Good for her for not giving up and going for it...
As for the rest...
I really expected Courtney Hicks (USA, 4th) to win this so to see her not even make the podium shocked me...it also made me giggle a bit. I'm sorry but her skating is so unappealing to me. Courtney popped her combination in the SP and placed 6th. In the FS she landed her 3F-3T but doubled two triples and singled an axel as well. Just too many mistakes on a night where everyone skated well. I don't think she'll make the JGPF now...FYI, I'm giggling again.
Miu Sato (JPN, 5th) had a weak SP but redeemed herself a bit in the FS. She has really nice speed across the ice. Hinano Isobe (JPN, 6th) started off well, finishing 3rd in the SP but her nerves got the better of her in the FS. She's lovely on the ice but her jumps lack height. Nearly all of her jumps look as though they slipped off the toe pick. Anna Shershak (RUS, 7th) is as lovely as ever but a bad SP and lack of difficulty in the FS is why she didn't place higher.
I'm sure everyone knows, but you can view all of the performances on the
ISU's JGP channel
on YouTube. Only two events left to go. This week is JGP Croatia Cup and we're getting down to the last bit of shuffling in the standings. The main names battling it out will be
Japan's Rika Hongo
along with the Americans,
Hannah Miller
and
Angela Wang.
Now on to Nebelhorn Trophy! Here are the results: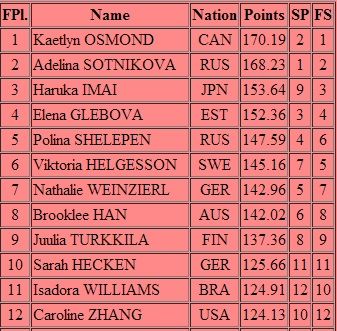 Anyone else a little shocked by this? Kaetlyn Osmond? From Canada?! Really? It's hard to compare the performances because we don't have a lot of videos (a huge thanks to
Tatjana2541
for the few we do have), but from what I did see, most of the skaters look like they are off to a good start.
(Free Skate)
Kaetlyn Osmond (CAN) - 1st
I cannot recall if I've seen this girl before but she definitely made a name for herself here. She's not the most refined of skaters but she has a lot of energy and
zing!
to her skating. I really enjoyed her version of "Carmen," especially the ending...very dramatic and nicely done. It's been a long time since a Canadian woman stood at the top of any podium so naturally this win by Kaetlyn has people talking. With news of
Cynthia Phaneuf's retirement
coming out last week, it's like out with the old and in with the new! I don't know how she'll stack up against the top names but her fighter instinct is encouraging. Kaetlyn put it all out there and really attacked her program, and she ended up stealing the show. I (along with everyone else) will be keeping an eye on her. Nicely done!
(Short Program)
(Free Skate)
Adelina Sotnikova (RUS) - 2nd
I really like her SP and the more I see her FS, I realize it isn't the complete trainwreck I originally thought it was...the music edit is still bad though. I just knew Adelina had this one in the bag. I mean, she went down on her opening combination and still managed to go into the FS with a lead. Her FS wasn't a disaster by any means but it's nowhere near her best either. I love everything about this girl which is why I'm praying she finds that consistency she had in 2011. Adelina is a bit like Sasha Cohen to me. Gorgeous skater with all the goods to be the best...but
consistently
inconsistent. That's Adelina; she'll have one or two mistakes that take her out of first place. She rarely misses a podium but for a skater as talented as she is, anything less than gold is a bit of a disappointment.
Even with the mistakes I'm feeling good about Adelina this season. The jumps she did hit were amazing! She is a truly gifted jumper...I'm just hoping she gets herself together. Soon.
Haruka Imai (JPN) - 3rd
I love Haruka and this was a lovely program. It's been so cool watching her grow and mature over these past two years. She's turned into an elegant skater and she's found a style that really suits her. Her SP scored pretty low (9th) but I thought her FS was wonderful. The music and choreography were nice and she hit all of her jumps though she did have a few UR issues. Using this as a snapshot of where she is heading into the season, I'm feeling really good about her too. Japan's field of ladies is so deep (Akiko, Mao, Kanako) and is getting deeper with the return of Miki Ando. I don't know what her chances are of making the world team or making it to Sochi, but if she keeps skating like this it will be tough to ignore her.
Judging by the protocols for the rest...
Elena Glebova (EST, 4th)
had strong skates in both segments but got edged out by Haruka...
It's really early in the season so it's never good to put too much stock in these competitions whether the result is good or bad, and this was definitely bad for
Caroline Zhang (USA, 12th)
. She's got a fair amount of expectation on her after her performances at nationals and 4CC so these results were really disappointing. I'm pretty sure a lot of people figured she'd be on the podium here. I'm going to choose to stay positive for now as far as Caroline is concerned. She has never been a strong beginning of the season skater; she usually peaks toward the end of the season. I'll just leave it there for now and pray that she gets it together by the time her GPs rolls around...
The next Senior B event, Finlandia Trophy, is being held this week (October 5-7). The big names at this event include Russia's phenom,
Julia Lipnitskaya
, in her senior international debut;
Kiira Korpi
of Finland; and
Mirai Nagasu
of the United States. Though I don't generally cover the men, I may make an exception because the fabulous diva
Johnny Weir
will be making his return to competition at this event. Hopefully someone there will be kind enough to post videos. Yay, skating!