Excellent first event for the US ladies! It was so exciting to see the Americans looking strong at Skate America for a change…well, most of them anyway.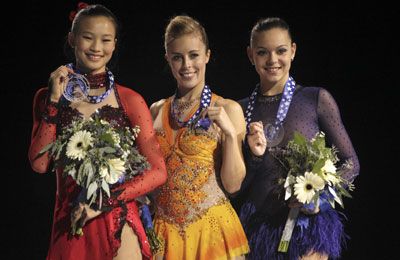 Two Americans on the podium?! What's this?!
Here are final results ladies:
Ashley Wagner (USA): 60.61 (SP) +127.76 (FS) = 188.37 (1st)
Ashley continued her streak of ass-kickery by convincingly winning gold here with two solid performances. I like Ashley's "Red Violin" SP. I think she and Philip Mills did a good job of setting it apart from Michelle Kwan's masterpiece. They gave it a different feel; Michelle's was very quiet and haunting whereas I find Ashley's to be more powerful which suits her skating style perfectly. There are several moments I love in the program, none more than the falling leaf split out of her double axel. That was absolutely gorgeous! I love her dress too. I've seen that style of dress on her before in all black. I love the color of this one and the back vaguely reminds me of violin strings. Ashley struggled slightly on the landing of her 3L but overall, it was a solid debut for her SP. I thought her speed was good and her spins looked faster as well.
To go into the FS with a lead and have to skate last is a tall order for anyone to fill. With all of the expectation and pressure she's now receiving to perform, I was a little worried about how Ashley would hold up. I don't know what she's doing but whatever it is, it's working. Ashley maintained her focus throughout the program and delivered a solid performance. Even when things started to look a little shaky, she held it together. I like the changes to the dress. After Japan Open I suggested more orange to tone down the brighter golden color and it looks like Ashley's team agreed. More orange accents to the skirt and beading toned the brightness down so it still grabs your attention without making you squint. I like it.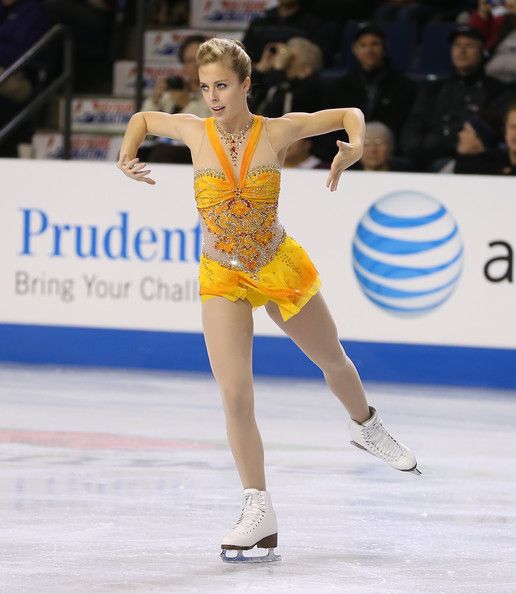 Just call her Ashley "Swagner" y'all...
Ashley is making me excited about the US ladies again. This is the first time a US champion has actually
looked
like a US champion the following season. Ashley's confidence is palpable; you can almost see it coming out of her ears when she skates. She definitely has that champion
swagger
and I love it! Nobody wants a tentative, unsure, down-in-the-dumps or boring US champion. Yes, I'm talking about the previous three US champs: Alissa, Rachael and Mirai. Neither one of these ladies ever made people stand up and take notice or asserted themselves as completely as Ashley is now. I respect the hell out of her for doing that and I'm so proud of her.
Considering it's only October, this was an outstanding competition for her. No major errors but plenty of little things to go back and work on. She's got time before her next assignment (TEB) so it will be interesting to see what she does. Ashley has set the bar quite high and if she adds a 3-3, it will go even higher. Ashley
Swagner
is the real deal…
Christina Gao (USA): 56.63 (SP) + 117.62 (FS) = 174.25 (2nd)
Christina was the biggest surprise of this competition. I was
so
impressed with her here! She shocked a lot of people because I don't think anyone expected her to put out that kind of performance given the recent changes in her life. She moved to a new city, switched coaches and is a full-time student at Harvard. There tends to be an adjustment period for skaters when they undergo that many changes but it appears as though change agrees with her.
Christina had a gangly, awkward look about her due to her very long arms and legs. It took a few years but it seems as though she's finally adjusted to her length. She's always been a pretty girl but there's this maturity to her now and an elegance that only comes with age and her height gives her an almost Carolina Kostner-esque appearance. Christina is tall and stunning on the ice and when she skates the way she skated here, it's impossible to ignore her.
Her SP was the performance of the night for me. "Close Without Touching" is a perfectly packaged program: the music, choreography, dress…and then the performance. Beautiful. She shocked me because I've never seen her relate to her music so much and skate so freely. You could tell she
felt
what she was doing. The jumps were amazing as well: lots of speed, great distance, perfect air position and solid landings. Her spins have improved immensely in terms of positions, speed and centering. Her classic layback position is lovely! The free leg and arms are much better positioned than before. The whole program was wonderful. I thought she was lowballed considering she had a clean 3-3 and the only error free skate of the night, but she was the second skater in the first group and those skaters tend to earn lower scores.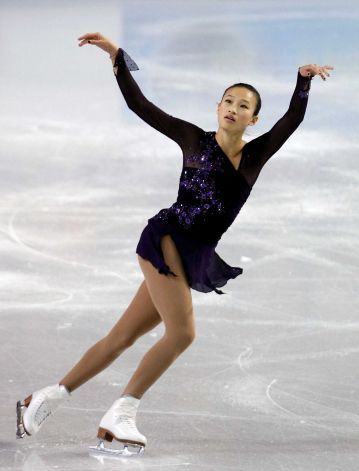 The new and improved Christina Gao
Christina had the opportunity to raise her stock considerably and she seized it. I'd love to see more attitude and sharpness in her "Libertango" program to really bring it to life, but considering it's only October, she
killed
it. The only error in her FS was an edge call on her lutz; and even that was pretty! With a chance at a medal on the line, she delivered and received a standing ovation at the end, a personal best score, and her first GP medal.
This was a break-through performance for Christina and I'm so happy for her. After her less than stellar performances last year, this was what she needed. It's not all gravy from here though. Christina will be joining Ashley at TEB and all eyes will be on her to deliver the way she delivered here. I really hope this isn't a one-time deal for Christina and that she'll be able to inject a bit of consistency into her skating this season. If she can, she has a good shot at finally getting out of 5th place at nationals this year.
Adelina Sotnikova (RUS): 58.93 (SP) + 110.03 (FS) = 168.96 (3rd)
I love everything about this girl and I'm so ready for her to get her shit together! Adelina is still searching for consistency but the good news for her is she can afford the mistakes. I don't think she's ever had a 100% clean performance at a GP event, yet she still manages to land on the podium. It's a good thing for her but it's also very frustrating. She's an amazing skater! I just want her to do well but she struggles to maintain her focus throughout the performance and it usually ends up costing her.
Her SP started off wonderfully. She nailed a huge 3T-3T right off the top. Just when I thought she was on the right track, she popped open her flip. The rest of the program was great but the damage had already been done. However, considering she missed an entire element, her score was great. That lets you know the judges appreciate her beautiful lines, gorgeous extension, huge jumps, difficult spins and lovely presentation. Adelina would have placed above Ashley in the SP if she hadn't missed that jump.
She went into the FS less than two points out of first place. Again, she opened the program spectacularly with a huge and fully ratified 3Lz-3T (not even an edge call) and followed it up with a solid 3F. She flubbed her first 2A, but repeated it with a 2T in an effort to make up the points for the 2A-3T combo she missed. But here's where she made a big mistake: Adelina fell on her second 3F. Because the first 3F was solo, the fall on the second counted as a default combo (3F+SEQ), which meant the 3L-2T-2L that followed was invalid and received no points.
*sigh* So beautiful...
Adelina made lots of silly mistakes that cost her several points and lost her the silver medal. I want to chalk all of this up to youth and lack of focus and I hope that's all it is. Hitting those 3-3s in both programs means she's on the right track in terms of her training, adjusting to her height, her technique, etc., so it's not a growth spurt problem or anything like that. What she really needs to work on is her mental game, especially her focus. Given her abilities and sheer talent I expect more from her and I'm sure she does too.
Other than the weird mistakes I thought this was a decent outing for her. It's great to see her 3-3s are back and I loved her dresses in both programs…she just needs to pull everything together. Adelina's next event is COR and she'll be a favorite to win there. Hopefully she will improve upon her performances at SA and really prove she's every bit as good as I know she is.
As for the others…
I really enjoyed
Valentina Marchei's SP (ITA, 4th)
…she really captured the audience's attention. I wasn't as impressed with her FS but I'm glad she placed well. I like her and her skating.
I love how
Haruka Imai (JPN, 5th)
has grown into a lovely skater. There's a nice level of maturity to her skating now but she has to up her technical game if she wants to be competitive at the top.
I thought
Mae Berenice Meite (FRA, 6th)
had an excellent performance in the SP, complete with a nice 3T-3T. She was less impressive in the FS but it's nice to see her filling in well for the injured Yretha Silete…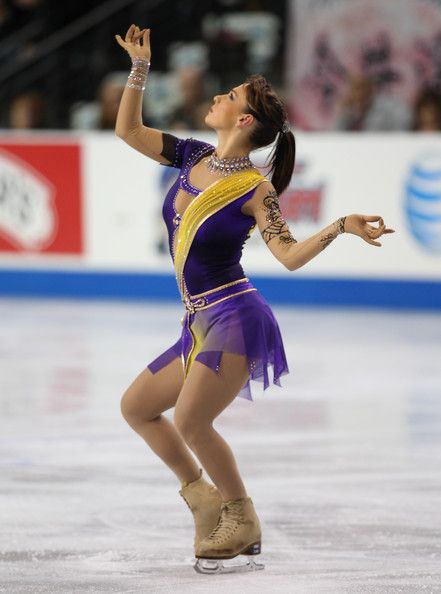 That ponytail has got to go...
Alena Leonova (RUS, 7th)
ended up boo-hooing on camera again. I probably would have cried too if I were the world silver medalist and placed 9th in the SP. Still, she's a bit too old to be blubbering in front of the cameras like that; hold that crap in until you get backstage and then let it out. Toughen up! She turned it around a bit in the FS and moved up to 7th place, but that's still a failure on her part. Alena tends to start off rusty and get stronger as the season progresses so all is not lost for her…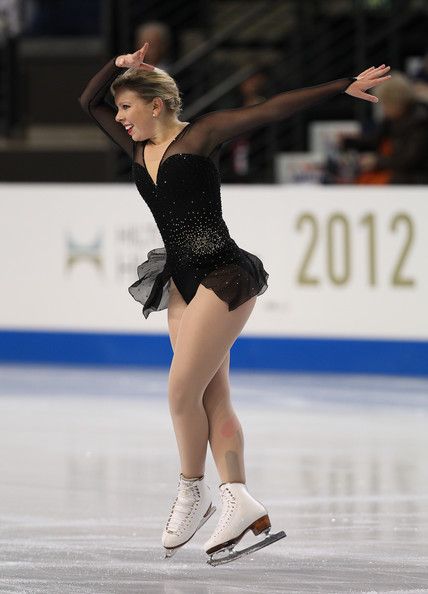 Thanks for your hard work Rachael...
Rachael Flatt (USA, 9th)
showed up just to show up, I guess. Rachael's new SP was nice but very, very, very slow. I liked the ending and I thought her hair, dress and makeup all looked very flattering on her. She landed five triples in the FS (no lutz, one flip) but the judges' message is even louder this year…they want her gone. It's sad to see someone who was once a top two or three finisher bottom out like this. I really think Rachael should have let her great performance at nationals be her final competition. She got a ton of love from the fans and it was a great send off. This was her Hail Mary spot and I don't think she put it to good use. Unless something drastic happens this is probably her last appearance on the Gran Prix. Rachael's had a successful career…but from all indications, it's time for her to move on.
Good competition! So proud of Ashley and Christina for representing the US so well and I'm happy Adelina was able to keep it together enough to get bronze. This week is
Skate Canada
. We'll see the season debuts of
Japan's Akiko Suzuki and Kanako Murakami
;
Russia's Elizaveta Tuktamysheva
;
Kaetlyn Osmond of Canada
; and
Gracie Gold and Caroline Zhang
of the
United States
. This should be a good one!