Lots of good skating at Skate Canada plus some questionable judging. Yep, the season is in full swing...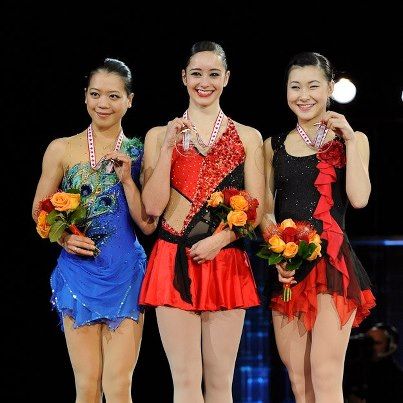 A Canadian woman on top of the podium?! Is that you Joannie?
The final results: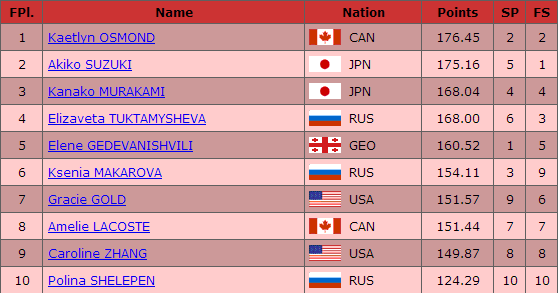 Kaetlyn Osmond (CAN): 60.56 (SP) + 115.89 (FS) = 176.45 (1st)
I am officially a fan of Kaetlyn Osmond. In terms of a meteoric rise in the standings, she definitely takes the cake. She went from being virtually unknown to beating the world
silver
bronze medalist…this is a big deal for Kaetlyn and I'm happy for her. At the same time, I'm scratching my head...
Kaetlyn deserved the score she got for her SP. I mean,
WOW
! She is a very entertaining and engaging performer. Up-tempo Latin programs are usually not my cuppa. I dislike high energy music for skating because so few have the ability to really match the energy the music generates and, essentially, the music runs over the skater and the program falls flat. Kaetlyn really surprised me; she pulled it off, but not only did she pull it off, she pulled it off with flair! She played to the judges and the audience the entire time, hit all of the beats she was supposed to and matched the energy of the music. Plus to top it all off she delivered the goods: big 3T-3T out of steps, a nice 3F, a 2A out of a spread eagle and good positions, speed and centering on her spins. I love the lift and ride-out her jumps have and her footwork was very well choreographed to the music…right on down to the booty roll at the end! She nailed it.
Then came the FS. For this to be her first senior GP event she did pretty well. She fell on her 3Lz and stepped out of her 3T so it wasn't perfect, but I thought she did well enough for a medal finish. I like her Carmen program; the pacing is nice and there are some good moments in it, particularly the footwork section and I love the spiral sequence and ending. It didn't grab me as much as her spectacular SP but it was enjoyable and she performed it well.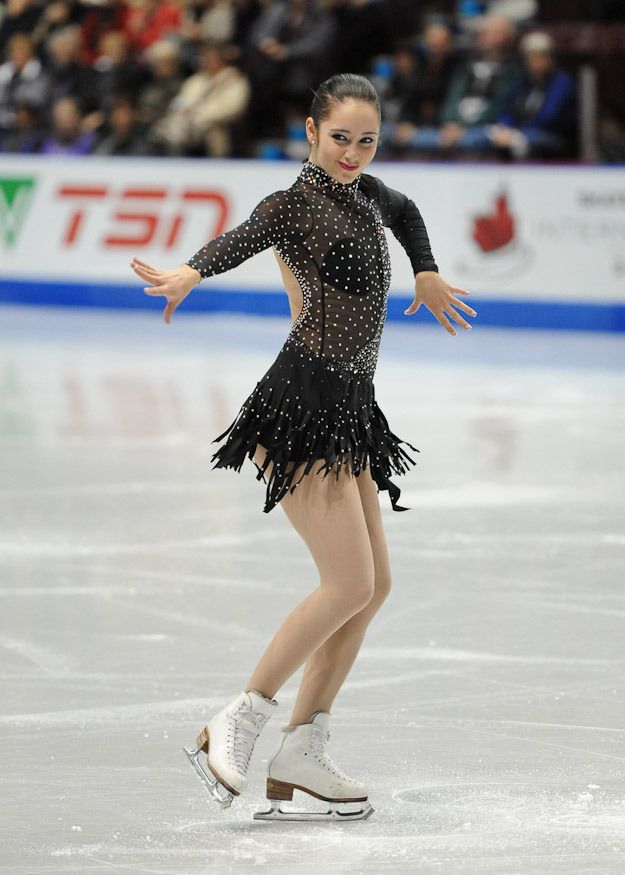 She really blew me away with her SP!
As much as I love what she did here, I wasn't completely sure about the way this competition panned out and that has nothing to do with Kaetlyn--it falls back on the judges. There have long been rumblings that Canadian skaters can get away with
"figure skating murder"
at Skate Canada and still make it to the top of the podium (ref. Patrick Chan's win at 2010 Skate Canada). It's widely known that skaters of a particular country get a certain boost in scoring when they compete at home and that's just the way it is…the same thing happened last week at Skate America with Ashley Wagner. In Kaetlyn's case however, a few eyebrows have been raised mainly because she was a relatively unknown skater debuting at the senior level. Her total PCS was about one or two points higher than I'd have had it, so when you factor in the Canadian ice advantage, I think she pretty much earned what she got. My issue wasn't Kaetlyn's scoring; it was the way other skaters were scored in relation to her. More on that in a minute…
This was a tremendous debut for Kaetlyn. I was surprised she held up so well under the pressure and delivered two solid performances at home. She still needs work of course: she has an iffy lutz and flip (both of which received edge calls in the FS), some of her landings are a bit forward (she drops her chest when she lands), and she needs polish and refinement, but all of those are things that can improve. Overall, Kaetlyn has a solid base. What excites me is that she's a performer. She has charisma when she skates and she gets into character and into the music and really sells the performance…quite a few of these newbies and even some of the veterans should take a lesson from her. I'm hoping this wasn't a fluke and that she will continue to build on this performance. Kaetlyn doesn't have a second GP assignment so she won't make the Final unless a spot opens and she gets an invite. Even if she doesn't, she's made her mark…everyone knows who Kaetlyn Osmond is now.
Akiko Suzuki (JPN): 55.12 (SP) + 120.04 (FS) = 175.16 (2nd)
Overall, I think Akiko got screwed here. It's really unfair the way the judges don't seem to give her her due. I thought after her strong performances last season and her placement at worlds things would start to change but it's obvious we're back to the same old song and dance. To be fair, Akiko wasn't stellar in this competition. She had a weak SP but a very strong FS and just narrowly missed gold by 1.29 points. But had she received the scores she was due, she would have won this competition.
I'm not a big fan of Akiko's SP. I get what she was trying to do but the music edit is too scattered and disjointed; it throws the cohesion of the whole program off. I liked the hydro-blading move she did before her flying spin and the footwork was wonderful (as usual) but the rest of it seemed off. In addition, her jumps weren't the greatest. She received a DG on her 3T-3T as well as an edge call on her 3Lz. It wasn't a great program but it wasn't a disaster either. I'd like to argue her score was too low but when you consider the fact that the four skaters ahead of her in the SP all had 3-3 combos, it was fair.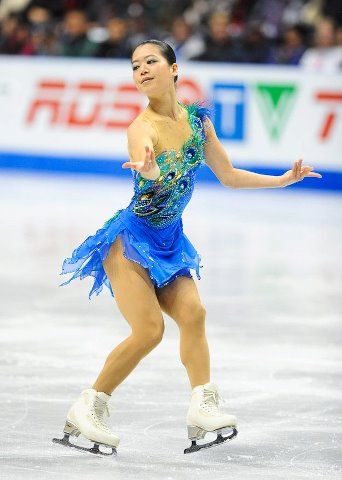 Best dress of the season!
Akiko went into the FS in 5th place but less than 6 points out of first. All she had to do was skate a solid FS and she'd be right back in the mix…and that's exactly what she did. Akiko's Cirque program is
magnificent
: I love the use of her arms throughout, especially in the step sequence; the music edit is wonderful; the speed and steps going into the spiral…really the whole final minute of the program is amazing; and that dress is the most beautiful thing I've seen in a long time. The whole package works and Akiko delivered on the jumps as well; no major errors in her FS. I thought for sure the title was hers…and then the scores came up.
Don't get me wrong, 120.04 is a great score. You have to take a closer look at it, particularly at the PCS, to see where the problem is. The only score I thought the judges came close to getting right was TR. I'd put her transitions mark in the 7s just because there aren't a lot of difficult entries into her jumps, though the linking moves between her elements and other moves are good so a low to mid 7 is fair in my opinion. I thought she got lowballed everywhere else. Akiko's SS, PE, CH and IN were woefully low considering not only her ranking but what she did on the ice that night. Every single one of those should have been 8+…she didn't receive anything over a 7.57.
If Akiko had been awarded the component scores she deserved, she would have won this event. Kaetlyn skated very well but the fact that her PCS was only 0.21 points less than Akiko's is a travesty. Akiko deserved a PCS of
at least
60; I'd say somewhere around 62 or 63. The judges put her in line with a debut senior in terms of PCS… Akiko deserved better than she got in the FS. It's a shame this continues to happen…
Kanako Murakami (JPN): 56.21 (SP) + 111.83 (FS) = 168.04 (3rd)
I don't care what anyone says, I adore this girl! It's been so much fun watching her grow from year to year and she has yet to disappoint me.
Her SP was very beautiful. I loved the arrangement of the elements in this program. You don't usually see skaters start a program with a step sequence but Kanako did, and it was a level 4 sequence at that. She followed it up with a soaring 2A and then her flying spin. By that point, the rest of her jumps were in the bonus which is a smart set up for a program if you have the stamina, and given that all of the skaters can get through a FS, I can't see why it would be a problem. Kanako's 3T-3T was judged UR by the tech panel but I think they're nuts; it looked fine to me. Her 3F on the other hand was clearly short and received a DG. Overall, I thought it was a good performance of a beautiful program.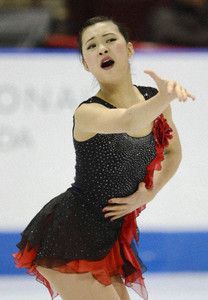 She killed that tango!
Kanako's tango FS is by far the
best
FS she's ever had. She embodied this tango music fully and the choreography was wonderful: the steps between the elements; incorporating the tango hold into the choreography; the step sequence right in time with the music; and like Akiko's program, the final minute of this program is excellent. The tango steps into the spiral and that final ending pose right on the beat of the music…she was awesome! I loved her big smile at the end!
In terms of jumps she did okay. All but one of her triples in the second half of the program received UR calls but I'm not worried. This happened at the beginning of last season too; I think it may be a stamina issue but it will correct itself later in the season. Her flip and lutz are still mule-kicky but I don't really care. They get good height and are landed cleanly even though they aren't picture perfect on the takeoff. Kanako is another one who gets lowballed in the PCS. I think she is a solid mid 7s skater but she rarely receives those marks (big shock). Regardless, I think her placement here was correct and I'm glad she was able to bounce back with a strong FS and win bronze.
I think this was a great season debut for Kanako. The jumps could have been better as far as rotation goes but she's got a solid foundation to build upon. I thought she had great speed and flow, as well as all of the in-betweens you look for. Her programs, in particular her FS, will probably be on my favorites list this year.
As for the rest...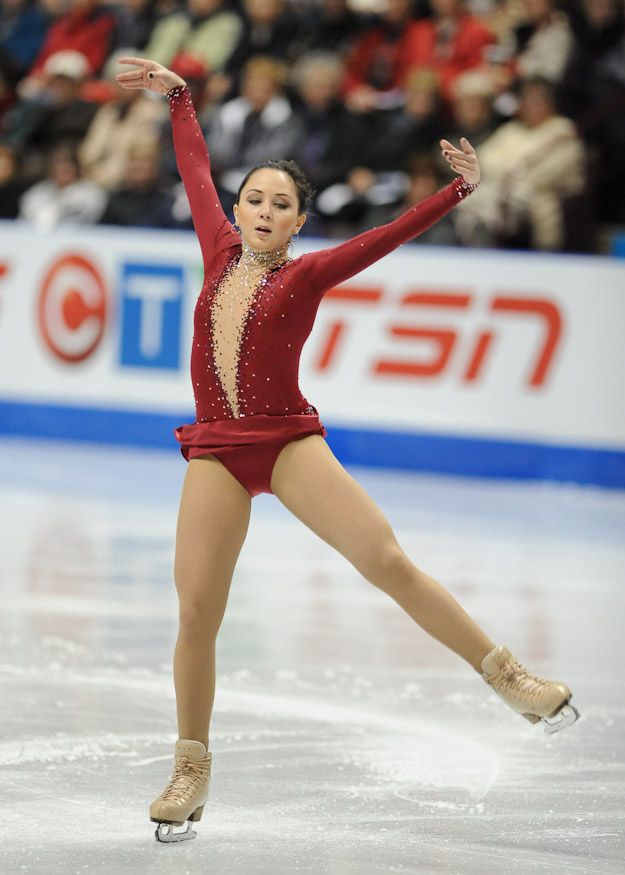 No back-to-back title for Liza T
Elizaveta Tuktamysheva (RUS, 4th)
aka Liza T had a solid debut as well. She slayed the competition last year so she came into this as the defending Skate Canada champion. Her SP was a disappointment but she was still within striking distance of the podium. I liked the earlier version I saw of her Love Story SP…I think it was a different version of music. The program is okay but it's nothing great.
Her FS was much better. She went down on her second lutz but pulled off the rest of the program without a hitch. I like her Dark Eyes FS; it's more diva-ish and really allows Liza T's personality to shine through. The reason I like Liza T is because she's a performer. She really got into the music and gave a lot of
umph!
to the choreography and I appreciate that.
Considering she was a question mark to participate at this event due to injury, I think she did very well. Her ice coverage is improving and so are some of her spins. Hopefully she'll be able to recover and be 100% for her next competition.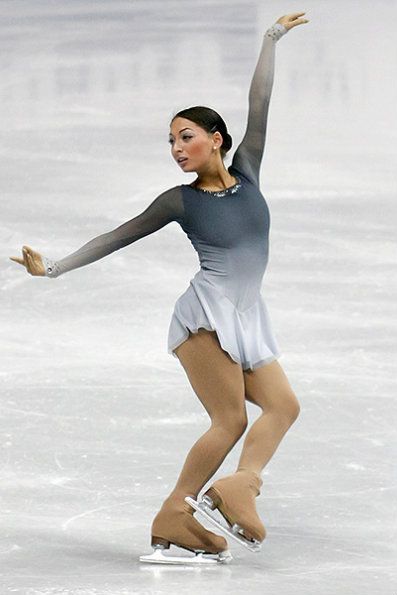 Gorgeous program, gorgeous performance
Elene Gedevanishvili (GEO, 5th)
shocked everyone by skating what was probably the SP of her life. She nailed her 3Lz-3T (though the 3T was UR) as well as a clean 3S and 2A. Her program showed an emotional and mature side that I've never seen from Elene before. She had the lead heading into the FS. Unfortunately, she struggled and placed 5th in the segment and 5th overall. Even though the outcome was disappointing I think it should give Elene confidence to know that she can be a contender when she applies herself and skates well.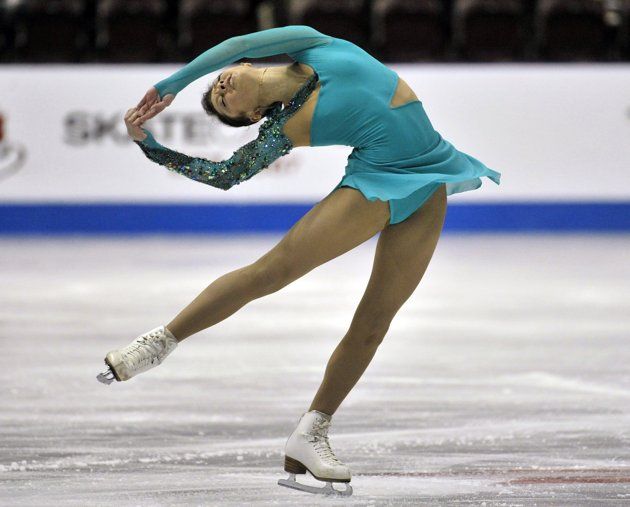 Still searching for that consistency...
I'm loving
Ksenia Makarova's (RUS, 6th)
new dark hair! I was happy to see she stuck with her Maria and the Violin's String SP from last season. It was a favorite of mine and she reminded me why with her performance here. She opened with a gorgeous 3T-3T and 3S but gained no points on her axel, which wasn't even counted. Regardless, the choreography, the spins (especially the entrance into her combo spin right in time with the music) and the feeling behind the program was wonderful. Sadly, she couldn't carry that momentum into the FS. Ksenia had a world of problems and only placed 9th in the segment which left her 6th overall.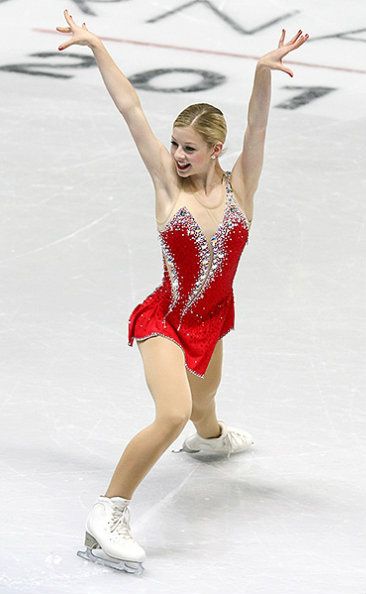 I'm still not convinced...
The debut of
Gracie Gold (USA, 7th)
didn't go as smoothly as some people predicted/hoped it would. This is why I don't like betting all of my cookies on an untested skater…they're
untested
. As I've said a dozen times the atmosphere of a senior level competition at the Gran Prix is a completely different world from the hundred or so people who turn up at a junior level event. It's an entirely different pressure cooker and it's obvious Gracie was feeling it. Her SP was bad: she basically fell on her 3F-3T, was tilted but landed the lutz, and then fell hard on the 2A. She finished the SP in 9th place. Her FS opened nicely with a 3Lz-3T but then it went downhill. No falls this time but only three triple jumps plus two edge calls. It was not a good first outing for her.
I have to compare Gracie to the only other debuting senior, Kaetlyn Osmond, and to me there is no comparison…and that's not just because Gracie's jumps were MIA. Gracie has made improvements but she still looks like a run-of-the-mill skater to me. By the time the competition was over I'd forgotten she was even there. I think she's a pretty girl with big jumps but that is not enough at the senior level. Gracie plasters a smile on her face and regurgitates choreography with little to no understanding or connection to what she's doing just like any other junior level skater. I am not impressed. On the other hand you have Kaetlyn, who projects and connects to the audience, and brings her music and choreography to life. That makes her stand out and it leaves a big and lasting impression and
that's
what Gracie has not learned to do yet.
Gracie admitted to being taken aback by the environment (amount of people, signs, cameras, lights, etc.) and that she lost her focus during the competition. This was a learning experience for her and I get that…but even if she'd nailed all of her jumps my sentiments would not change. Overall, I find her a little boring. Sorry, but I do. I'm hoping she'll develop a style and learn to perform and really draw an audience in. Until that time I stick by my current opinion of her…
Meh
.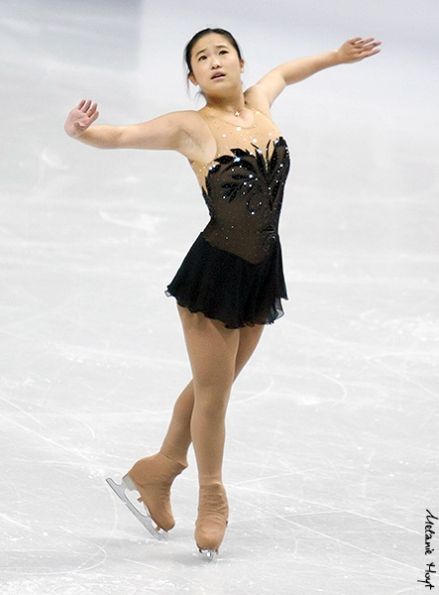 It's not enough...
Caroline Zhang (USA, 9th)
didn't place well but she skated pretty well. She had no major errors in either program but her lower base value combined with low GOEs and PCS equaled a low score. I'm proud of what she did in the FS considering she was one arm movement away from a major wardrobe malfunction. The clasp on her dress snapped when she took her opening position. She pulled it up a few times during the program but other than that, she didn't let it distract her too much. She landed all of her jumps (minus the second 3F which she popped) and got through all of her elements though she did have to omit a few spin positions. A distraction that big could have led to a complete meltdown but she held it together so kudos to her.
Caroline has always been an end-of-the-season skater so I'm expecting her to build on this performance moving forward. Still, the question remains can she do enough to be competitive? The 3L-3L makes her competitive but we didn't see that here. Without it, I don't know that she'll be able to break out of the lower tier of skaters. Her skating basics are still subpar and her speed, transitions, etc. are not strong enough to compete with the top skaters. That 3L-3L is going to be her life saver this year…I wonder when we'll see it?
It was a great competition but I'm not sure about the judging. What do you think? Did Kaetlyn deserve gold, or should we jump on the
wuz robbed
train for Akiko? Vote on the poll!
This week is
Cup of China
and the lineup is great:
Mao Asada of Japan
;
Kiira Korpi of Finland
;
Mirai Nagasu of the United States
; and the senior debuts of
Russia's phenom, Julia Lipnitskaya
and, my favorite junior from the last two season,
Zijun Li of China.