Lots and lots of skating this week! I'll take a look at Japan Open and Finlandia Trophy too!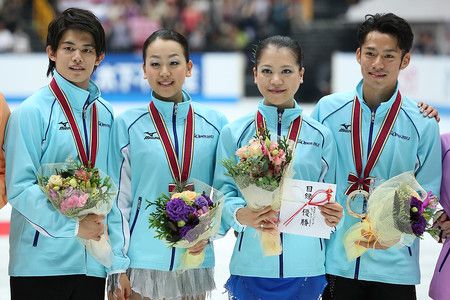 Team Japan did it big this year!
The team results weren't even close! Japan ran away with this one:
1.
Japan
: 569.25
2.
North America
: 511.80
3.
Europe
: 510.52
So a quick review for the men: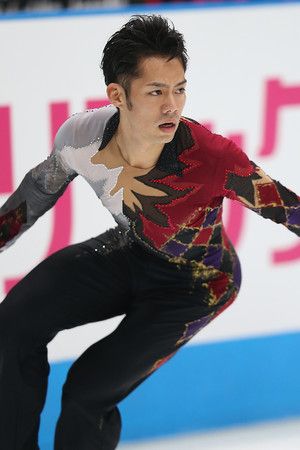 Awesome performance for Dai!
I'm not sure what's eating
P. Chiddy aka Patrick Chan
at this point and time but you gotta hope this performance isn't an indication of what's to come. He just did not have his feet under him at all.
Daisuke Takahashi
on the other hand was on fire! Really nice program from him…I hope this
is
an indication of what's to come.
Takahiko Kozuka
and
Michal Brezina
had strong performances and while
Jeffrey Buttle
was the only male without a quad attempt, his attempted jumps were solid and his program was great too.
Evgeni Plushenko
struggled a little bit. Plushy's skating is not my cuppa but the fact that he's out there still hanging strong is a testament to his longevity and drive in this sport. Pretty good competition for the men...
Now onto the ladies!
Ashley Wagner: 123.57
Ashley looked very strong here…she shocked me a bit! I guess it's because I'm not used to seeing consistent ass-kicking when it comes to the US ladies but it's clear Ashley is still riding that wave of momentum from last season. She just exudes confidence now and that confidence is helping her to turn in some really incredible performances. Her speed and power was fantastic and really fits the music. I like her S&D program. Like Black Swan, I'm sure some of the choreography will be tweaked as the season goes on but using this version as a base, I think it's a good program for her. I'm not crazy about the dress though. It photographs really bright yellow, though it's more golden in color. With her fair skin and blond hair, it's a bit too bright. I say she should dye it to more of a deep orange if she wants to stick with the brighter colors this year.
Iffy dress color aside, Ashley has established herself as a top contender by beating a very strong Mao at home…again! This is a big deal. I'm so excited to see what she can do this season!
Mao Asada: 122.04
Mao's skating gives me happy piddles. I mean, the qualities she possesses are so rare and unique and this programs highlights so many of them so beautifully. Tatiana Tarasova seems to have hit her stride with choreography lately. It appears she's given up on trying to get Mao to be something she's not, and instead has given in to allowing Mao to be Mao…and when Mao is Mao, magic usually happens. This will probably be my favorite FS of the season. I just loved everything about it: the wonderful steps going into the 3F without hesitation; the quiet section in the middle; the
3S!
; the lightness and happiness in the step sequence; and that beautiful spiral sequence. I love the dress too! It's simple but elegant, which is always a better fit on Mao than something that's gaudy and overdone. You combine all of that with Mao's ethereal grace, lines and presentation and you have a recipe for magic on ice.
Like Ashley, Mao looks very strong considering it's so early in the season and I really hope she continues to build on this performance as the season progresses. I can't recall the last time Mao had a good performance at Japan Open, so to see her deliver all of her jumps without any glaring errors was a welcomed surprise. She looks healthy and happy and I'm so proud of her. YAY MAO!

Akiko Suzuki: 110.07
I appreciate Akiko for continuing to explore different kinds of music. There's a much different feel to this program than any of her others and I like it. As far as performances go, this one could have been much better. Akiko started off strong but the second half fell apart—I read somewhere she got a bit turned around in the middle and ended up skating the second half going in the wrong direction. Silly mistakes happen in programs this early in the season so it's an easily rectifiable problem. Overall though, I thought Akiko looked great. Her dress is absolutely stunning! I love it and I think she looks gorgeous in it. Akiko is the top Japanese lady coming into this season so she's got a lot riding on her shoulders this year. I love her energy and attention to detail when she skates. She always gives every program her all and it makes her so enjoyable to watch so a clean performance of this program will be something very special to witness.
As for the others…
Alena Leonova's
program was decent enough
(107.94)
. I'm still not a fan of her style but I'm happy to see her moving a bit farther away from the cheesy/campy routines…
Elene Gedevanishvili's
program was really cute
(94.84)
. If she ever gets herself together she could be a contender…I'm disappointed in
Agnes Zawazski (89.95)
. I really hoped she'd start off a lot stronger than that. Good news: she can only go up from here…
Good competition! Probably some of the best skating we've seen at Japan Open in a long time. Seeing these wonderful programs, lovely dresses and strong starts has me more excited for the season than ever!
There was quite a bit of impressive skating going on over in Finland as well.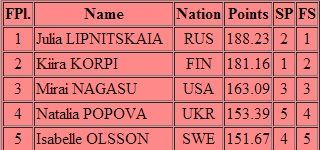 Julia Lipnitskaya (RUS): 64.05 (SP) + 124.18 (FS) = 188.23 (1st)
This girl is definitely the real deal. Julia has upgraded her difficulty this year and it's making her an even scarier threat. She has a solid 3Lz-3T in addition to her dizzyingly bendy spins; add that to her high level of consistency and we've got yet another Russian powerhouse jumping into the senior ranks this year. The only thing I dislike about Julia is her unimaginative choreography, though that's not entirely her fault. I like her flexibility but the number of times she lifts her leg really gets annoying after number three. Gratuitous leg lifting aside, this was a strong way to debut at a senior competition. It's going to be interesting to see how she fits in among the rest of the senior ladies.
Note
: her FS score here was higher than Ashley and Mao's scores at Japan Open...just something to think about...
Kiira Korpi (FIN): 69.27 (SP) + 111.89 (FS) = 181.16 (2nd)
Kiira is as gorgeous as ever. It's good to see her skating in front of a home crowd and they seemed to appreciate what she did quite a bit. Her SP was good enough to win the segment but she struggled a bit in the FS. Even so her scores were good enough to put her into 2nd place. I think both of her programs are decent and her dresses were gorgeous…but Kiira's just a gorgeous girl. I'm interested to see how she is going to stack up against this newer crop of senior ladies as well. She had a 3T-3T in both programs (nailed it in the SP, stepped out in the FS) so at least she's trying to keep up technically. No matter what, I enjoy watching her skate. Nice flow, nice presentation, nice programs…and so damn pretty!
Mirai Nagasu (USA): 52.75 (SP) + 110.34 (FS) = 163.09 (3rd)
You know this wasn't the strongest competition for Mirai but I gotta say I'm encouraged by what I saw here. For one she looks so much more mature; that hair color is great on her and she looks beautiful! Secondly, I see
fight
in her which is something we didn't see at all last year. I like that she went for the 3T-3T in the SP and I really hope she goes for it again. You could tell after the first jump it wasn't going to happen but she gets an
A
for effort in my book. Usually a fall would take all of the air out of her; not here. She kept going and finished the rest of the program strongly. Same with her FS when she went down on her 3F…she kept going and finished the rest of the program with good energy rather than going dead in the water like she did last year. This is what we haven't seen from Mirai in a while. Even with the mistakes, I enjoyed these two performances more than anything she did last year.
Word is
Miki Ando is out of the GP series
and it's possible Liza T (aka Elizaveta Tuktamysheva) may
miss her first assignment
, Skate Canada. This means there are spots opening up in the GP series. Miki was assigned to Cup of China (to which Mirai is already assigned) and Trophee Bompard; if Liza T opts to skip SC, that spot will be open as well. Mirai is probably first in line in terms of receiving a spot to one of these events due to her overall scores internationally and her general appeal in skating...people enjoy watching her. I can see the difference in Mirai this year and I really hope she gets the opportunity to showcase this new side of her skating at more than just one GP event this season.
WOOT!! We're getting closer and closer to the beginning of the senior Grand Prix series and I can hardly wait. So many promising skaters and developing story lines! I'm going to have to work overtime to keep Naked Ice updated…but I'm up for the challenge!