It's very unfortunate that one of the busiest weekends in figure skating coincided with my trip out of the country. Therefore, I'm left playing catch-up with the weekend's events. I'll start with the ladies
GPF
and
JGPF results
and then proceed to gush about
Yu-Na's stellar return
to the ice...
2012-2013 Grand Prix Final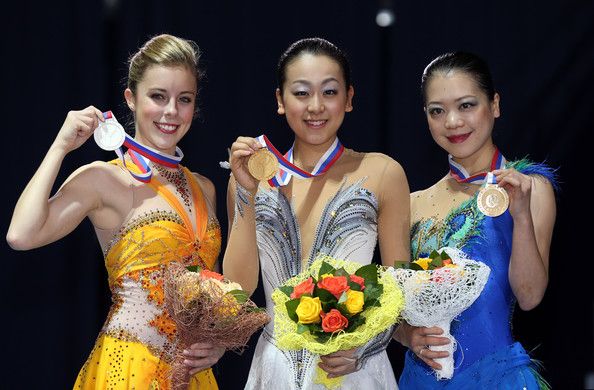 Your 2012-2013 Grand Prix Final medalists
Here are the final results:

Mao Asada (JPN): 66.96 (SP) + 129.84 (FS) = 196.80 (1st)
Mao's has been getting by on her excellent skating skills and presentation for the majority of this season so it was great to see her put forth a better overall effort in this competition. Her SP was completely clean: she nailed all of her jumps and received level 4s for all of her non-jump elements.
Even though she received two UR calls and an edge call on her lutz, and doubled her 3S, the rest of the program was excellent. No major errors, maximized levels on all of her other elements and she just seemed more relaxed than usual. Her jumps in the second half of the program had a bit more lift and air to them and she executed everything well. The spins were great, the footwork was perfection...she really saved her best for last.
On a night that was somewhat of a sloppy splatfest, Mao easily had the best program of the night. This is the first time so far this season where Mao was the clear winner. Even though this was a great victory for her, she needs to continue to work on her UR issues. With Yu-Na back in the mix, four triple jumps will not win gold at worlds this year.
Ashley Wagner (USA): 66.44 (SP) + 115.49 (FS): 181.93 (2nd)
Ashley's getting the hang of the SP. All of her jump elements were great, she got level 4s on everything else and performed with that intensity and command she becoming known for. Her score was a personal best and put her less than a point off the lead.
Ashley has been going balls-to-the-wall since nationals last year. She's had strong FS after strong FS...but I said it before: she's bound to have an off night...call it the law of averages. This FS was definitely an off night for Ashley but she fought through it. She opened her FS strongly before URing and falling on her 3S. Ashley hit two more solid triples and appeared to have regrouped until her 3L-2A sequence. The 3L was fine but she barely got off the ice on the 2A and crashed hard, landing in a belly flop on the ice. For a second it looked like she was going to stop but, the fighter that she is, she got up and kept going and even hit her final 3F. I love to see that kind of fight in a skater and proud she was able to finish strong and hang on for silver.
You expect skaters to have a bit of trouble every now and then so this wasn't a huge shock, and like Ashley said it's better it happened here than at nationals. Hopefully this performance will be a learning experience and she'll rebound ready to dominate at nationals.
Akiko Suzuki (JPN): 65.00 (SP) + 115.77 (FS) = 180.77 (3rd)
Akiko landed the only 3-3 of the SP and earned a personal best. This program has grown on me since she debuted it and seeing her skate it like this was enjoyable. It's a different look and feel for her and Akiko pulls it off nicely.
Like Ashley, Akiko has turned in some solid FS performances recently. Unfortunately, she was unable to put it together here. She started well with her 3-jump combo and a 2A-3T but then popped her lutz. Akiko fell on her 3F and on her final 3L, which was an ill-timed fall because it left her scrambling to catch up with the music at the end of the program. This program has been performed much better than this and the judges know it. Even though this one was a bit of a disaster, Akiko still scored decently and just barely missed a silver medal.
Akiko has her work cut out for her at nationals. This was an uncharacteristic FS for her and hopefully, like Ashley, she rebound and be ready to knock it out of the park at nationals.
As for the rest...
Kiira Korpi (FIN, 4th) went for the 3T-3T in the SP but URed the second jump. Her FS was decent but not enough to really compete with the top three. I think Kiira is a beautiful skater but against the grace of Mao, the power of Ashley and the performance ability of Akiko, she just fades into the background to me...
Elizaveta Tuktamysheva (RUS, 5th) wasn't able to hit her 3T-3T in the SP. Against the likes of Mao, Ashley, Akiko and Kiira, Liza T really needs the technical content to make up for the lack of PCS she earns. Her FS was much better. She landed seven triple jumps including a 3Lz-3T and 2A-3T, however, the landings weren't clean. Several turn outs and step outs left the program looking a little sloppy. She finished 2nd in the FS but it wasn't enough to get her on the podium.
Christina Gao (USA, 6th) was not able to capitalize on this opportunity. She struggled in both the SP and FS and finished a distant 6th. Just making it here was an honor but she will really need to come out swinging at nationals if she wants one of those spots on the world team.
So that's it for the GPF...onto the JGPF
2012-2013 Junior Grand Prix Final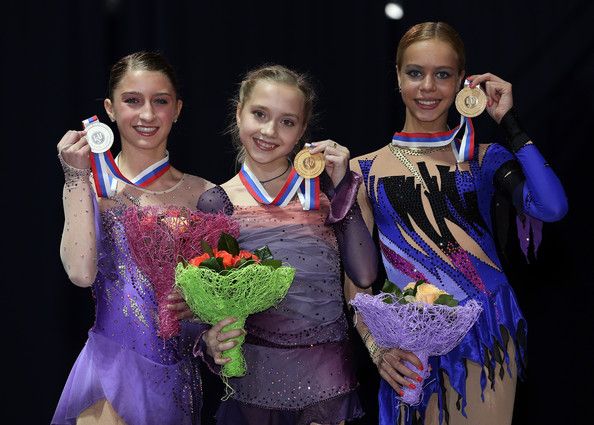 The 2012-2013 Junior Grand Prix Final medalists
The final results:

Elena Radionova (RUS): 60.90 (SP) + 118.50 (FS) = 179.40 (1st)
No surprises here. Elena continued her perfect season with another convincing win. Her SP was just as energetic and borderline tacky as usual. I love her personality on the ice but she is definitely in need of some refinement. She lost points on her 3F and 2A but went into the FS with a solid lead. Her SP featured a 3Lz-3T and a 3F-1L-3S sequence. With the exception of two edge calls on her 3Fs, the program was clean. She earned high levels on her spins and a level 4 on her footwork. She's been with it all season long so it will be interesting to see how she does at Russian nationals this year.
Hannah Miller (USA): 59.18 (SP) + 109.23 (FS) = 168.41 (2nd)
Hannah skates with a ton of spunk and fire and I really enjoy watching her. Her SP was fun and sassy and she hit all of her jumps and earned level 4s for all of her other elements. Hannah's FS was very good as well (just an edge call and UR on her 3S) but her lack of a 3-3 hurt her. She placed 4th in the segment but her solid FS combined with her good SP was enough to hold on for a silver medal. I'll be honest, I thought Hannah was a long shot for a medal here but she came out and did what she needed to do. Great job!
Anna Pogorilaya (RUS): 57.94 (SP) + 109.46 (FS) = 167.40 (3rd)
Anna made her mark on the JGP late but she proved why she deserved to be here. She's another Russian powerhouse jumper. Anna had a stacked SP that included a 3Lz-3T, 3F and 2A, but an edge call on her on her 3F and near fall during her footwork placed her 3rd in the SP. She fought back in the FS with seven triples including a 3Lz-3T and 2A-3T-2T. Anna finished 3rd in the FS and 3rd overall.
As for the rest...
Angela Wang (USA, 4th) singled her intended 3T in her 3Lz-3T combo in the SP which hurt her score. She turned in a strong FS which included a 3Lz-3T-2T and came in 2nd in the segment, but the damage was already done. I really hope she can get over her SP demons. Angela is such a gorgeous skater and she has all the goods...she's just gotta put them together.
Satoko Miyahara (JPN, 5th) botched her combo in the SP as well. She had two URs in the FS but other than that she put up a solid performance. Unfortunately, the hole she dug was too deep and she had no shot at the podium. I enjoy Satoko's skating but I really hope as she grows her jumps will gain more height and power. Sometimes I feel like the judges overlook her excellent skating skills and difficult transitions because she's so tiny.
Leah Keiser (USA, 6th) struggled in the SP, falling on her combo and receiving an edge call on her 3F. She was slightly better in the FS but a downgrade, UR and edge call along with a popped 3L did her no favors and she finished last.
And with that, the Junior Grand Prix and Senior Grand Prix are officially over! Now we're moving into nationals and across all of the major countries (USA, Japan, Russia) the competitions are shaping up to be fierce. I'm going to try my best to cover those as well.
Yu-Na's Back...Really, She's Back!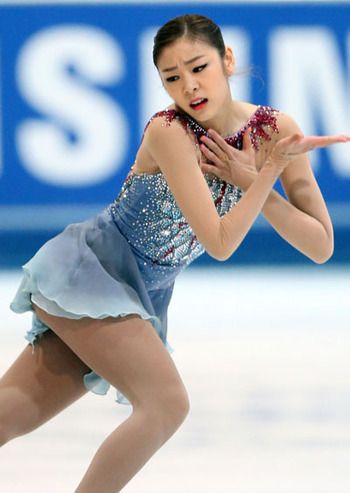 Well to anyone who doubted whether or not Yu-Na Kim was in shape to come back, I think her performances at NRW Trophy are proof enough that not only is she really back, but she's barely lost a step. To say this was her first competition in nearly two years I'm beyond impressed.
It's not worth mentioning anyone else (so I won't) but here are the final standings:

Landslide victory doesn't quite do that gap justice. Yu-Na decimated the competition here though I don't think anyone expected anything less.
SP: 72.27
Yu-Na went for her usual layout: 3Lz-3T, 3F and 2A. Her 3Lz-3T didn't really soar the way I remembered it. I compared it to her 3Lz-3T from worlds in 2011 and you can see the difference, mostly in the distance. I thought she may have URed it but in the slo-mo replay it looks like she just hit that quarter turn mark. Regardless, I applaud her for breaking out the big tricks at a competition where a 3-2 would have more than sufficed. Her 3F was lovely--no qualms about that one--and her 2A was nice as well, albeit a little wobbly on the landing. Yu-Na netted the first 70+ score we've seen in ages.
FS: 129.34
Yu-Na's FS was more of the same technical brilliance. The 3Lz-3T was bigger in the FS, more like I remembered it. She hit three more triples before running into a snag on her 3-jump combo by singling all of the jumps and then taking a silly fall at the end of her 3S-2T combo. It looked like she was tilted in the air on the 2T and landed too far back to stay upright. Unfortunately, that spiral isn't much better but that's okay...Yu-Na can't be great at everything! Even with the mistakes Yu-Na scored 129.34 and broke that ever elusive 200 point mark.
I'm not 100% sold on either program at this point. Kiss of the Vampire is very dramatic and Les Miserables is nice too...but I don't love them yet. They're both safe, nice programs but they don't grab me the way some of her other have in the past. Danse, Bond, Tango de Roxanne...these were programs that I immediately fell in love with. I didn't need a second or third viewing to sell me on them. Kiss of the Vampire doesn't really do that for me. Yu-Na's FS have always been good but only Lark and Gershwin really pulled me in. Homage to Korea is another beautiful one. I'm kinda sad she dumped both Homage and Giselle. To me, neither program really got a chance to develop and grow. Homage had the potential to be an epic signature program for her if she could have performed it well. I'd have loved to see her stick with both of those programs for this season. Ah well. I like these programs so far but they aren't on my list of favorites of the season...hopefully they'll grow on me.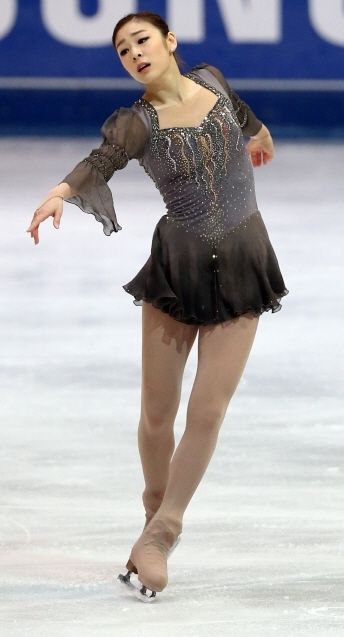 The Queen is back!
Overall, this was a much better comeback than I would have imagined. Naturally people are going to cry about Yu-Na being overscored and blah blah blah...that seems to be the trend this season; whoever wins was obviously overscored. Whatever. The only thing I disagreed with was all of those +2s and +3s for Yu-Na's spiral in the FS...those were overly-generous in my opinion. However, if Mao's FS with 4 triples was worth 129+ then Yu-Na's 6 triples were at least worth that much. The other thing to remember is skaters are scored according to the competition. Of course the judges are going to be generous at this competition; look who Yu-Na was up against.
I'm really excited to have Yu-Na back. What's more, she's back...she still has her technical content and that is what will make the difference in this field of ladies. Play time is over. If you want to compete, you have to up the ante. I would bet that we'll be seeing a lot more 3-3s from those who were holding out on adding them.
Yu-Na is set to compete at Korean nationals and (if she's smart) she'll throw her name in to compete at 4CC too. She delivered well at NRW Trophy but, essentially, it was a cakewalk. Same thing for Korean nationals; there's no one there who can challenge her. I think a test run at 4CC would be very beneficial before worlds to really help her get into the swing of competing against skaters who are closer to her level.
Holy crap this was long post! I'll do my end of the GP season thoughts soon. Later!