Happy New Year everyone! I thought it'd be a good idea to catch up with all of the national championships that have taken place over the last few weeks. The second half of the season is about to start and it's shaping up to be exciting!
Mao Asada - 193.56
No surprise here. Mao Asada turned in two good performances, bringing her season record to 4-0 this so far. It's great to see Mao rebound so well after the problems she's gone through in the last year but she's going to need to step up her content if she wants to compete with the other top names in the world. Putting all of the jump issues aside, this is just a gorgeous program. Mao delivers it so well every time and I just adore her for it. She's got a lot of momentum in her favor heading into the second half of the season.
Kanako Murakami - 183.67
Kanako Murakami had to fight pretty hard for this silver medal. She started off badly in the SP, finishing in 5th place and had a lot of ground to make up. Kanako's been getting stronger as the season goes along and she managed to shake off her sucky SP and and finish 2nd in the FS and 2nd overall to win her first silver medal. I'm very, very happy for her. I love her programs and she's getting in a good rhythm which should help her in the second half of the season.
Satoko Miyahara - 180.55
Satoko Miyahara is so tiny but this girl packs a punch! She finished 3rd in the SP and was in great position to make a run at the podium, though I doubt if anyone seriously thought she'd end up on the podium ahead of the more established competitors. BUT never underestimate a fearless competitor. Satoko proved she wasn't going down without a fight and finished 3rd in the FS and 3rd overall to earn her first senior national medal. She's so freakin' tiny but I love her skating skills and transitions. All of her program have great edge work and very difficult transitions. I hope she'll gain more height and power as she gets bigger but she's an amazing little skater! She's too young to go to senior worlds so she'll be heading to junior worlds instead...
Akiko Suzki (180.03) just barely missed a medal here. She knocked her SP out of the park and ended up winning the segment. Unfortunately she couldn't follow it up. Akiko struggled in ther FS finishing 5th in the segment and 4th overall. Satoko is too young to participate at senior worlds; therefore, Akiko has a spot on the world team but this was not the way she wanted to get there. Hopefully she'll shake it off and fight back strongly in her remaining competitions of the season.
Elizaveta Tuktamysheva - 196.57
As great as Elizaveta Tuktamysheva is, she's never won nationals...until now. Elizaveta has been getting stronger all season long and she proved she's still on the upswing by having a great SP and nearly scoring 70 points (69.50). There was some worry as to whether she would be able to compete in the FS. The day of the ladies FS news came that she was sick and may have to withdraw...for a while most of us believed she had withdrawn. However, in the 11th hour, the announcement came that Elizaveta was in the arena and would compete. It wasn't her absolute best but she did her job well considering she was sick. Elizaveta won the FS as well and earned her first national title.
Elena Radionova - 191.26
Elena Radionova is another fearless newbie who reels off triples like it's nothing at all. Like so many of these younger skaters, she just goes out there and lays it all on the line. She doesn't have the refinement or maturity of Adelina or the power of Elizaveta, but Elena nailed all of her jumps in both of her programs and managed to narrowly beat the 3-time national champion Adelina Sotnikova to earn the silver medal. She's on a roll this season and is the favorite to win junior worlds.
Adelina Sotnikova - 190.75
Adelina Sotnikova started off very well in the SP and looked as though she'd finally gotten her legs back under her. She's struggled so much all season so it was great to see her rebound and deliver a clean SP. Sadly, she was unable to maintain that level through her FS. She fell on her opening combo but managed to hold on for the remainder of the program. Unfortunately, her small wobbles and step outs caused her to barely miss a silver medal.
Alena Leonova (167.64) has been struggling all season and she continued to struggle here. Like I said earlier, she's not really wearing that world silver medal very well. She had several problems in both programs and finished a distant 7th. Elena Radionova is too young to compete at senior worlds and even though some of the girls who placed above her are eligible to go to worlds, it's likely Alena will receive that third spot on the team.
Carolina Kostner - 213.69
Short Program
Free Skate
No surprise here either. Carolina Kostner had a phenomenal SP and a solid performance in the FS to capture her 7th national championship. Naturally, there was no one close to catching her in this competition so it wasn't like it was a hard fought battle. Still, it was great to see her perform her programs again. Her SP is amazing and her FS is growing on me as well. I think these programs will go over very well with international judges and should be very competitive with the other top ladies as well.
2nd place went to Valentina Marchei (167.74) and 3rd place went to Giada Russo (145.21).
Zijun Li - 175.10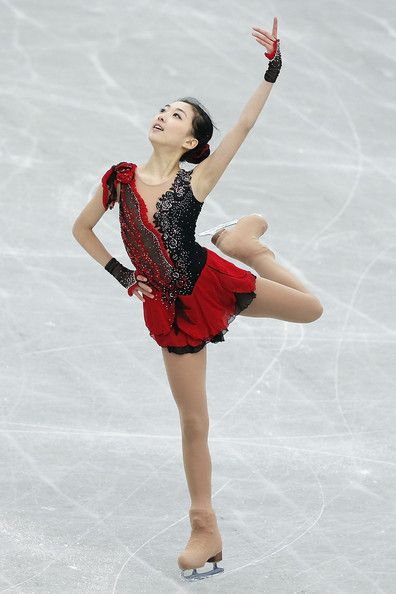 3-time Chinese national champion...YAY!
No video of this one but Zijun Li won her 3rd consecutive national title this year. With Kexin Zhang out and possibly retiring, the full weight of the Chinese national team is on hanging on Zijun's tiny shoulders. I adore her and her skating so I'm hoping she'll have a great showing at worlds and earn China two spots for Sochi.
Ziquan Zhao (130.00) placed a distant 2nd and Jialei Wang (125.91) placed 3rd.
There are still a few key championships that have yet to take place, namely the United States national championships which will take place January 19-27 in Omaha, Nebraska, and the Korean national championships which will take place later on this week (January 4-6) in Seoul.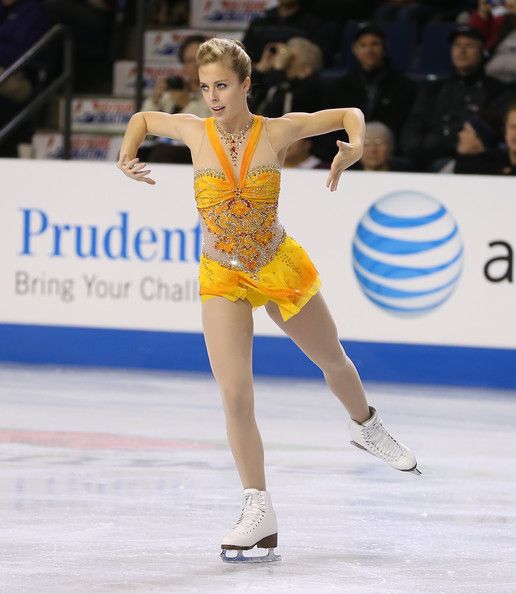 This time it's 100% hers to lose...
Ashley Wagner will look to become the first lady to defend her title since Michelle Kwan did it back in 2005 but she does have some competition from skaters like Gracie Gold, Mirai Nagasu, Christina Gao and Agnes Zawadski. If Ashley skates the way she's been skating all season, there's no one in the US who can beat her. She should win but there's definitely a possibility for an upset due to the level of competition from the other ladies in the competition.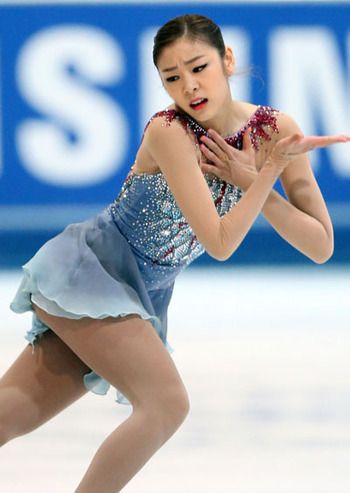 No doubt she'll win by a landslide...
We can already fill in Yu-Na Kim's name on the the results sheet for Korean nationals. She would literally have to fall on every jump in order not to win. There are some decent skaters in Korea (namely Hae Jin Kim and So Youn Park both of whom competed on the junior level this year) but none of them are close to reaching Yu-Na's level. This should be another cakewalk win for Yu-Na. No word yet if she will participate in 4CC. Hopefully we'll have a definitive answer after nationals.