It's the first week without a competition in quite some time but there's always news. Here's a little bit of what's going on…
Julia Lipnitskaya Out of Grand Prix Final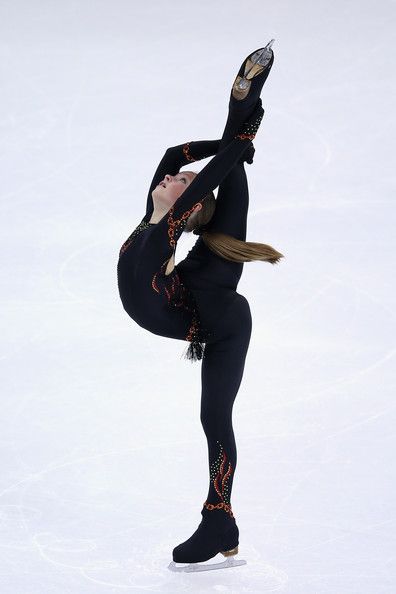 Aww...woo woo
Julia Lipnitskaya has had to withdraw from the upcoming Grand Prix Final due to an injury…it's been going around lately. According to reports, Julia took a fall during practice and suffered a concussion as well as a split chin. Firstly,
ouch
. Secondly, this is just rotten luck for her. Qualifying for the GPF is a big deal and doing it in your first year on the senior level makes it an even bigger deal.
Unfortunately, this was Julia's last opportunity to compete at a senior international event. She's too young to compete at worlds or Euros; junior worlds is her only option. I think it would be interesting to see Julia face off with Elena Radionova (who wiped the floor with everyone this year) but it would come down to what she wants to do. Elizaveta Tuktamysheva was granted a spot on the junior world team last year and passed… I think returning to the junior level after competing as a senior all year is more of a step backwards but if she wants to compete, I'm sure she will. Meanwhile, Russian nationals begin on December 25 and she's definitely the favorite this year. Hopefully by then she'll be 100% ready.
Christina Gao Headed to Grand Prix Final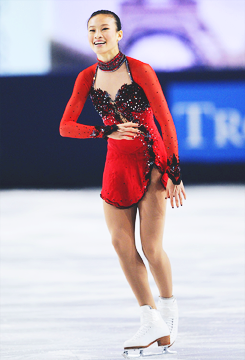 A chance to get ahead..
As a result of Julia's withdrawal Christina Gao, who is the first alternate, receives that 6th and final spot at the Final. This will be Christina's first trip to the Final.
This is an invaluable opportunity for Christina. She had a solid season placing 2nd at SA and 4th at TEB, and she's very much in the discussion for who deserves that second spot on the US ladies world team. Christina's chances of medaling at the Final are pretty low. However, the good news is she doesn't need a medal here; all she needs is a good performance. Christina's SP at TEB was disappointing but she bounced back with yet another solid FS so she's proving she has gained a certain amount of consistency, at least in the FS. Competing at the Final is another chance for her to put it all together and prove to the US judges and officials that she's capable of putting out consistent programs.
If she can deliver two solid skates that will give her a leg up over skaters like Mirai Nagasu and Gracie Gold heading into nationals. On the other hand, a bad skate here might hurt her chances… Let's hope she can take advantage of this opportunity and put it to good use.
The Return of Queen Yu-Na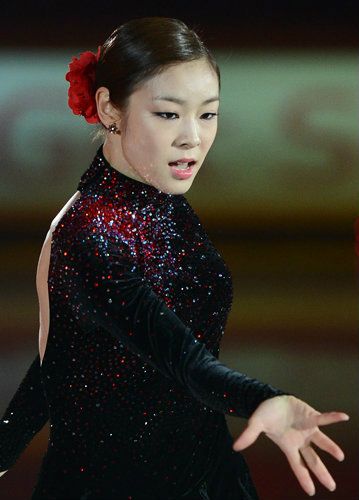 The Queen is back biatches!
I've been watching skating for years but even I can admit I've never heard of NRW Trophy. Senior B events that take place during the GPF rarely get any kind of attention, usually because the majority of the skaters worth mentioning are at the Final. This year a number of popular skaters are competing but I'd guess the main reason this event sold out is because of one person: Yu-Na Kim.
This will be Yu-Na's season debut and warm-up event before Korean nationals, 4CC (probably) and the world championships next year. Yu-Na hasn't competed since March of 2011 where she narrowly finished second to Miki Ando at worlds, yet she is the unbelievably overwhelming favorite to win this competition. Never mind that she'll be competing against people she could beat while in a coma…the real excitement is that she'll be competing.
I was one who believed Yu-Na was done with the sport. She accomplished everything she needed to, left her mark and was moving on. Yu-Na was so immersed in other ventures I just didn't think it'd be possible to leave all of that behind and return to the grind of competitive figure skating…but lo and behold! She's back!
She announced this comeback more than a year in advance of Sochi so that erases any doubt this is a half-assed attempt to come back. She skipped the GP this year but the fact that Yu-Na Kim--
the
Yu-Na Kim, the Olympic Champion--is competing at this no-name competition shows that she's serious. The main question is what kind of shape is she in? She was rusty at worlds in 2011 but even there her technical content was much more than what we see today.
Of course NRW Trophy won't be a true test of her skill. She'll be going against a crop of 5th tier skaters whose highest total this season is 158.79 (Valentina Marchei). There are no videos and very few reports coming out of Korea concerning Yu-Na at this point. She trains at a private facility so it's a lot harder to get tidbits of information but I expect there will be a media frenzy when she shows up to practice in Dortmund. Plus, seeing as how the competition is sold out, there should be plenty of fan cam versions of her performances here. I'm really excited! I can't wait to see her programs, her costumes, where she is with her jumps and spins, and how she handles the immense pressure of returning to the limelight of this sport.
NRW Trophy takes place December 5-9 in Dortmund, Germany.