The ladies' event at the 2014 Sochi Olympics was full of highs, lows and some of the most controversial scoring we've seen in a very long time.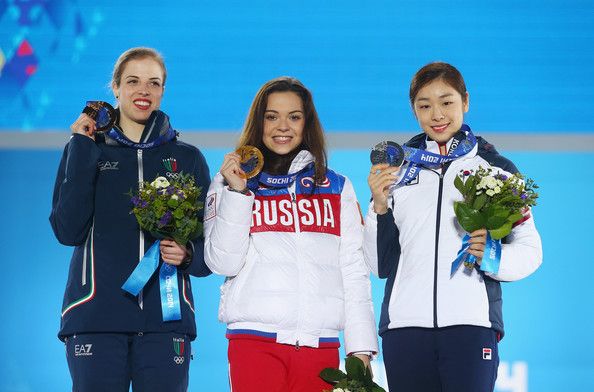 Whether you like it or not, here's the 2014 Olympics ladies' podium
Here are the final results: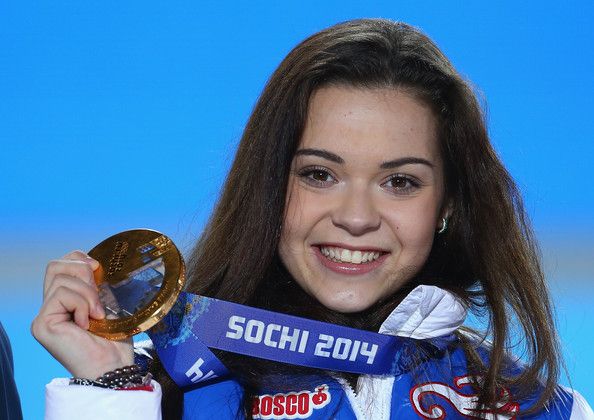 2014 Olympic Champion
Adelina Sotnikova (RUS): 74.64 (SP) + 149.95 (FS) = 224.59 (1st)
I must say, Adelina looked like an entirely different skater out there. It was reported that she was very upset and hurt over being left out of the team event entirely. Despite the fact Adelina has been carrying the torch for Russian ladies for the past few years she was pushed aside for Julia Lipnitskaya, who turned in two nearly perfect performances in the team event and became one of the break out stars of the Games. Everyone completely forgot about Adelina heading into the individual event...
In hindsight, it was probably the best thing in the world for Adelina. Firstly, it pissed her off that she was being overlooked; that anger fueled her need to fight and prove she was as worthy as Julia. Secondly, because she was excluded from the team event and was even under the radar somewhat, she was able to skate her SP without the enormous amount of expectation Julia was saddled with coming into the event. Adelina used it to her advantage; she was on fire in the SP. All of her jumps were big and secure; she maxed her levels on all of her non-jump elements; and, most importantly, she skated with energy and attack. Adelina was thrilled with her performance at the end and the crowd went absolutely crazy for her. I feel like the judges gave Adelina a boost for being the national champion, skating cleanly, and skating on home ice...about 1 point per reason which is why instead of a 32+ in PCS (a justifiable score) she ended up with a 35+ right in line with Yu-Na and Carolina. Adelina placed 2nd and was perfectly positioned to medal in the FS.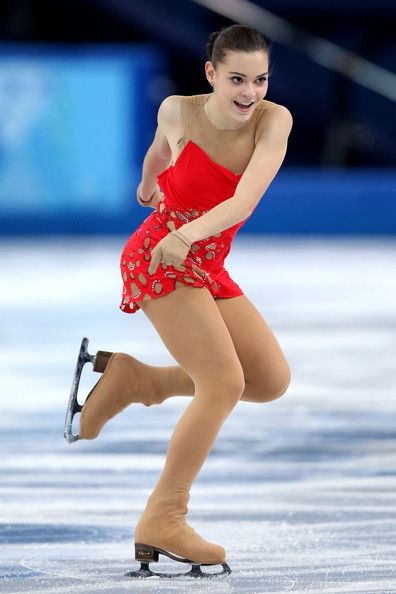 She went balls to the wall in both programs
I can admit I'd already counted Adelina out going into the FS. I just knew there was no way she'd hold up under the pressure. The last thing I expected was for her to show up and show out, but that's exactly what she did. Adelina threw down a technical gauntlet: 7-triples including a 3Lz-3T and monstrous 2A-3T with all level 4 spins and footwork. Her only mistake was a step out on the final 2L in her 3-jump combo. It cost her nearly a point in -GOE but she finished out the rest of the jumps cleanly. I was 100% shocked to see her pull it off. Adelina has been doing a better job of holding herself together lately but she's never been this focused and determined, and she's never full-out attacked a program the way she did here. I don't know if I'm in the minority, but I fully expected a clean Russian to get astronomical scores; therefore, Adelina's 149+ score was shocking to me...but also not shocking. I mean, they're in Russia and she delivered an inspired performance in front of a home crowd. The score was insurmountable and basically guaranteed Adelina gold. In the end, it was Adelina's night (or at least the judges felt so) and she beat out all the favorites and was crowned the 2014 Olympic Champion.
Now...considering the amazing performances we saw that night from the top names, naturally a shit-storm of outrage followed the conclusion of the ladies event. Yu-Na Kim and Carolina Kostner delivered near flawless skates but both were scored several points below Adelina. More than that, Adelina's PCS were nearly equal to both ladies. Personally, I'm sure I'd have had Adelina 3rd overall here (if time permits I'll to do another "I'll Be the Judge of That" post and score this event myself). The judges and callers were very generous to her, as they were to nearly everyone, and always are for the hometown skaters. Adelina was amazing and, despite what angry fans are saying, I
do
think she made a solid case for gold. She skated with exuberance, attack and more freedom than any of the other medalists. It (painfully) reminded me Tara Lipinski versus Michelle Kwan at the 1998 Olympics in Nagano, another hotly debated outcome that fans still discuss even today. Both ladies performed their programs well but the prevailing opinion was that Tara skated with more abandon and freedom than Michelle, who despite being the clearly superior artistic skater, skated more conservatively.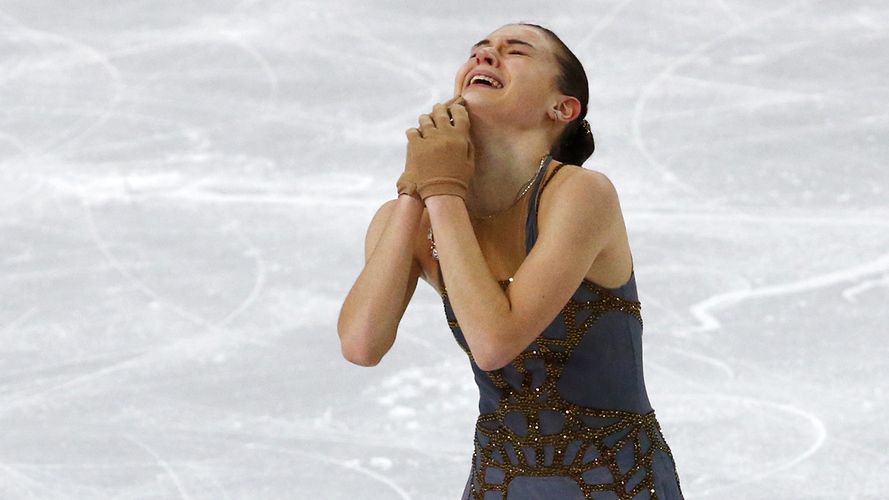 Say what you will, but Adelina skated her heart out that night
Of course all kinds of stuff has come out about issues with a few judges being shady and the crowd being rudely pro-Russian. Analysts have been split on their opinions about the results, some saying the judging was correct and others saying it was questionable. The fact of the matter is Adelina
did
give two Olympic gold medal worthy performances. She did what Oksana, Tara and Sarah did: they threw caution to the wind, attacked their programs and skated with freedom. No, Adelina wasn't nearly as elegant, refined, mature or graceful as Yu-Na, Carolina, Mao or a few others. No, her programs were not great in terms of choreography. Essentially, she is not a better skater than a number of the people she was placed above. What Adelina did was have the best two performances of her life at the most perfect time imaginable: at the Olympic on home ice.
Should Adelina have won this Olympics? In my opinion, no...but then again it's very rare that the best skater in the field wins the Olympics. The gold usually goes to the person who skates like they want it the most...and on that night, that person was Adelina.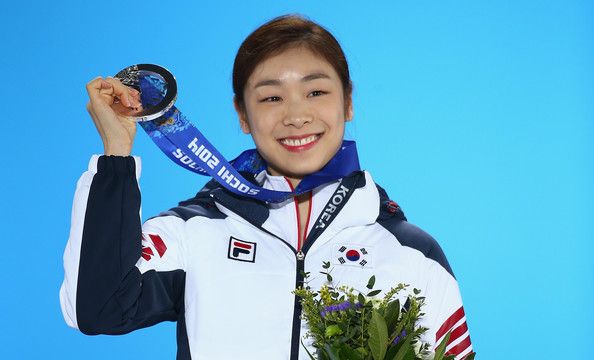 2014 Olympic Silver Medalist
Yu-Na Kim (KOR): 74.92 (SP) + 144.19 (FS) = 219.11 (2nd)
So this might be the first time in history Yu-Na has failed to win something despite laying down two virtually flawless programs. Fans have been going ape-shit since the night of the ladies' FS and will probably continue to go ape-shit for several more months to come.
Yu-Na came into the Sochi Olympics as the one to beat. She was the reigning world and Olympic champion and, despite no GP exposure and only two very minor competitions (Zagreb and Korean nationals) people fully expected Yu-Na win her second Olympic title with ease. She started off very well in the SP. Her "Send in the Clowns" SP was lovely (minus that dress...I'm sorry but I still hate it). Her jumps were easy and effortless and I saw more connection in the delivery of her choreography, which is something I hadn't seen in her previous performances. Yu-Na posted the highest SP score of the season and had to wait around to see if her score would hold up. In the end it did, but just barely. Unlike in seasons past where Yu-Na went into the FS with a minimum 5 point lead, she was virtually tied for 1st with Adelina and Carolina.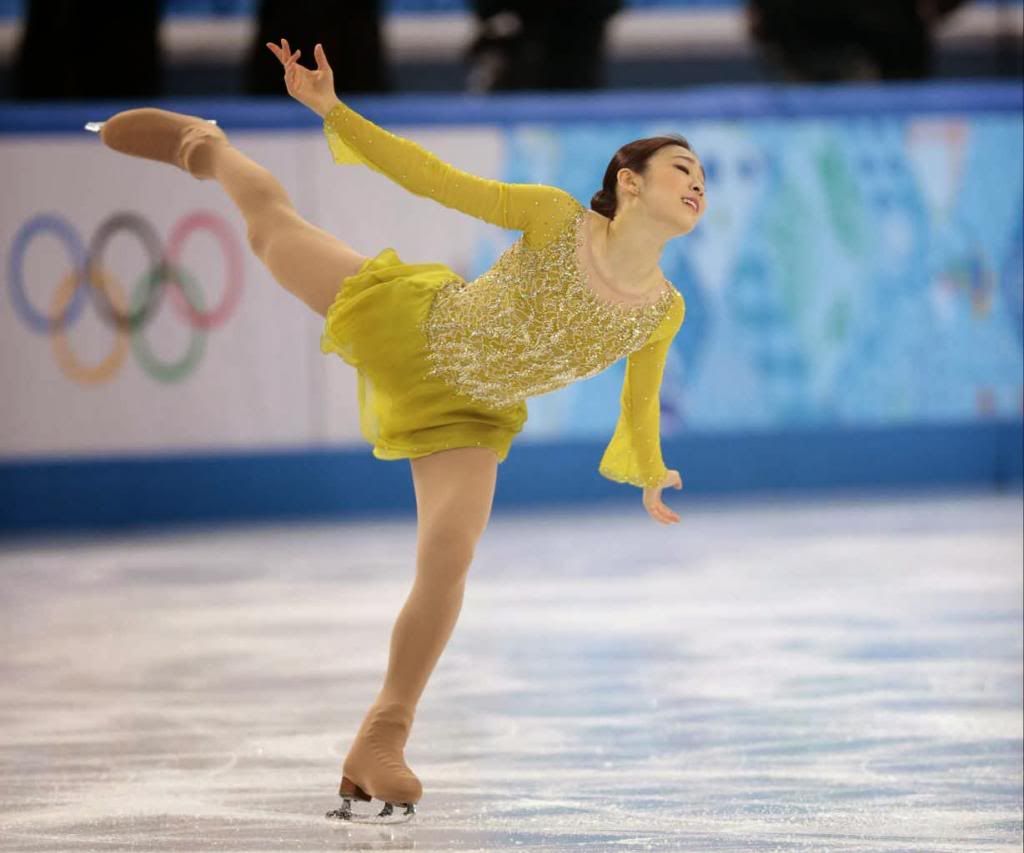 She cast a lovely spell in the SP
Like at worlds last year, Yu-Na was the final skater. For the first time in a very long time, she experienced what it's like to take the ice pretty much knowing that no matter what you do, you can not win. Adelina had already skated and there was no way for her to top that 149+ score; technically, Yu-Na didn't have enough firepower. Adelina had 7-triples to Yu-Na's 6, and all level 4 non-jump elements to Yu-Na's mix of level 3s and 4s. In addition to that, the 5+ point cushion she usually holds in PCS had been erased, which meant gold was out of reach; the best she could do was silver. Yu-Na skated her final competitive performance like a champion. She nailed all of her jumps with the only tiny hiccup being a slightly swingy landing on her second 3Lz. The program was beautifully skated albeit somewhat more reserved compared to both Adelina and Carolina in my opinion. For me, it lacked the sparkle that I was always used to seeing from Yu-Na. Maybe it was because she knew she couldn't win...I don't know. Still, her performance was mature and elegant, controlled and refined...classic Yu-Na Kim. Yu-Na barely beat out Adelina in PCS but Adelina's TES trumped Yu-Na's by 5.85 points, giving her the gold and dropping Yu-Na to 2nd place and an Olympic silver medal.
The fallout over these results has been pretty insane. Almost immediately a petition popped up on Change.org demanding a rejudging of the ladies' event. It broke all kinds of records and currently stands at over 2 million signatures, most of which are from South Koreans. According to Yahoo! Sports' Dan Wetzel, South Korea
sent a protest letter to the International Olympic Committee
. Angry fans have turned against Adelina (as if she did something wrong), attacking her on YouTube/Facebook/Twitter/Instagram and just generally acting like damn fools. People are upset, as they should be. There was a clear slant toward the Russians in figure skating for these Olympics...but does that
really
come as a shock to anyone? After Julia Lipnitskaya's scores at Cup of Russia, I knew to expect this. My guess is most people thought there was no way anyone, including a Russian, could be held up over Yu-Na if she skated cleanly. I admit, I thought that too...until Adelina's scores came up.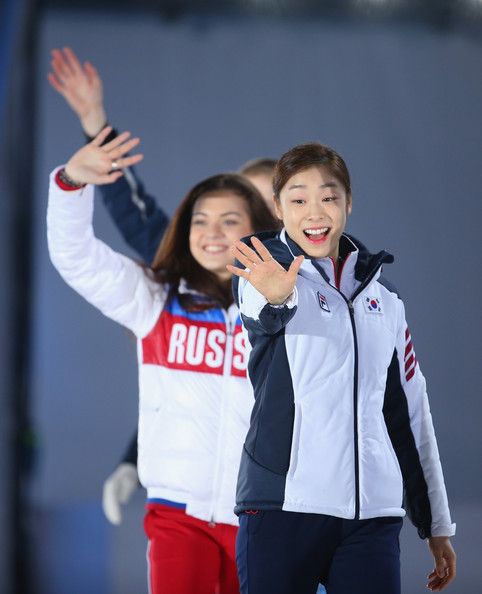 Still the Queen even without gold
Yu-Na has reminded me of the Kween more than ever, handling this controversial defeat with nothing but class and grace. Despite the uproar fans, the media and even her federation is making,
Yu-Na seems to be okay with it
stating, "I just think the people around me are more upset than I am." Yu-Na was shown crying after the results went final but she insists her tears were purely relief, saying, "There was no other meaning. I was just really happy it was all over and I had a good result." I don't know if I
fully
believe that but the fact of the matter is Yu-Na doesn't appear to be fixated on these results like some people are...she's moving on with her life.
Even though Yu-Na seems okay with it some fans are not, so we can expect to see these results debated for years and years to come. I can only hope that some of her more emotional fans will take a cue from Queen Yu-Na and conduct themselves with class, dignity and grace...but that's probably asking for too much. One thing is for certain: Yu-Na Kim is a phenomenal athlete, an amazing competitor and an incredible woman...and she doesn't need a gold medal to validate that.
2014 Olympic Bronze Medalist
Carolina Kostner (ITA): 74.12 (SP) + 142.71 (FS) = 216.73 (3rd)
Carolina carried a lot of history with her into these Sochi Games and, unfortunately, all of it was bad. Her track record at the Olympics had been nothing short of heartbreaking, finishing 9th on home ice in Torino in 2006 and 16th in Vancouver in 2010. After a rough start to her season I was really concerned we might be in for another disaster in Sochi but, as it turns out, the third time really is the charm.
Let this sink in for a moment: through her three performances in Sochi...Carolina was perfect. No
<
s, no step outs or falls...
perfect
. Carolina turned in the most difficult technical content we've seen from her all year long and managed to do it perfectly. Her "Ave Maria" was nothing short of glorious. Rather than go for the 3T-3T like she's been doing for the past two seasons, Carolina went balls-to-the-wall in the SP, going for and nailing a beautiful 3F-3T that earned 1.50 points in GOE. I've never seen her skate so freely; she really looked like she was floating out there. It was the best SP of the night in my opinion and, PCS wise at least, the judges agreed. Carolina beat out everyone (including Yu-Na) in PCS, earning 36.63 and setting a personal best with her scores. She went into the FS in a virtual three-way tie and with a medal in sight.
She was heavenly
Carolina has never been the strongest FS skater. She'll usually sail along for a while but then start making mistakes in the second half. Despite the lead she had over the rest of the field going in, she couldn't afford to make a major mistake. Her opening was excellent: huge 3Lz, the added difficulty of a 2A-3T which she executed beautifully, and a nice 3F. I nearly had a heart attack watching Carolina skate the rest of the program. I was willing her to land every jump and even though she had a few close calls that caused my heart to stop, she rotated and landed everything cleanly. The footwork sequence was fantastic and the spiral was amazing. To see her deliver her absolute best in what might be the final performance of her career...you can't write a better story than that! Carolina scored a personal best FS score as well but had to wait to see where she would end up. Even though I do feel as though Carolina was a little careful and didn't really let herself go the way she did at worlds last year or even at Euros this year, I would have kept her in the lead based on the overall strength of her program and performance. I feel Carolina was scored too low in PCS in comparison to the top two (I'd have had her ahead of both) but in the end she maintained her positioning, placed 3rd overall, and walked away with an Olympic bronze medal, making her the first Italian skater in history to win a singles medal at the Olympics.
Personally, I don't care about the results. I've made peace with the crappy scoring we often see in this sport. I decided to focus on the amazing skating we saw at these Sochi Games and Carolina was a highlight for me. These Games and those performances were her redemption after horrible showings at the last two Olympics. She did what people said she couldn't do: she skated clean back-to-back programs under the pressure of the Olympics. Considering most people weren't even including Carolina in the medal contender conversation heading into Sochi, proving everyone wrong and medaling has to be extremely satisfying for her. Fans are upset that she was beaten by Adelina as well, but Carolina has been just as classy and graceful as ever. After the results went final, they showed Carolina giving Adelina a big congratulatory hug backstage and even
a high five
after the unofficial medal ceremony. She was all smiles the rest of the night. I get the sense that Carolina's Olympic bronze medal feels as good as gold.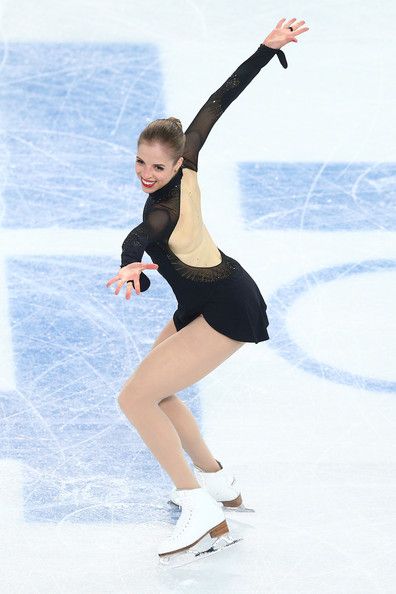 She really did save her best for last
Her performances were a personal triumph for her and nothing short of a perfect ending to a long and storied career. I'll save all of my Carolina gushing for the farewell posts I'll be writing to each of the ladies who are retiring this year, but I will say this: Carolina is an incredible skater, a gorgeous artist, and an inspiration to any skater who has ever struggled with realizing their potential. She was absolutely beautiful at these Olympic Games and I could not be more proud of her.
As for the rest...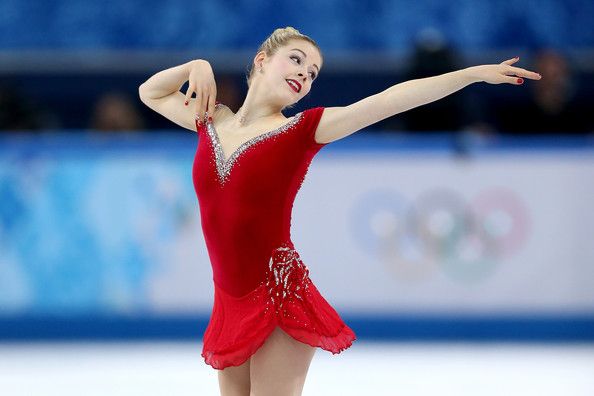 Not quite golden but still pretty damn good!
Gracie Gold (USA; 205.53, 4th):
Gracie had two strong showings in Sochi, backing up her national championship victory with a first place finish among the American ladies. Gracie's SP was clean albeit very tight. You could tell she was extremely nervous but, unlike what we saw earlier this season, she didn't let the nerves rule her. She fought through the program and didn't let the jumps go. She finished 4th in the SP and was well positioned to make a run at the podium. Unfortunately, the top 3 ladies all skated lights-out which made it impossible for Gracie to move up. She skated her FS very well despite going down on a 3F (the same 3F she botched at nationals) but she got up and finished the rest of the program strongly. Even with the fall she scored a personal best 136.90, placing 5th in the FS and 4th overall.
An Olympic bronze medal in the team event and a 4th place finish individually...I'm rather impressed with Miss Gold, I must say. I wasn't sure she could do it but she continues to surprise me and she's winning me over. These scores are great for Gracie moving forward. If she can follow up her strong performances here with similar performances at worlds, she's a great bet for a podium finish.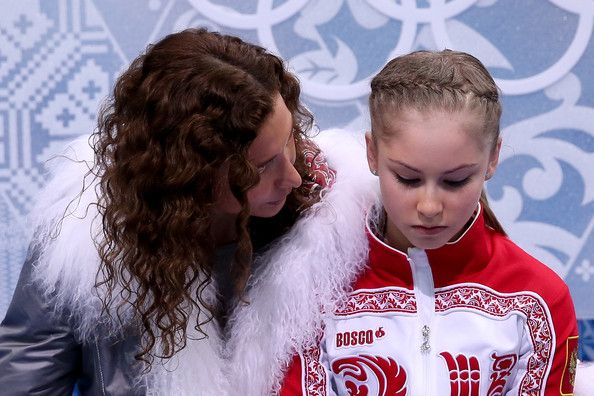 The beast shall return...I'm sure of it
Julia Lipnitskaya (RUS; 200.57, 5th):
All season long Julia has been in
BEAST MODE
and after her killer performances in the team event, everyone was sure she would be the one to bring home another gold medal for Russia. She became a mega-star overnight but the attention got out of hand. Julia's coach,
Eteri Tutberidze, blamed the overzealous media
for Julia's poor performances in the individual event. Eteri said the media bugged the locker room at the practice rink, stalked Julia's family, swarmed her practices...it was full-on L.A. paparazzi treatment. Julia went into the individual event with the weight of Russia and a media circus on her back. She started off so well, hitting her 3Lz-3T and 2A before going down on her 3F to the shock and awe of everyone in the arena. Even
my
jaw hit the computer table...I think that's the first time she's fallen in competition
all season long
. Despite the spill, Julia received a hometown boost to her scores and placed 5th. Julia is known to fight back after a disappointing performance and that's how her FS started off. She got her big elements out of the way and appeared to be sailing along nicely until the second half of the program. She stepped out of her 3L(
<
) and fell on her 3S. Hometown scoring kept her in the mix (70+ in PCS despite the mistakes) and she finished 6th in the FS and 5th overall.
I actually felt really bad for Julia. It was tough to watch her crumble like that. She's such a rock but it was clear to see that regular competition pressure and weight-of-your-entire-country pressure are two different things. Regardless of her disappointing performances in the individual event, her two team event performances were excellent and she leaves Sochi as an
undisputed
Olympic gold medalist. That's definitely something to be grateful for.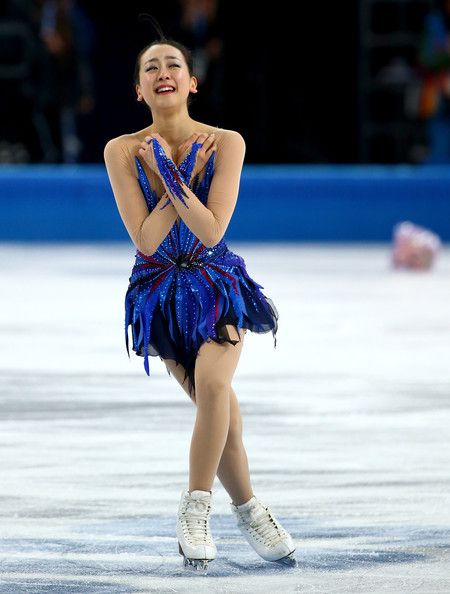 I boo-hooed like a baby!
Mao Asada (JPN; 198.22, 6th):
Mao's Olympic performances ran the gamut of human emotion. Her SP was various forms of devastation and heartbreak. Mao skated last in the segment and I don't know if it was the long wait or what, but her program was disastrous. She fell on her opening 3A(
<
), got dinged on her 3F(
<
), and then doubled her 3L without completing the combo which was an automatic -3 GOE across the board. In the end Mao's jumps only earned her 7.08 points. She lost levels on a spin and her footwork (level 3s instead of 4s) and earned a total SP score of only 55.51 which left her in 16th place heading into the FS. I was absolutely gutted for her. She'd been skating so well all season long and in less than three minutes, four years worth of work became all for nothing. Olympic gold was not a possibility.
I think the realization that a medal was out of reach freed Mao. She had absolutely nothing left to lose, nothing to fear, no reason to hold back. She went for it and by
it
I mean that impossible 8-triple program she's been talking about for years. She opened with a beautiful and easy 3A, then a 3F-3L, 3Lz, 2A-3T, 3S, 3F-2L-2L and finally a 3L...8 triple jumps. The footwork was as spectacular as ever and the spiral sequence was beautiful. At the end of the program, Mao broke down...and so did I. It was the most memorable moment of the event for me. I boo-hooed, I really did. It was such a beautiful thing to witness and even though I feel the judges held her back in PCS and didn't give her the favorable calls others got, I didn't care because a moment like that can't be defined with a number. That performance was so far beyond a placement or a score...it was cathartic. It was what Mao needed to prove to herself that she's capable of having that Olympic moment she dreamed of. She gave it her all and skated her heart out. No, she didn't win a medal here...but in my opinion, that performance was worth five Olympic gold medals.
Well done Diva Wagner, well done
Ashley Wagner (USA; 193.20, 7th):
Ashley did what she came to do in Sochi: she skated well and redeemed herself after her disappointing performances at nationals this year. Her success rate on the much needed 3F-3T combo has plummeted since the beginning of the year (she was 0 for 3 in Sochi, including the team event) but she did not let the early mistakes stop her or kill her programs. The 3F-3T in her SP got hit with a
<<
which cost her 2.80 points in base value and another 1.70 points in -GOE which left her with only 4.90 points for the combo. Ashley regrouped quickly and finished out the rest of the program cleanly. Her "Romeo & Juliet/Samson & Delilah" hybrid program turned out to be pretty good. She opened with the 3F-3T again and again she got dinged, but with a
<
this time. Aside from the usual
e
call on her lutz and a few lost levels on a spin and her footwork, Ashley nailed her program. In the end she was the only American who remained upright (both Gracie and Polina fell in their FS) and she proved that she was worthy of being an Olympian.
Ashley has gained a reputation for being outspoken and she continued to speak out after the event by
calling out the judging as "too opaque"
, saying that anonymous judging needs to be axed and that the system needs to be more fan friendly in order to grow the sport. No arguments here. Thanks for saying what we're all thinking, Ash. Even though Ashley finished 7th here and did not reach the podium, she has no plans on calling it quits saying, "As soon as I stepped foot here, I was sold for four more years." So we'll be getting plenty more of Diva Wagner in the years to come, but it's going to be an uphill battle for her. She'll have to step up her game if she wants to stay in the mix with these young'uns...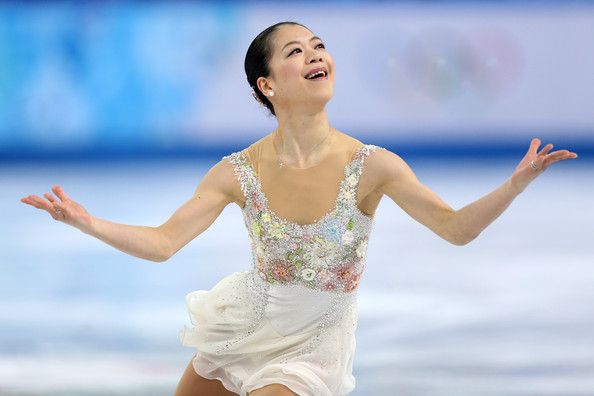 Still beautiful as always
Akiko Suzuki (JPN; 186.32, 8th):
These were not the farewell performances Akiko wanted to have. She looked extremely tight and a little spooked in both programs. Akiko isn't the quickest draw when it comes to jumping; she usually has a longer setup for her jumps. Her setups were nearly twice as long here. She looked hesitant and unsure, and it was reflected in her jumping. She came apart in the air on her opening 3T-3T in the SP and got hit with a
<<
. She recovered with a clean albeit tight 3Lz-2T and finished out the rest of her beautiful SP very well. Akiko started off strongly in the FS with her opening 3Lz-2T-2L but things didn't stay at that level: a few tight landings, a fall on her 3F...it wasn't her best but throughout it all Akiko continued to smile, perform and be the skater so many of us love.
As I said I'll be doing individual farewells to all of the retiring ladies in the weeks to come so I won't go into specifics for Akiko here. I will say that she has a very special place in my heart and that her skating has been such a joy to witness for these past five or six years. She is a gifted artist on the ice and I will miss her.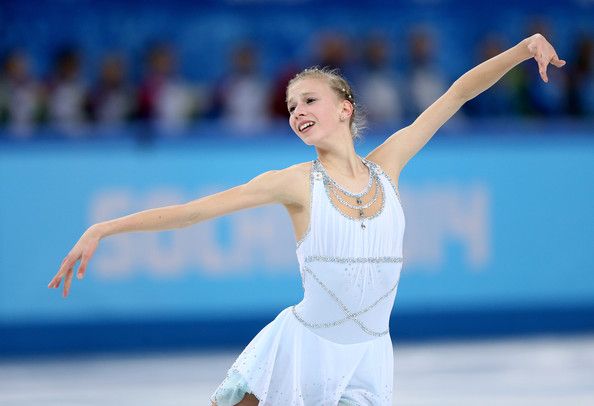 Nicely done, newbie
Polina Edmunds (USA; 183.25, 9th):
Hey, did you know that Polina is only 15 years old and that her mother is Russian? The commentators repeated these two facts ad nauseam every time her name came up, just like they harped on the fact that Julia is 15 years old...get some new material people! Anyhoo, Polina's first senior international outing was a successful one. She got dinged on her opening combo (3Lz-3T(
<
)) in the SP but finished out the rest of the program well. I like Polina's fearless attitude and the way she just goes out there and does her job. She sailed along in her FS, hitting both of her 3-3s early in the program before going down on her 3F(
<
) which was the same jump she missed at nationals. Even with the mistake she scored very well to say it was her first time in front of the international judges. A top 10 finish is a big deal for her and she should be very proud of herself.
It was good to see her make the most of this opportunity and prove that she was a good choice for the team. Skating so well at the Olympics will give her a boost heading into worlds next month and should help to position her heading into this next quad. Polina has a solid technical foundation and she seems to have the mindset as well. Great job Polina!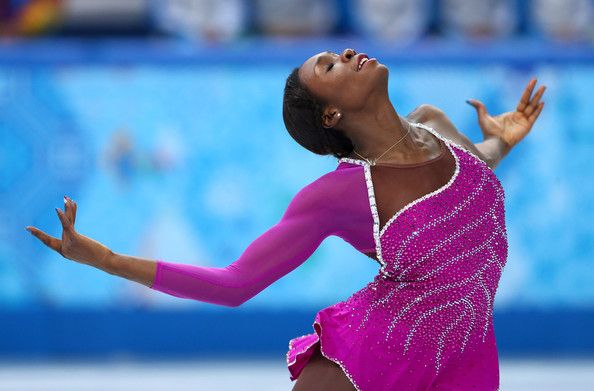 Hard work pays off
Mae Berenice Meite (FRA; 174.53, 10th):
Mae isn't your typical pwetty skater. She's a powerhouse skater who jumps to the rafters and makes people take notice of her. Her style isn't conventional but I find that to be one of her strengths; she stands out because she's not doing what everyone else is. It was nice to see the judges reward her for that. Mae's SP opened with a monstrous 3T-3T that got +GOE from every judges. She had to put her hands down on her 3L (cost her 1.30 in -GOE) but she finished out the rest of the program strongly and scored only .01 off of her personal best. In the FS Mae opened well with a 2A and a nice 3S-3T as well as two other triples before going down on her 3L. She recovered well, finished out the rest of the program cleanly and was rewarded with a personal best FS score and a top 10 finish at the Olympics.
Mae really has been improving in these last few years and it was great to see her deliver some of her best performances in Sochi. She still has a ways to go if she wants to catch up to the top names but I love the fact that she goes for it every time and that her hard work is starting to pay off.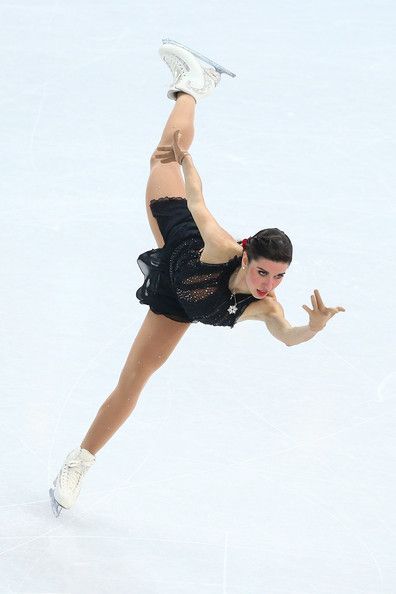 She gets a 10.00 in Interpretation for me
Valentina Marchei (ITA; 173.33, 11th):
Valentina is
SO
underrated. She has two of the most beautiful and well-done programs in the field despite what her low PCS indicate. I do hope she learns to really get the jumps under control because this girl is equal parts elegance and dynamite on the ice. Valentina's SP started off roughly with a 3S-3T(
<<
). She regrouped and hit a solid 3Lz on her way to finishing out the rest of her gorgeous "Torna a Surriento" SP. Valentina's "Nyah" FS has been on my list of favorites since the beginning of the season. She had one of her best ever performances of it in the team event and followed it up here with a personal best score. Her only major issued was a doubled 3S in her final 3-jump combo. Valentina gives 100% to the mood, character and emotion of the music...it's really remarkable.
I have gained a new appreciation for Valentina as an artist and performer. It was so wonderful to see her deliver on the Olympic stage not once, but twice. She's another very special skater and I'm very proud of what she accomplished here.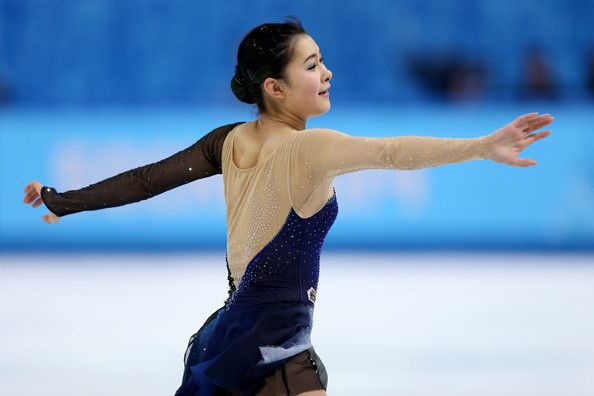 Peaked too soon?
Kanako Murakami (JPN; 170.98, 12th):
Like the rest of the Japanese team, these were not the kind of performances Kanako wanted to have at these Games. After the perfection of her two skates at 4CC, I really expected Kanako to come out on fire here...but it appears as though she may have peaked too early. Kanako opened her SP with a great 3T-3T (+1.30 in GOE) but then blanked out on her 3F and popped it open which resulted in -3s across the board. She also lost points on her non-jump elements with only one spin receiving a level 4; her step sequence and layback were level 3s, her combination spin only a level 1. Kanako placed a devastating 15th in the SP. She fought back in the FS but it wasn't perfect and wasn't enough to move her into the top 10.
No news yet on whether Kanako is retiring after this season. There was some chatter about it last year but nothing has been confirmed yet. Seeing as how Mao and Akiko are exiting, it would make sense for her to stay in for a season or two as Japan's top lady. We'll have to see what she decides.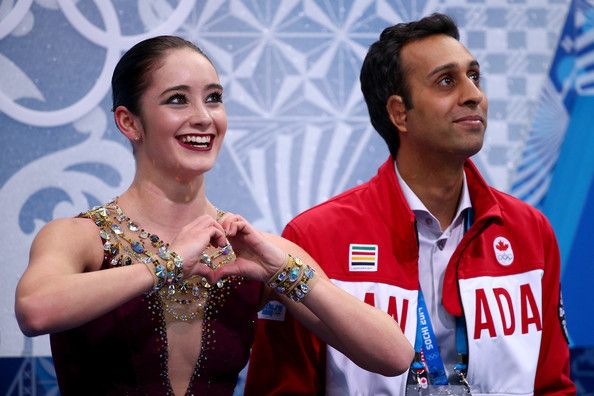 Her best is yet to come
Kaetlyn Osmond (CAN; 168.98, 13th):
Kaetlyn had a rough SP, bailing out of her 3T-3T (3T-2T) and then falling out of her 2A. It was very unfortunate considering how well she skated her SP in the team event. She rallied back in the FS with a stronger performance even though she ran out of gas at the end (one doubled triple and a fall). Considering this was Kaetlyn's first major competition since her injuries, I think she did relatively well. It sucks that she wasn't able to get into the swing of things during the course of the season; she's still playing catch up. Results aside Kaetlyn is a solid skater and a very gifted performer. I think she has a bright future ahead of her and I fully expect to see her in 2018.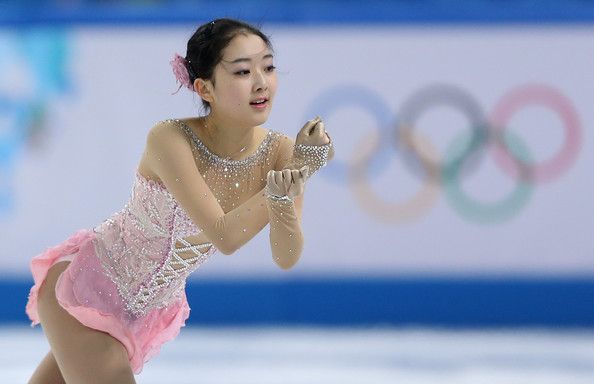 Just needs a little more "umph!"
Zijun Li (CHN; 168.30, 14th):
Zijun had two solid performances at these Games even though she was dinged on her 3F-3T combination in both programs. I don't think her SP suits her style and while I do like her FS, Zijun is going to have to learn to perform more if she wants to compete among the top ladies. She looks lovely and graceful in programs but there isn't much spark or outward performance, and that hurts her PCS a lot. She needs to work on projecting (as well as getting those jumps around) if she wants to move up. That said, I think she did well here and hopefully she will build on her performances here and skate better at worlds.
And so, that's it. Yet another quadrennial comes to a close. Congrats to all of the medalists. Though I might not fully agree with their order, I do feel as though the best three competitors of the competition ended up on the podium. It's going to take everyone a while to come down off of the Olympics high, but the season is not over yet. We've got the World Junior Championships taking place in Sofia, Bulgaria on March 10-16, and the World Championships in Saitama, Japan from March 24-30. Yu-Na has confirmed her retirement and will not be competing; Carolina had plans to compete prior to Sochi, but after her amazing performances there I'm not sure if she'll change her mind; Adelina and Julia are almost a definite yes; same goes for Gracie, Ashley and Polina; and, Kanako and Akiko were named to the world team and, as of now, I believe both are going. As the competition draws closer we'll get an official entries list.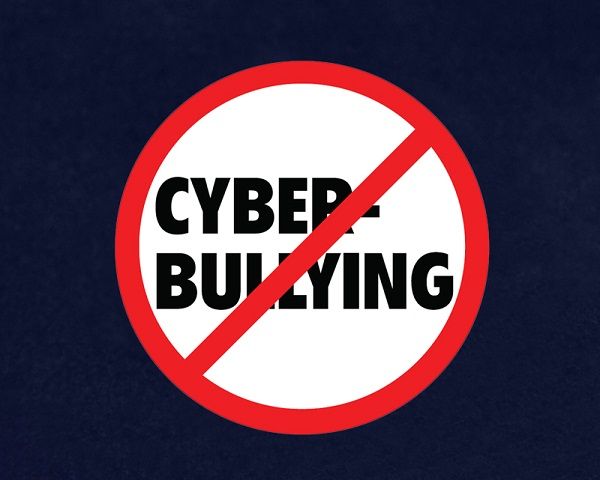 Don't go overboard, people
A note to those who are very upset with the results:
I understand where you're coming from but
please make sure your anger and hate is aimed at the right people
. All of the cyberbulling towards Adelina Sotnikova is 50 shades of
wrong
; she did nothing but skate her best. More importantly, she had
no control over the scores she was given
, so don't attack her as if she did. If you want to bash/attack/blame anyone, it needs to be the judges, the officials, the scoring system, or the entire institution of figure skating...but not the skater. Vent on the message boards, write a letter to the ISU/IOC, start a petition, boycott figure skating, bitch to your friends...but stop attacking Adelina directly on Twitter/Facebook/etc. It's not right and she doesn't deserve that.
Sorry to be all preachy, but please keep that in mind.
Ta for now.