The JGP season has officially started! There were a few surprises at the opening event of the 2014-2015 JGP season but overall, I was not shocked with the results.
The final results: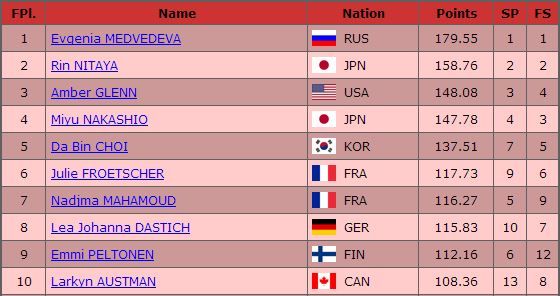 Evgenia Medvedeva (RUS): 61.12 (SP) + 118.43 (FS) = 179.55 (1st)
How good are the Russians? I mean, they are incredible!! Evgenia came into this competition as the reigning junior world bronze medalist which, I'm sure, came with a bit of pressure. Well if she felt any pressure, she didn't let it show at all. Other than two
e
calls on her lutzes, Evgenia was perfect in both programs. She put all of her jumps in the bonus in the SP (including her 3F-3T) and put 4 triples in the bonus in her FS, including a second 3-3 combination (3S-3T). In addition to better speed, I'm really impressed with the tano feature she included on nearly all of her triple jumps. It's a difficult thing to do and yet she made it look easy. Evgenia's programs were pleasant (I always enjoy watching her) and from a technical standpoint, there was no competition...as evident by the 20+ point blowout. This win was gave Evgenia her third gold medal on the JGP.
Rin Nitaya (JPN): 58.89 (SP) + 99.87 (FS) = 158.76 (2nd)
Rin was a pleasant surprise for me. She has good speed, lovely flow and very nice presentation. This was her debut on the JGP and, for her first event, she did very well. She opened up her SP with a great 3T-3T before having a little trouble on her 3Lz, but finished up strongly with all level 4 spins and level 3 footwork. Rin went into the FS a little more than 2 points off of the lead. Unfortunately, she wasn't as strong in the FS. She opened with another great 3T-3T but struggled with several jumps the rest of the way. Even with her issues in the FS, Rin scored well enough to place 2nd in the FS and 2nd overall, earning herself a silver medal at her first JGP event.
Amber Glenn (USA): 54.71 (SP) + 93.37 (FS) = 148.08 (3rd)
I was very excited to see Amber on the JGP this season. She's definitely a skater who has the goods to compete at the top and I was hoping she'd present Evgenia with a challenge in this competition. Unfortunately, she took herself out of the running with mistakes. Amber opened up her SP with a nice 3F-3T before going down on her 3Lz (which was also hit with
<
). She finished the rest of the program strongly and was still in a good position to make a run at gold. Amber started off roughly in the FS, stepping out of her 3Lz, which pretty much killed any chance she had at catching up to Evgenia. In the end she finished 4th in the FS but was able to finish 3rd overall and earn a bronze medal.
As for the rest...
Miyu Nakashio (JPN; 147.48, 4th)
put forth a really good effort here and was close to winning bronze. She had a little trouble in both programs (fall on her 3Lz in the SP, edge call and wonky landings in the FS) but, overall, I like what I saw from her. I've been a little worried about Japan in terms of junior prospects but with Rin and Miyu's strong performances here, I think they could be contenders in the future.
Da Bin Choi (KOR; 137.51, 5th)
had issues with her combo in the SP but fought back very well in the FS. Had she not slipped on the take off for her loop she would have had a perfect FS. She'll need to work on getting her levels up (they ranged from 1 to 4), but I think with consistent performances, Da Bin can get her scores up and be more competitive.
So that's one competition in the books. You can watch all of the videos from the event on
ISU's JGP Channel
. This week is
JGP Ljubljana Cup
in Slovenia. FYI, I have no idea how to pronounce that.
Serafima Sakhanovich (RUS)
is the favorite to win this event...