Again, not much of a surprise in the way this one turned out. It's becoming increasingly easier to predict the outcome of the junior competitions.
The final results: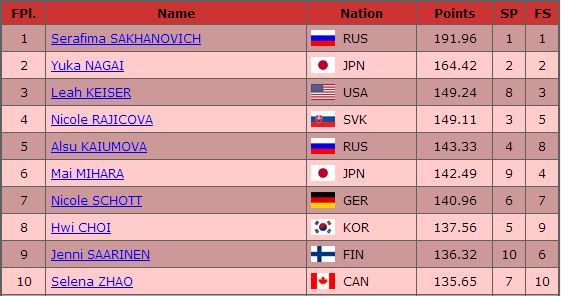 Serafima Sakhanovich (RUS): 66.58 (SP) + 125.38 (FS) = 191.96 (1st)
With the exception of a
!
on her lutz in the FS, Serafima was perfection here. I really loved her SP music and the color of her costume was gorgeous. She nailed the jumps (all in the bonus) and really sold the program. In the FS, she landed 7 triples including two 3-3 combinations (one in the bonus), had all level 4 elements and, again, really sold the program. I really like how she carries the character throughout the program. Like Evgenia, Serafima is able to add the tano feature to her triples and it was on full display here. Serafima still lands very deeply in her knees and pitches forward on her landings and, with the tano feature, at times her jumps look a little wild. Regardless, she landed all of them cleanly and broke a couple of records in the process. She was the first junior lady to break 40 points in the TES in the SP, and she recorded the highest overall total score as well. Evgenia set the bar last week...Serafima just raised it even higher with this massive blowout.
Yuka Nagai (JPN): 58.92 (SP) + 105.50 (FS) = 164.42 (2nd)
I really enjoyed Yuka's SP to "East of Eden" (choreographed by Shae Lynn Bourne). No one has yet to utilize the music as effectively as the
Kween
but I will say that for a junior, Yuka did a good job of not letting the music run over her. She landed a lovely 3T-3T and a big 3Lz in the SP, though she will need to work on getting the levels on all of her spins. The good news is she has the technical content to compete. Yuka opened her FS with a nice 3Lz-3T and added 5 more triples (though her 3L was hit with
<
and her 3F got a
!
). She did a better job of keeping her non-jump elements up (level 4s for all of the spins, level 3 on the footwork) and she presented herself well. Hopefully she'll be able to continue to skate well which should help her PCS go up. Good to see Japan has another strong prospect for the future.
Leah Keiser (USA): 47.66 (SP) + 101.58 (FS) = 149.24 (3rd)
Leah looks so mature now! Her SP was such a lovely program and she presented it very well. The only downside was the jumps: she fell on her opening combo and lost 0.20 on her 3Lz as well. The rest of the program was clean but the damage had been done and Leah finished the SP in 8th place. Thankfully, she fought back hard in the FS with 6 solid triples including a 2A-3T in the bonus. Her only mistake was a
<<
on her final 2A, but it was a great performance. She finished 3rd in the FS and was able to leapfrog from 8th to 3rd overall and walk away with a bronze medal. Leah has great technique (no
e
s or
!
s) as well as a nice pop to her jumps. She gets nice height, great air position and has a nice extended position with a good riding edge on her landings. If she can up the content to include a 3-3 and manage to get some consistency, she should be in a good position to move up in the coming years.
As for the rest...
Nicole Rajicova (SVK; 149.11, 4th)
narrowly missed out on a medal here. She had a strong performance in the SP and placed 3rd. Nicole had a decent FS but Leah's program had more difficulty (6 triples vs. 4 triples) and higher level elements. Nicole finished 5th in the FS and was edged out for bronze by only 0.13 points.
Alsu Kaiumova (RUS; 143.33, 5th)
started off strongly in the SP with a 3F(
!
)-3T but did lose points on lower non-jump elements. Still, she was poised to make a run at the podium. She came into the FS in 4th place but wasn't able to hold it together. She opened with a nice 3F-1L-3S and was solid throughout the beginning of the program. Unfortunately, she lost steam in the second half (two falls) and ended finishing 8th in the FS and 5th overall.
In case you've been living under a rock these last few years, you can watch all of the videos on
ISU's JGP Channel
.
This week is the third event of the JGP series,
JGP Czech Skate
. This will be the second event for
Evgenia Medvedeva (RUS)
, who will be the favorite to win, but we'll also see
Karen Chen (USA)
debuting at her first event of the season. Karen made the Final last year but had to withdraw due to injury. If she's back to full strength complete with amazing speed and 3-3s, she could give Evgenia a run for her money this week.