I always go into a competition knowing that anything can happen. I have to admit though, I really
really
was not expecting this...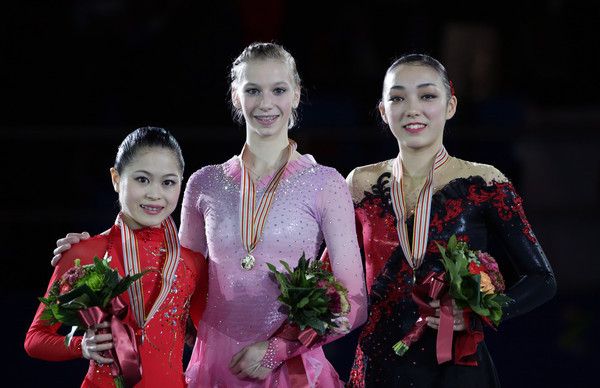 The 2015 Four Continents Championships medalists...wait, what?
The final results: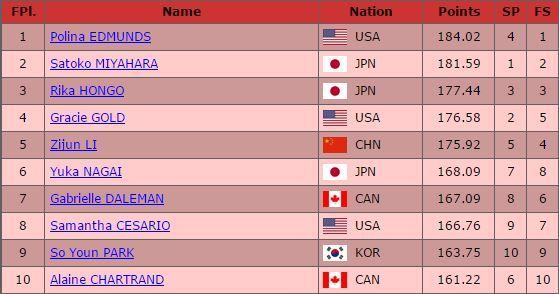 Polina Edmunds (USA): 61.03 (SP) + 122.99 (FS) = 184.02 (1st)
It's been a less than stellar year for Polina so far. She's struggled internationally but, luckily, she was able to redeem herself here.
Polina finally nailed her SP in front of an international panel of judges. Other than a "
!
" on her 3F, everything else was solid: nice 3Lz-3T, two level 4 spins and level 3 step sequence. She looked much more relaxed out there than she's looked in the past. I really like this SP for her and I think Polina does a decent job of selling it. It's not the strongest program in the field but, when skated well, it's a good SP. Polina isn't particularly fast and she doesn't jump big either; therefore, despite a technically loaded program, she only managed 33+ in TES. Still, it was a solid program and set her up nicely to fight for a medal in the FS.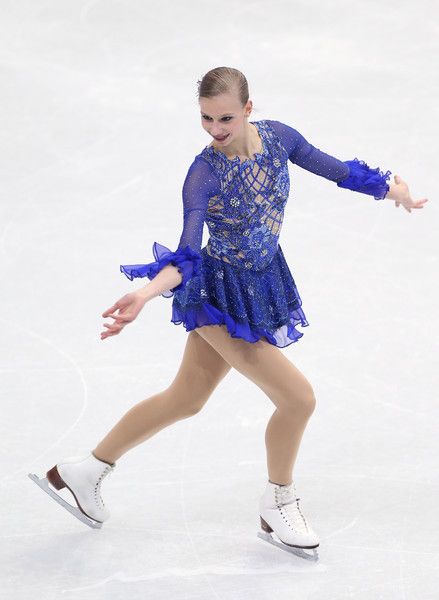 I did not see this coming...
On one hand I think this FS is a very lovely and pleasant program. I think the choreography is nice and Polina actually does a really good job delivering it. On the other hand,
I can't stand
her packaging for this program. The dress and the hair with jewels...I just can't. Whatever. Even though she looked like a 6 year-old at a kindergarten recital, Polina was able to bring the goods here. She opened with a nice 3Lz-3T which earned +1.10 in GOE before hitting her 3F-1L-3S. Polina got an edge call on her 3F which cost her points in base value and -GOE (-1.00). Other than a "
!
" on her second 3F (-0.60), Polina was very good. Again, she doesn't get much of a boost from GOE, but her base value and clean performance was enough to get it done. I did not think Polina's 122+ score would hold up but, thanks to the other favorites struggling, not only did it hold up, it won the FS and won her the gold medal.
Polina's win here proves that she really is the best third option for the U.S. going into worlds. Given what happened at this event, her ability to score solidly in the top 10 may be a necessity next month...
Satoko Miyahara (JPN): 64.84 (SP) + 116.75 (FS) = 181.59 (2nd)
Satoko is slowly but surely turning into the Akiko Suzuki of this post-Sochi group of ladies.
It's always a bit of a toss up for Satoko when she skates. Her ability to score well (or not) usually comes down to how strict the technical caller is. Either the caller was being very kind or Satoko really is getting those jumps around because she got full credit for all of her jumps in the SP. 3Lz-3T, 3F, all level 4 spins and level 3 step sequence. It was a solid performance. I really like Satoko's SP despite the fact she's wearing a dress from the mid 1990s. I thought it was
throwback chic
earlier in the year, but now I'm not feeling it that much. Regardless, she was lovely. Satoko won the SP and went into the FS with a small lead.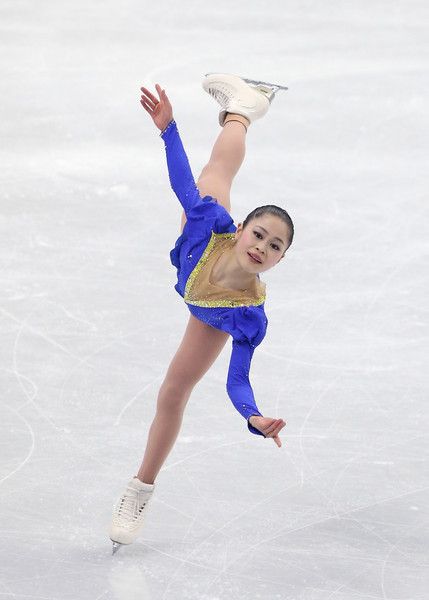 Dammit Satoko...dammit
I really figured Satoko had this one in the bag. With the tech caller not breathing down her neck, I just knew this was a great opportunity for Satoko to step up and win this event. Unfortunately, she was a bit off of her game here and it cost her the gold medal. She opened with a tight 3Lz-2T-2L and followed it up with a very shaky 3F. Satoko went down on her 3Lz(
<
) but was able to recover with a solid 3S and two 2A-3T combinations in the bonus half of her program. I just adore this FS. In my opinion it's the best choreographed program in the field this year...but it did fall a little flat this time. The mistakes disrupted the flow and lessened the overall impact the program usually has for me. In the end Satoko placed 2nd in the FS and dropped down to finish 2nd overall, earning her second silver medal at this event.
In my opinion Satoko did have a case for the gold medal. She is always lowballed in PCS (especially in Transitions, Choreography and Interpretation) and that is what really made the difference this time around. Had she been scored correctly, she may have edged out Polina for gold.
Rika Hongo (JPN): 61.28 (SP) + 116.16 (FS) = 177.44 (3rd)
I am really impressed with Rika. I keep saying that but it's still true. Every time she steps out there she proves that she is working hard and improving her skating.
Rika delivered another strong SP here. I really like her "Le Corsaire" SP; it's musical and energetic and she has improved so much in the way she relates to the choreography and the audience. Rika opened with a big and solid 3T-3T which earned +1.00 in GOE. Her 3F was solid as was her 2A. Rika did lose points on her non-jump elements. If she wants to be able to compete closer to the top, she'll need to work on maxing her spin levels (two level 3s, one level 4)...those extra points do count. Even so, Rika delivered her program beautifully and earned a season's best score. She went into the FS in 3rd place but less than 4 points off of the lead.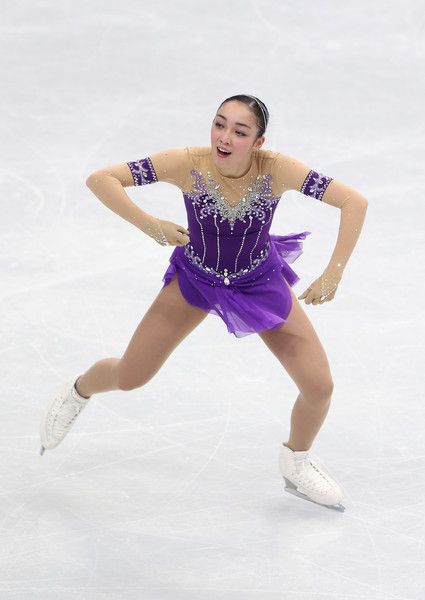 She's coming for you Satoko!
Though hers was only the second best "Carmen" in the field that night, Rika was able to turn in a solid performance of her FS. She lost points on her opening 3F-3T(
<
) as well as her 2A-1L-3S(
<
) combination. She also dropped a few points on her step sequence (only level 2), but overall Rika was great. She's doing such a good job of learning to sell her performance to the crowd and her ability to consistently deliver her programs strongly is really helping the judges' opinion of her. Rika placed 3rd in the FS and was able to retain her positioning from the SP and finish 3rd overall, earning her first bronze medal at this event.
Rika is really getting the hang of competing and I think that's great for Japan. There really are no go-to girls in Japan right now but, if Rika continues to improve at the rate she's currently going, I think she may end up usurping Satoko as Japan's #1.
As for the rest...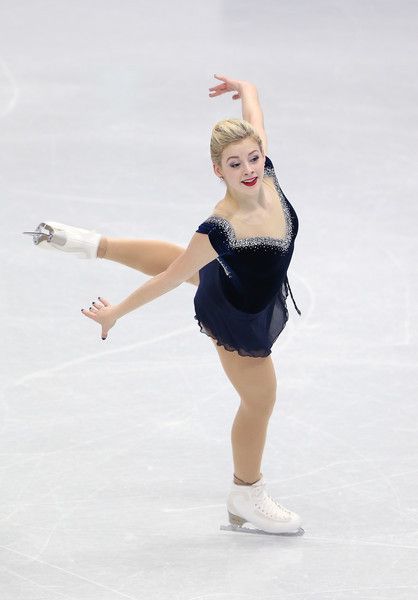 Something needs to change
Gracie Gold (USA; 176.58, 4th):
Well damn... This event was supposed to be Gracie's chance to prove she should be included in that world podium conversation. This was an event full of 3rd, 4th and 5th tier skaters that she should have been able to beat easily. I mean, Polina's 184+ total score would have only been 4th at the Grand Prix Final, more than 5 points out of 3rd place. Gracie should have
dominated
this field...yet she doesn't even make the podium. I honestly don't know what to think. This was a gimme gold medal if ever there was one and she blew it. I feel really sorry for her. It's obvious she has all of the talent in the world to excel at this sport, yet she's lacking the most crucial element: mental toughness and competitive focus. Her nerves rule her and they don't seem to be getting any better. Frank needs to do something,
fast
. Whatever they're doing for Gracie's mental training is not working. There's no reason in the world Gracie Gold should have been
4th
here.
None
. You can bet that had it been Ashley or one of the Russians, they'd have won this by a landslide. Something needs to change...
Losing to this field of skaters just caused Gracie's stock to plummet. This was not the kind of momentum she needed going into worlds. I think it's time to start lighting candles for her...
Has she turned a corner?
Zijun Li (CHN; 175.92, 5th):
It was great to see Zijun show some signs of life here. Ever since her FS at worlds in 2013, so many people were hoping to see her emerge as one of the top ladies of this post-Sochi crop. She's suffered from injuries and other setbacks, but her performances here are rekindling that little flame of hope I kept burning for her. Zijun had a really strong FS: 3F-3T, 2A-3T, 7 clean triples in all. Her only mistake was an edge call on her lutz; other than that she was clean. She received very little GOE on her elements and low PCS which tells me the judges need more from her. If she can add a bit more
zing!
to her performances and really sell her lovely programs to the crowd, I think she can be a factor in the years to come.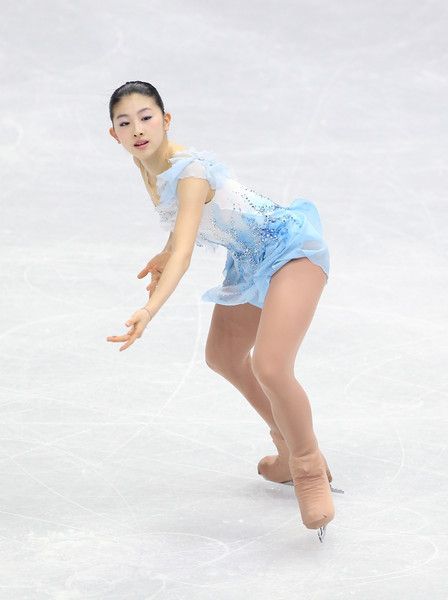 Japan's future #1?
Yuka Nagai (JPN; 168.09, 6th):
I've been watching Yuka this season and I'm convinced that with more senior level experience she could be that go-to girl Japan needs. Other than an iffy flip her technique is good (springy, airy and easy jumps), she has the technical difficulty (3Lz-3T, 2A-3T), and I feel like with a little work, she could be a really good performer. She had two solid performances here though she did lose a number of points in the FS due to popping jumps. Had she been clean, she may have done enough to sneak onto the podium. I really like what I see from her so far. I'm going to keep my fingers crossed for her...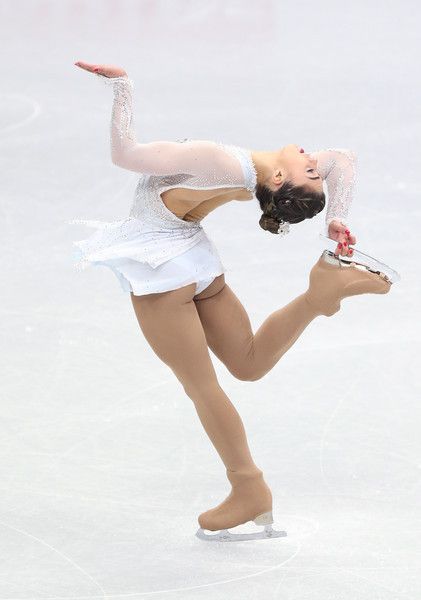 She's getting there...
Gabrielle Daleman (CAN; 167.09, 7th):
Gabrielle is improving and that's always great to see. I can tell she's been working with Lori Nichol on smoothing out her movements. Gabrielle and Courtney Hicks used to look like twins: both had powerful jumps and that horrible
all-over-the-place
presentation. This year, I've noticed that Gabrielle is doing a better job than Courtney at controlling her movements. She looks more refined and I think both of her programs are nice, especially her "Malaguena" FS. Gabrielle still needs to work on reining in her jumps but I definitely see the potential there.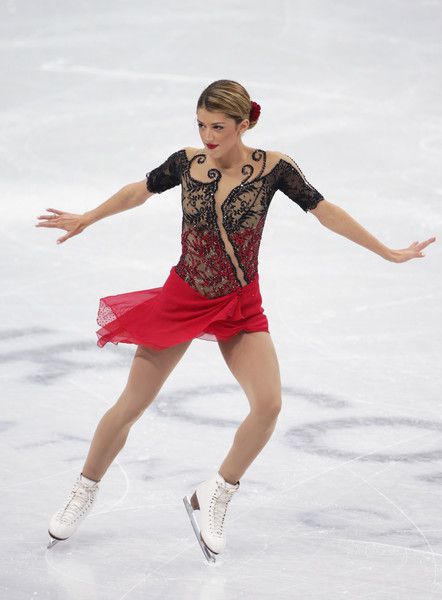 "Carmen," you fierce bitch, you will be missed
Samantha Cesario (USA; 166.76, 8th):
Samantha got hit with under-rotations in both programs and it really hurt her score overall, but I have to say it's great to see her come out and stand up on everything time and time again. Her consistency is bankable; it's just that there are other problems with her skating overall. If Samantha continues to skate, I do hope she can find a coach to help her with her speed and jumps. I will truly miss her "Carmen" FS. Both versions were wonderfully choreographed and paced and she sold the hell outta of them every time she took the ice. That choreographic sequence was
EPIC
...I'm waiting to see if anyone will come up with one to top it.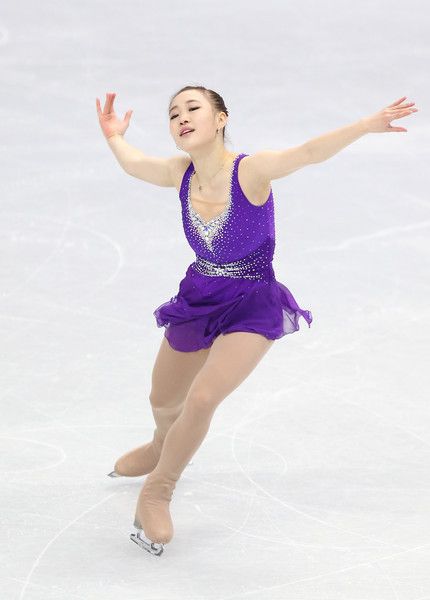 Get it together So Youn, you can do it!
So Youn Park (KOR; 163.75, 9th):
In terms of skaters who have everything they need to be a factor in the field, So Youn is probably at the top. She has great technique on her jumps, she has the difficulty, decent spins, nice presentation...she just can't seem to stay focused. To be fair, the screams of that crowd could have rattled the strongest of competitors. The Korean fans are so hungry for their next skating star that they may be putting too much pressure on these up-and-coming skaters. That crowd went nuts for So Youn and, I'm guessing, that was probably what caused her problems in both programs. She looked really tight and nervous and it showed in her skating. I really do hope So Youn can learn to maintain her focus and have a break out season next year. Pyeongchang is still several years away but it's going to be really sad if Korea doesn't have a competitive skater at their own Olympics.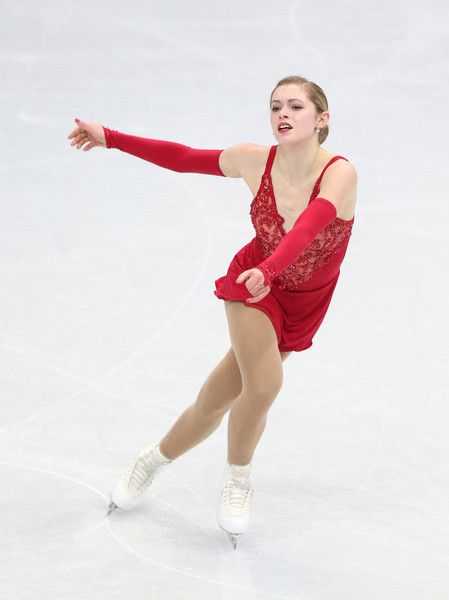 Not her best
Alaine Chartrand (CAN; 161.22, 10th):
Alaine was gritty as usual here but her jumps were not cooperating. She went for the 3Lz-3T in the SP but got hit with an under-rotation. She only got one under-rotation and one edge call in the FS, but a number of tight/wonky landings lost her a lot of points in GOE and dropped her in the standings. Alaine can be a factor in the future but she's going to have to work on really hitting those jumps as well as selling her performance to the audience. There's very little performance to her performance. She's gotta work on that...
And just like that, the regular season is over! Only one event left to go...the Big One...
The World Championships!
We've still got several weeks before that kicks off in Shanghai and based off of what we saw here, that's good news for just about everyone. I'll have previews for both the junior and senior ladies soon. Ta for now!