If ever there was an easy competition to call, it was this year's European Championships. Not many surprises here at all. I'll take a quick look at the European ladies and then wrap up with a quick look at the results of the Canadian and Korean national championships.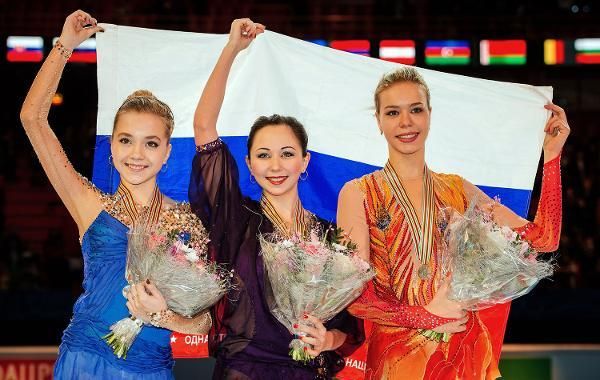 And it's a Russian clean sweep!
The final results:
Elizaveta Tuktamysheva (RUS): 69.02 (SP) + 141.38 (FS) = 210.40 (1st)
There's really not much I can say about Liza T that I haven't already said. Wow. Just wow. Her comeback story this season is the stuff
Lifetime Movies
are made of. After missing the opportunity to compete at Europeans last year, she is now the European champion. Liza T's SP was clean and easy: big 3T-3T, killer 3Lz and a great 2A. Her "mistakes" were very tiny (level 3s on a spin and her step sequence, plus she did the 2A too early and missed the bonus points) but overall, she was great. Liza T's FS was flawless...and that was
after
Elena had skated cleanly and put up a record score. She skated calmly and confidently, reeling off one gorgeous textbook jump after the other. Her performance was great with lots of energy and that trademark Liza T flair. She won the FS and was able to edge out Elena by 0.86 points to win her first European title.
Liza T has one more competition in Germany before heading to the world championships. Personally, I'd prefer to see her rest and train for worlds rather than go to another (unimportant) competition...but her plan has been working for her all season long, so there's no reason to doubt her now. Rock on Liza T. Rock on.
Elena Radionova (RUS): 70.46 (SP) + 139.08 (FS) = 209.54 (2nd)
I told everyone to expect
LENA MODE
here and, sure enough, that's exactly what we got. Elena has been so consistent and so focused all season long. She has the best consistency of any skater I've ever seen...
ever
. Even Michelle Kwan with her legendary consistency would double a jump here or there, but not Elena. Her jumps may not be 100% but she's going to rotate them and stay upright. Elena had a strong SP. The lutz in her 3Lz-3T was a little scratchy, but it was clean. She got level 4s on all of her spins and was able to edge out Liza T and win the segment with a new season's best. Elena took the ice for her FS and for the sixth time this season---yes,
six times in a row
---she hit everything. She had a scratchy landing on her second 3Lz and a wobbly landing on her 3L-2T, but overall she was clean and charming as usual. Elena scored another season's best and really put the pressure on Liza T to be pristine. In the end, Elena missed gold by only 0.86 points but still looked happy to take the silver medal in her first trip to the Europeans.
Elena and Liza T are in a dead heat as we approach the world championships. Had Elena managed cleaner landings on her lutz and loop combo, she probably would have edged out Liza T for gold. They are so evenly matched it's ridiculous. As of now they're tied 2-2 in head-to-head meetings this season. Worlds will be the tiebreaker...I can't wait!
Anna Pogorilaya (RUS): 66.10 (SP) + 125.71 (FS) = 191.81 (3rd)
As expected Anna was able to run away with bronze here. Anna really is a solid skater but next to Liza T and Elena, she just doesn't shine as brightly. I'm not a fan of her SP (the music is too big and overpowering) but I do think this was her best performance of it this season. Anna took her time and controlled her movements rather than just flinging herself around...it made a big difference. Her jumps were solid but her spin levels were all over the place (level 2, 3 and 4). She placed a comfortable 3rd after the SP and was the first Russian to skate in the final group. I don't care for her "Firebird" FS (horrendous music edits) but this was a solid performance. Anna opened up well with her two 3-3s (3Lz-3T, 3L-1L-3S) but had to put her hand down on two jumps in the second half. Whether she was clean or not, she wasn't touching the top two. That's just a fact. Still, this was a strong competition for Anna and she was able to walk away with her first European medal.
Anna still has a lot of work to do to catch up to Liza T and Elena, but judging by her scores (total of 191+), she's definitely capable of making it to the world podium this year. Her spot to worlds is pretty much secure at this point so she needs to buckle down, train hard, and prepare to throw down in Shanghai.
As for the rest...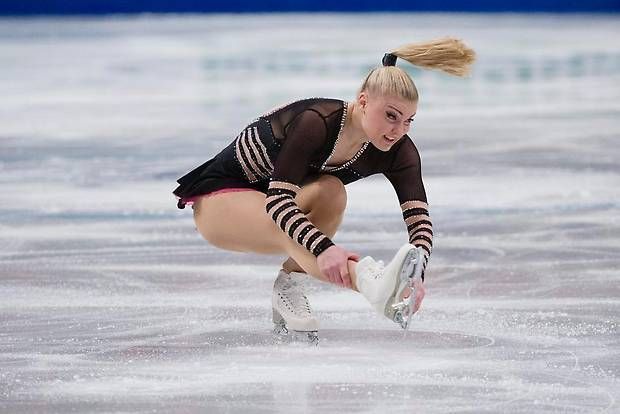 Joshi wins the Battle of the Swedish Sisters
Joshi Helgesson (SWE; 169.07, 4th):
Joshi may have been 2nd at this year's Swedish national championships, but she was able to get a "
W
" here against her sister. Joshi was able to move up from 6th place in the SP to finish 4th overall, ahead of her big sister Viktoria. She was solid in both programs and skated much better than we've seen from her all season long. As a younger sister myself, I had to cheer her on...victory goes to the little sis! Huzzah!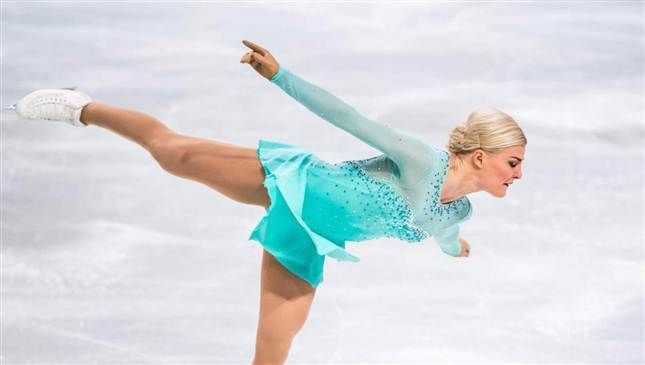 Home crowd hero
Viktoria Helgesson (SWE; 166.39, 5th):
Viktoria lost to her little sister here but she also had stronger skates than she's had all season long. The Swedish crowd absolutely adored both Viktoria and Joshi and cheered them on. Viktoria was able to edge out Joshi in the SP (clean performance, level 4s on everything) but she had some issues in the FS. Viktoria won nationals but Joshi placed higher at Euros...who goes to worlds?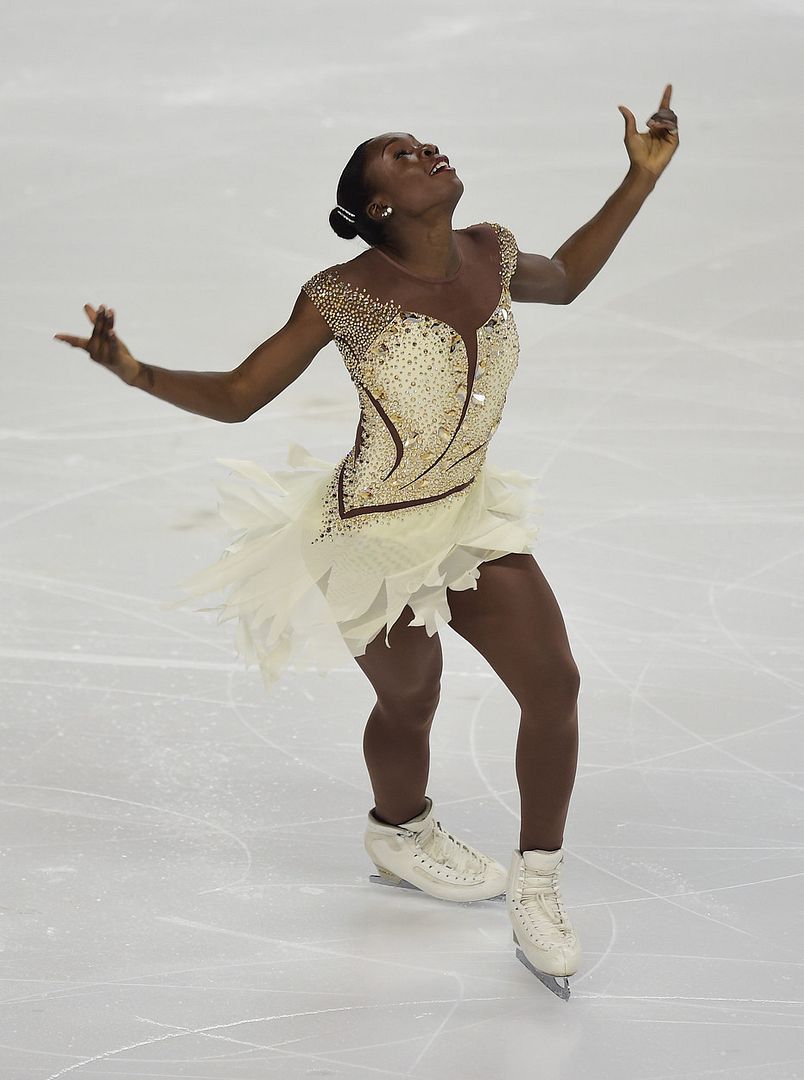 Not her best
Mae Berenice Meite (FRA; 156.47, 6th):
Mae was not her best here. She had a rough landing on her 3Lz in the SP which cost her points and left her 7th in the segment. Unfortunately, Mae ran into trouble in the FS as well. A fall, an under-rotation and a lot of -GOE really hurt her score and placed her 9th in the FS and 6th overall. Hopefully she'll improve and be ready to bring her best at worlds.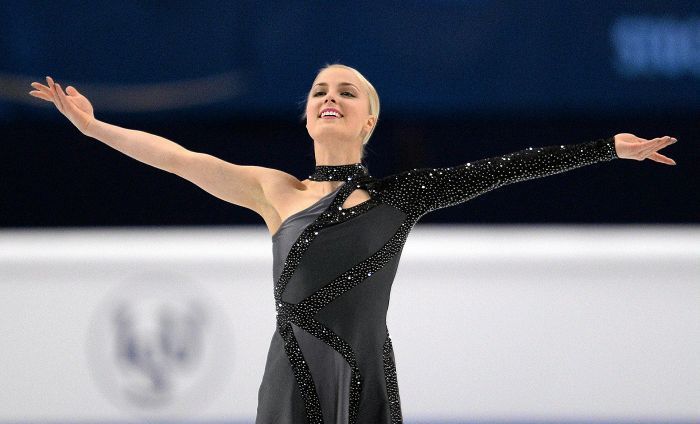 Get better soon gorgeous!
Kiira Korpi (FIN; WD):
After missing last season with an injury, it was nice to see Kiira back in competition. She had a good SP but not great. Her 3F-2T was clean and so was her 3L, but she had to put her hand down on her 2A which lost her points. Kiira got a level 4 on her step sequence but her spin levels varied (2, 3 and 4). She placed 4th in the SP with a score of 60.60 and was in a great position to battle the Helgessons for 4th overall, but she ended up catching the stomach flu and had to withdraw from the competition. Hopefully she'll feel better soon and be able to participate at worlds.
Congrats to all of the medalists! Moving on...
2015 Nationals Round Up...Continued
2015 Canadian National Championships
These championships have the misfortune of falling on the same weekend as the U.S. national championships which means they're always an afterthought (for me). Be that as it may, here's what happened...
The final results:

Gabrielle Daleman - 186.02 (1st)
With Kaetlyn Osmond out this season with an injury, the national title was up for grabs. After placing 2nd at nationals the last two years in a row, it was finally Gabrielle's turn to be #1...but if she wanted it, she had to fight for it. She got off to a bumpy start in her SP. Her 3T-3T was nice but she went down on her 3Lz. Luckily, she maxed all of her non-jump elements which helped her make up the difference and keep her in 1st place. Gabrielle's FS was one of the strongest she's had in a while. She wasn't perfect (one doubled triple and two step outs) but the +GOE on her jumps plus a slight edge in PCS was enough to place her 2nd in the FS and 1st overall to claim her first Canadian national title.
Alaine Chartrand - 184.24 (2nd)
Alaine has had a pretty good season so far and she came into this event as a medal favorite. Like Gabrielle, Alaine got off to a rough start in her SP. She lost points on her 3Lz-3T(
<
) and fell on her solo 3L. Alaine landed in 3rd place after the SP but she's never been one to back down. Girlfriend is definitely a gutsy and gritty competitor. She put that grit on full display in the FS. Alaine nailed her 3Lz-3T along with a 2A-1L-3S combination in the bonus. She did lose points on her 3F(
e
) and 3L(
<
) but she maxed her non-jump elements and performed well. Alaine won the FS and was able to move up from 3rd place to finish 2nd overall.
Veronik Mallet (172.43, 3rd)
was the only one of the top 3 to have a clean SP. She had a decent FS but her lesser content wasn't enough to hold on to 2nd place and she had to settle for a bronze medal.
2015 South Korean National Championships
Of course, this is old news. These championships took place several weeks ago, but I want to make sure that I've covered all of my bases this season...
The final results: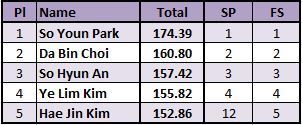 So Youn Park - 174.39 (1st)
With Yu-Na retired, the title was open for the taking. After placing 2nd the last
four years in a row
, I'm pretty sure So Youn was salivating for this win. She started off with a gorgeous SP complete with a nice 3S-3T and 3Lz. Her FS wasn't as easy going but she got the job done. She seemed a little tight in the beginning. She popped her opening lutz but recovered well for a good 3S-3T and a great 2A-3T later on in the program. So Youn was the class of the field when it came to presentation and selling her program. She won both segments of the competition, won the event by more than 13 points, and is
finally
the national champion.
Da Bin Choi (160.80)
placed 2nd in both segments and took home the silver medal. She has really nice rotation to her jumps, but I'd like to see her develop more of a personality on the ice...she kinda bored me.
So Hyun An
took bronze
(157.42)
.
Hae Jin Kim
struggled with under-rotation issues in both programs and placed a disappointing 5th
(152.86)
.
We're down to the last major competition of the season before worlds:
Four Continents Championships
or
4CC
as well like to call it. It will take place in
Seoul, South Korea on February 9-15
. 4CC used to be
Japanese Nationals: Part II.
However, now that the majority of that power has shifted to Russia, the competition won't be as cutthroat as it used to be. The good news is there are still some formidable skaters competing. Winning a major international event can give some much needed momentum as we head into worlds.
This year the headliners are
Gracie Gold (USA), Satoko Miyahara (JPN), So Youn Park (KOR), Rika Hongo (JPN)
and
Polina Edmunds (USA)
. We'll also see
Samantha Cesario (USA), Yuka Nagai (JPN), Zijun Li (CHN), Gabrielle Daleman (CAN), Alaine Chartrand (CAN)
,
Brooklee Han (AUS)
and a few others.
Time for another poll!
Who do you think will win 4CC this year?
Make sure to vote!