It's been a very long season for the junior ladies, starting all the way back in August with the first Junior Grand Prix event and finally ending with the last competition of the season: the Junior World Championships in Tallinn, Estonia. With two-time champion Elena Radionova not in the competition, we're guaranteed to have a new winner this year. Of course the usual suspects are in the running (i.e. the Russians) but there are a few others who can shake up the podium.
Evgenia Medvedeva, Maria Sotskova, Serafima Sakhanovich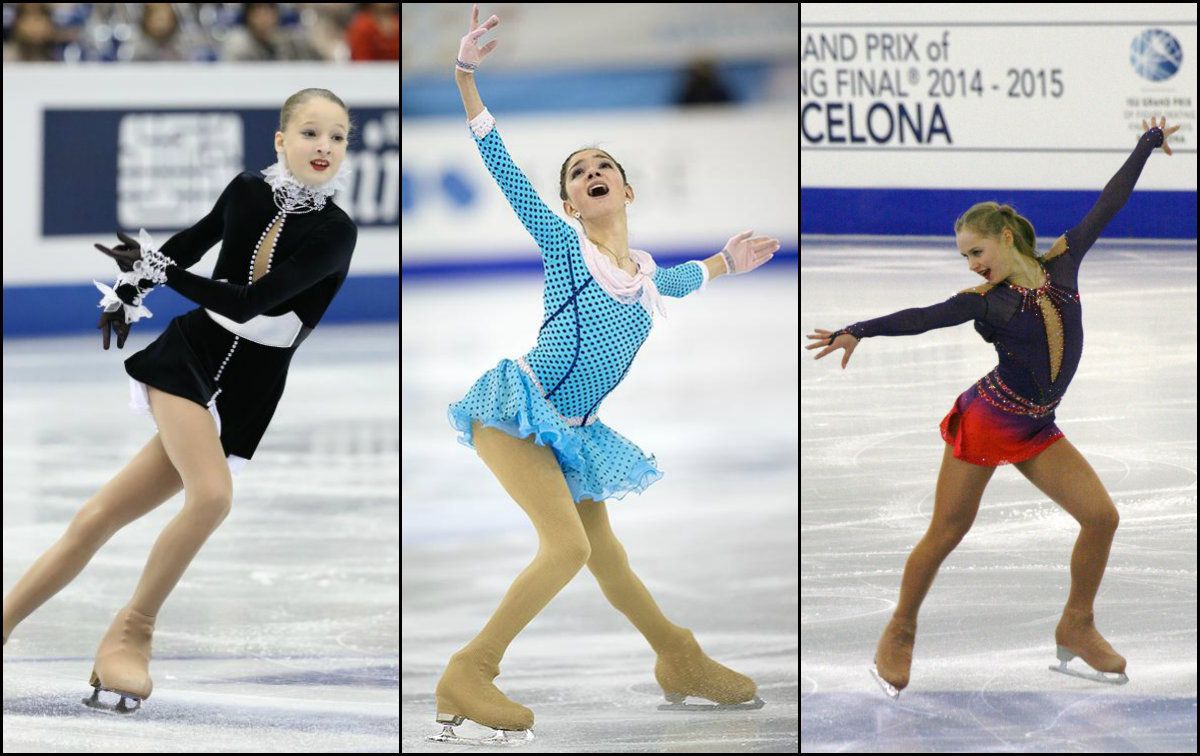 L to R: Sotskova, Medvedeva, Sakhanovich
Evgenia Medvedeva:
Evgenia has been on fire this season. After being viewed as the 3rd and even 4th best option for the Russian juniors last year, Evgenia has found her confidence and elevated her skating and is now the odds on favorite to win it all. She has the content, consistency and all of the momentum in the world on her side. If she's clean, she will be tough (if not impossible) to beat.
Maria Sotskova:
During the JGP Maria didn't look as strong as she looked the season before. After missing the podium at the Final this year, Maria has been slowly building herself up. She placed 6th at senior nationals and 2nd at junior nationals. She has the technical goods like everyone else as well as a more mature presence on the ice. If she can hit her jumps and sell her programs, she has a great shot at the podium this year.
Serafima Sakhanovich:
Unlike Maria who has been slowly gaining steam, Serafima appears to be losing a bit of steam. She was the star of the JGP this season and was expected to win the Final. Mistakes left her in 2nd place and since then, she's had issues with turning in clean performances. She was 5th at senior nationals and 3rd at junior nationals. Serafima doesn't have momentum on her side right now but she still has a great chance at gold if she can deliver.
Team Japan
Wakaba Higuchi, Yuka Nagai, Kaori Sakamoto
L to R: Nagai, Higuchi, Sakamoto
Wakaba Higuchi:
Wakaba had a strong season on the JGP, winning gold and silver in her events and bronze at the Final. She went on to win bronze at senior nationals and gold at junior nationals. Wakaba skates with a lot of speed and she has enough content to be competitive. She doesn't earn the same level of PCS as some of the Russians but she's capable of putting pressure on the top ladies to perform if she skates well.
Yuka Nagai:
Yuka placed 2nd at both of her JGP events and placed 5th at the Final. She placed a solid 4th at senior nationals and came in 3rd at junior nationals. Yuka has big jumps that earn a lot of +GOE when she lands them well and she's been skating relatively well all season long. She struggles with staying focused at times but she's very capable of a top 5 finish if she's able to turn in good performances.
Kaori Sakamoto:
Admittedly, I don't know much about Kaori. She skated at one JGP event this season (JGP Nagoya TV Cup) where she placed 7th. Kaori has decent jumps, lovely and deep edges, and skates with a decent amount of speed. It may be difficult for her to be competitive within this field but strong performances should help her chances of placing well.
Karen Chen, Tyler Pierce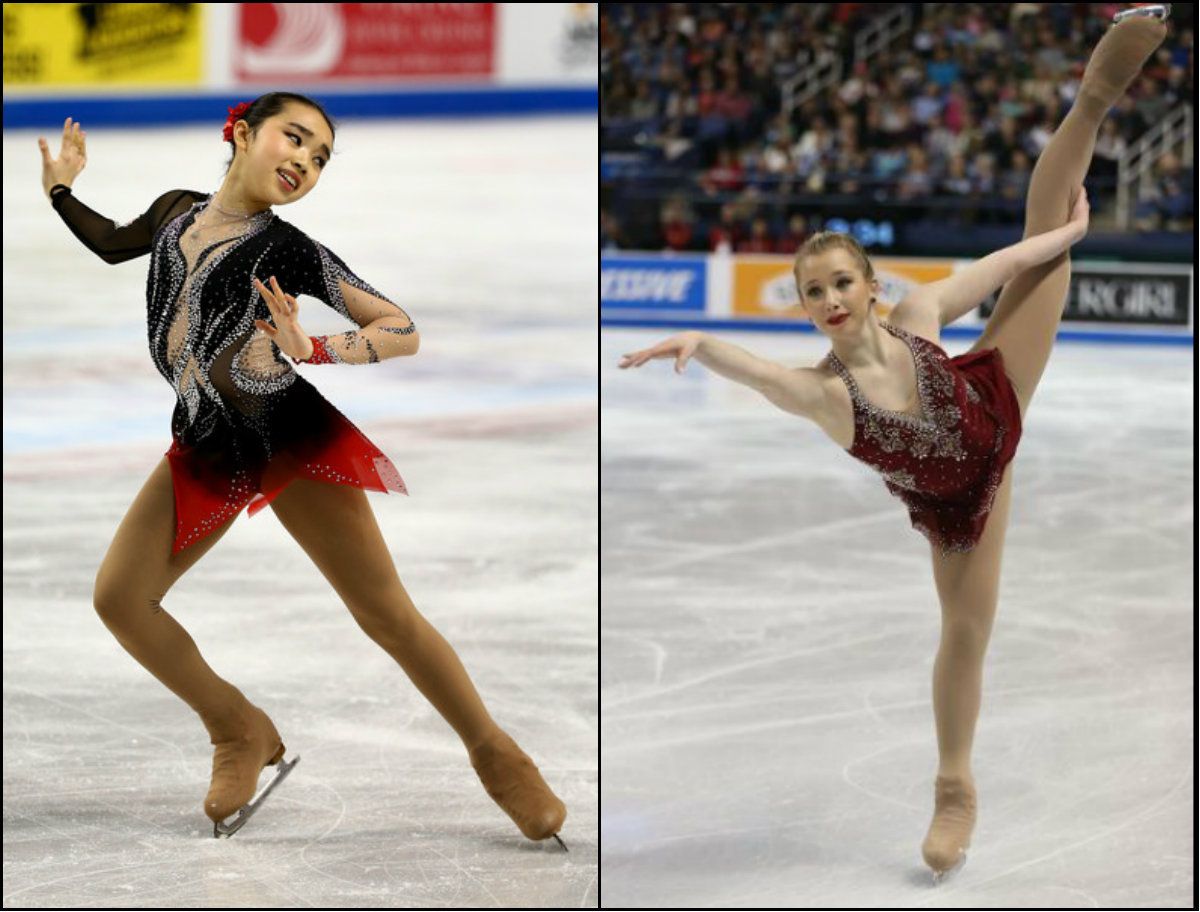 Karen Chen and Tyler Pierce
Karen Chen:
Karen placed 2nd and 3rd at her JGP event this year and was this year's breakout star at nationals. She has big jumps, amazing spins, skates with a lot of speed and seems to have found her consistency. In addition to TES, Karen is one of the few ladies who can compete on the same level as the top Russians when it comes to PCS. Her one downfall is that her 3-3s are susceptible to under-rotation and against the Russians, that will hurt her chances. Karen has a great shot at the podium this year but she'll have to be as clean as possible.
Tyler Pierce:
I feel like Tyler has been (stupidly) under-utilized by the U.S. She had no JGP events this season which does put her at a disadvantage coming into this event. However, Tyler has big jumps, gorgeous spins and a very nice style to her skating. If she's able to turn in strong performances I think she could end up placing in the top 10.
In addition to the top teams of ladies we'll also see
Elizabet Turzynbaeva (KAZ)
who has been known to shake up the standings on occasion as well as a few others. I feel like this is going to be a very competitive event. All eyes are on Russia to possibly sweep the podium but it will not be an easy task this year. There are a number of skaters who, if they're clean, can put pressure on the favorites to perform.
The
World Junior Figure Skating Championships
will take place in
Tallinn, Estonia
on
March 2-8
. The ladies will take the ice for their SP on
March 4
. Though it will be broadcast at 3:30 in the morning, I do plan to tweet live (
@NakedIceBlog
) for as long as I can stay awake.
Time for another poll:
Who will be the new junior world champion?
Make sure to vote!