With all of the pressure of the regular season off, the World Team Trophy is an event that allows all of the top skaters from each country to relax and just perform for the crowd. It's a lighthearted event but it's still a competition which means each country came ready to prove they were the best in the world.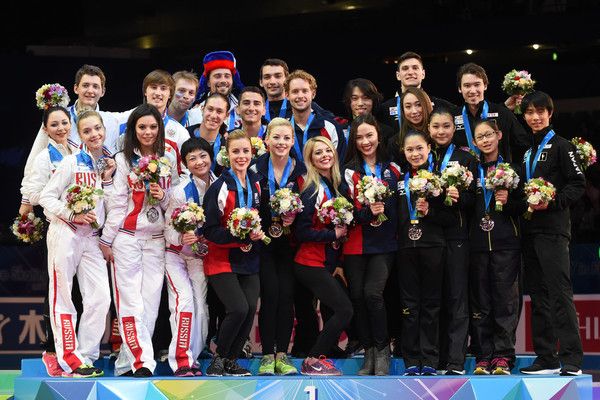 Team USA - Gold, Team Russia - Silver, Team Japan - Bronze
Here are the overall team results: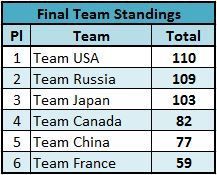 This competition didn't follow the traditional overall score format. The skaters were awarded points based on their placement in each segment of the competition. For ranking purposes, I went ahead and combined the scores over both segments and calculated an overall score and placement for each skater. The final results:
Elizaveta Tuktamysheva (RUS): 70.93 (SP) + 134.21 (FS) = 205.14 (1st)
I've completely lost count of how many competitions Liza T has participated in this year but this one was by far her most ambitious. After unveiling the 3A in the SP at worlds, Liza T set out to hit one in both programs here.
The opening to her SP didn't go exactly as planned. Liza T went for the 3A, got good height and fully rotated it, but fell on the landing. Luckily she bounced right back up and finished out the rest of the program cleanly (3Lz, 3T-3T in the bonus). The fall at the beginning was a black mark on the performance but even so, it paid off. She lost 3 points in -GOE as well as the mandatory 1 point deduction for the fall. Even with those deductions she still earned a total of 5.50 points on the jump which was more than anyone else got for a clean 2A. As long as she fully rotates it and nails her other jumps, she can afford to go for the 3A without losing any ground technically. Liza T finished the SP in 2nd place, only 0.33 points out of first place.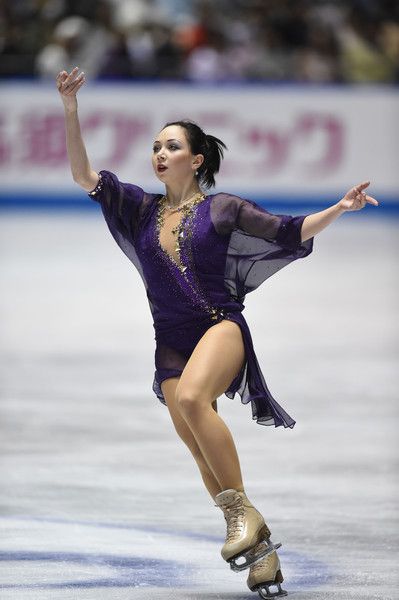 The final "Sandstorm" of the season
The final run of Liza T's "Sandstorm" FS was a solid one. She opened up the program with a gorgeous 3A that earned her +2.00 in GOE and gave her a grand total of 10.50 points for that single jump. The rest of the program was good but not great. Liza T singled the 2L in her 3-jump combo and also popped the 3L in the second half of the program. Overall the performance didn't have the flair and
divaliciousness
that Liza T usually exudes. By the end she looked completely exhausted. Her overall score was good but nowhere near her season's best (which is what she was expecting judging by the sign she held up in the Kiss & Cry). I'll be honest, I thought her PCS were ridiculous here. Liza T is good but by no means does she deserve PCS that high, even if it is in this field. Anything over 65+ is the judges being overly generous. That's my 2 cents...anyhoo, Liza T won the FS and finished 1st overall in the ladies event.
Now that Liza T has proven she'll be going for that 3A, she'll have to sit down, do the math and really think about the smartest way to incorporate it into her programs. Hopefully she'll take a break and go relax on a beach somewhere first. She's definitely earned it.
Elena Radionova (RUS): 68.77 (SP) + 129.73 (FS) = 198.50 (2nd)
The last time we saw Elena she was very under the weather. I'm sure missing out on that silver medal at worlds put some fire in her belly and motivated her to prove those performances were a result of her illness and nothing else.
She started off well in the SP. It was nice to see the old Elena back on the ice. In Shanghai, her energy level was very low and she just wasn't herself; here, she was back to the fun and fiery Elena we've seen all season long. She delivered all of her elements cleanly in the SP (3Lz-3T, 3L, all level 4 spins, level 3 steps) and definitely seemed to be enjoying her final performance of this very polarizing JLo/Flamenco SP. The judges seemed to reward GOE much more conservatively for Elena here. Next to the big jumps of some of the other ladies in the field, I could see how that may happen. Overall though, I agreed with her score. Elena finished 3rd in the SP but was less than 2.50 points out of 1st place.
No worries. She's back.
Elena was the first of the top 3 to skate her FS. She set the bar high by delivering a strong performance, though it wasn't without a few errors. She was slightly off on the take off of her 3F(
!
) (but was still able to land it cleanly), had a wonky landing on a 2A, and got too far forward on the inside edge of her combination spin and stumbled a bit. Overall though, it was another strong 7-triple performance from her. I thought both of her lutzes looked much better. Elena usually doesn't have the cleanest running edge on that jump but here, the landings looked stronger and more secure. She placed 2nd in the FS and moved up to finish 2nd overall.
Elena has had an amazing sophomore season. She's grown several inches since the beginning of the season but managed to adjust well without her jumps suffering. She's got plenty of work to do in the off season but I have to say, I'm still impressed with this girl and can't wait to see what she does next.
Gracie Gold (USA): 71.26 (SP) + 124.29 (FS) = 195.55 (3rd)
All season long people have been waiting for Gracie to really get herself together and show everyone what she can do. After her improved FS performance at worlds, the stage was set for Gracie to take another step forward.
This SP was the kind of skating Gracie should produce every time she hits the ice. Her opening 3Lz-3T was excellent. Even though it was perilously close to the boards again, she maintained her focus and landed it cleanly. Everything about this performance flowed very easily and Gracie looked calm and relaxed. The footwork was nice and all of her spins were strong. I'm still bored with this program but I can't deny her delivery of it was lovely. When she skates like this, it's hard to imagine her ever having problems with landing jumps. It all seemed so effortless and easy. The judges loved it and gave her a personal best score. Gracie placed 1st in the SP.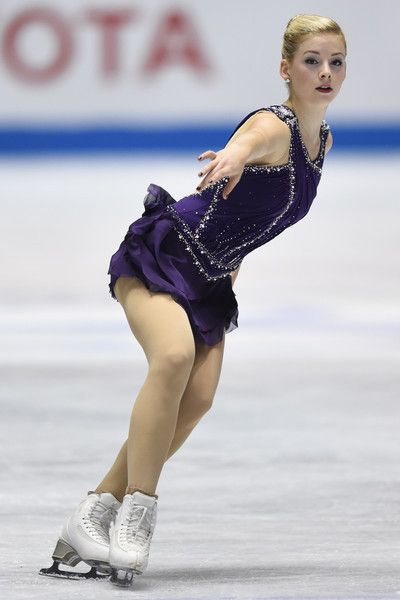 One day Gracie...one day.
I knew there was a
slight
chance that Gracie would rise to the occasion and deliver a winning performance in the FS--but more than likely there would be issues and she would fall in the standings...and that's exactly what happened. Gracie fell on her opening 3Lz (no combo) but rebounded quickly with a solid 2A-3T and 3L. The second half of the program was very shaky. She fell out of her 3F(
!
) and 3Lz but, to her credit, she stayed on her feet the rest of the way. Even with all of the mistakes, Gracie still managed to pull down the second highest PCS of the night, which was extremely generous in my opinion. Her errors affected her overall performance; however, the judges did not reflect that in her PCS. Gracie placed 5th in the FS which put dropped her to 3rd overall. The good news is Gracie did help to secure Team USA the win; however, on a personal level, this is yet another missed opportunity to show the world how amazing she can be.
If ever there was a skater with a big green light in front of them, it's Gracie Gold. Everyone can see how immensely talented she is and the judges
want
to place her at the top...she just won't give them the opening to do it. Gracie's inability to handle pressure (even in lower pressure situations) will continue to prevent her from reaching the top. She has to learn to manage those nerves better...
As for the rest...
Keep at it Diva Wagner
Ashley Wagner (USA; 191.51, 4th):
Ashley delivered a much stronger version of her "Spartacus" SP though it still wasn't her best. Ashley opened with a 3Lz-3T that received full credit; no edge call, no under-rotations. It was clean. Unfortunately, she lost focus towards the end of the program and under-rotated her 3F. I would have loved to see what this program would score at 100% clean but, no dice. Ashley finished 4th in the SP. She really went for it in her FS and I thought she delivered very well. However, the technical caller didn't think so. In real time both of Ashley's combos looked clean but she ended up losing a lot of points (three under-rotations, a "
!
" on her first lutz and an edge call on her second one). Ashley placed 4th in the FS and 4th overall.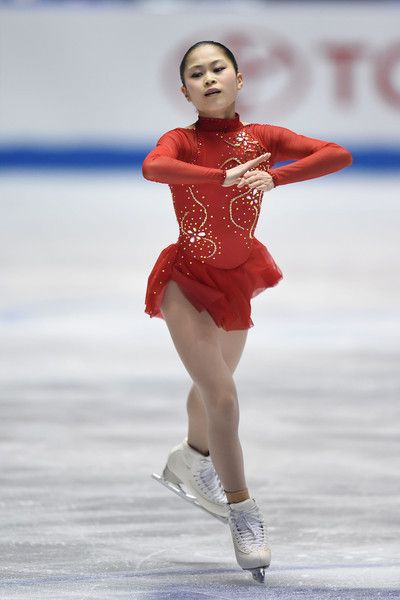 I will miss "Miss Saigon"
Satoko Miyahara (JPN; 189.64, 5th):
It appeared as though some of the nerves got to Satoko early in the SP. She fell out of her opening 3Lz(
<
) but recovered quickly with a 3F-2T and was able to max the levels on all of her non-jump elements. Satoko finished the SP in 6th place. Satoko's "Miss Saigon" FS was the class of the field this season and I really wanted to see her give this program a proper send off. Thankfully, the skating gods heard my prayers! Satoko turned a beautiful performance with her only issue being an under-rotation on her 3F. Everything else was clean and easy. Satoko placed 3rd in the FS and 5th overall.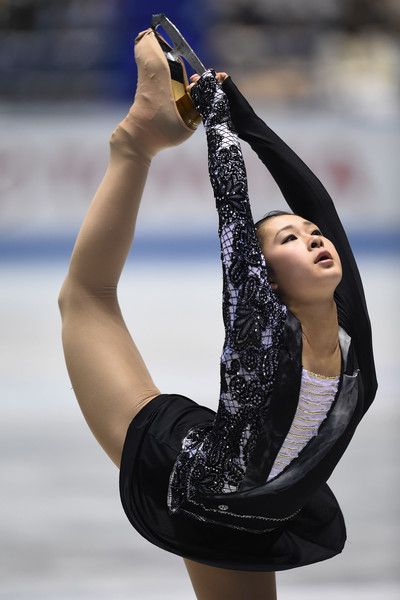 Farwell to POTO...thank god.
Kanako Murakami (JPN; 175.71, 6th):
I really loved Kanako's SP. She opened with a nice 3T-3T but lost points on her 3F(
<
). Kanako wasn't great in the FS but she did put forth a strong effort. Her program included a nice 2A-3T (+1.30) but she lost a lot of points on singled and doubled jumps. Maybe if she continues to skate next season she can adopt Miyahara's layout of including two 2A-3T combinations in the bonus?
Maybe next year will be her year?
Zijun Li (CHN; 162.50, 7th):
Zijun did well in both programs but she lost a lot of points on under-rotations. She under-rotated her 3F-3T combo in the SP but was able to max all of her non-jump elements. She went for everything in the FS but three under-rotations and an edge call really decimated her score. Zijun appears to be putting more energy and effort into her skating so hopefully we'll see her find her stride next season.
Toe pick, kick!
Gabrielle Daleman (CAN; 156.46, 8th):
Gabrielle's opening 3T-3T in her SP was so huge it covered the entire width of the rink. It was pretty amazing! Unfortunately, the jump was so big she had issues controlling it and spun out of the landing. Her FS started off pretty well but she lost her focus. She popped a loop and fell on her 3S(
<
). With her jumping abilities, Gabrielle could place much higher in the standings. She just needs to work on maintaining her focus and not rushing through her jumps.
She could end up being France's #1
Laurine Lecavelier (FRA; 148.27, 9th):
Laurine had a solid but not special SP, though I must admit I really do like her program. A fall, downgrade and edge call cost her a lot of points and she finished 9th in the FS and 9th overall. Though it's a small victory, she did beat Mae here...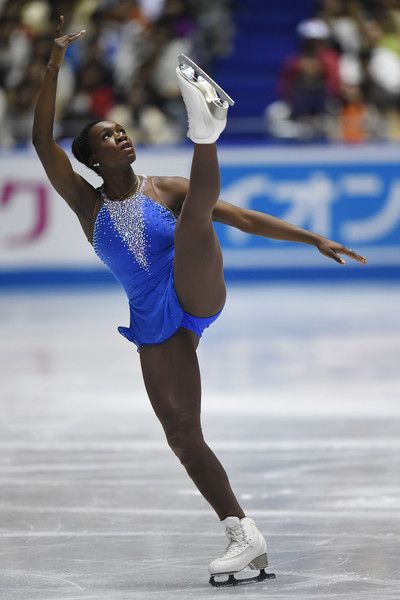 What the hey, Mae?
Mae Berenice Meite (FRA; 142.83, 10th):
I'm not too sure what's been going on with Mae lately. For the longest she had been making steady progress. Now it seems like she's backpedaling. She struggled through both programs here; just seemed like she couldn't get her feet under her.
New FS and costume next year, please
Alaine Chartrand (CAN; 136.54, 11th):
After her stronger performances at worlds it was pretty disappointing to see her struggle so badly in both programs. She fell on her opening combo in her SP and fell
four times
in the FS. I'm fairly certain Alaine wants to pretend this competition didn't happen...
Lovely position
Ziquan Zhao (CHN; 120.89, 12th):
China really needs to work on expanding their ladies field. Aside from Zijun, who hasn't necessarily been burning up the standings this season, there really is no one else. Ziquan needs a lot of work but she does have a lovely Biellmann position...
And so ends the 2014-2015 season of figure skating. Thanks so much to everyone who continued to check in regularly throughout the season and a special thanks to
Peter
over at
Blazingblades.com
for letting me bug him whenever I update. Thanks Peter!! :)
I'm not quite done yet. I'll post my end of season power rankings soon and I'll continue to update with my
Around the World in Skating
posts whenever something comes up, but it will be a little quiet around here until later on in the summer when I start my
Off Season Fun
series of posts. Buh-bye for now!