It took me a while to get to this one. Work has a lot to do with it (busy, busy, busy) but also because this turned out to be a bit of a
splatfest
so I'm not really all that excited to yap about it. For some perspective, only two skaters scored over 100 points in the FS and the top score here wouldn't have even medaled at the first two events.
*sigh*
Let's get to it...
The final results: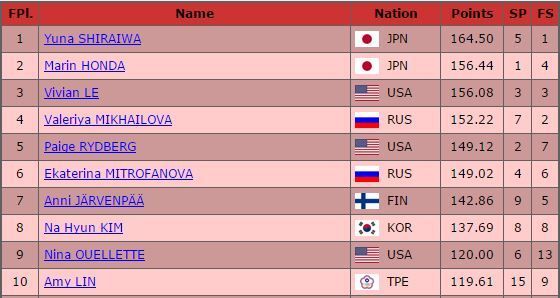 Yuna Shiraiwa (JPN): 56.26 (SP) + 108.24 (FS) = 164.50 (1st)
Yuna was a total surprise winner here. There was nothing majorly special about her SP: nice 3Lz-3T and 3F and solid elements, though she did lose points due to a fall in her step sequence. Overall, it was a solid skate for her and left her in 5th place. Initially, it looked as though the FS would be between the top three after the SP; however, after the major splatfest that preceded Yuna taking the ice, the gold was up for grabs. Kudos to her for striking while the iron was hot. Granted, she joined the
splatfestivities
as well (fall on her 3Lz (
<
)) but other than that, she turned in six clean triples including a fully ratified 3S-3L. Nicely done. Assuming she gets another event, as long as she can place 4th, she has a good chance at snagging one of those spots in the Final.
Marin Honda (JPN): 61.05 (SP) + 95.39 (FS) = 156.44 (2nd)
I've been seeing videos of Marin for a while so I was excited to see how she'd do here. Her SP was lovely. She somewhat reminds me of a young Mao Asada, though not as effervescent...but I definitely see the star quality and potential. Marin hit a nice 3L-3T and 3F in her SP along with level 3 and 4 non-jump elements. She won the SP and went into the FS with a small lead. Unfortunately, like nearly everyone else, Marin joined the splatfest, only without actual splats. She opened well with a lovely 3Lz and 2A-3T, but then things started coming apart. Marin fought and managed to stay upright but lost several points on two downgrades (both on 3Fs) and low level elements (level 2s on two spins). It just wasn't a pretty performance. She left too many points on the ice and had to settle for silver.
Vivian Le (USA): 57.37 (SP) + 98.71 (FS) = 156.08 (3rd)
Vivian is a classic mega-powerhouse jumper. These skaters have the ability to
literally
jump out of the rink, but often lack the control necessary to land cleanly. Vivian opened her SP with a roof-scraping 3Lz but lost all of her speed and fell out of the 3T (-1.40). She followed that up with a lovely 3F but lost major points due to an edge call (-1.30). Vivian finished the SP in 3rd place but was well positioned to move up. Sadly, she wasn't able to: two falls, an edge call and a doubled jump lost her too many points and killed any chance she had a scoring a trip to the Final. I suppose in a glass half full approach we should applaud her for medaling at both of her events. Hopefully she'll continue to grow and learn to control her power...hopefully.
As for the rest...
Valeriya Mikhailova (RUS; 152.22, 4th):
After a sub par SP that left her in 7th place, Valeriya turned in one of the best performances of the night in the FS. Valeriya placed 2nd in the FS and leapfrogged from 7th all the way to 4th place. She was the only skater other than Yuna to break the 100 point mark in the FS...
Paige Rydberg (USA; 149.12, 5th):
It might just be the fact that she's pretty and blond, but Paige reminds me of Gracie Gold...with better presentation than Gold had on the junior level. Paige had an excellent SP and was in a prime position to medal but (like so many that night) she knocked herself out of the running with too many mistakes. Fingers crossed she'll do better in her next event.
As always, all of the videos can be seen here at the
ISU's JGP YouTube channel.
This week we're on to the fourth event of the JGP season,
JGP Cup of Austria
. We'll get to see
Maria Sotskova (RUS)
go for her second gold medal of the season as well as the season debut of the reigning junior world bronze medalist
Wakaba Higuchi (JPN)
. We'll also see
Da Bin Choi (KOR)
and
Mai Mihara (JPN)
in their second event as well. Spots for the Final are on the line for some of these ladies so with any luck, we'll see some solid skating.
Ta for now!