There's always this flurry of events around this time of the season. The ISU Challenger Series, affectionately known as "Senior B" events, have started. I'll take a quick look at the first two events of the series and, of course, continue my coverage of the ladies at last week's JGP event...
2015 U.S. International Classic
The 2015 U.S. International Classic medalists
The final results: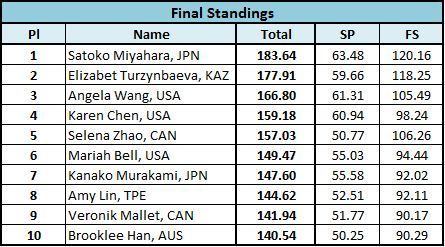 Satoko Miyahara (JPN): 63.48 (SP) + 120.16 (FS) = 183.64 (1st)
It's early in the season but Satoko is looking pretty good already. I love her "Firedance" SP. I've been a fan of this music for a while (thanks to Akiko Suzuki) but I do like what Satoko and her team did with it. The jumps were solid here. I've pretty much given up hope that we'll see bigger jumps from Satoko. She's a tiny jumper and that's just that...but everything else was fabulous. Satoko's "Un Sospiro" FS is lovely and she did a good job with it here, though she did go down on her 3Lz(<). I like her strategy of going for two 2A-3T combos in the bonus. I feel like we may see a lot of that this year. Overall, this was a very successful first outing for Satoko. She won both segments of the competition and the gold medal.
Elizabet Turzynbaeva (KAZ): 59.66 (SP) + 118.25 (FS) = 177.91 (2nd)
I've had my eye on Elizabet for a while now. She doesn't look like much but she's very capable of stacking points and delivering strong performances. Elizabet had a strong SP (3Lz-3T, 3F, 2A) and placed a close 4th. In the FS she nailed 6 out of 7 triples (2A-3T(<)). I like Elizabet. You can tell once she grows a bit that she'll be a very lovely skater. There's a nice control and polish to her skating that is very appealing, though I do hope she works on her air position in her jumps. She jumps with her legs bent in the air instead of straight and glued together. If she gets bigger, that technique might not work for her. We'll see...anyhoo, Elizabet placed 2nd in the FS and moved from 4th to finish 2nd overall.
Angela Wang (USA): 61.31 (SP) + 105.49 (FS) = 166.80 (3rd)
This was probably the best we've seen Angela skate in about two seasons. She went for easier content in the SP and it paid off in a big way. Her opening 3T-3T was huge and gorgeous and earned her +1.40 in GOE, and her 3L was excellent and earned her +1.12 in GOE. Angela finished a close 2nd in the SP but knew she'd have to bring it in the FS. For the most part, she did. It wasn't a perfect performance but Angela got credit for 6 triple jumps including a 3Lz-3T (though she did step out of it). She kept fighting and didn't give up so I'm proud of her. Angela finished 4th in the FS but was able to hang on and finish 3rd overall.
As for the rest...
Karen Chen (USA; 159.18, 4th):
Karen had a solid SP but things came apart in the FS. I think a lot of people are waiting on her to show some of that brilliance and confidence she had at nationals...cause we haven't seen any of it since. The talent is obviously there (speed, big jumps, gorgeous spins) but something seems to be blocking her. Karen is debuting on the senior level this year which means she's got to get it together and fast.
Mariah Bell (USA; 149.47, 6th):
I really love to watch Mariah skate. She has such a wonderful presence and energy on the ice and I really enjoy her programs as well; however, the jumps are not working right now. She struggled with the jumps in both programs, particularly in the FS where she suffered two very hard falls. I'd really like to see her do well this season but without the jumps, it's going to be hard for her to get the judges to give her her due.
Kanako Murakami (JPN; 147.60, 7th):
I really love Kanako but I'm not 100% sure why she's continuing to skate. To me, her heart is just not in it anymore. She had a fairly decent SP and a well below par FS. With Mao back in the mix, Satoko as the world silver medalist and Rika Hongo steadily gaining steam, Kanako is going to have to really fight if she wants to maintain a spot in the top 3 for Japan.
Videos are
here
(thanks to 0316seisato).

Kaetlyn Osmond (CAN): 59.67 (SP) + 119.74 (FS) = 179.41 (1st)
Kaetlyn is back and I am happy to see her. She's had a really tough go of it the last two years with injuries, but she appears to be back and in pretty decent shape for this point of the season. Additionally, I see the improvements to her skating which is wonderful. She's a little less rushed in her movements which vastly helps her overall presentation. I really like her "La Vie en Rose" SP, even though I kinda hate the version of the song she chose. Music aside, everything else was lovely. However, she did struggle on her combination, doubling the first jump and then falling on the second; therefore, I felt her first place finish in the SP was unfair.
I really like Kaetlyn's FS as well. It suits her perfectly and she did a great job of selling it to the audience. Kaetlyn really stood out in this field of skaters because of her speed. She just flies around the rink and into her jumps, and carries a ton of speed coming out of her jumps as well. Sometimes it's not as controlled-looking as I'd like but I can't deny she's a phenomenal jumper when she's on. She won this one easily. It's good to see Kaetlyn back and looking so strong. If she can find consistency and get her content solid, she can challenge for the podium this year.
Alena Leonova (RUS): 56.41 (SP) + 109.20 (FS) = 165.61 (2nd)
I will be blunt...I think Alena got lucky to get on the podium here. Both of her performances were lacking quite a bit. She under-rotated her combo in the SP and a botched entrance into her layback resulted in no points at all for the element. The good news is I still find her "Charlie Chaplin" SP to be delightful and very watchable...however, I can't say the same thing for her FS. From a technical standpoint, she struggled here. Alena opened with a nice 3T-3T but had two back-to-back falls on her flips. Additionally, the music of the program plays as if someone is hitting shuffle on a 1950s jukebox. There are three or four different songs in the program...it's just too much. It makes finding any kind of cohesion in the program very difficult. I am not a fan.
Good for her for medaling here but we all know 165+ isn't going to be good enough to hold up for a silver medal on the GP this year. I don't know where Alena fits in among the current swarm of top Russians...
Courtney Hicks (USA): 57.65 (SP) + 105.20 (FS) = 162.85 (3rd)
First of all, I think it's hilarious that Courtney is a redhead now. It does seem like she's totally biting off of Ashley's decision...then again, she may have been contemplating making the change for a while. Who knows? To her credit, she looks nice as a redhead. On to the competition...I really like Courtney's "The Feeling Begins" SP. There's something about the way she moves that gives her a much more polished and fluid look. The jumps are still as little wild though...she needs to work on controlling the landing of the first jump so that she can get up into the air and rotate that second jump. She definitely had jump issues here (falls and under-rotations in both programs). I like the SP but I'm on the fence about the FS right now. Like Alena, Courtney must know that this kind of skating won't hold up for a medal this year. She's got a decent base, but she's still got some work to do before the GP.
As for the rest...
Alaine Chartrand (CAN; 161.35, 4th):
I simply adore
Alaine's SP
. I love the music, I love the choreography, I love the dress...it's all working. I would like to see her give a little more personality, sass and energy overall though. The program is excellent but she needs to work on really selling it. The jumps also needed work here, in both programs. I like Alaine's grit and determination but unless she can get those edge calls and under-rotations under control, it's going to be tough for her to move up in the standings.
Mirai Nagasu (USA; 159.67, 5th):
I will say I admire the fact that Mirai has enough guts to go for the 3A...however...it's not close enough to where it needs to be for her to be putting it into her program. On all of the practice videos I watched from this event, her axel was 1/2 rotation short. It's not ready for competition yet. Mirai needs to be building momentum and getting herself back into the judges' good graces and she can't do that with these Hail Mary 3As, especially if she can't nail the rest of her jumps after that. Additionally, missing on that axel will leave her farther down the standings and that will really hurt her when it comes to getting her PCS up. She placed 11th in the SP here but was 2nd the FS. Had she placed closer to the top in the SP, she likely would have received PCS higher than 52+ (probably 54-57 range). That combined with a better SP score would have had her 2nd instead of 5th.
I'm not a huge fan of either of her programs right now. Like Alena's program, Mirai's FS seems like she left her iPod on shuffle; just too many music edits. I was impressed with her overall performance though. Aside from the under-rotation on the 2A-3T, she was solid with all of her other jumps. I'd like to see more speed and energy from Mirai, both of which will help her PCS. She's slowly improving...but she's gotta nix that 3A for now. It's not ready and if she keeps putting it out there half-baked, it's going to do more harm than good.
Time for a poll (cause why not).
Should Mirai keep going for the 3A?
Make sure to vote!
Videos are
here
(thank to Icebergup).
2015 JGP Copernicus Stars
Final results:
Polina Tsurskaya (RUS): 61.04 (SP) + 126.81 (FS) = 187.85 (1st)
Polina is such a powerhouse jumper. She gets so much speed, height and distance in her jumps...it's really remarkable. She wasn't perfect here (a fall on her 3F in the SP) but thanks to her basically flawless 7-triple FS, this was a complete and total blowout win for her (21+ points). This second gold medal guarantees Polina a trip to the Final. I'd say based on her overall scores, she's probably the favorite to win the whole thing this year...
Ekaterina Mitrofanova (RUS): 57.69 (SP) + 108.94 (FS) = 166.63 (2nd)
After a less than stellar first event where she placed 6th, Ekaterina was able to turn in two very solid performances here. She struggles with the edge on her 3F and doesn't quite have the same
Wow!
factor Polina has, but she did her job. She won't make the Final this year, but at least she knows she redeemed herself from her first event.
Rin Nitaya (JPN): 54.06 (SP) + 107.83 (FS) = 161.89 (3rd)
Rin struggled at the beginning of her SP, falling on her opening 3F. Luckily she fought back and finished the rest of the program strongly (including a 3T-3T in the bonus). Other than an edge call on her 3F and a doubled lutz, she delivered strongly in the FS as well. This bronze medal combined with her 4th place finish at her first event won't be enough for the Final, but good job for her.
As for the rest...
Kaori Sakamoto (JPN; 158.44, 4th):
I will admit I expected a bit more from Kaori. She had a rough time in both programs here, falling once in the SP and twice in the FS.
You already know
where to find the videos
. There are only two events left in the Junior Grand Prix. This week is
JGP Logrono
which takes place in Logrono, Spain. We'll see
Yuna Shiraiwa (JPN)
and
Alisa Fedichkina (RUS)
in their second event. We'll also see the season debut of
Serafima Sakhanovich (RUS)
and the JGP debut of
Tessa Hong (USA).
With only two events left, let's take a look at the current JGPF standings...
2015 JGPF Standings...So Far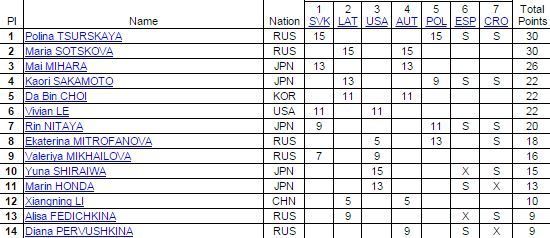 With
30 points
each,
Polina Tsurskaya (RUS)
and
Maria Sotskova (RUS)
are guaranteed spots. With
Serafima Sakhanovich (RUS)
entering the fray for the last two competitions, it is possible one or both of Polina or Maria may get bumped in terms of their positioning. Serafima has the capacity to win both events which would give her 30 points as well.
Mai Mihara (JPN)
is also guaranteed a spot with
26 points
; however, based on the outcome of the next two events, her positioning could shuffle.
The gold medal
Yuna Shiraiwa (JPN)
won (
15 points
) is weighted heavier than other medals which means she needs to place 4th or better to guarantee herself a spot at the Final.
Alisa Fedichkina (RUS)
would need to win JGP Logrono in order to have a shot at making the Final this year.
Marin Honda (JPN)
will compete at the final event of the season. She'll need bronze or better to make the Final.
I usually stay away from predictions, but I'm thinking the roster for the Final will be Tsurskaya, Sotskova, Sakhanovich, Mihara, Shiraiwa and Honda. We'll have to see if I'm right...