This was one of the most anticipated World Championships I've seen in a while. I don't know if it was the fact that the event was in the States or that there was a real possibility we'd see the U.S. ladies medal drought come to end...whatever it was, I'm glad to say these championships did not disappoint.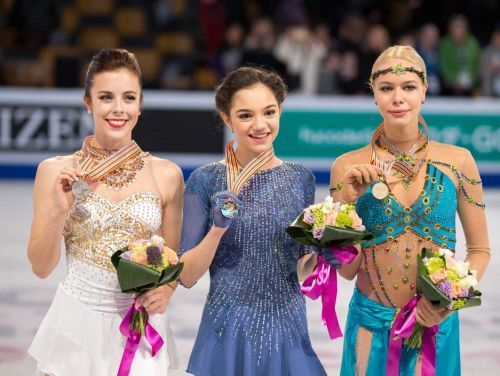 Russia still reigns but the U.S. medal drought is over!
The final results: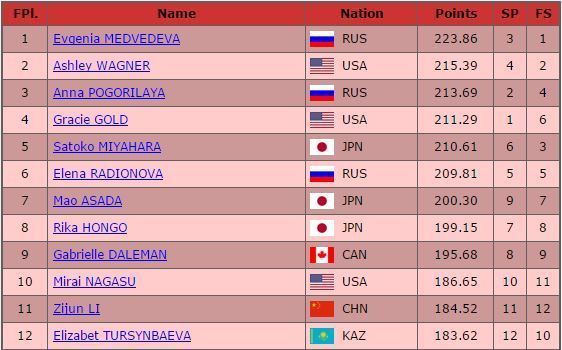 Evgenia Medvedeva (RUS): 73.76 (SP) + 150.10 (FS) = 223.86 (1st)
This debut season for Evgenia is now officially the strongest senior debut we've witnessed in a very long time. With the exception of Rostelecom Cup, Evgenia had won everything she entered. Worlds was the last stop...
The SP started off well but not perfectly for Evgenia. She opened up her program with her time burning spin and step sequence (both level 4 and peppered with high +GOE) before going into her combination. Evgenia landed her tano 3F a little forward which killed her speed and lost her 0.40 points in GOE. She went on to her tano 2A before changing her solo 3L into a 3L-3T which netted her the critical combo points needed to keep her within striking distance for the FS. The performance was Evgenia's usual ease and elegance and the judges rewarded her in both GOE and
too
high PCS. Her score left her in 3rd place but basically in a 3-way tie for 2nd and only 2.67 points out of 1st.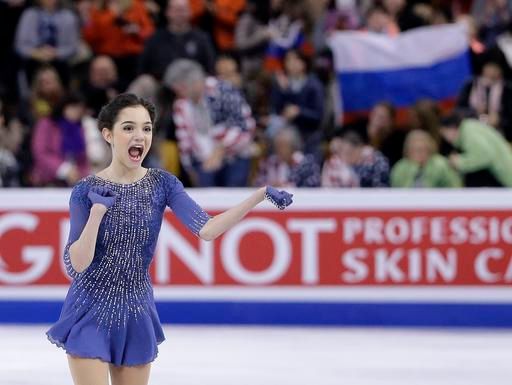 Look Ma! A clean sweep!
Evgenia skated second in the final group and was able to turn in yet another clean performance of her FS. Her consistency has been her calling card this year and is the key to her success...in addition to other things. Nearly all of Evgenia's jumps featured the tano arm position. Adding that feature earned her multiple +2s and even +3s which drove her TES up through the roof. Evgenia's content isn't untouchable. She executes only one lutz and repeats the 3T; there are those who are capable of more difficult technical content. However, her ability to pad her score for each jump is what makes her so tough to beat. She earned an extra 8.87 points in GOE on her jumps and even more GOE for her spins and steps which all received level 4s and +GOE. Evgenia's clean performance broke the world record established by Yu-Na Kim at the 2010 Vancouver Olympics by 0.04 points. I don't know that I agree with that, but it is what it is. Evgenia easily won the FS and, no surprise to anyone who has been paying attention this year, won the World title.
Evgenia has changed the game in my opinion. In one year she has gone from fresh senior newbie to queen of the mountain. I still feel as though the judges over-score her in PCS but, as we know, that's the way of the sport. If you can deliver cleanly time and time again, your stock goes up and the judges start throwing out PCS like candy. Evgenia earned her candy this season...I say she should enjoy it.
Ashley Wagner (USA): 73.16 (SP) + 142.23 (FS) = 215.39 (2nd)
Ashley has been a staple at Worlds since 2012 but had yet to have the kind of performances needed to secure a medal. We're obviously in the final years of Ashley's skating career and though she has done more for U.S. skating than any other current U.S. skater, not having a World medal would be a black mark on her list of accomplishments...
The SP was the kind of performance Ashley dreamed of laying down at these championships. She was amazing! There must be some kind of magic juju in the thread of Marissa Castelli's dress...both times Ashley has worn it this season she has knocked her SP out of the park. Ashley's opening 3F-3T was excellent and earned +1.40 in GOE. Her other jumps were spot on and she maxed the levels on all of her spins and earned good GOE on her level 3 step sequence (+1.29). As always Ashley brought the fire, maturity and performance level that have become her calling cards in this sport. The best moment of her SP came at the end after she hit her final pose. Ashley was so thrilled with her performance she started jumping,
lost her balance and fell
! It was the cutest thing! She sat there for a moment, clearly embarrassed but so thrilled with her performance that all she could do was laugh. Ashley's SP earned her a personal best score and left her in 4th place but less than a point out of 2nd place. It was a perfect scenario for Ashley. She skated very well, was easily within striking distance of the podium,
and
still had the psychological advantage of coming from behind.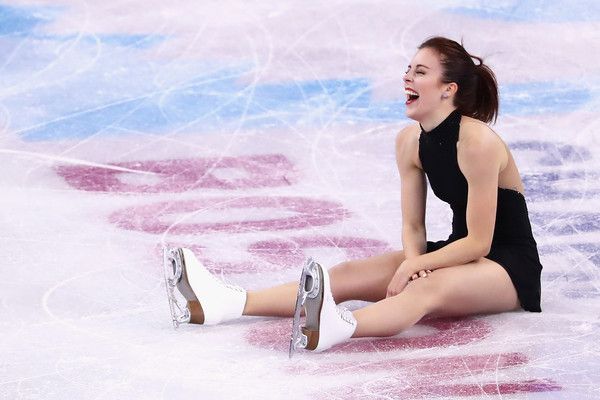 This is, hands down, my favorite picture of the season!
Ashley had the daunting task of skating last in the event. She took the ice after Gracie Gold's FS and judging by the atmosphere of the arena, she knew Gracie hadn't turned in the best of performances. Gold sat in 3rd which meant regardless of what Ashley did, the U.S. medal drought was over...but it was up to Ashley to determine who would end the drought: her or Gracie. Ashley went for it and by
it
I mean everything. With the exception of a step out on her solo 3F(
<
), Ashley was virtually clean. She did receive an under-rotation on the back end of her 3F-3T(
<
) and a ding on her 3Lz(
!
), but she stood up on everything and delivered her Moulin Rouge FS to the home crowd in a showstopping fashion. After she hit her final jump the crowd didn't stop cheering and was on their feet before the program ended. As Ashley and the rest of the crowd waited, you could sense the tension. When the scores finally came up Ashley had smashed her personal best, placed 2nd in the FS and was 2nd overall, earning a silver medal and finally ending the 10 year U.S. ladies medal drought.
I have so much respect for Ashley Wagner. Despite the naysayers she keeps finding ways to rebound higher and higher, time and time again. She rose to the occasion here in a big way and turned in her best two performances of the season...at the most absolutely perfect time imaginable. Ashley's silver is a triumph for U.S. skating and underdogs everywhere. No doubt it feels as good as gold for her...sure feels like gold to me!
Anna Pogorilaya (RUS): 73.98 (SP) + 139.71 (FS) = 213.69 (3rd)
After the season Anna had, making it to Worlds was a blessing to her. She came in as the #3 Russian and a bit of an afterthought in the wake of all of the other major competitors here. If you recall, Anna was
my pick for dark horse
of the competition...no one was watching her but she had the potential to be a spoiler.
Anna came out on fire in the SP. She skated last in the segment behind a number of personal best scores and some truly great skating. Anna didn't seem phased at all: she nailed her 3Lz-3T (+1.40) as well as her 3L and 2A. When Anna is
on
, she's a strong competitor. She skates with a lot of speed and ease and I find her to be 100% more watchable this season than she's been in the past. The work she's put into polishing her skating has really paid off. Her SP performance was powerful and mature...and most importantly
clean
. When she finished her program there was no celebrating at center ice. She was so deadpan she almost looked pissed. Even when her scores came up and she shocked everyone by placing 2nd ahead of both Medvedeva and Wagner, she barely cracked a smile. Later at the press conference she revealed she was extremely happy but knew she still had a lot of work to do in the FS. Talk about staying focused...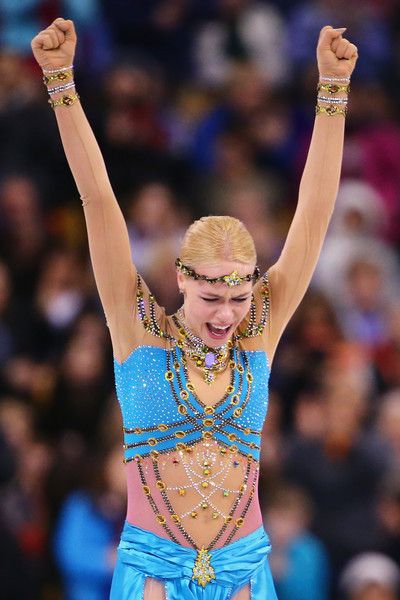 There's the emotion that'd been missing all week
We've seen some truly spectacular wipe outs from Anna this season and as much as I like the
PogoSplat
term I coined, I was really hoping I wouldn't need to use it. Luckily, Anna gave me no reason to. That focus from the SP carried over to the FS. Simply put, Anna nailed it. Her opening 3Lz-3T combo was big, easy and controlled (+1.40) and her 3L-1L-3S combo was solid as well. Anna completed three more triple jumps and maxed all of her non-jump elements on her way to posting her best ever score in the FS. When she finished her performance we finally got to see some emotion from her. Anna placed 4th in the segment and 3rd overall, winning the bronze medal at an event most people didn't even think she had a prayer of placing top 5 in.
It's been a roller coaster season for Anna but this was definitely the way she wanted to end it. She came in under the radar, did her job and is now a World medalist. The landscape in the Russian ladies field is constantly shifting which makes it difficult to get a real foothold in the standings. The fact that Anna fell out of the top contenders and, in only half of a season, worked her way onto the World podium is something she should be immensely proud of.
As for the rest...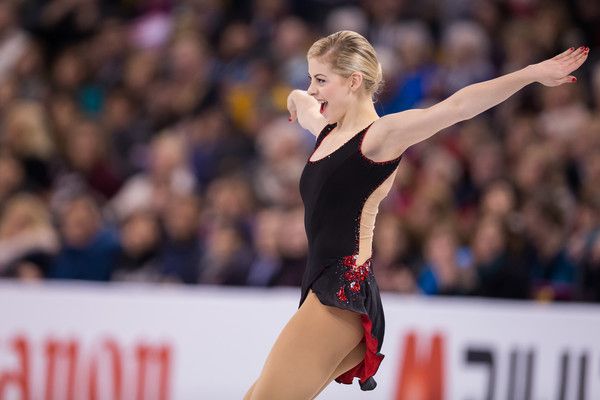 Chin up, Gracie.
Gracie Gold (USA, 211.29; 4th):
These championships started off very well for Gracie. She opened with a good 3Lz-3T and definitely got the benefit of the call on her 3F(
!
but was clearly
e
). All of her jumps were clean, all level 4s on non-jump elements...it was a dream performance that resulted in a dream score. Gracie earned a whopping 76.43 for her SP and went into the FS with a 2.45 point lead. Unfortunately, it only took about 30 seconds into the FS before everyone realized Gracie would not be challenging for gold. Gracie went down on her opening 3Lz-3T combo but recovered well and hit her next few jumps. However, her most costly mistake came when she doubled an intended 3Lz...that was the death blow. On base value points alone, had Gracie landed that lutz she would have beat out Ashley for silver. That lutz was the difference between a silver medal and a 4th place finish. Overall, Gracie turned in a decent performance but on a night where she basically needed to be flawless, she had two major errors.
The
interview she gave after the FS
was really sad. Gracie sounded completely defeated. This was a major opportunity she missed and it's going to take her a minute to get over the hurt...but she has to pick herself up. Gracie needs to take this disappointment, learn from it, grow from it, and come back even more determined next year.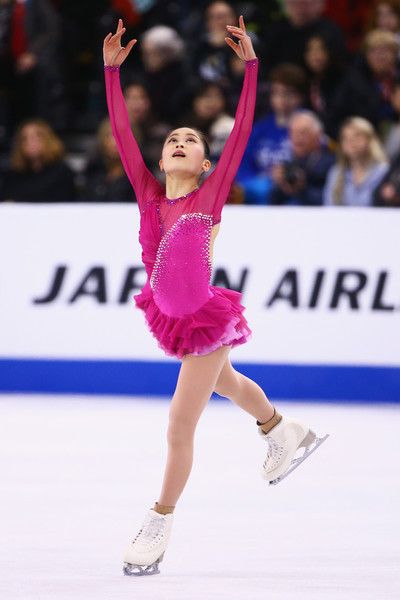 Lowballed again
Satoko Miyahara (JPN, 210.61; 5th):
Satoko started out well in the SP. She hit her jumps and maxed the levels on all of her non-jump elements. I was expecting a really strong score; however, turns out she got called for an under-rotation on her 3F(
<
,
!
) which lost her points in base value and left her in 6th place heading into the FS. Satoko has been so consistent in her FS this season and she continued that streak of consistency here. She was flawless. No under-rotations or edge calls...just clean skating. She didn't earn much in GOE for her jumps (which I actually agree with) but the judges did reward her for her level 4 spins (straight +3s for her layback) and step sequence (+1.20). Unfortunately, what I suspected would happen concerning Satoko did happen with her PCS. She was lowballed relative to the other skaters in the field. I definitely think she had a case for bronze here.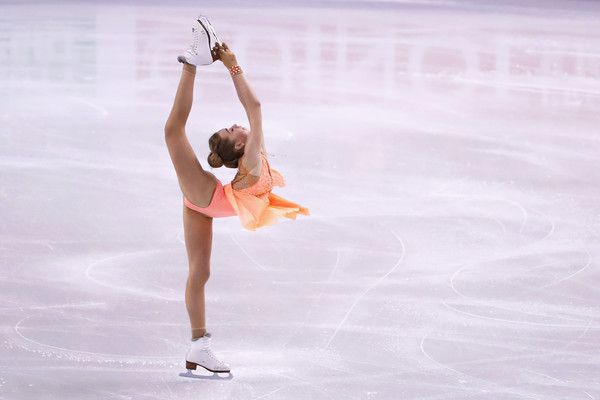 Lots of work to do next year
Elena Radionova (RUS, 209.81; 6th):
Elena's SP was solid but not perfect. Her opening 3Lz-3T was good but she had some trouble on her 3F. She touched down her free leg which cost her an entire point in -GOE. She finished out the rest of the program strongly and went into the FS in 5th place. Let me start by saying I'm horribly disappointed in her FS dress. It was hideous. The best description of this dress was from
@BSeditor
on Twitter who said "this dress is like ombre cotton candy dog barf." She had not
one
, but
two
gorgeous dresses to choose from and she went with that mess. And OMG, WTF with the bedazzled pastel yellow gloves? I just...I can't...
*sigh*
Anyway, tragic costume choice aside, Elena delivered. As usual several of her jumps were landed a bit wonkily but she rotated everything and maxed her levels. The lack of +GOE on her jumps is what prevented her from placing higher.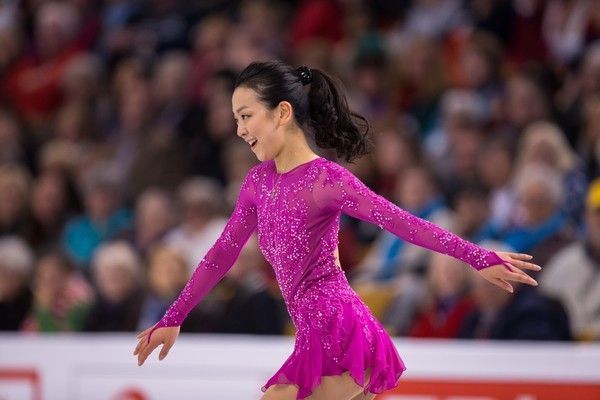 Jumps or no jumps, Mao Asada is still Mao Asada
Mao Asada (JPN, 200.30; 7th):
Mao has been rather off this season and it started that way for her in the SP. She under-rotated and fell out of her 3A(
<
) and then had a rough landing on her 3L. Her spins and steps were tops of course (all level 4s and +GOE) but she lost too much ground technically and finished 9th in the segment. Mao put up a much better fight in the FS but three under-rotated triples plus a doubled lutz with an edge call cost her a lot of points. I thought (as I always do) that Mao was lowballed in PCS relative to the top finishers. I don't doubt this was because Mao skated in the second to last group but it shouldn't matter. With Ashley and Evgenia earning 73+ and 72+ respectively, Mao should have at least hit the 71+ mark instead of 69+. Mao struggled with the jumps here as she has all season, but her performances in both programs were outstanding and gorgeous as usual. It will be interesting to see what Mao's future plans are for skating...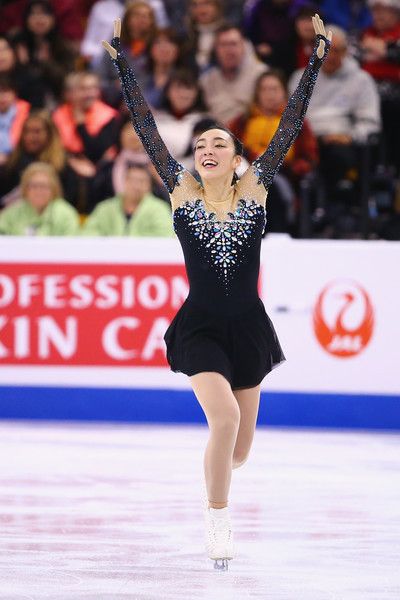 Nice rebound to end the season
Rika Hongo (JPN, 199.15; 8th):
Rika tweaked and rearranged the jump elements in her SP and it worked out very well for her. She started off her program with a big 3F (+1.00) instead of her usual 3F-3T. She moved her combo to the bonus half of the program and went for an easier 3T-3T (+1.20) which was very smart considering her 3F-3T combo often gets hit with under-rotation calls. The rest of Rika's program was dynamic and entertaining and helped to earn her a personal best SP score (69.89) and a 7th place finish. Rika's FS was solid and entertaining as well. She lost points on her 3F-3T(
<
) as well as points on her final 2A-2T(
<
<
) but overall she was great. Rika posted her personal best total score and finished 8th. She should be happy with the way she delivered at this event.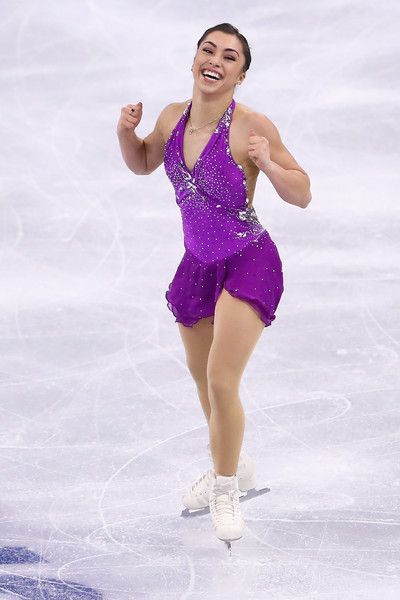 Awesome time to be awesome
Gabrielle Daleman (CAN, 195.68; 9th):
Gabrielle was excellent in the SP. She's always had such big and explosive jumps but control has been her issue. Luckily she was totally in control in the SP. She opened with a huge 3T-3T (+1.30) and followed it up with a solid 3Lz and 2A in the bonus. I really like this SP for Gabrielle and she did a great job of performing to the crowd and getting them into it. She posted a personal best SP score (67.38) and went into the FS in 8th place. The FS was the best she's ever done. Aside from a few scratchy landings and one ding on her 3F(
!
), she was clean. Gabrielle posted her best ever FS score and total score and finished a very strong 9th overall.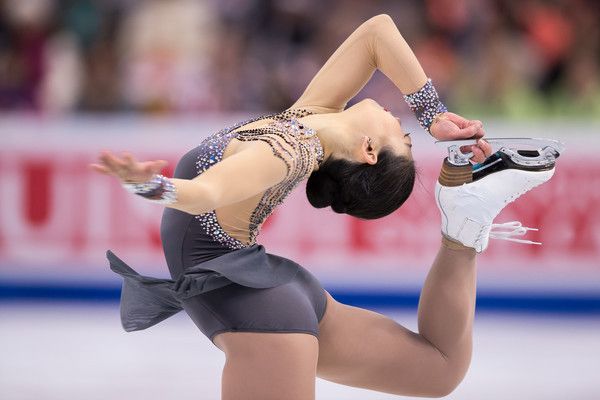 Excellent way to cap off the season
Mirai Nagasu (USA, 186.65; 10th):
Mirai's SP was good. She under-rotated her 3F-3T(
<
) but everything else was clean and the crowd went absolutely bananas for her. Mirai finished the SP in 10th place. Her FS was very strong though she did lose points on two under-rotations (3Lz and 3L). Interestingly enough Mirai hit her big elements (3F-3T-2T and 2A-3T) cleanly which definitely bodes well for her next season. She finished 11th in the FS but 10th overall. I'm very proud of the way Mirai rose to the call and turned in two very respectable skates at this event. I hope this gives her confidence to go out and kill it next season.
Other notes:
Zijun Li (CHN)
skated a beautiful SP and earned 65.39. She turned in a strong FS as well (119.13) and finished in 11th place with a personal best total score (184.52)...
Elizabet Turzynbaeva (KAZ)
turned in two strong performances and finished 12th (183.62)...
Mae Berenice Meite (FRA)
and
Joshi Helgesson (SWE)
both failed to make it to the FS...
Alaine Chartrand (CAN)
finished a disappointing 17th...
So Youn Park (KOR)
finished in 18th place.
I must say this was an incredibly well-skated event. For someone to score 200 points and only be in 7th place does say a lot about how the event was skated...or does it say more about how it was judged? Hmmm... I suppose that's a discussion for another time. Congrats to all of the medalists, especially Ashley Wagner. Hey, I'm American...I grew up during the Golden Era of skating when Michelle Kwan was on every single World podium for 9 years straight. Going this long without a World medal has been depressing, so to see Ashley finally get us over that hump is something I'm very proud of.
There's only one event left this season. It's a bit of a cheesefest but I'm game for it. The inaugural
Team Challenge Cup
will take place
April 22-24
. Once that is over I'll post my E
nd of Season Rankings
and start getting things together for my
We'll Be the Judge of That
project. Given the way this event turned out, I don't doubt people may want to judge this event as well. More on all of that coming soon...Ta for now!