At last, I've reached the final stop on my flashback tour: Rostelecom Cup or Cup of Russia...I'm still shocked I stuck with this and did a review for all of the events!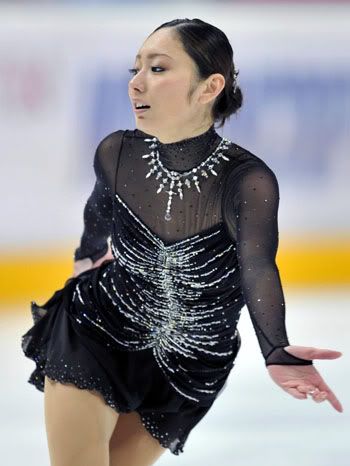 Miki won...I seriously couldn't find a podium picture
The 2011 Rostelecom Cup will be the final event in the senior Grand Prix series. It will take place November 25-27 in Moscow, Russia. For the last time, as per
Wiki
: Cup of Russia was held for the first time in 1996. In 2009 the event was named after its title sponsor (Rostelecom), though most people/fans still refer to it as Cup of Russia. From 1966-1990, the event was held as the Prize of Moscow News (catchy title, huh?). And the last tidbit of info, the event location alternates between Saint Petersburg and Moscow randomly.
The event has a somewhat short history compared to others, but it does have a handful of notable title holders: Irina Slutskaya, Sarah Meier, Yu-Na Kim, Carolina Kostner and Miki Ando...no, that isn't many but other notables have medaled such as Elena Sokolova, Sasha Cohen, Shizuka Arakawa, Joannie Rochette, Yoshie Onda and Yukari Nakano.
Some memorable performances:
2002: Sasha Cohen, Free Skate
Throughout her career Sasha was notorious for blowing opportunities to win gold. This is one case where she put forth a solid effort and just came up a little short. After a strong SP, Sasha entered the FS in second place behind Irina Slutskaya. This was one of the few times she was able to maintain her composure and deliver a good FS with only a few wonky landings but no
kersplats
. Her gorgeous extension and lovely artistry helped secure good marks; however, out of nowhere, Viktoria Volchkova of Russia managed to have a phenomenal FS and pull herself from third to first place, leaving Sasha in second and dropping Irina to third. Still, this was a great performance for Sasha. She left with a silver medal, her first and only medal from Cup of Russia.
2005: Irina Slutskaya, Free Skate
I'm not a fan of Irina's skating, but I really love her as a person. I respected and admired her competitiveness and her love for the sport. Irina went through some really tough times in 2003 and 2004; first her mother's sickness and then her own, which took her away from the sport. But 2005 was Irina's comeback year, and boy did she! She won every single event she entered that year. This performance wasn't perfect (a number of pitchy landings) but she did include a 3s-3lp-2t combo and a ton of energy to boot. Irina finished with a personal best score and earned the last of her
seven
Cup of Russia titles.
2007: Yu-Na Kim, Free Skate
This performance of "Miss Saigon" is amazing. Yu-Na came into the FS securely in first place and followed it up with this record-breaking performance. She was nearly perfect in this performance with only a slightly tilted landing on her 3lz. Her big 3f-3t, easy looking 2a-3t, high levels on her spins, ridiculous speed, and not to mention the visible improvement to her overall presentation all added up to a massive score of 197.20, nearly 25 points ahead of second place Joannie Rochette. Yet another landslide victory Yu-Na who won her first and only Cup of Russia crown (so far).
2007: Yukari Nakano, Short Program
Chopin's
Fantaisie-Impromptu
usually steers my mind directly toward Mao Asada's FS from 2008...but Yukari's version is so lovely, I don't find myself thinking about Mao in the middle of it. This performance was great: clean jumps, wonderfully delivered choreography and gorgeous (and totally underrated) spins. The speed, the centering, the multiple positions and the cleanliness of it all is so refreshing. So often you see spins that are crammed full of ugly positions, all in an effort to gain a level--but not Yukari. She was able to achieve multiple
quality
positions in her spins without looking fugly, losing speed or traveling all over the place. This performance placed Yukari second in the SP and she finished second overall, earning her first and only Cup of Russia medal.
2010: Miki Ando, Free Skate
Say what you will about Miki and her artistic ineptitude, but the point is she and Morosov laughed all the way to the top of the podium last year with this FS. This performance in particular stands out in my mind because of Miki's condition. She skates this program with her back covered in what looks like those Icy-Hot patches and, to be honest, given her fifth place finish after the SP and the reports about the pain from the injury, I expected a total splatfest from her. I was shocked to see her come out and deliver such a strong program (in terms of jumps, of course). Her only mistake was switching the 3t on the back end of her 2a-3t to a double, but you can't even really call that a
mistake
. Miki ended up placing first in the FS and leapfrogged from fifth to first overall, edging out Akiko Suzuki by less than 2 points to win her second consecutive Cup of Russia crown (so far).
2010: Akiko Suzuki, Short Program
I just love Akiko! This program is one of many that give me happy piddles to watch. I love the choreography, the expression and the connection to the music. I love the accent she hits, right with the music, in her camel spin...it's the attention to the little details that really makes me appreciate this girl. The footwork was
fantabulous
and I love the ending. An edge call on her lutz kept her from scoring higher, but Akiko placed first with this SP and followed it up with a solid FS to place second overall, earning her a silver medal--her first at Cup of Russia.
This year's top competitors at Rostelecom Cup/Cup of Russia will be Mao Asada, Alena Leonova, Kiira Korpi, Rachael Flatt, Adelina Sotnikova, Agnes Zawadski and Christina Gao. Also competing will be Amelie Lacoste, Haruka Imai and Sofia Biryukova.
Well that's it, I've covered all six Grand Prix events. I'm really excited for this season to begin. Skate America in two weeks! WHOO!