Okay, so...yeah. This was not what I expected at all but I can't say I'm disappointed.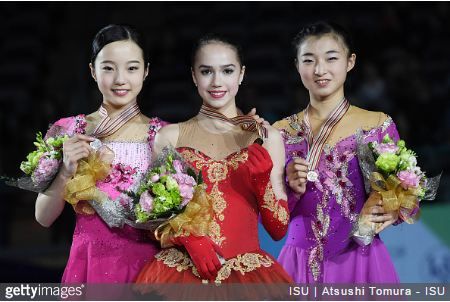 Not the podium I was expecting but yay!
The final results: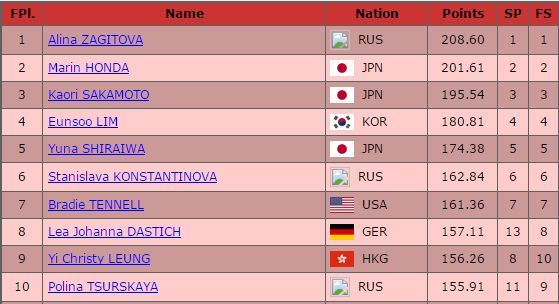 Alina Zagitova (RUS): 70.58 (SP) + 138.02 (FS) = 208.60 - 1st
To be fair this wasn't a cake walk for Alina. The top skaters put pressure on her to perform and, to her credit, she delivered. I am not a fan of Alina's obvious point whoring (tanos, rippons, unabashed backloading) but I have to take my hat off and applaud her amazing stamina and focus. The gauntlet of jumps she runs through one after the other at the end of her FS is something most skaters probably can't do. I hate that the overall aesthetic is sacrificed to make way for more points but
c'est la vie
in the world of IJS. Alina won both segments of the program and walked away with the title.
Marin Honda (JPN): 68.35 (SP) + 133.26 (FS) = 201.61 - 2nd
Marin definitely saved her best for last this competition. Based on what we'd seen from Marin this season I figured she had a shot at a top 4 finish, maybe bronze. What I did not expect was for her to come out fighting like hell to keep her title but that's exactly what she did. Marin's SP was delightful and her FS was absolutely gorgeous. The skating purist in me is furious that she did not win because her overall skating was superior to Alina's in my opinion. In addition to great technical content she had the maturity, polish and elegance that Alina lacked. Marin did edge Alina out in PCS in both segments but not by as much as she should have as far as I'm concerned. In the end Alina's advantage in TES was too much for Marin to match and she had to settle for silver.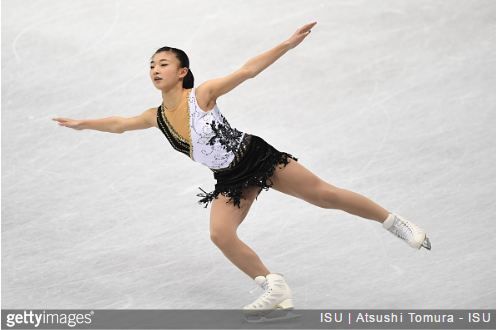 Couldn't find video :(
Kaori Sakamoto (JPN): 67.78 (SP) + 127.76 (FS) = 195.54 - 3rd
I did not expect to see Kaori on the podium here. With the strong contingent of Russian skaters at this event I figured she would end up in the top 5 or 6, but I didn't think she had a shot at the podium. Glad to see she proved me wrong! Like the other top two Kaori threw down in both programs. She lacks the PCS advantage needed to compete with Marin or Alina but she was able to keep pace with them both in TES which is her bread and butter for now. Congrats to Kaori on her bronze medal!
As for the rest...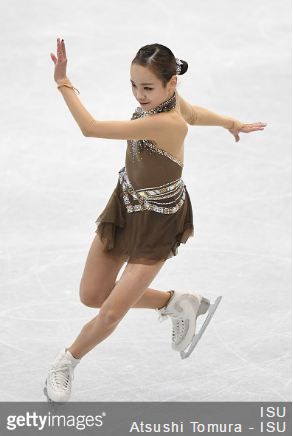 Way to go!
Eunsoo Lim (KOR; 180.81, 4th): I was so happy to see Eunsoo have two strong performances here. I've been watching her all season long and I felt that this competition was her chance at putting herself on the judges' radar. Mission accomplished. She did have a fall on her lutz in the FS but it didn't disrupt the overall flow of the program. She placed 4th in both segments and 4th overall. Very proud of her!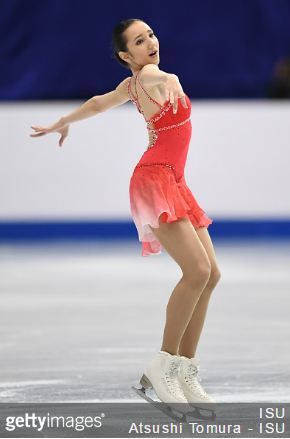 I did not expect that...
Polina Tsurskaya (RUS; 155.91, 10th): Geez, what happened? I'm thinking maybe she's still injured or something because Polina was expected to be battling for gold here. Shin Amano (the technical caller) went in on her in the SP calling under-rotations on all three of her triples. That left Polina down in 11th place after the SP. Her FS wasn't a disaster but an under-rotation and several doubled and singled jumps killed her score and prevented her from moving up. She finished a very disappointing 10th. I'm a big fan of Polina's skating so it was sad to see her finish so low here. I really hope she's able to rebound and come back stronger next season.
Other Competition Notes: Yuna Shiraiwa (JPN; 174.38, 5th) turned in strong performances placing 5th in both segments and 5th overall...Stanislava Konstantinova (RUS; 162.84, 6th) was expected to challenge for the podium here but couldn't really seem to get her feet under her in either program...The Americans Bradie Tennell (161.36) and Starr Andrews (149.05) finished 7th and 12th respectively.
That's it for the juniors for this 2016-2017 season. Congrats to the medalists! Major props to the top 3 for skating so well through both segments of the competition. Can't wait to see how many of these juniors make the jump to seniors next year. Anyhoo, now on to the main event: the 2017 World Championships. The competition is right around the corner. Check back soon for my preview for the senior women!