The junior season is SO long! It started way back in August of 2016 and will finally wrap up at the Junior World Championships which will take place in Taipei City on March 15-19. As usual the major battle for the podium will be between Russia and Japan but there are a few others who could shake things up.
Alina Zagitova, Polina Tsurskaya, Stanislava Konstantinova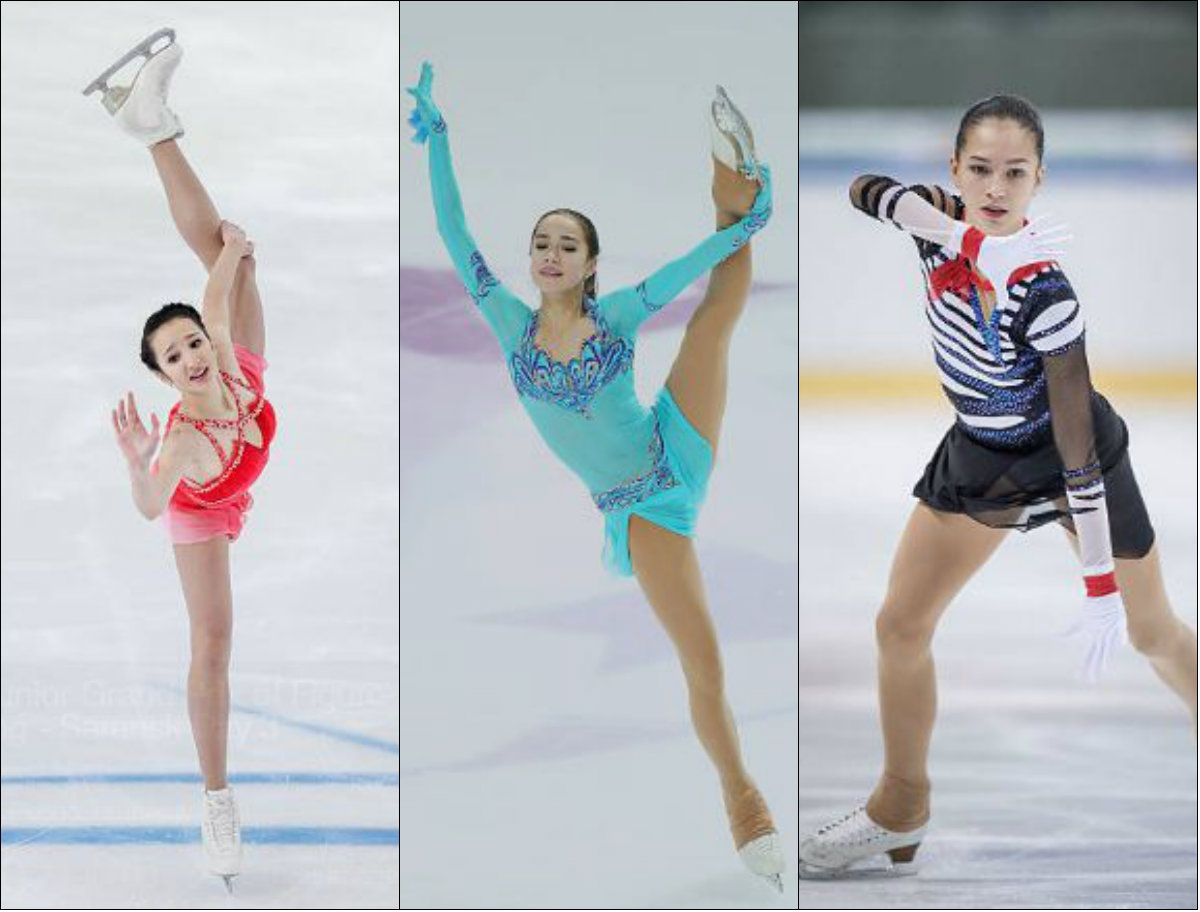 L to R: Tsurskaya, Zagitova, Konstantinova
Alina Zagitova:
Alina has been on a roll since the Final. She finished a surprising 2nd at senior nationals and won junior nationals. She's coming into this event as a favorite but not the only favorite. Alina's backloaded programs and difficult content give her a leg up over the others, but with a number of strong competitors in the field she can't afford to back down if she wants to win.
Polina Tsurskaya:
Polina missed the Final and senior nationals due to injury but was able to compete at junior nationals where she placed 3rd. Despite being out for a few competitions Polina is still a favorite to win but she'll need to bring it. When she's on she has the ability to pull down some very big scores and she'll need every point she can get against Alina.
Stanislava Konstantinova:
Stanislava wasn't on the radar as much during the JGP season, finishing 3rd and 4th at her events. However she made a splash at senior nationals where she placed a solid 6th and then finished a strong 2nd at junior nationals. Stanislava has great content and can put pressure on Alina and Polina if she's able to deliver.
Marin Honda:
Marin is coming in as the defending champion which will carry its own amount of pressure and expectation. Most people aren't expecting Marin to defend her title thanks to the strong contingent of Russians competing this year. However, if she nails it Marin can land on the podium but she will have to stay focused and skate cleanly to maximize her chances.
Kaori Sakamoto:
Kaori backed up her bronze medal at the Final with a gold medal at junior nationals. Unfortunately she had some issues at senior nationals and placed a disappointing 7th overall. Kaori lags behind some of the other competitors in terms of her PCS; however, she has big explosive jumps and can definitely pad her TES with good GOE if she can deliver.
Yuna Shiraiwa:
Yuna placed 2nd at junior nationals and 6th at senior nationals. Yuna has been hanging around the junior scene for a while and has managed to have a few breakthrough performances. She's not a front-runner at this competition but solid performances from her should earn her good scores that will keep her in the top 10.
Eunsoo Lim:
Eunsoo had a solid run on the JGP last season finishing 3rd and 4th at her events. She delivered wonderful performances at nationals and earned her first title. Eunsoo is not on the radar as a medal favorite for this event which she can definitely work to her advantage. Without the pressure on her she can focus on skating cleanly. Strong performances should land her in the top 6.
So Hyun An:
I'm not too familiar with So Hyun An. She's in as a replacement for national silver medalist Ye Lim Kim who withdrew from the event. So Hyun competed on the JGP in 2015 where she placed 5th and 8th, but was only 7th overall at nationals this year. With others ineligible to compete, she is the first alternate. I'm not expecting much from her but maybe she'll surprise us...
Bradie Tennell:
Bradie placed 9th at senior nationals but was selected to compete at this event. Unfortunately she hasn't had much time in front of the international judges this season so they won't really know what to expect from her. Making a good impression in the SP and backing it up with strong skating in the FS will be the key to placing well.
Starr Andrews:
Starr will be replacing Amber Glenn who withdrew from the competition. Starr has been around on the national level for several years, but this will be her first big international event. She doesn't have the difficult content of some of the other competitors but she has 3-3s, strong spins and a good on ice presence. Strong performances here could set her up for a JGP event next season.
This should be a pretty good event. I'm hoping to see the Korean and American girls turn in some strong performances and I'm expecting the Russian and Japanese girls to battle for those top spots. The SP will take place on Friday March 17th. I'm hoping to stay up late Thursday night to watch and tweet live (
@NakedIceBlog
). Hopefully I can stay awake long enough to see the main competitors!