This World Championships carried a lot of weight, not only for the participants this year but for those who hope to make the trip to Pyeongchang next year. With the winner of the event pretty much a given coming in, the focus was on who would step up to round out the rest of the standings. Needless to say there were some surprises, both good and bad.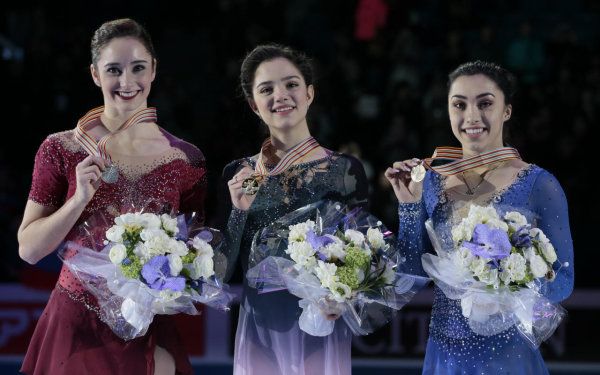 Evgenia goes back-to-back and the Canadians make history
Final results: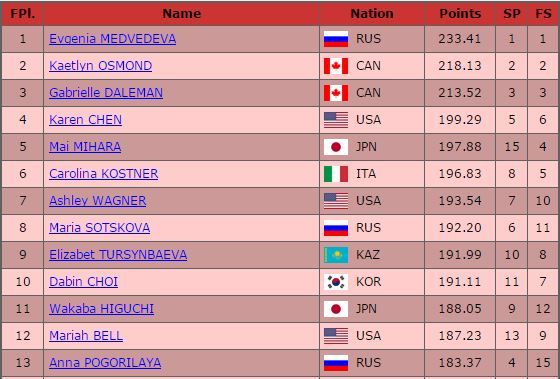 Evgenia Medvedeva (RUS): 79.01 (SP) + 154.40 (FS) = 233.41 - 1st
No one came into this event doubting that Evgenia Medvedeva would walk away with her second consecutive World title. It was just a matter of how much she would beat the rest of the field by and how many records she'd break...
Evgenia's SP was its usual perfection. Nothing new to report really. She earned +GOE on every single element, including her 3F-3T (+1.80) which had not only a tano variation on the 3F but also a Rippon variation on the 3T. She earned +1.40 on her 3L and +1.00 on her 2A. With the exception of her flying camel spin which earned +0.93, everything she did earned at least one full point in +GOE. All of her non-jump elements were level 4 and nicely done and, as expected, she received the highest PCS of the field. I do think the PCS gap was far too large and completely unwarranted. Evgenia's PCS was 2.16 points higher than 2nd place finisher (both in the segment and in PCS) Kaetlyn Osmond. At most Evgenia should have been about a point ahead of Osmond in PCS. I take nothing away from her in TES because she is a beast; but in terms of PCS, those scores were ridiculously inflated.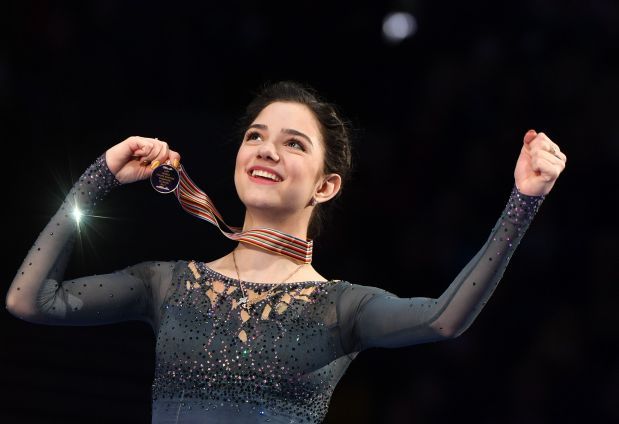 2016-2017 Season: Undefeated
Again, it was more of the same in the FS for Evgenia. All of the jumps were clean and easy and earned +GOE, all of the non-jump elements were level 4 and well-executed...just another day at the office. She smashed the world record to pieces, both in the FS and the total overall score. Once again I felt the gap in PCS was a bit ridiculous. Evgenia has been performing the same way all season long which stands to reason that, for the most part, her scores should be very similar. However, her PCS skyrocketed to 76+ at this event which is just all kinds of ridiculous in my opinion, but whatever. She nailed her program just like she has been all year and I agree with her win so I suppose it's okay for now. Evgenia won the event by more than 15 points and became the first woman to win back-to-back World titles since Michelle Kwan did it back in 2000 and 2001.
Evgenia was undefeated this season. She's untouchable. There are a few newbies who will be entering the senior level next season who might make a splash, but they won't be able to compete in that all important second mark. Essentially the only person who can defeat Evgenia Medvedeva is Evgenia Medvedeva.
Kaetlyn Osmond (CAN): 75.98 (SP) + 142.15 (FS) = 218.13 - 2nd
Kaetlyn has been the biggest wildcard of the season. When she's
on
she's the only person who can come close to being within reach of Evgenia; but when she's bad, she's
scary
bad. The question was which Kaetlyn would show up in Helsinki.
It was imperative for Kaetlyn to nail her SP if she had any hope of finishing well in this event and that's exactly what she did. She was perfect: every jump was big and secure, the spins were great, the expression and performance was there...she knocked it out of the park. All of her elements earned at least one point in +GOE; even Evgenia didn't manage that. What was more impressive was that despite completing her combo and solo jump before the halfway mark and using no tano or Rippon features, Kaetlyn's TES was only 0.87 points less than Evgenia's. That's proof that if she were to start delivering consistently, her scores would go up and Kaetlyn could match if not beat Evgenia. The performance scored her a personal best and sent her into the FS in 2nd place.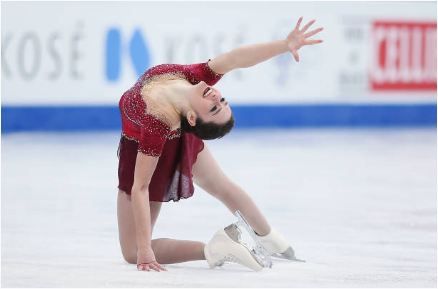 Finally!
Kaetlyn has managed to get through the SP without issue several times this season. The real test has always been maintaining her focus throughout the FS where there are more jumps and the pressure is on. With Kaetlyn skating last in the competition and a medal up for grabs, I didn't know what to expect. She opened up with a big 3F-3T (+1.40). After a shaky landing on her 2A-3T (-0.10) I braced myself for an implosion, but she refocused and landed a huge 3Lz (+1.60). All season long the jump Kaetlyn usually misses is the 3L right after the halfway mark. She backed off a bit, doing a 2L instead and again I thought she was about to lose it...and again she came right back and nailed her next jump and the remaining jumps after that. It was the best performance she'd given all year at the absolute most perfect time. Kaetlyn earned another personal best FS and walked away the silver medal.
I predicted earlier in the season that if Kaetlyn got herself together she'd make the podium at Worlds. I love being right! It was so wonderful to see her finally put it together and live up to her potential. I'm so happy for her!
Gabrielle Daleman (CAN): 72.19 (SP) + 141.33 (FS) = 213.52 - 3rd
Gabrielle has been skating so well all season long but it's always come down to a little error here or there that's ended up costing her a better placement. She came into this competition with top 5 potential but I don't know if anyone had her pegged for the podium.
Gabby was rock solid in the SP. She opened with her monster 3T-3T which earned perfect +GOE (+2.10). When she gets that kind of GOE it's as if she did a decently executed 3Lz-3T instead which really helps to boost her score. Her 3Lz was tight but still good (+0.60) and the rest of her elements were strong and gained +GOE as well. In addition to her speed and power, Gabby has improved her overall performance this year. The confidence is there now and it makes a big difference in how her programs come across on the ice. Gabby placed a strong 3rd heading into the FS.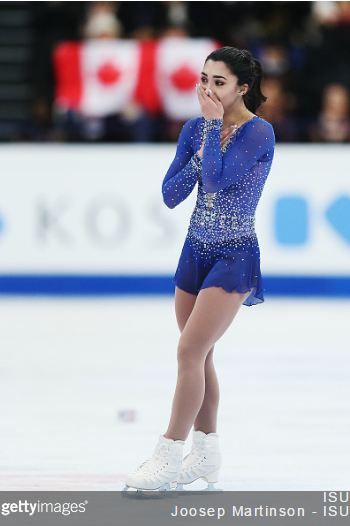 When it all comes together
Gabby skated second to last right after Evgenia Medvedeva's record breaking performance. By this time all of the skaters who were expected to make a push for the podium had failed to deliver which meant a medal was there for the taking...all Gabby had to do was deliver a strong skate. Rather than a strong skate, Gabby delivered the
best
FS she's had all season. She opened with her perfect signature 3T-3T (+2.10) and followed it up with a huge 3Lz (+1.40) and a huge 3F (+1.40). One of the things that makes both Gabby and Kaetlyn so deadly is the speed and power of their jumps; they are massive and that gets them so much +GOE when they skate well. Gabby's only mistake was a small stumble out of her 3S-2A sequence (-0.60) but the damage was minimal and didn't even matter in the end. Gabby scored a personal best FS and overall score and walked away with the bronze medal.
I've been a fan of Gabby's since back in her junior days. It's been amazing watching her grow year after year and finally reach this point. Together she and Kaetlyn made history: this is the first time two Canadian women have stood on a podium at Worlds. They have also earned Canada three spots at next year's Olympics. This World medal should give Gabby all of the confidence and push she needs heading into next season. I'm so proud of her!
As for the rest...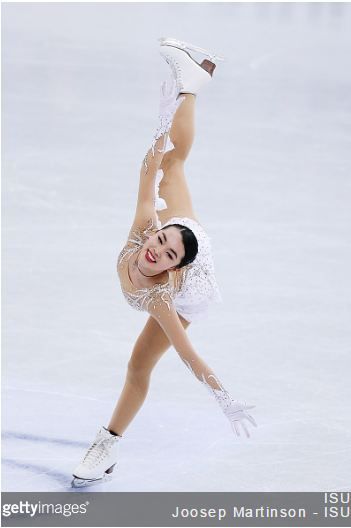 There's the US champ we wanted to see!
Karen Chen (USA; 199.29, 4th):
If ever there was a nail biting moment, it was watching Karen in the SP. I know how amazing she can be but I also know that she can implode. Luckily "Awesome Karen" showed up. Karen was fabulous in the SP. The jumps were solid, the spins were great and we saw that brilliance she showed at nationals this year. She finished a strong 5th in the SP. The pressure was on in the FS. Ashley hadn't had the best performance so the task of securing the best placement fell to Karen. To her credit she delivered like a champ and got the job done. The first half of the program was solid though she did have a fall on her 3Lz(<) and stumbled out of her 2A. Overall though it was the best international performance she's had all season. I don't think anyone thought Karen was capable of placing 4th here but I'm so happy to see her do. Thanks in large part to Karen the U.S. will send three women to Pyeongchang next year.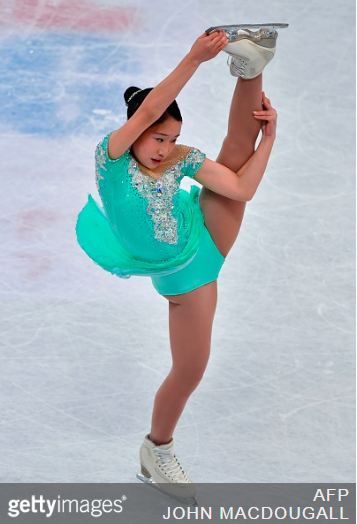 Talk about redemption!
Mai Mihara (JPN; 197.88, 5th):
With Satoko out Mai was the go-to girl for Japan. She started off really well in the SP with her 3Lz-3T combo (+1.10) and her spins and steps. Mai saves her 3F for the very end of her program and unfortunately she blanked on it. She doubled the flip and then fell which hurt her doubly: she earned no points for the jump and lost a point for the fall. That critical error left Mai in 15th place after the SP. Mai's FS has been solid all season long and thankfully she was able to replicate that here. She was flawless. I love the softness of Mai's style when she skates and though she needs work when it comes to really
performing
, her overall skating was excellent. She ended up placing 4th in the FS which leapfrogged her from 15th all the way to 5th overall. Unfortunately Mai's teammates did not place well enough to retain their three spots. Japan will only send two skaters to Pyeongchang next year.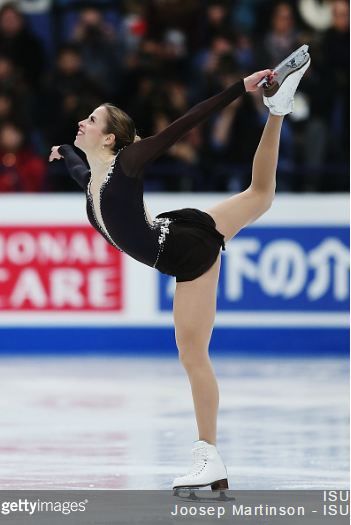 Still sublimely gorgeous
Carolina Kostner (ITA; 196.83, 6th):
Carolina's SP was pretty rough. Her 3T-3T combo was solid (+1.30) but she ran into trouble on her 3F and one of her spins. It wasn't her best performance but it was enough to keep her close enough to the pack to make a run at the top 5. The FS was better for Carolina but not perfect. She didn't have any major errors but she singled a 3L and doubled a 3S which lost her a lot of points. In the end she only did 5 triple jumps but, as always, the quality of the skating was amazing. She's still got that Kostner magic. Carolina placed 5th in the FS which was enough to move her up from 8th place to finish 6th overall. I'm so happy to have her back!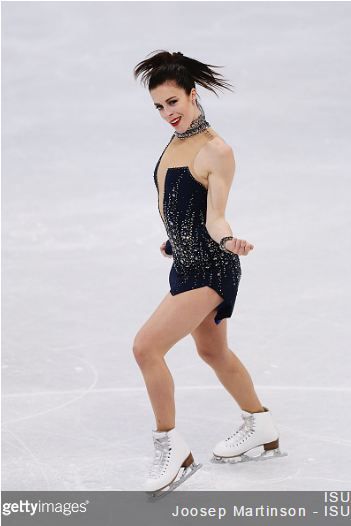 Not the best but we've still got 3 spots!
Ashley Wagner (ITA; 193.54, 7th):
Ashley started off really well in the SP. She hit all of her jumps without issue and maxed the levels on all of her spins. It was a solid performance and scored well, though not as well as expected. She finished the SP in 7th place but only 3.15 points out of 3rd. The FS did not go well for Ashley. She has been struggling on the technical side all season long and her struggles continued here. Ashley singled the toe in her 3F combo, under-rotated two triples and lost points on an edge call. Her TES took a major hit and her PCS went down as well. In the end Ashley finished 10th in the FS which left her 7th overall. Even though most expected more from Ashley, what she did combined with Karen's placement was enough to hang on to those three spots so mission accomplished.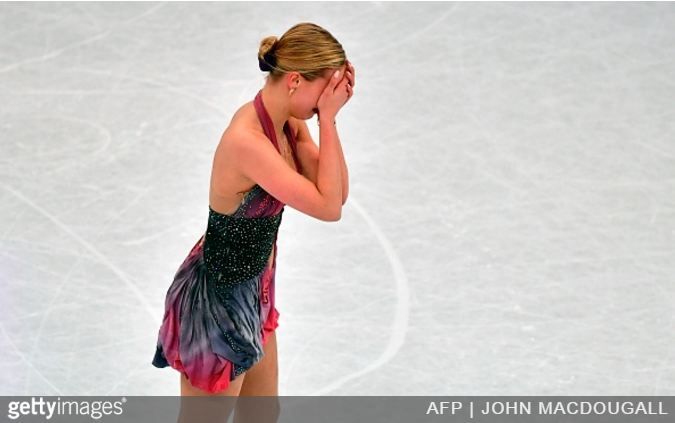 #heartbreaking
Anna Pogorilaya (RUS; 183.37, 13th):
This was the biggest shock of the competition for me. Anna started off well in the SP. She was clean but her jumps were a bit tight which affected her GOE. She went into the FS in 4th place but less than a point out of 3rd. All season long Anna has looked focused but still relaxed and calm before taking the ice. When the announcer called her name for the warm-up Anna looked extremely tense and that look carried over into her FS. I don't know what happen but Anna imploded majorly here. She popped her opening combo, fell on her 3F, tried to make up the lutz combo but fell on it too, had a bad landing on one 3L and fell on the other. It was a disaster. At the end Anna dissolved into tears. It was devastating to watch. She's been so amazing all season so to see her cave under the pressure was so heartbreaking In the K&C she put on a brave face and tried to smile through the tears. Anna finished 15th in the FS which dropped her to 13th overall. I really
really
hope she can shake off this performance and come back strong next season.
Other Competition Notes:
Maria Sotskova (RUS; 192.20, 8th)
started off really well in the SP and was positioned to make a run at the podium but she ran into quite a few problems in the FS which dropped her in the standings...
Elizabet Turzynbaeva (KAZ; 191.99, 9th)
was clean in both programs but her mother is the one who stole the show in the K&C. She was so giddy and excited. It was cute and funny but probably really embarrassing for Elizabet...
Dabin Choi (KOR; 191.11, 10th)
was clean in both programs as well. She has great jumps and spins; if she can add some performance magic she'd be a threat...
Wakaba Higuchi (JPN; 188.05, 11th)
did decently in the SP but had issues in the FS. She wasn't able to help Mai retain that 3rd spot...
Mariah Bell (USA; 187.23, 12th)
struggled a bit in the SP but came back with a solid FS. It was a solid albeit not competitive outing for her...
Rika Hongo (JPN; 169.83, 16th)
gave her all in the SP and tried her best in the FS but the under-rotation issues killed her.
Overall it was a pretty good event. I think what made it so interesting were all of the dramatic twists and turns that I didn't see coming: I knew Kaetlyn could make the podium but I didn't expect to see her deliver so well; I figured Gabby had a shot at a top 5 finish but I was pleasantly surprised to see her on the podium; I can admit I did not expect to see Karen finish anywhere near the top 5, let alone 4th; I expected a solid placement for Mai, I just didn't think her path to it would be so dramatic; I expected to see Ashley be the top American finisher; and I figured both Anna and Maria would be fighting for a spot on the podium. Just goes to show that the ice is indeed slippery. Congrats to the medalists and for all who didn't perform their best, dust it off and keep moving forward. You're still awesome!
The last event of the season will be the
World Team Trophy
which will take place in Toyko, Japan on
April 20-23
. This event doesn't really count for anything but it will fun (Japan has the best figure skating fans in the world) and it will give us one last look at our favorite skaters before the off season. Laters!