As expected, we saw some pretty good skating at Skate Canada...of course, the competition was not without its disappointments and trainwrecks.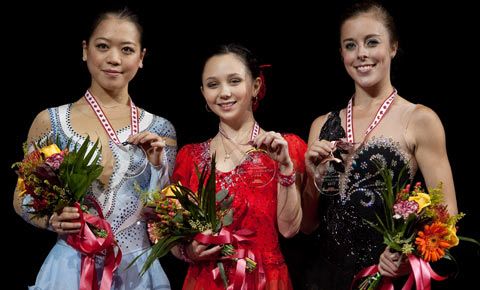 The Russian domination begins...
The final standings for Skate Canada: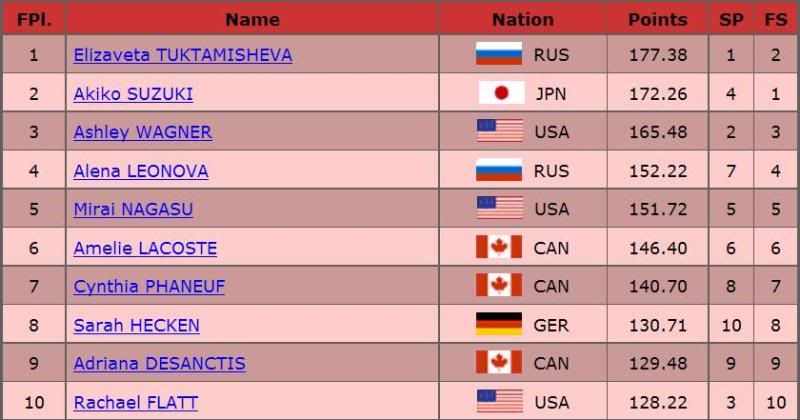 Elizaveta Tuktamysheva (RUS): 59.57 (SP) + 117.81 (FS) = 177.38 (1st)
Am I surprised? Just a tad but not much. I knew Elizaveta would do well here but I was still a bit unclear whether she'd hold up under the pressure. The pint-sized Russian diva soared through the SP with no problem, landing her 3lz-3t combo as well as a tano-3lp and tano-2a. I didn't expect her 59.57 to place first in the segment; not only was I wrong, that score helped her sashay her way into the FS with a five point lead. I worried if she would hold up under the pressure of being first and skating last...I needn't have. She nailed her FS without error, placed second in the segment and walked away with her first GP gold.
I'm growing to like Elizaveta more and more. I respect her wonderful technique (there's a shortage of that in ladies skating) and I really appreciate how she breathes life into her programs. She never looks like she's just going through the motions--she has fun and that's awesome to see. However, Elizaveta needs to continue to work on her spins, posture and lines, and it wouldn't kill her to get some better jump distribution in her programs. I notice that Adelina Sotnikova and several of the other Russian newbies have the same problem: they front-load the hell outta their programs. Elizaveta does both of her lutzes, her flip and (what would have been) a 2a-3t combo back-to-back-to-back-to-back, leaving only two triples (salchow and loop) in the second/bonus half of the program. It's easier to get the harder jumps done all at the same time, but it leaves the program very lopsided...not to mention it's just plain stupid in terms of maximizing a score under this system.
I'm very proud of Elizaveta and what she accomplished in her debut. It's refreshing to see a skater not crumble, but rise to the occasion and perform well...the Russian domination has begun!
Akiko Suzuki (JPN): 52.82 (SP) + 119.44 (FS) = 172.26 (2nd)
Finally. Finally,
finally, finally
...
Finally
, the judges are giving Akiko her due and it's about damn time. She had two solid performances here and was finally rewarded for her superior performance, choreographic and interpretive abilities. Akiko started off a bit rough in the SP. It looked like she may have been going for a 3-3, but bailed on the second jump which earned her eight out of nine -3 GOEs. She suffered an edge call on her lutz before finishing strong and earning very good GOEs on her final two spins and her footwork. She finished the SP in fourth place, but less than two points out of second.
Akiko took charge of her FS and delivered a solid program full of speed, wonderful choreography and good jumps. She had a few bobbles here and there, but that's to be expected this early in the season. Her Die Fledermaus FS is nothing short of delightful. It's a departure for Akiko, who usually skates to Broadway music, but it works so well for her. She nailed seven (yes,
seven
) triples and earned a level 4 for her step sequence. Her score of 119.44 was very close to matching her personal best (120.42 at the Vancouver Olympics) and placed her first in the segment and second overall.
It's interesting to note that Akiko earned the highest PCS in both segments of the competition which let's me know the judges are finally taking notice of her. She's a wonderful performer and she brings so much to her skating. I'm so happy for her!
Ashley Wagner (USA): 54.50 (SP) + 110.98 (FS) = 165.48 (3rd)
Ashley appeared to be the only American who showed up ready to skate at this competition. I have a feeling that Ashley is going to have a very solid season and, so far, she's started off well. I find it interesting when you can visibly see a coach's influence on a skater...and John Nicks' stamp is all over Ashley. There's an elegance and refinement to her movements that I've never seen before. Ashley's skating used to irk me because she always looked as if she'd swallowed half a bottle of caffeine pills and chugged three Red Bulls before she took the ice...her insane amount of frantic energy made it impossible for me to enjoy her skating. I'm glad to see that is gone. She's much calmer and smoother and takes her time, which makes her performances much more enjoyable.
Ashley had a strong SP and placed second in the segment before taking the ice for her "Black Swan" program. I would like to see the much darker side of the "Black Swan" motif, but the program is very nice and I like it. The spiral was particularly lovely, very well-choreographed to the music (credit to Philip Mills). Ashley had a few issues, namely a fall on her second 3lz; however, it didn't disrupt the program and, most importantly, she didn't let the program go to crap after the mistake. It was a strong debut and placed her third in the FS and third overall for a bronze medal. I think as she grows into this program it can become a real signature piece for her. Ashley still needs to work on her lutz (she got calls on each one she did here) but her double-footing has seen a steep drop off, which is great.
As I said before, I think Ashley is the American lady with the most to prove coming into this season and it's good to see her come out and give two solid performances. I really think her drive is going to be what takes her far this season. So far, she's looking like a strong contender.
As for the disappointments and train wrecks...
Mirai Nagasu (USA): 52.73 (SP) + 98.99 (FS) = 151.72 (5th)
*Sigh* I'm so ready to give up...I just can't hold out any longer for this girl. I want Mirai to be that amazing skater who can dazzle the audience and light up the arena, but I'm beginning to realize that may just be wishful thinking. Mirai had two very disappointing performances here, starting off with her SP. She fell on her 3lz combo and, as per usual, she allowed that to suck the life out of the remainder of the program. She went into the FS in fifth place, which made me slightly hopeful. Mirai rarely skates well when she's leading; but she's had a number of excellent performances when she's coming from behind. Also despite her fall, she was less than two points out of second place. If she had a decent skate, she could medal...alas, no.
Mirai didn't make any major mistakes, just an edge call/UR call on one lutz and then a freak accident with her layback spin...
again
. No, the reason this program scored so poorly was because of...well, the program. It flat out sucks. I thought her "Memoirs of a Geisha" program from last year was a stinker, but "Spartacus" is just a fat steaming turd. The music edit is terrible and the choreography is worse. I don't understand why Mirai keeps going to Lori for her programs. There are dozens of better choreographers out there and it's not like Lori is coming up with anything fresh, new, original or even good when it comes to Mirai. Lori hasn't completely lost her touch; just look at her programs for Mao Asada and Carolina Kostner...they're wonderful. The problem is Lori has lost all inspiration when it comes to Mirai and it shows in her half-assed, perfunctory choreography. I say Mirai should drop this FS and go back to "Carmen" or, do one better, and after Cup of China go find a different choreographer and get a new program for nationals.
The program gets half of the blame, but the other half goes to Mirai. She looked like a zombie out there: no emotion, no feeling, no life...she was completely blank and that's exactly how that program came off: dead, dull and boring. She made several little mistakes, each one deflating her a little more so that by the end she was a flat, soggy balloon. I wish she could just learn to
perform
through her errors instead of dropping the energy and purpose of the program the instant she makes a mistake. She received abysmally low PCS and minimal +GOEs which means the judges are starting to get bored with her as well. Once that happens...*sigh* Mirai performs this week at Cup of China, so it will be interesting to see if she's made any adjustments. I'm done betting on Mirai to win anything though. I will continue to cheer for her, but I'm no longer expecting greatness from her. I give up.
Rachael Flatt (USA): 54.23 (SP) + 73.99 (FS) = 128.22 (10th)
No, that's not a typo. Rachael ended up
dead last
in this field of skaters, which is pretty shocking considering who all skated here. Yes, there were a number of medal contenders, but she managed to finish below the
non-contenders
. Rachael started off decently in the SP by placing third, just 0.27 below Ashley. After that, chatter on the forums indicated that people believed Rachael was holding up well under the pressure of Stanford and skating...however, I felt the jury was still out on that. Everyone knows the SP isn't the test; it's the free skate.
Well, from all indications, Rachael is not doing well when it comes to juggling an elite education and an elite skating career. Physically, she looks different--much more busty than she looked in April and (as usual) her dresses highlighted that fact. By no means is she
fat
, but she definitely looks heavier to me. I don't know what happened to her here, but she tanked big time: four URed jumps, two falls, and only one clean triple jump. The judges gave her no love; her +GOEs totaled a whopping addition of only
0.24
to her score. She got hammered, hard. Rachael went from third to last place. Ouch.
I wonder how this result will affect her decisions from now on. I'm proud of her for attempting to make this whole school/skate thing work, but it's obvious from this performance that it's not. Rachael doesn't skate again until Cup of Russia, the last event of the GP. She has no hope of making the final, but with any luck she'll be able to turn in a better performance than what she put out here. If she can't do better than this (hard to imagine) then I expect this is the last year we'll see her on the GP.
As for the others:
Alena Leonova (152.22, 4th):
Her SP to "Pirates of the Caribbean" made me want to throw up in my mouth a bit, but her FS was better. She landed a big 3t-3t but had too many problems the rest of the way...
Amelie Lacoste (146.40, 6th):
No one looked more heartbroken and disappointed than her. I felt really bad for her. She's a very good skater with nice jumps and good presentation...she just can't seem to put it all together...
Well, the skating was better here, that's for sure. I'm happy for Elizaveta, Akiko and Ashley, but I'm still really disappointed in Mirai and Rachael. This week at Cup of China we'll see the other Russian powerhouse, Adelina Sotnikova, along with Carolina Kostner, Kanako Murakami and, a possible glimmer of hope for the US, Christina Gao. Oh yeah, Mirai will be there too...