So most of this is old news at this point but I still want to yap about it anyway...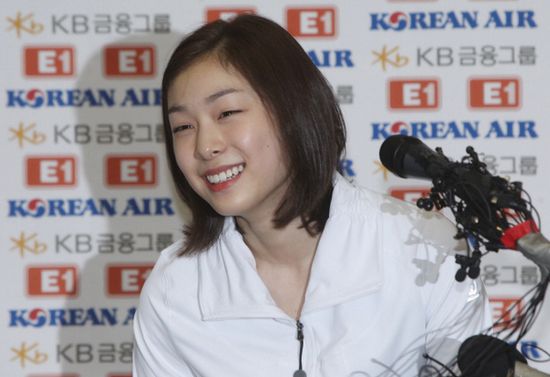 Yu-Na's not done kicking ass yet...
Last week 2010 Olympic Champion Yu-Na Kim of South Korea
announced
she will be making a return to competitive figure skating. Her main goal is to skate at the 2014 Olympic Games in Soichi; that is to be her final event. Now I'm a fan who had made peace with the fact that Yu-Na's life has taken a completely different turn and that returning to competition was something that was no longer in the cards. Needless to say I was shocked shitless by this news.
I'm sure Yu-Na kept a close eye on skating over these past two years because if she has, she knows that she could have easily whupped everyone's ass had she stayed in and competed. She missed her second world title by less than two points in 2011 and given the technical content at this year's worlds, a solid program from her could have won easily. Of course, these statements of mine are all made under the assumption that we're dealing with the same Yu-Na from the 2009-2010 season, more or less.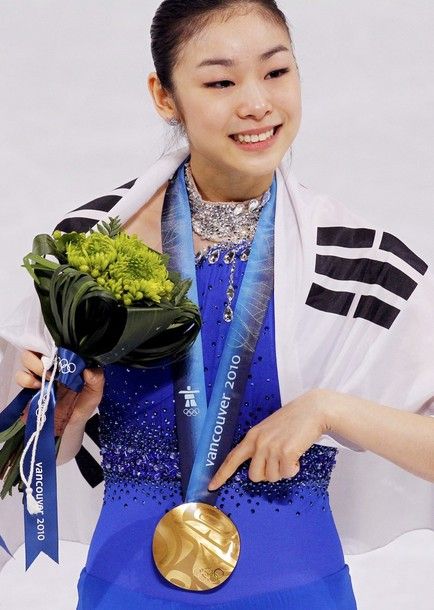 The truth of the matter is we don't know what kind of state Yu-Na is in at this point. She's been away from competition for two years and it's not as easy as going back to the gym and getting back "in shape." Skating is as much a mental game as it as a physical one and while I'm sure with consistent and steady training she'll be able to regain her form (more or less), I think the bigger story is what kind of head space she's going to be in come competition time. In the press conference she admitted to experiencing an "emotional breakdown" after the Olympics. I don't think she went all Mariah Carey or anything, I just think the expectation of Vancouver and then living up to it and everything that followed really drained her and she had to step back for a while to gather herself.
Since Vancouver she's done skating shows, TV shows, gone to school, helped Pyeongchang win the 2018 Winter Games bid, and numerous other things...that's why I simply couldn't envision her dropping her current life to step back into the grind of training. I guess I was wrong.
Yu-Na says she found motivation to continue competing from the young skaters at the Korean national training center. On some level I believe this is true but at the same time, I feel as though there may still be some pressure (whether from her federation or simply from herself) to compete for her country. South Korea's top finisher at worlds this year was Min-Jung Kwak, who placed 28th and didn't even qualify for the freeskate. When you look at it from that standpoint, Korea needs Yu-Na. They have some promising juniors (namely Hae-Jin Kim who finished 8th at junior worlds this year) but heading into Soichi, Korea doesn't have a prayer at cracking the top 20 without Yu-Na.
No word yet on who her coach will be but one can assume it won't be Brian Orser...shame, they made such a great team. I'm thrilled Yu-Na's coming back. I've missed her wonderful programs, gorgeous jumps and the ability to feel clairvoyant when I predict that she'll win every event by 10+ points. Still, the road back to the top is a long one. The good news is Yu-Na is starting early. By announcing her intentions to return a full two seasons in advance she should have enough time to work her way back into shape rather than trying to do it in a rush. That never works out well...ask Sasha Cohen or, more recently, Nastia Liukin (poor thing).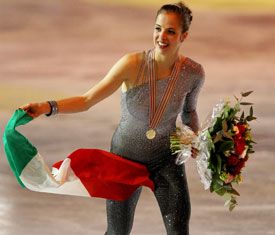 Whodda thunkit?
As one world champ looks to re-enter the fray, another is
thinking of leaving
. A few days after Yu-Na's announcement to return, 2012 World Champion Carolina Kostner (suck it, Alena Leonova!) said she's considering hanging up her competitive skates.
I say more power to her. It's good to go out on top and being that she has finally reached the top, I think exiting now would be perfect. Carolina has battled with inconsistency and meltdowns of epic proportions during her career, but in these last two years she's found a consistency with her jumps and pushed her choreography and interpretation to new levels.
Personally, I'm a reformed Carolina hater. I'm still bitter about her winning silver at the 2008 worlds; that was and is Yukari Nakano's medal in my mind. It's taken me many years but I finally see what a lot of the judges saw in her. Carolina has long gorgeous lines, a striking presence on the ice, some of the best choreography in the field, amazing speed and ice coverage, and the best skating skills in the field. Carolina's jumps are exquisite: tight rotations, beautiful air position, speed going in and coming out...I have gained such an appreciation for her.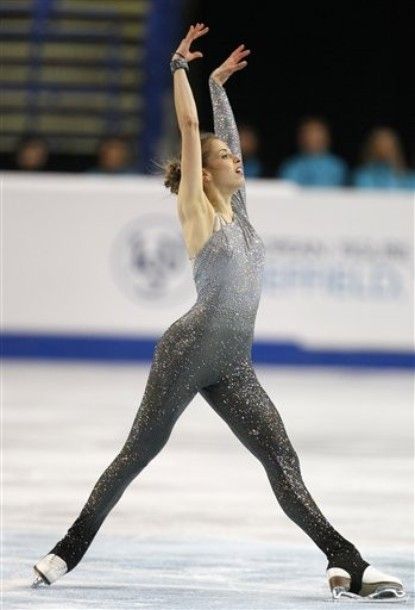 The point is Carolina ain't no spring chicken. At 25, she's one of the oldest skaters competing today. She's had knee problems for the last few years and, in my opinion, that's why I think it's time for her to make a graceful exit. Carolina won worlds this year with a rather light technical load (a 3t-3t in the SP, a 2a-3t and a doubled flip in the LP) but with the new Russians and Golden Gracie making the full jump to seniors this year, I don't think that will hold up. She'll need the tougher jumps to compete and to get the tougher jumps she'll need the surgery she's been putting off. Of course then she'll need the down time to heal and who knows if she'll ever regain her form...it just seems like a lot to go through at this stage in her career.
Carolina has a decision to make. My vote goes for retirement. She's accomplished a lot in this sport and to go out with that beautiful LP as her swansong would be an awesome way to say "Arrivederci!" to this sport.
2012-2013 Program Previews
Club competitions and shows are going on right now and thankfully skating fans are attending and bringing their cameras with them. Here are a few I'm excited about:
Mirai Nagasu - Ice Castle Summer Show (SP)
I can't tell you how many times I've hung my
Mirai is #1!
foam finger out to dry. I've sworn off of her countless times...but then she does something to pull me right back in.
Mirai seems to have captured a bit of that energetic, fun and carefree spirit everyone fell in love with back in 2010 with this new program. It has massive potential and I already like it more than any of her other programs from the past two years. I thought her SP from last year was pretty good (the first time I saw it, anyway) but her obvious discomfort with the idea of being "sexy" prevented her from ever delivering it convincingly. This program, however, is upbeat, fun and allows Mirai to cut loose and show her personality instead of forcing her to be something she's not. Thank God someone finally got a clue...
The jumps weren't perfect here (fall on the loop) but it's only July so I'm not concerned. Her lutz-toe combo looks good and her spins look excellent. She's capable of so many interesting spin positions; I always wondered why she never used them. The variation at the end of the layback in addition to the better point of the toe and extension of the arms...loves it! Hopefully this program is an indicator of the direction Mirai and her new team are heading and if it is, I'm totally back on the Mirai fan bandwagon...for now anyway.
Caroline Zhang - Hidden Valley Open (LP)
Caroline competed at the Hidden Valley Open last weekend and despite a few falls here and there, I'm feeling pretty good about her chances this season. The progress has been slow but she is steadily improving. Her speed is better, her ice coverage is better, even her axel had a bit more distance to it.
Caroline kept her "Rushing Wings of Dawn" SP from last year and I'm happy she did. The music is wonderful and she really breathes with it. They've made a few changes, most noticeably the footwork. It's a bit more intricate and goes really well with the music. I love it.
I'm a fan of all thing Puccini so Caroline skating to that old warhorse "Turnadot" works for me. This was a rough cut (I hope) of what we'll be seeing later on in the year which means it has plenty of room for improvement. There are nice sections (the footwork in the middle, the spiral-Ina Bauer section at the end) but she and David Wilson need to add a bit more to this program to make it really come to life. Caroline's Dvorak LP from last year was also a bit bare so it's time to step it up. She needs more transitions and in-betweens to make this program stand out and do the music justice.
My fingers are crossed for Caroline. She's still got plenty that needs work but they still have a lot of time left to make improvements.
Vanessa Lam - Hidden Valley Open (LP)
Vanessa also competed at Hidden Valley Open and won with a really good mid-summer performance. I have a soft spot for Vanessa. She's been getting better and better presentation wise and this program is proof. It's a fun and jazzy kind of number that's very well-choreographed. Her spins look lovely and she looks like she's enjoying herself which is always a plus.
Vanessa's main problem is her tiny jumps. She doesn't get much air at all and that leads to UR and downgrades. Several of her jumps here looked like they had some rotation on the ice. I didn't see the protocols but I'd bet that a handful received some calls. Vanessa will likely be competing on the JGP again this year and I think that's good. As much as I love her style, spins and programs I don't think she'd fare well on the senior level right now. Her jumps would be heavily scrutinized because they are so tiny. Hopefully she'll be able to add some kind of height to her jumps. Look at Caroline: her jumps used to barely get off the ground but now her flip and loop have nice lift and height. Maybe a retweaking of technique is what Vanessa needs...regardless, I enjoy her skating and I really like this program.
I take my hat off to Miss Liza T for stepping outside of her unimaginative up-tempo box and trying something different. I thought her up-beat programs were nice but it's a lot tougher to skate to slower more involved music because it's harder to fill quiet moments effectively without boring people. Taking on a different style shows growth and maturity; I'm impressed.
Liza T's SP music, "Story of Love," is lovely and, thank God, so is the choreography! That's what I really want to see from these young girls. Nearly all of them can jump the lights out; I'm waiting on the one who can do that and cast a spell at the same time. Liza T is my favorite performer of these newbie girls because she always brings energy to her performances and commits to her choreography (even though it kinda sucked) and that is something I appreciate in a skater. Her LP music, "Dark Eyes," is a bit overused but I won't complain. I like it and it allows her to bring out her Russian diva side a bit. Good job David Wilson! Geez, is that guy making bank or what?
Liza T still needs to work on her ice coverage. Her programs utilize the ice better but I'd like to see her skate end-to-end and really use the entirety of the surface. Overall, I like what I see so far from her. I already like her but I'm not a fan yet...if she can pull these programs off, I'll be hopping on the Liza T bandwagon. Fabulous jumps
and
excellent programs? That's my kind of skater.
We'll be getting more tidbits as the off-season progresses, plus the JGP will be starting late August. I really hope to be able to cover the JGP ladies again this season. Check back soon!