I've wanted to do this for a while…Fashion Review!! Yes, I know. It's been done a zillion times but not by me, so let me have my fun. I'm going to give my top six favorite dresses from the ladies
2011-2012 season
(it should be five but I ended up with six...ah, who cares?). I'll start with
the short program:
6. Mao Asada: "Scheherazade"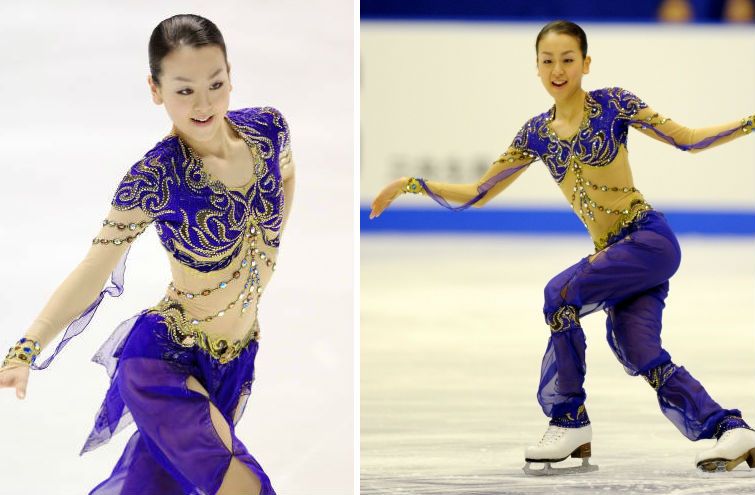 Like so many of Mao's costumes, this one toes the line between working well or just being tacky. I lean more toward "works well" mainly because it captures the spirit of the program and the music. "Scheherazade" has an exotic feel to it and, even though there's a lot going on, this costume captures that feel. It reminds me of Oksana Baiul's costume for her "Feeling Begins" program; I like it. And I love that she's not wearing OTB (over-the-boot) tights this season. Huzzah for the classic look! Yes, I like this particular creation…as for the blue one she wore at 4CC and worlds…we'll get to that later.
5. Sarah Hecken: "Malaguena"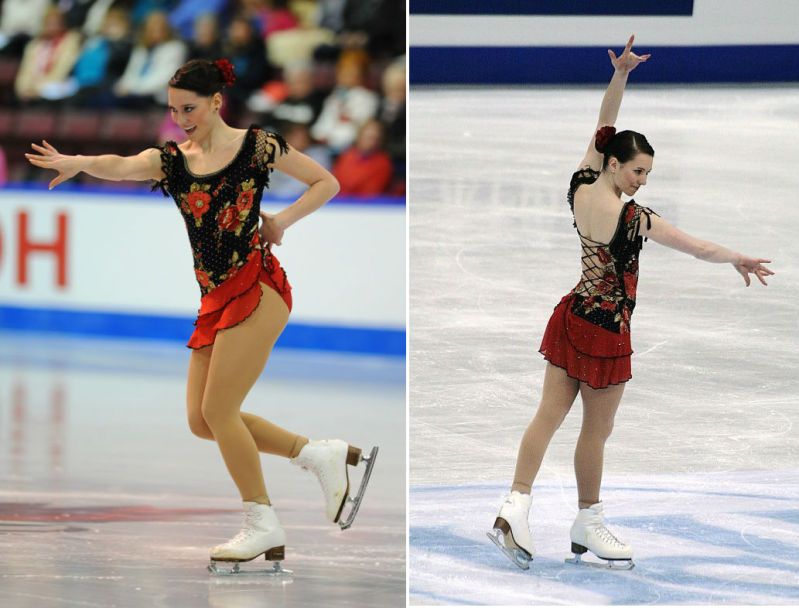 I don't know what it is about this dress but I really like it! I like print of the flowers as well as the tassel sleeves—I usually hate tassels. The neckline looks good on her and I really like the layered skirt. I love the criss-cross corset-like back of this one too…I think that's what really sets it off for me. The flower in the hair, no OTBs again…I thought she looked great. Nicely done!
4. Ksenia Makarova: "Maria and the Violins String"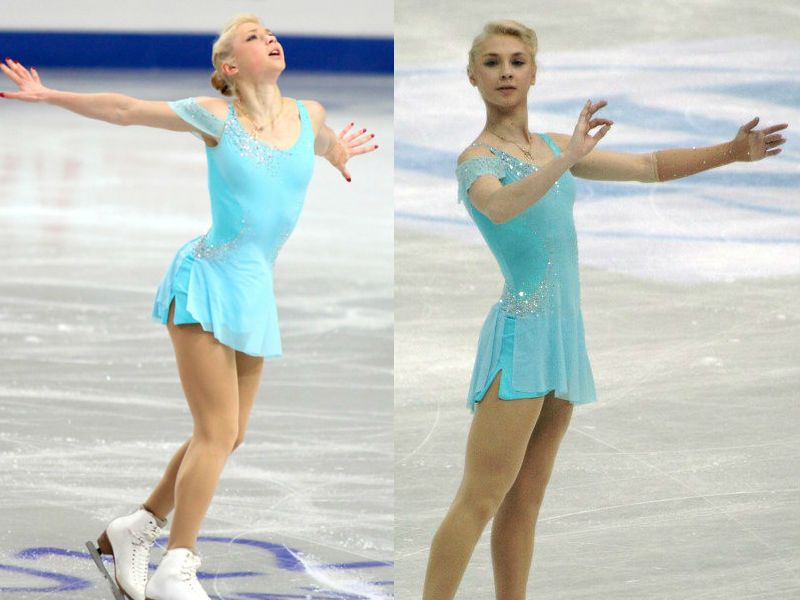 I love this dress. It's simple with a bit of sparkling detail here and there, but I'm a fan of a clean look especially when it is pulled off nicely. I think this color is beautiful on her. What I wasn't a fan of was that sheer sparkly glove-thing on her left arm. I don't know what that was all about…but I thought the rest of it was great. No OTBs! I'm really hoping this trend sticks.
3. Kiira Korpi: "Somewhere Over the Rainbow"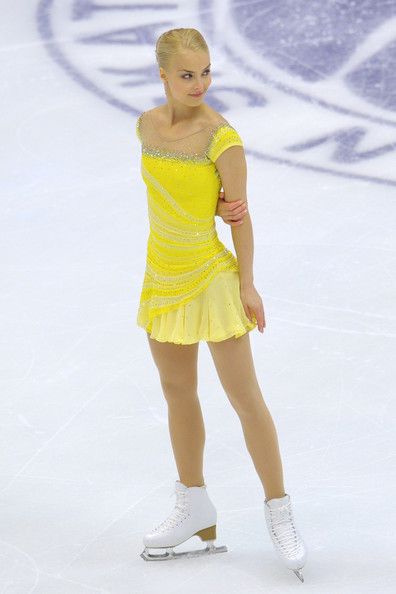 Kiira is able to pull off really bright colors without a problem and this yellow dress is very lovely on her. The wide square neckline, the low scooped back and the draped look of the detailing is beautiful and looks great on her. It helps that Kiira is all Finnish and gorgeous so the dress looks twice as good on her as it would someone else. It's very similar to the blue one she wore last year but hey, she found a formula and stuck to it. Note: no OTBs again…
2. Ashley Wagner: "Pollock"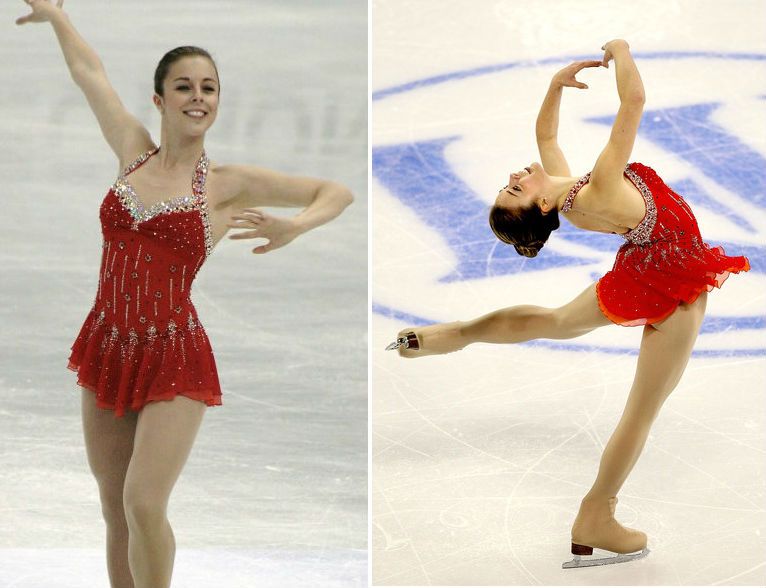 This dress is rather simple in terms of its design but it's the details that make this one stand out. For one, the sweetheart neckline/halter combination looks great on Ashley. I think the skirt is a good length (it's funny how a bad length can throw the whole costume off) and I love, love, love all of the detailing. Oooh…shiny! There's a lot of sparkling detail on this: the straps, the neckline, the bust, the bodice, and the skirt too. Usually that would be too much but, for some reason, it all works. She looked amazing in it. Unfortunately, Ashley breaks the no OTB chain I had going but I will say the tights don't look bad on her (not the case for everyone).

1. Alissa Czisny: "La Vie en Rose"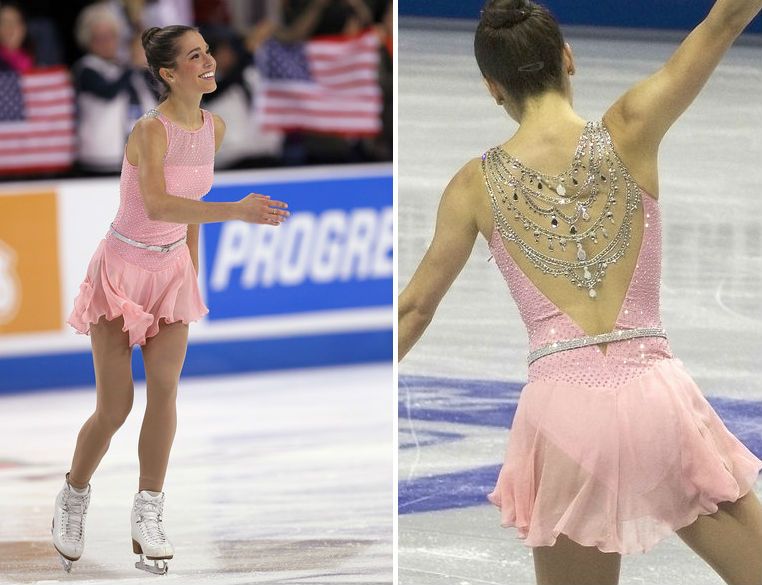 Alissa wins the best SP dress of the season for me. The color is soft and oh so pretty on her and again, it's a simple dress with the right amount of detail to make it stand out. I love the all-over sparkle the fabric has as well as the sheer part at the top and the accent of the belt. The draped necklace effect of the back is absolutely gorgeous and adds the right touch of elegance. Of course it helps that Alissa herself is stunning but this dress combined with the choreography and the music really helped seal this package. No OTBs! (I know, I'm obsessed).
Worst of the Season
I don't know why you're wearing that either Mao...
Mao Asada: "Scheherazade" Costume #2
Like I said, Mao's dresses often toe the line but this is just so far over the line it's not even close. I don't know what the hell whoever designed this was thinking. I mean there are fringes around the waist, gold on the stomach, sequins, glitter wraps on the arms, and WTF is up with the boobie ruffles? I really have no idea what they were going for but this is probably Mao's worst costume to date, and that's saying something because she's had more bad costumes than most. There's just waaaay too much going on. It is my sincerest hope that she burns this monstrosity and sends it back to hell where it belongs.
Well those are my top picks? Do you agree or did I miss someone?
Next up, favorite LP dresses! Check back soon!