Continuing with my 2011-2012 Fashion Review, I'll take a look at my favorite Free Skate fashions as well as a few I wish people had reconsidered:
5. Rachael Flatt - "Firebird"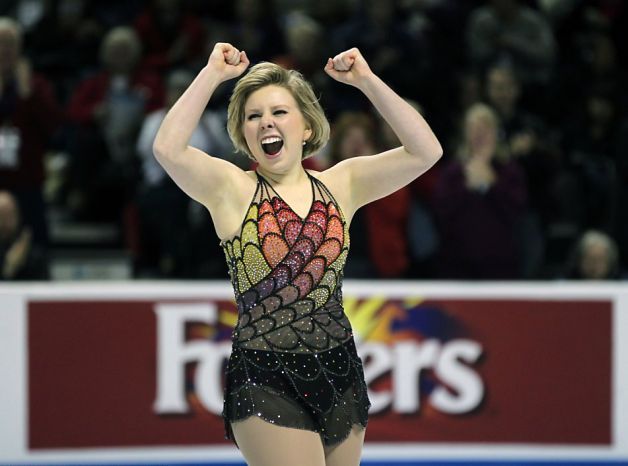 By far, this is the best dress she has ever worn. Rachael's styling has always been a bit iffy to me. I've always thought she'd look so much better with darker hair (like a nice auburn to contrast with her pale skin) as well as darker colored dresses. Her fondness for bright primary colors as well as the style of most of her dresses did her body line no favors. It was a long time coming but Rachael finally nailed one with this dress! I love the feather-like pattern and the way the brighter colors blend into the black. I watched the competition in HD and you could see every sparkle; it looked beautiful and she looked great. Kudos to her and her dress designer Lilya Dukler...it's about time!

4. Mao Asada - "Liebestraum"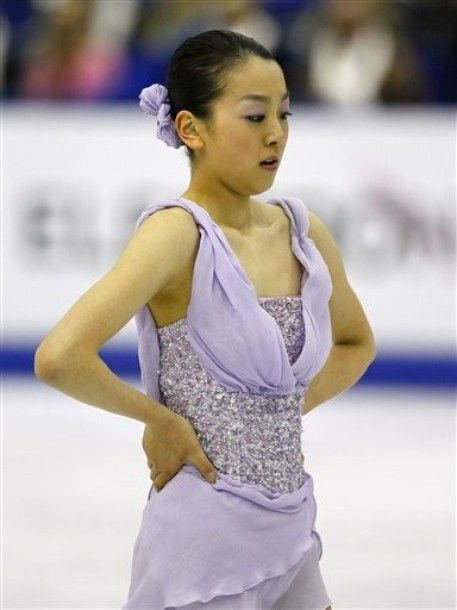 Mao + Lori + lavender dress = Magic. It's a winning combination that seems to work very well. I like this dress on Mao and it's definitely a departure for her. Mao rarely goes the simple route when it comes to her costumes but this one is the exception. The sparkly bodice with the light fabric draped down the front and the shoulders is very simple by Mao's standards. There are no elaborate flowers or ruffles or excess jewels and glitter. I loved it and she looked absolutely beautiful.
3. Carolina Kostner - "Concerto No. 23"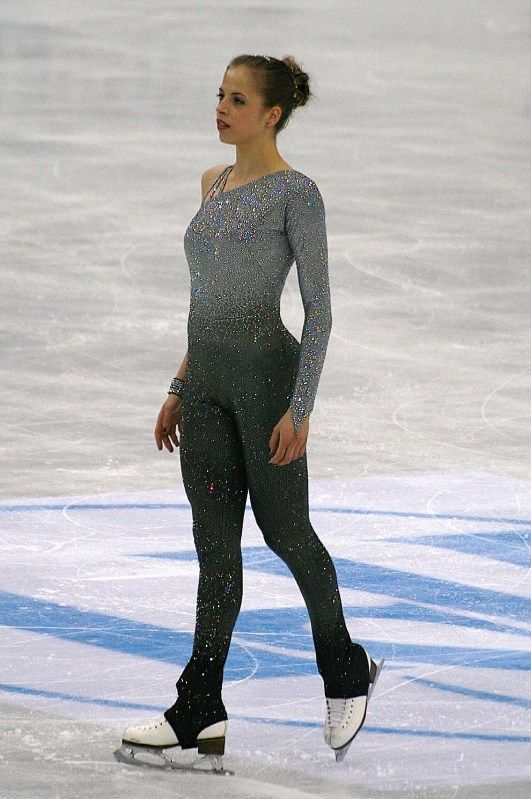 Feelings towards this costume are black and white for most fans: you either love it or hate it. Personally, I love it. According to Carolina's site,
she designed her costumes this season
. This one-armed unitard is meant to look like a starry night sky, which explains the color fading from lighter gray to darker gray as well as all of the Swarovski elements (more than one million!) which sparkle like stars. The effect is gorgeous on the ice; it shimmers as she moves. The only complaint I have about this costume is that at times it looked a little too big on her. I'm guessing her weight may have fluctuated during the course of the season so it didn't fit as well at the end as it did at the beginning. Regardless, I liked it a lot and thought she looked amazing in it.
2. Ashley Wagner - "Black Swan"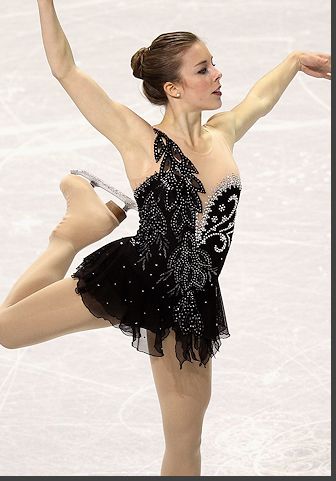 There's always the danger of being too "on the nose" when it comes to themed programs. I think Ashley did a good job of tying in the swan motif without going overboard (ie. lots of feathers everywhere). Again, it's the detailing that makes this one stand out for me. I love the elegant design on the left side and the way the feather designs on the right wrap around to the back. I loved the sparkly elements as well as the design of the skirt. She sold this dress as well as the program, and I definitely bought it.
1. Akiko Suzuki - "Die Fledermaus"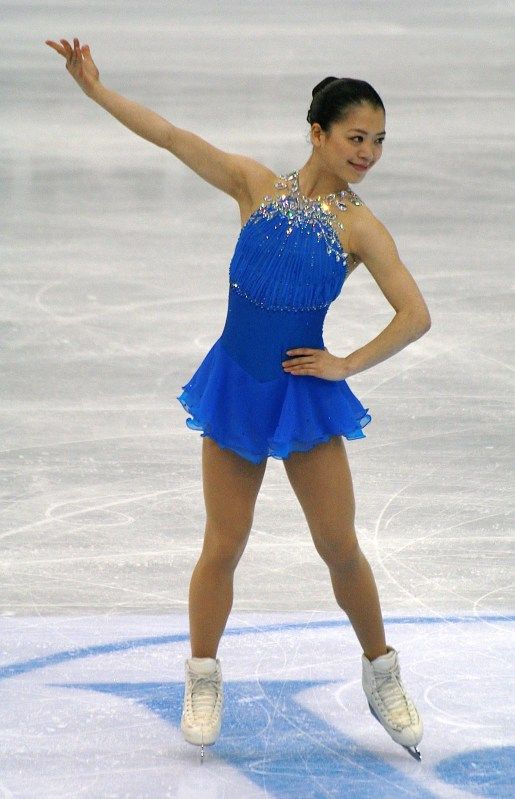 Akiko had about three different dresses for this program but her final dress was definitely my favorite. The color and design look stunning on her! It reminds me of
Yu-Na Kim's Gershwin
LP dress from 2010; it's basically the same color blue and both dresses have jeweled detailing around the neck. The back of Akiko's dress reminds me of Alissa Czisny's SP dress, with the
draped jeweled design
down the back. I love the fullness of Akiko's skirt too; a lot of her dresses have fuller skirts and I think she looks great in them. The elegance of the dress complimented the music well and Akiko brought it all to life. This is definitely my favorite of the season.
Try Harder Please...
Alissa Czisny - "Valse Triste"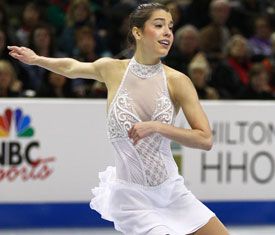 I usually love Alissa's style choices but this one was a miss for me. I don't know why but when I look at this all I see is a housewife trying to put the spark back in the marriage by wearing this little number to bed. I think the sheerness of the fabric is what does it; if it were a solid fabric, I think I'd be less inclined to think of it as a nightie. I was a much bigger fan of the dress she
wore at Skate America
. The design was simple but pretty and the color looked great on her.

Elizaveta Tuktamysheva - "Besame Mucho"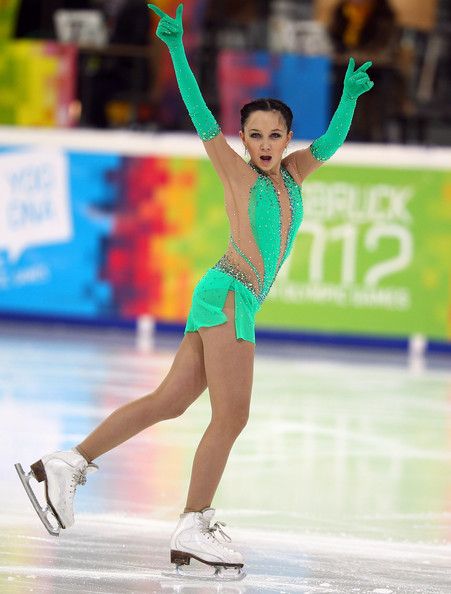 This is bad for a number of reasons but the main one I'm going to go with is
too much
. The amount of make-up and "skin" is just too much in my opinion. I get she was trying to spice it up or make herself look a bit more mature, but this isn't the way to do it. It looks too skimpy and almost a bit trashy. You gotta do better Liza T! Not to worry. She's young..she'll learn.
Mirai Nagasu - "Spartacus"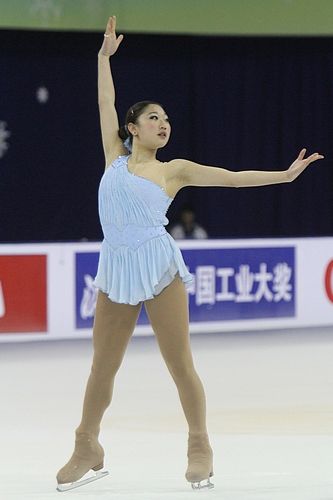 The only good think I can say about this dress is that it matched her program perfectly; both were dull and lifeless. This dress did nothing for Mirai. I don't know if they were going for a toga look or what but the style was bad, the color could have been better...I'd have expected a lot more. Mirai seemed very unmotivated and uninterested last season and it showed in everything from her programs to her performances, right on down to her costume choices. She's so much better than this. Hopefully she'll prove it this season.
Well that's it for the fashion side of things. Next, I'll take a look at my favorite programs from last season: Short Program, Long Program and, if I'm feeling a little adventurous, maybe even some exhibitions!