This was another competition where it was youth versus experience only this time, the judges got it right…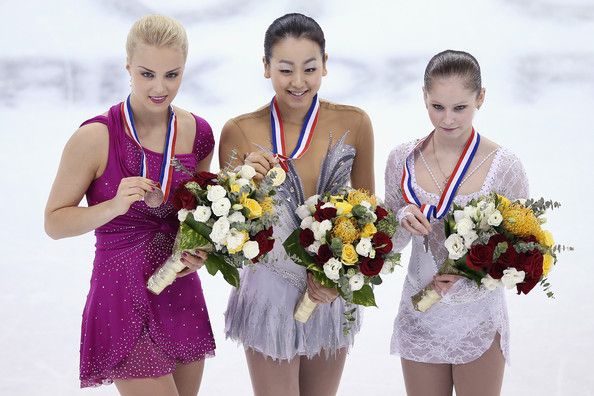 Mao is back on top!
The final standings: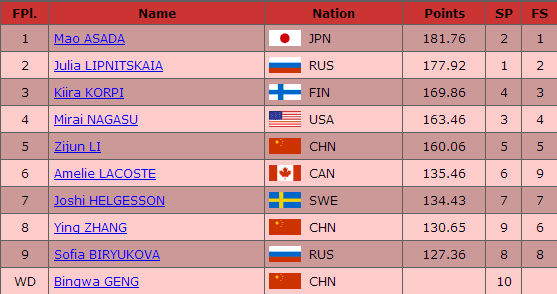 Mao Asada (JPN): 62.89 (SP) + 118.87 (FS) = 181.76 (1st)
If I can say one thing about Mao so far this season it's that she's looking very determined. She doesn't look fragile or terrified; there's a strength and freeness to her skating that is very appealing…if only the jumps would catch on.
Mao's "I Got Rhythm" SP is, in a word,
cute
. It's an interesting contrast to the maturity of her FS. I actually would have loved to see her bring back one of her old SPs ("Nocturne" or "Clair de Lune") but this one will do I guess. There's a youthful air to it that takes me back to 2005 when Mao first debuted on the senior level. There was this happy and carefree attitude whenever she skated and Mao has recaptured some of that with this program. It's not my favorite SP of hers but she delivered it well. Her 2A and 3L were solid but she got a UR call on her 3F-2L combo. The presentation, spins and footwork were all great, so even with the mistake she went into the FS only 0.17 out of the lead.
Mao knew she needed a solid FS to move into the lead and, for the most part, she delivered. There were only two very visible mistakes: the DG on the 2A-3T and the doubled lutz. The rest of her jumps may have been close on the landing but they were all upright and appeared to be clean. Only when the TES came up did I realize Mao's jumps were very off that night. One DG, three URs, and an edge call lost her a lot of points. However, given the jump mistakes were not disruptive to the program and the fact everything else was absolutely lovely, I wasn't shocked with the high score.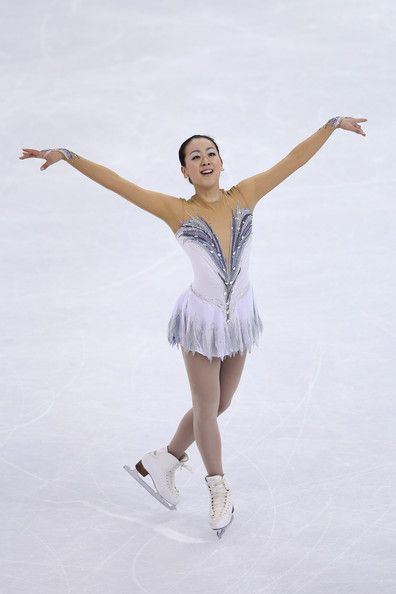 She's my favorite swan this season
I thought Mao's FS was the best of the night and deserved the win whether the jumps were completely there or not. The judges hammered her on GOEs on nearly all of her jumps so she was appropriately punished for not executing them perfectly. The good news was the rest of her skating (edging, flow, choreography, presentation, etc.) was wonderful. Figure skating is more than just hard jumps; there are a lot of elements that factor into a score. Mao won on the strength of her overall skating and I'm just fine with that. I do hope these UR issues are simply because it's her first major competition of the season and she was a little nervous. At Japan Open she had a similar problem with URs so let's pray this is an early season problem that will disappear by nationals. Even with the URs, Mao is looking much more confident and steady this season than she has in a while and that's good to see.
Julia Lipnitskaya (RUS): 63.09 (SP) + 114.86 (FS) = 177.92 (2nd)
Welcome to senior level skating Julia! Things are definitely different in this realm of the figure skating world. It's not just about the jumps and spins here…
Julia started off well in the SP. She nailed all of her jumps (including a 3Lz-3T) and gained level 4s and high GOEs on all of her spins. It was a great way to introduce herself to the judges and they liked it; she won the SP. Even with that very high SP score Julia looked a little huffy in the K&C when she saw it…I'm not sure if she was expecting something higher than that or what, but she didn't look that happy to me.
It's always tough to go into the FS in first place but it's a position Julia is used to; she led after every competition sans nationals last year. But this is the senior level, where the stakes are higher and the competition is tougher. Julia had to be great to get the win here and she wasn't. She URed the 3Lz in her 3Lz-3T combo and pretty much fell on her 2A-3T. Nearly all of her jumps were tilted and landed at a stand-still with no flow. Even her famous hyper-flexible spins were off that night (I don't know how she received so many +GOEs on that combination spin; it was all over the place). For the first time, she showed some nerves and her sloppy performance ended up costing her gold here.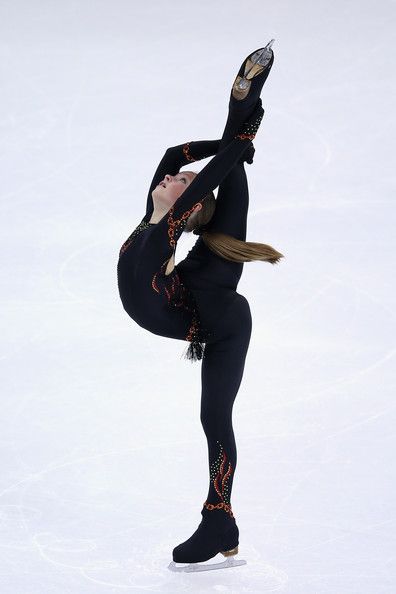 Cirque de Soleil on Ice!
On the junior level Julia stood because she had better maturity and presentation than nearly all of the other 13 and 14 year olds she was surrounded by. Add that to her consistency and flexibility and it's easy to see why she won everything by such a huge margin. But she's skating with the big girls now… Against mature and polished 19 and 20+ year olds the weak areas of Julia's skating are very obvious. Her programs lack any discernible amount of substance but that's something that can be fixed easily with a better choreographer who will demand more than leg extensions and who will force her to listen to the music, which is currently nothing more than background noise to whatever
choreography
she's doing. She's very methodical and cold when she skates, but things like expression and interpretation come with age and maturity so she's got time to develop those skills.
What I'm really worried about is her jumps. She's not a natural jumper a la Adelina or Elizaveta, who both have effortless power and height in their jumps. That 2A is horrible too. Julia's lack of height is compensated by her fast rotation but there's a good chance she won't be able to rotate like that much longer. At 14 years old, I doubt if puberty is done with her yet. If she's lucky her body won't change much but even if she stays the same size, her coach needs to work on getting more height out of her jumps…they're just too little.
Julia is young which means she has plenty of time to work on her skating. As of now, she looks like a junior skating with the seniors. Shortcomings aside, this was a great debut and she should be proud of herself.
Kiira Korpi (FIN): 59.69 (SP) + 110.17 (FS) = 169.86 (3rd)
Kiira is the biggest abuser of the
SWP
(Skating While Pretty) bonus but I think she may have earned her medal here.
Her SP wasn't her best but it wasn't a disaster either. She doubled her intended 3T-3T but finished off the rest of the program strongly enough. Kiira has nice skating skills, lovely presentation and, even though they aren't the most creative positions, her spins are very fast and centered with clean positions. All of that helped her go into the FS in (basically) a three way tie with Mirai Nagasu and Zijun Li.
She's even pretty in rotation shots!
Kiira's FS wasn't outstanding to me. It was a nice program that was presented well with maturity and polish, but I don't remember that much about it. Kiira was able to hit her 3T-3T along with three other triples in her FS. She had some trouble and ended up doubling two intended triples but overall she did enough to secure 3rd place in the segment which moved her up to third place overall.
I never have much to say about Kiira other than the fact her skating is
clean
in the sense that it's pretty and nicely done. Like Laura Lepisto (who had a similar
clean
style), Kiira doesn't really grab me when she skates. Sometimes I'm a bit puzzled by the high scores she receives but, in this case, I think her win was justified. I'd have loved to see Mirai Nagasu on the podium but I believe Kiira did enough to secure herself the bronze medal. Good for her.
As for the rest...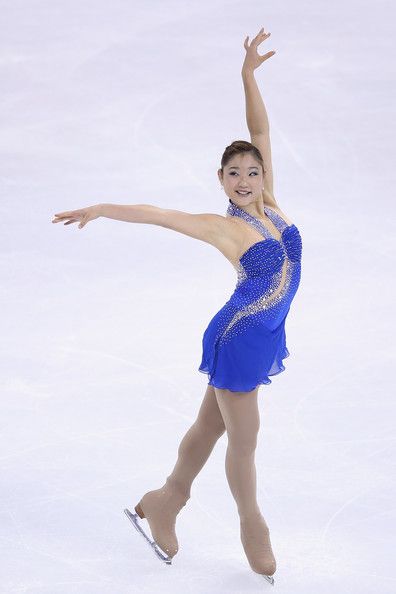 The best she's looked in years
Mirai Nagasu (USA, 4th)
didn't disappoint me here. I thought her SP was fabulous! It was my favorite SP of the competition. She had speed and attack and more energy than I've seen from her in a while. Her 3T-3T received a UR call but I'm just happy she went for it. The footwork was great, the spins were awesome and she looked like she enjoyed herself.
The FS wasn't great but it could have been a lot worse. She got dinged on nearly all of her jumps and I agreed with some of them but there are some (like that DG on her 2nd 3L) I just didn't get. She does need to work on tightening her air position; she looked a little loose on her 3Fs. But considering how many points she lost and the score she was still able to put up, I think this is a good sign. Had she rotated most of those jumps this would have easily been a 115+ performance. Even with the mistakes, Mirai didn't give up and didn't let the performance go…that's encouraging. I hate she only has one GP this year but I'm keeping for fingers crossed for NHK (sorry Alissa fans).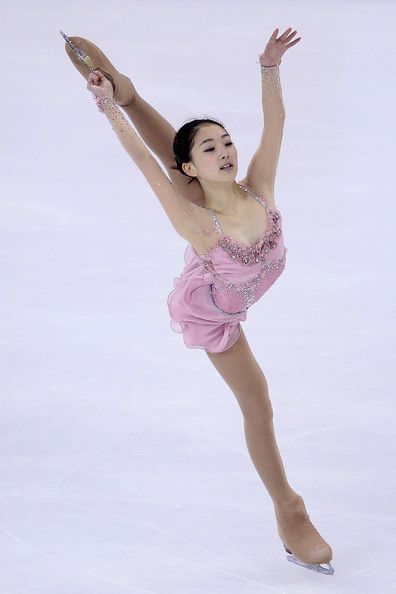 I just love her...
Zijun Li (CHN, 5th)
had a solid debut. I've been in love with this girl for the last two seasons. She has a lovely appearance on the ice, a wonderful light quality to her skating, good speed, tough jumps, amazing spins and, to top it all off, she has nice programs, interprets the music very well and is a good performer. She's an all-around skater; what more could you ask for?
Zijun's SP was perfect. She nailed her 3T-3T and all of her elements and was virtually tied for 3rd heading into the FS. She started off very well with a 3F-3T (UR on the 3F but she's bringing the content so that's good) and a 2A-3T. After that it looked like the nerves started getting to her. She went down on her lutz and flip but still finished off the program well. I think a top 5 finish here is excellent for her. With Kexin Zhang out this season, Zijun is the go-to girl for China. I have high hopes for this young lady…she's a beautiful girl and a lovely skater.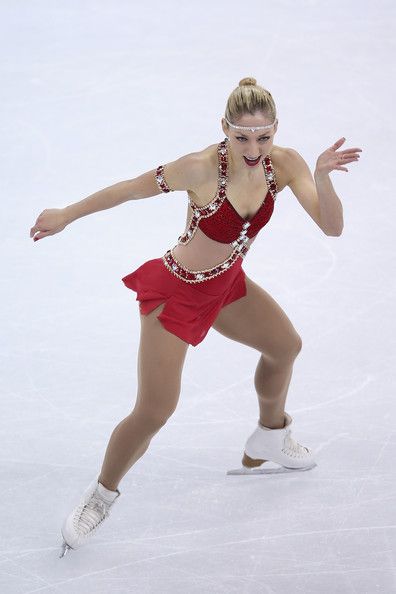 It was a great SP for her...
Amelie Lacoste (CAN, 6th)
started off so well! It looked like Kaetlyn Osmond's gold at SC and the subsequent buzz about her lit a fire under Amelie's ass because she came out on fire in the SP. Her jumps were clean, she skated with speed and fire…I was impressed! I've always thought Amelie was a powerful jumper and a lovely skater, but she could never put it together. She was a bit underscored in the SP but she was within striking distance heading into the FS.
Unfortunately, the old Amelie returned. She fell twice and nearly every other jump received negative GOEs. She placed last in the segment…ouch. I'm sure she's feeling the pressure right now. Kaetlyn is obviously the favorite heading into Canadian nationals and I don't doubt for a second Amelie will be passed over for that one spot to worlds. The plus side is if Kaetlyn goes to worlds she has a shot at earning that extra spot back.
Joshi Helgesson (SWE, 7th)
had a very interesting SP. It's not what we're used to seeing from her and I'm not sure everyone got it, but at least it wasn't more of the same. She had problems with her jumps in both programs though…
It was an interesting competition to say the least. I'm glad Mao got the win, happy to see Mirai put up a decent fight and proud of Zijun's first senior GP. I'm still on the fence about Julia; I'm not a fan but I don't dislike her either. I'm just not impressed with her Cirque de Soleil take on choreography and tiny jumps...and that's all she is right now. A skater has to have more than that to get me on their bandwagon.
We're halfway through the season already! This week is
Rostelecom Cup or Cup of Russia
. We'll see the season debut of
Agnes Zawadski of the USA
and
Polina Korobeynikova of Russia
, as well as the second GP appearance of
Kiira Korpi of Finland, Valentina Marchei of Italy, Kanako Murakami of Japan, Adelina Sotnikova and Alena Leonova of Russia, Viktoria Helgesson of Sweden
, and
Gracie Gold and Caroline Zhang of the USA.