No better way to end the GP series than with a highly contested outcome! I'll take a look at the ladies' event and then the standings for the 2012-2013 Grand Prix Final.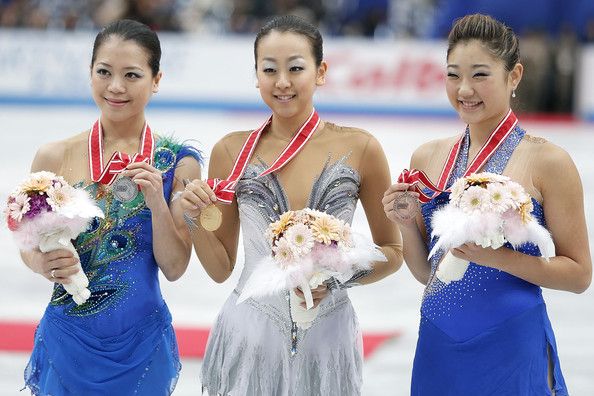 The final podium of the Gran Prix season
Here are the final results:
Mao Asada (JPN): 67.95 (SP) + 117.32 (FS) = 185.27 (1st)
I love Mao, I really do but I don't think she deserved gold here…and by the look on her face in the Kiss & Cry, she didn't think she deserved it either.
Mao started off brilliantly in the SP. I wasn't completely sure about this SP but this performance of it changed my mind. She was wonderful! Mao radiated happiness and charm throughout the entire performance and really made the program shine: the jumps looked easy, the spins were good and the footwork was absolutely spectacular. She had the energy and exuberance of Mao circa 2005, with the skill level and polish of the Mao of 2012; it's an excellent combination! Mao maximized the levels on all of her spins and footwork and received +GOE for everything which added 6.39 points to her TES. Her SP score was huge…almost too huge. I expected her score to be in the 63-65 range.
The FS was not nearly as successful as the SP. Similar to COC, Mao completed only three triple jumps; she doubled three others and singled her salchow. On paper this was a borderline disaster program even though it didn't look that bad. Mao was still able to maximize the levels of her step sequence and spins and even though the jumps were missing, she didn't let the program go. It didn't have its usual sparkle but it was not a complete and utter train wreck either.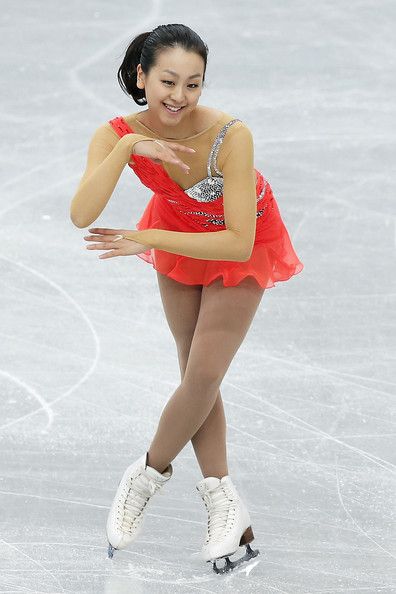 A blend of the old and new Mao
I'm really on the fence about this and I'll tell you why. When you break down the program and look at each element separately, there's a great case for why Mao got the score she did. However, as a whole, the program fell short but the scores barely reflect that. Personally, I thought the judges were very lenient with her when it came to her mistakes. Mao made errors on more than half of her jumping passes in the FS, yet her mistakes only cost her 0.31 points total in GOEs. True, she lost the base value by doubling the jumps but the judges didn't penalize her with GOEs. She actually gained +GOE on her doubled jumps…several +1s and even +2s! It only amounted to +0.35 points but seeing as how Mao won by 0.05, that made the difference.
You can argue the boost came from PCS but the only one I really feel Mao got the boost on was PE (Performance/Execution). Her performance was lackluster and her execution was off as well. She was slower than usual and, of course, she failed to execute more than half of her jumps even though everything else she did was okay. Doubling jumps isn't as disruptive to a program as falling but, given the errors, I expected her PE score to be lower than what it was.
I didn't think Mao deserved gold here, especially after what Akiko did in the FS. For most skaters multiple errors in a program result in many -GOEs and a reduction in PCS as well. Being that Mao is
Mao
and she was skating at home, she got the
look-the-other-way
bonus from the judges. This was not a good competition for Mao and I'm sure she knows it. Unlike COC where I felt Mao's maturity and qualities carried her over the juniorish Julia Lipnitskaya, I thought Mao's poor performance here was unjustly held up over a much better overall performance from Akiko.
Akiko Suzuki (JPN): 58.60 (SP) + 126.62 (FS) = 185.22 (2nd)
I seem to always have a ticket on the Akiko wuz robbed train. For the second time this season, I feel as though Akiko was cheated out of a gold medal.
To be fair, she keeps giving the judges a justifiable reason to pass her over for gold: the SP. Akiko is struggling to get a clean SP under her belt. She cracked off a great 3T-3T to start with but then popped open her 3Lz, losing a butt-load of points in the process. Akiko finished everything else cleanly but the damage had been done. She scored decently when you look at it, but there were a number of strong performances in the SP and she ended up in 5th place.
It's never good to have to dig yourself out of a hole but Akiko managed to do that with her FS for the second time this season. She had no major jump errors; just edge calls on both lutzes and a UR on her final 3L. What really brought this program to life was the emotion behind it. It's hard to put my finger on it but as a fan of her skating, I can say this was the best I've seen her perform in quite some time. The performance was captivating and beautiful. She gave so much emotion and heart and completely embodied the music and character of the program. Akiko's 126+ score was massive and is second only to Ashley Wagner, who has earned 127+ twice this season.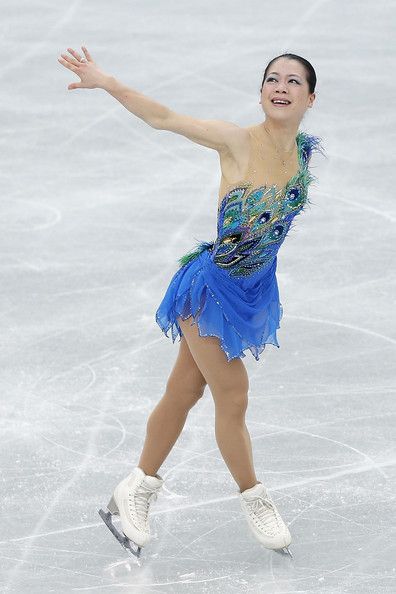 She was breathtaking...
Comparing Mao to Akiko on an element by element basis, Mao wins: her edges are better, her spins are better, her carriage and presentation are more tailored to what the judges love to see. But with Mao
off
and Akiko
on
, overall, Akiko is the better skater and she definitely was that night. The judges agreed for the most part: look at the difference in the FS scores. However, the issue is how Akiko is scored in relation to other skaters. At SC I thought the judges scored her too low in relation to Kaetlyn Osmond; here, I think the judges scored Mao too high in relation to Akiko. I'd have had Akiko slightly higher in IN, CH and PE but for the most part, her score was great. Mao's 117+ score for her FS was far too high considering what she put out. It should have been in the 108-112 range…
I don't know what it is about Akiko that the judges don't like or why it is they feel so comfortable screwing her over time and time again. I really enjoy her skating and it's obvious the audience does too. I've never seen a Japanese audience so quiet after a Mao Asada victory. They were stunned. Everyone at NHK Trophy—from the audience to the commentators to the skaters themselves—knew Akiko deserved to win. As always Akiko handled the defeat with class, but deep down you know she's probably very hurt and really pissed with the way the judges treat her. I know I am…
Mirai Nagasu (USA): 61.18 (SP) + 115.50 (FS) = 176.68 (3rd)
Everyone was hoping Mirai would get a second GP and she did. Thank goodness she took advantage of this opportunity and turned in two strong performances.
Mirai started off very well in the SP. She finally got that 3T-3T to work for her even though she had to fight for the landing on the second jump. It wasn't very pretty but she got the rotation and full credit for it. The rest of her jumps were spot-on and her spins were excellent. Mirai gave a lot of energy and charisma to this performance and showed more of that spark that has been missing from her programs in the past. She earned a season's best score and set herself up nicely for a podium finish.
The FS has long been Mirai's biggest test but it seems like she's starting to get the hang of it. I'm not a big fan of this program for her. There are some nice moments and it's a zillion times better than the craptacular program she had last year, but I do wish there was a little more to it. Regardless, she had a very solid performance here. The first half of the program was squeaky clean: 3Lz (no edge call), 2A-3T and 3F (no edge call). She had a few URs in the second half of the program, possibly from stamina or nerves, but either way she held on and finished the program well. Mirai put up another season's best in the FS and overall score and earned herself a bronze medal.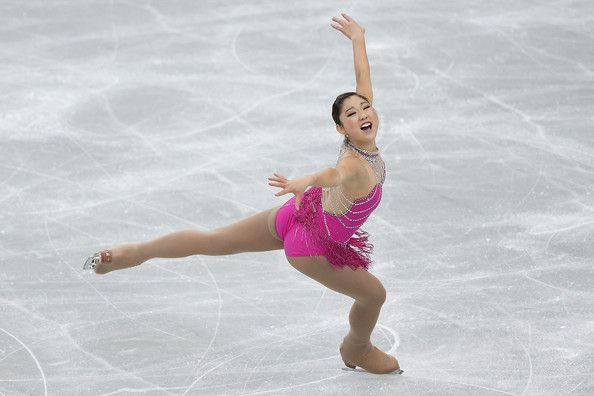 THIS is what I've been waiting to see!
With both Mao and Akiko in this competition, I think a bronze medal was the best Mirai could do and she did it. Mirai is getting stronger and stronger with each competition and that is encouraging: Finlandia wasn't that great, COC was better, and now NHK was even better. This is a good pattern that should have her in a position to do well at nationals. I'm really proud of Mirai! I think this competition is proof that she's
righted the ship
, so to speak. She looks happier on the ice, she's giving more energy and she's fighting for everything…we saw none of that last season. Mirai still needs work though. Her leg wrap wasn't as pronounced here but it's still an issue. If she can keep working on that I think she'll be in good shape for nationals.
Mirai's 176+ total is the best of all of the American ladies who are vying for that second world team spot behind
Miss Swagner
. I would say the favor is still leaning toward Gracie Gold but if Mirai can throw down convincingly at nationals, she'll make a strong case for herself.
As for the rest…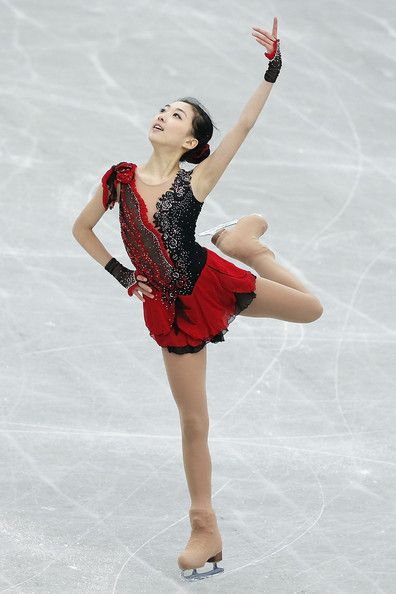 The future of the Chinese ladies
I'm so happy for
Zijun Li (CHN, 4th)
. Her SP was great. I love the program and her 3T-3T was wonderful. At COC her nerves got the better of her in the FS and she had several major errors. I'm happy to see she's learning to compete and manage her nerves. Zijun had a very good FS highlighted by her perfect opening 3F-3T combo; it was the hardest combo in the competition and six out of the nine judges gave her +2 on that element. After a funky landing on her 2A she pulled herself together and finished cleanly, only receiving an edge call on her lutz and UR on her 2L in her 3-jump combo. No major jump errors, all level 4s spins and a season's best score. Way to go Zijun!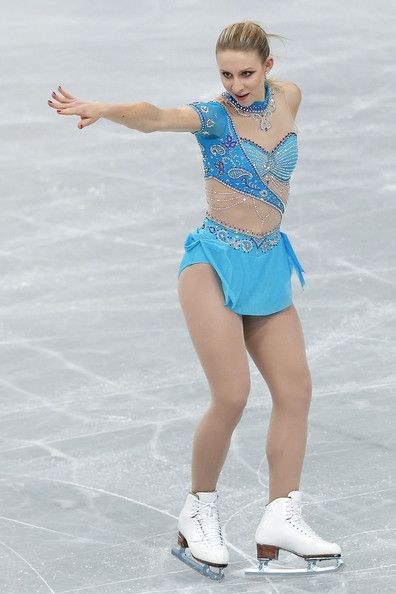 Not the performance she wanted
Agnes Zawadzki (USA, 5th)
had a respectable competition but it's not what she wanted heading into nationals. The idea is to build and get better as the season progresses; Agnes took a step back here. She opened her SP with a solid 3Lz before going for the 3T-3T. She didn't get the second jump off and took a major deduction which left her in 7th place heading into the FS. Her FS wasn't a disaster but it wasn't great either. She managed to nail her 3T-3T but too many other problems (doubled 3F, fall on her lutz combo) didn't help and she finished 5th in the FS and a distant 5th overall.
Agnes hasn't proven herself to be a reliable competitor yet which means her shot at that 2nd spot (which was spotty at best) is looking even less unlikely now.
Elene Gedevanishvili (GEO, 6th)
wasn't able to build on her stellar SP from SC. Her 3Lz-2T combo was shaky and she ran into quite a bit of trouble in the second half of her FS.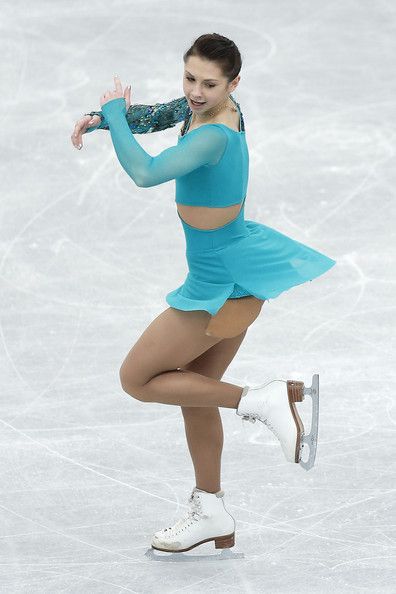 That hip pad thingy looks weird
Ksenia Makarova (RUS, 7th)
started off very strong in the SP. Her 3T-3T was lovely but she URed her 3L. The rest of her Maria and the Violin's String SP was wonderful though (I really love that program) and she finished the SP in 4th place with a great shot at the podium. I like her FS as well; it's a nice program. Unfortunately, she made a number of small mistakes that really added up. Ksenia needs to get her FS content up if she hopes to have a shot at making the world team this year…
Haruka Imai (JPN, 8th)
really struggled here. She finished last in the SP after falling on her 2A and double footing another jump and the problems carried over to the FS as well. I love Haruka's style and I enjoy watching her but it's going to be tough for her to break into the top 3 at nationals skating like this.
Sofia Biryukova (RUS, 9th)
didn't do well. Several mistakes in the SP and several in the FS placed her last in the field. Like Japan, Russia's field is far too deep not to bring your
A
game every time out.
There always seems to be a need for a poll after Akiko competes! So what do you think? Did Mao deserve the win here or was Akiko robbed again? Make sure to vote on the poll! Well...that's it. Just that fast the GP is officially over! The only thing left is the Final…
2012-2013 Grand Prix: Final Standings

No surprise here.
Ashley Wagner (USA)
qualifies in the top position for the Final with
30 points
. She tied with Mao on point total but Ashley's overall score gives her the top spot.
With
Mao Asada's (JPN)
gift at NHK, she qualifies in 2nd with
30 points
as well.
Kiira Korpi's (FIN)
bronze and gold medal earned her
26 points
. She tied with Akiko in terms of points but her gold medal is weighted heavier so she wins that 3rd spot.
Akiko Suzuki (JPN)
won two silver medals and earned
26 points
, tying with Kiira. As I said, bronze and gold is weighted more than two silvers so Akiko qualifies 4th.
Julia Lipnitskaya (RUS)
won silver and bronze and qualifies 5th with
24 points
.
Elizaveta Tuktamysheva (RUS)
and
Christina Gao (USA)
both earned a silver medal and 4th place finish in their events to finish with
22 points
each. However, Liza wins the overall point total tiebreaker and receives that 6th and final spot.
Christina is the first alternate.
Mirai Nagasu (USA, 20 points)
is the second alternate and
Kanako Murakami (JPN, 20 points)
is the third alternate.
Agnes Zawadzki (USA, 10th)
and
Adelina Sotnikova (RUS, 11th)
earned
18 points
each,
Gracie Gold (USA, 12th)
earned
17 points
.
Zijun Li (CHN, 13th)
earned
16 points
and
Kaetlyn Osmond (CAN, 14th)
earned
15 points
.
Most shocking placements:
Alena Leonova (RUS)
, the world silver medalist, earned only
9 points
total and finished the season in 19th place. And
Caroline Zhang (USA)
, who most hoped had turned a corner after nationals and 4CC last year, earned
0 points
and finished in 28th place.
The 2012-2013 Grand Prix Final takes place December 6-9 in Sochi, Russia.