Wow, some
GREAT
skating at TEB this year!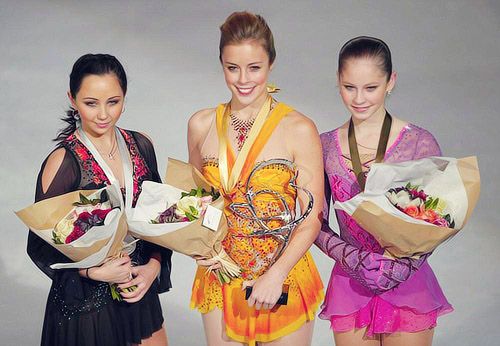 Ashley's on top again!
The final standings:
Ashley Wagner (USA): 63.09 (SP) + 127.54 (FS) = 190.63 (1st)
I am beyond impressed with Ashley Wagner aka Ashley
Swagner
. She is pushing US skating back to the top in a big way this season. We've only had the opportunity to see her perform her SP twice this year and this was definitely the better performance of the two. Whereas last time she had a mistake on the 3L, she hit all of her elements cleanly here. This program isn't my favorite but it's nicely constructed and she executes it very well…that falling leaf split after the 2A is sheer brilliance! Ashley finished the SP less than a point out of first place.
I loved Ashley's Black Swan FS from last season and this Samson & Delilah piece is the perfect follow up. It is a well-done, musical and COP friendly program that really allows the finer aspects of Ashley's skating to shine. I love the variations in the layback spin and how they change with the music and I like the changes to the choreography they made after the footwork. There was a moment where she'd stop and pose and then continue to skate; I didn't like it much because the music was so energetic and yet she was standing still. They fixed the choreography so that she keeps the momentum and energy going which makes that final 3F even better. Ashley nailed this program to the wall! Everything about it was fantastic and when she hit that final jump I literally screamed…it's been a long time since a skater has inspired that kind of excitement from me.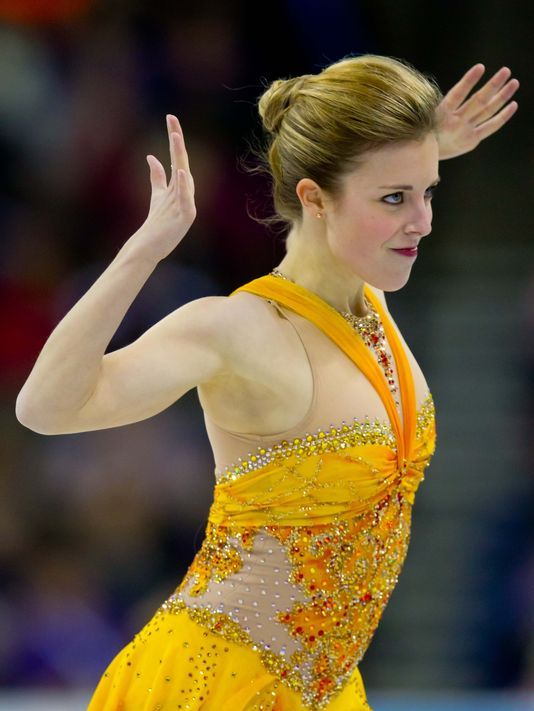 Girl on Fire!!
Ashley has developed an incredible command of the ice so that when she skates, you can't take your eyes off of her. The confidence she carries throughout her programs is amazing and really helps to put you at ease when you watch her. Rather than worry about whether she's about to implode I can actually enjoy the performance…it's so refreshing! And what's even more impressive is that she wasn't feeling well yet still skated like she was at 100%. There are rumblings regarding her high PCS and the fact she doesn't have a 3-3 or 2-3 in her program. All I can say to that is
haters gonna hate
. She was the clear winner for me in this competition.
This gold medal puts Ashley into first place heading into the GPF and, I think it's fair to say, she is the clear cut favorite for that competition and probably worlds too. Of course we'll have former champions at worlds this year (Carolina Kostner and the return of Yu-Na Kim) but no one has the momentum Ashley has right now and that could be key. She is on fire right now…
Elizaveta Tutamysheva (RUS): 58.26 (SP) + 121.36 (FS) = 179.62 (2nd)
I'm so happy for Elizaveta! She has been struggling this season but I think her performances here are proof that she is nowhere near being done.
Elizaveta has gone back to her SP from last season. Oftentimes this happens when a skater isn't comfortable with their newer program or it's not receiving the kind of feedback they expect. Either way, it looks like her Love Story SP is history for now. Elizaveta had a solid showing in the SP. She turned out on the landing of her 3T-3T but she got full credit for the rotation. Her other jumps were solid and she went into the FS a little more than 5 points out of the lead.
Her FS here will probably be a defining moment in her career. Elizaveta had the look of determination on her face from the first beat of the music. She opened with a picture perfect 3Lz-3T: the outside edge was great, good coverage and distance, excellent air position and a solid and secure landing. In terms of throwing down the gauntlet for jumps, Elizaveta takes the cake. She completed 6 triple jumps including that 3Lz-3T, a 2A-3T and 3S-2T-2L combo. She didn't
perform
as much as I am used to seeing her perform but I think it was because she was so focused on nailing those jumps. But after that final triple, she came to life and I am so happy for her. She finished 2nd in the FS and was able to edge out Julia for the silver medal.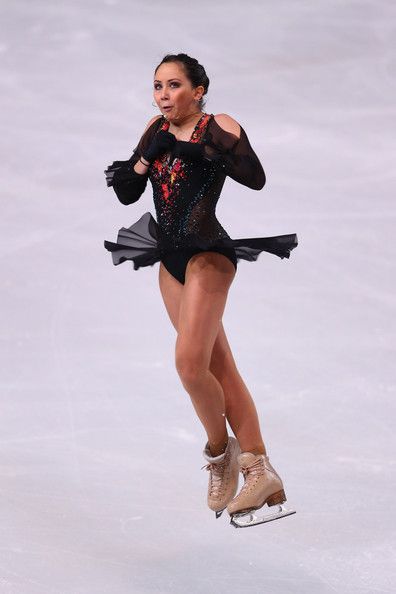 Excellent air position!
This performance proves that Elizaveta is still capable of all of the tricks she was capable of last year. She's grown taller and filled out as well and she's been having trouble adjusting; however, I think this was her turning point. She now knows she is capable of skating the way she skated last year and I think that will help to boost her confidence and get her back on track. I have grown to love her and seeing her fight back here was great. Elizaveta is the most technically sound of all of the Russian girls and I love her attitude and charisma on the ice. She still has a ways to go in terms of overall maturity and refinement but I think she has the potential to be amazing.
Her overall point total has her in the GPF as of now but whether or not she remains there will depend on how NHK shakes down later this week. No matter what happens this was a victory for her. Way to go Liza T!
Julia Lipnitskaya (RUS): 63.55 (SP) + 115.76 (FS) = 179.31 (3rd)
To say Julia was battling an injury, I'm pretty impressed with what she managed to accomplish here. I doubt if she is happy with the results but this was another good learning experience for her.
Just like at COC, Julia sailed through the SP nailing all of her elements. The SP is definitely her strongest event. Her high base value and the fact that she's able to hit all of her elements cleanly really adds up. Julia landed her 3Lz-3T but she received an edge call and lost 0.50 for the combination. Sometimes she gets edge calls and sometimes she doesn't; I always thought her lutz was iffy but I guess it really depends on the tech caller. No matter…she received +3.36 for her spins as well as solid PCS and finished the SP in first place.
I don't know if Julia was paying attention to the two performances before hers. Both Elizaveta and Ashley brought the house down, were almost perfect and posted huge scores. If Julia knew that going into her FS, I can imagine she may have been somewhat rattled because she had zero room for error. She started off well with 3Lz-3T (again an edge call). She popped open the second jump on her 2A sequence but thought quickly on her feet and made up the combination (2A-3T-2T) immediately after. Unfortunately, from that point on she struggled on all of her jumps. She landed very forward on her 3L and was so forward on her 3Lz (another edge call) she had to put her hand down; she stepped out of the landing of her 3F and doubled her final 3S. It wasn't a good performance for her. Even with all of the mistakes Julia still scored incredibly well and barely missed the silver medal here.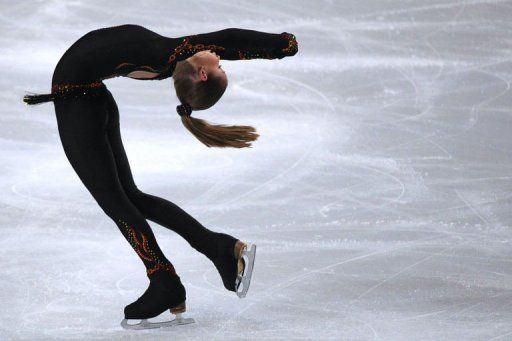 Wonderful positions on her spins...
Julia needs work. There's really no other way to slice it…she needs work. Comparing her performances to Ashley, Elizaveta and even Christina Gao, you get a good idea of where her strengths are and where her weaknesses lie. Her strength is obviously in her fearless jumps (she goes for the tough content) and in her amazingly flexible spins. Her weak areas are her maturity, musical connection, interpretation, choreography and overall performance. I think her jump technique needs to be addressed as well. A lot of her jumps lack flow and a riding edge and, of course, the 2A needs work…I mean, when Tara Lipinski says your axel technique needs work, you know you need to fix it. Julia is immensely talented and still very young so she has time…she's just not quite there yet.
Her bronze medal here earns her a spot in the Final so she'll have another chance to square off against the best.
As for the rest…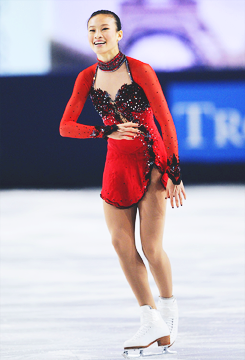 Harvard seems to be agreeing with her
Christina Gao (USA, 4th)
followed up her breakout performance at SA with a respectable skate here. She missed her 3T-3T in the SP which left her in 7th place heading into the FS. However, she pulled herself together and delivered another very solid FS, landing all of her elements and finishing 4th in the FS to finish 4th overall. It's unfortunate she had trouble in the SP because a strong performance there would have put her in the final group of skaters and she probably would have had much better PCS. Regardless, this was a solid competition for her. That's three solid free skates in a row (nationals, SA and now TEB) and that kind of consistency is a good thing. I hope she can deliver at nationals…I'd really love to see her on the podium this year.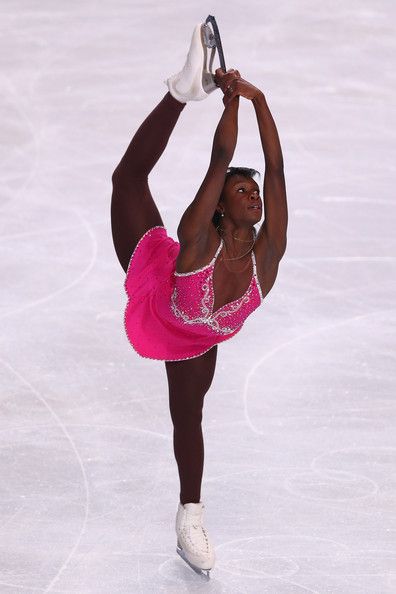 Finally made it into the top 5
Mae Berenice Meite (FRA, 5th)
had a solid competition as well. Her SP was great. Her 3T-3T was huge and she performed the rest of the program very well. Her FS started off horribly with a very hard fall on her 3F but she recovered and hit the rest of her elements without error. Mae finished 5th in the FS and 5th overall. This is the first time she's cracked the top 5 at a GP event. She's not as refined and elegant as some of the other skaters but I like her powerful jumps. It'd be interesting to see France have another top lady again.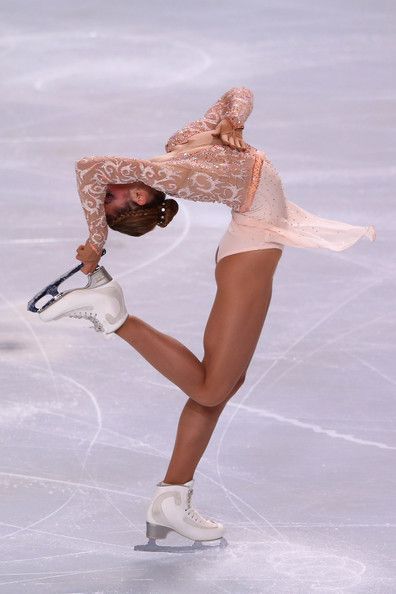 She's pleasant to watch...
Polina Korobeynikova (RUS, 6th)
started off very well in the SP with a nice 3T-3T, though she URed her 3L. She placed 5th in the segment and was in a good position to move up a spot or two. Unfortunately several jump errors and a fall dropped her to 6th overall.
Wow that was fast! We're already approaching the final even of the season,
NHK Trophy in Japan
. This final event features a number of skaters who are capable of making a run at a GPF spot.
Mao Asada, Akiko Suzuki and Haruka Imai of Japan; Zijun Li of China; Ksenia Makarova and Sofia Biryukova of Russia; Elene Gedevanishvili of Georgia; and Americans Agnes Zawadzki and Mirai Nagasu. Mirai
, who was originally slated to only compete at COC, was selected to replace the injured
Polina Shelepen of Russia
. NHK was to be the season debut of
Alissa Czisny (USA)
but she pulled out of the competition late last week and it is unlikely a replacement will be made. This should be a great event!