The ladies SP at junior worlds gets underway today in Milan, Italy. I have sworn off of making predictions for competitions this year (because I suck at it) but I think a preview is a safe way to make some "predictions" without really making them. Let's take a look on a team by team basis…
Team Russia
Elena Radionova, Julia Lipnitskaya, Anna Pogorilaya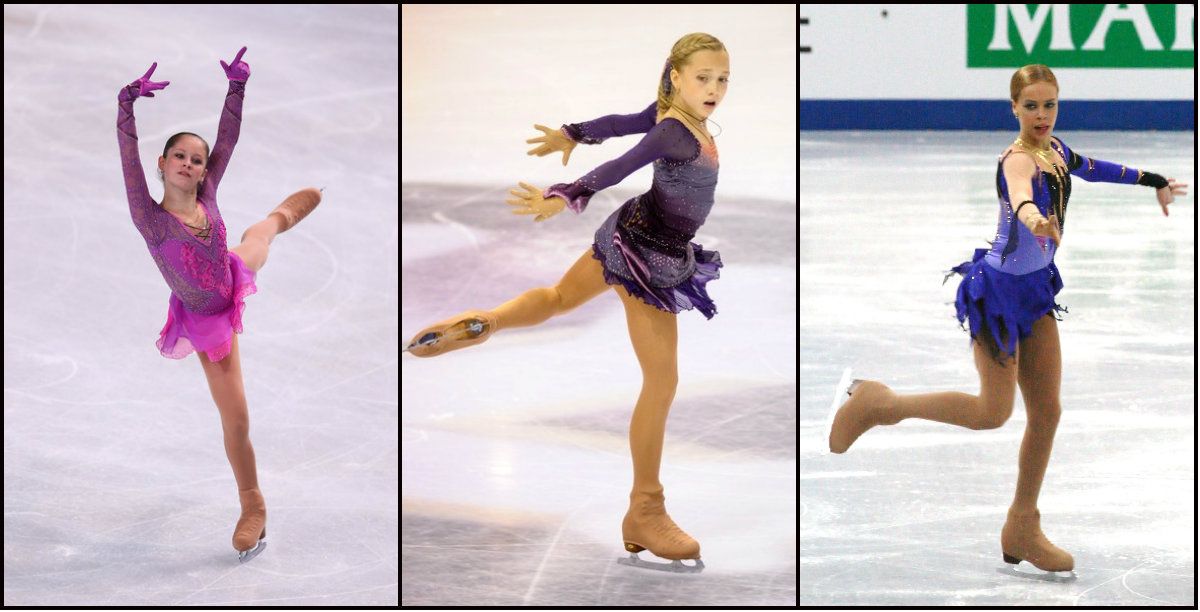 L to R: Lipnitskaya, Radionova, Pogorilaya
By far, this is the strongest team at the event. The Russian ladies have been dominating junior worlds, winning gold three of the last four years. From all indications the Russian domination will continue this year…I'd go so far as to
tentatively
predict a Russian sweep.
Elena
has been a little unstoppable force of nature. With the exception of senior nationals (where she placed second), Elena has won everything this season including the JGPF and junior nationals. She's got that
la-dee-dah!-I'm-just-here-for-fun!
mentality younger skaters have which has helped her skate cleanly time and time again. She has the difficult technical content in both programs as well as nice spins, plus she's a decent performer. Elena does have a distinctly juniorish look to her skating, but she feels her music which is always refreshing to see in young skaters. She's definitely the favorite coming in.
Julia
is back and will attempt to defend her junior world title. Julia has had a rough time as of late. This debut senior season has taken its toll. She finished third at TEB before withdrawing from the GPF and senior nationals with an injury. Julia competed at junior nationals and only placed fifth. I'm really not sure what kind of shape she's in right now but it's obvious she's not where she was this time last year. However, make no mistake...she's a major player here. Julia has the technical content, the rubber-spine spins, the reputation and she's the defending champion. It will be very interesting to see Julia and Elena go head-to-head.
Anna
has had a good season, medaling in both of her JGP events and finishing third at the final. She placed fifth at senior nationals and sixth at junior nationals but still earned her trip to these championships. Anna has the technical content but she's coming in as the third ranked Russian lady which means she most likely won't get the boost over any of her teammates. The good news is her technical content is enough to carry her over many of the other competitors. As long as she skates well she has a good shot of making it to the podium.
Courtney Hicks, Yasmin Siraj, Samantha Cesario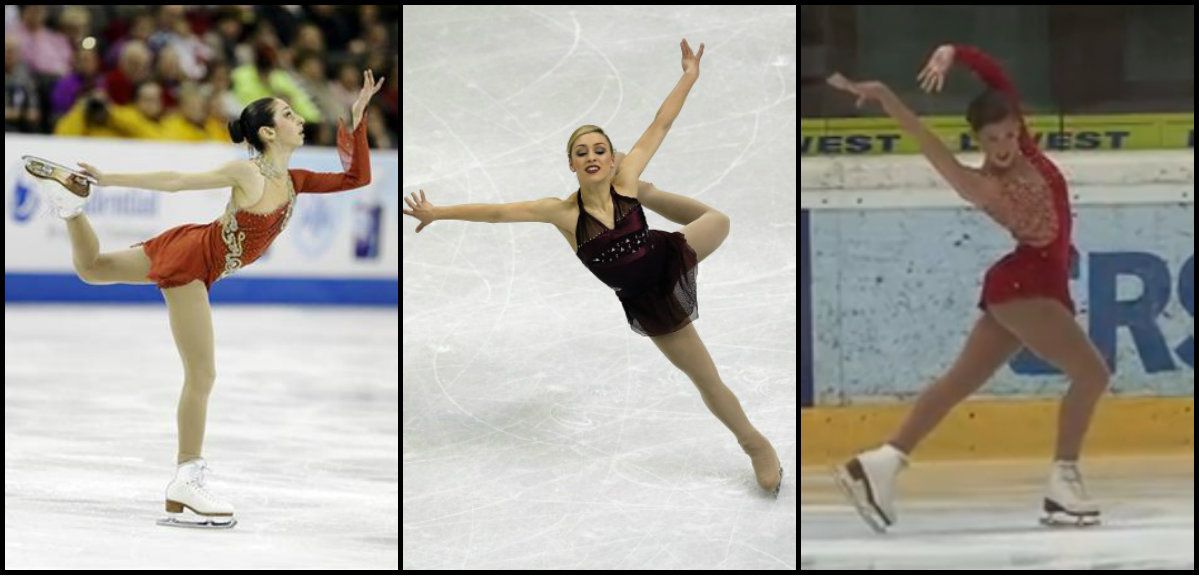 L to R: Siraj, Hicks, Cesario
Team USA isn't looking too shabby this year. Courtney, Yasmin and Samantha have all suffered from injuries in the past but all three had great showings at nationals. This means they have momentum on their side and can build on it.
Courtney
has rebounded well after her season ending injury last year. She's had a strong yet not spectacular season, but she does appear to be peaking at the right time. Courtney still needs refinement and control but her speed and explosive jumps leave a huge impression on the judges and help to boost her scores. If she can skate cleanly she's got a great shot at the podium.
Yasmin
is the Akiko Suzuki of this group. I find her to be a lovely and engaging performer who has the best set of programs in the field. Yasmin has been fighting her way back from injuries for the past two seasons and she finally broke through at nationals this year with two solid performances. She lacks the more difficult content but (I feel) her wonderful musicality, interpretation, choreography and her excellent skating skills should be rewarded. I don't know if that will happen (it rarely does) but if she can put out two great programs, she should place well.
Samantha
is another one who has been suffering through injuries for years. Samantha has lovely presentation and performs with fire. I like both of her programs this year as well. Unfortunately, she lacks the difficult technical content the other girls have but, like Yasmin, I feel a clean performance from her should be rewarded. Again I'm not sure if that will happen or how likely she is to reach the podium but clean programs from her should equal some pretty decent scores.
Satoko Miyahara, Rika Hongo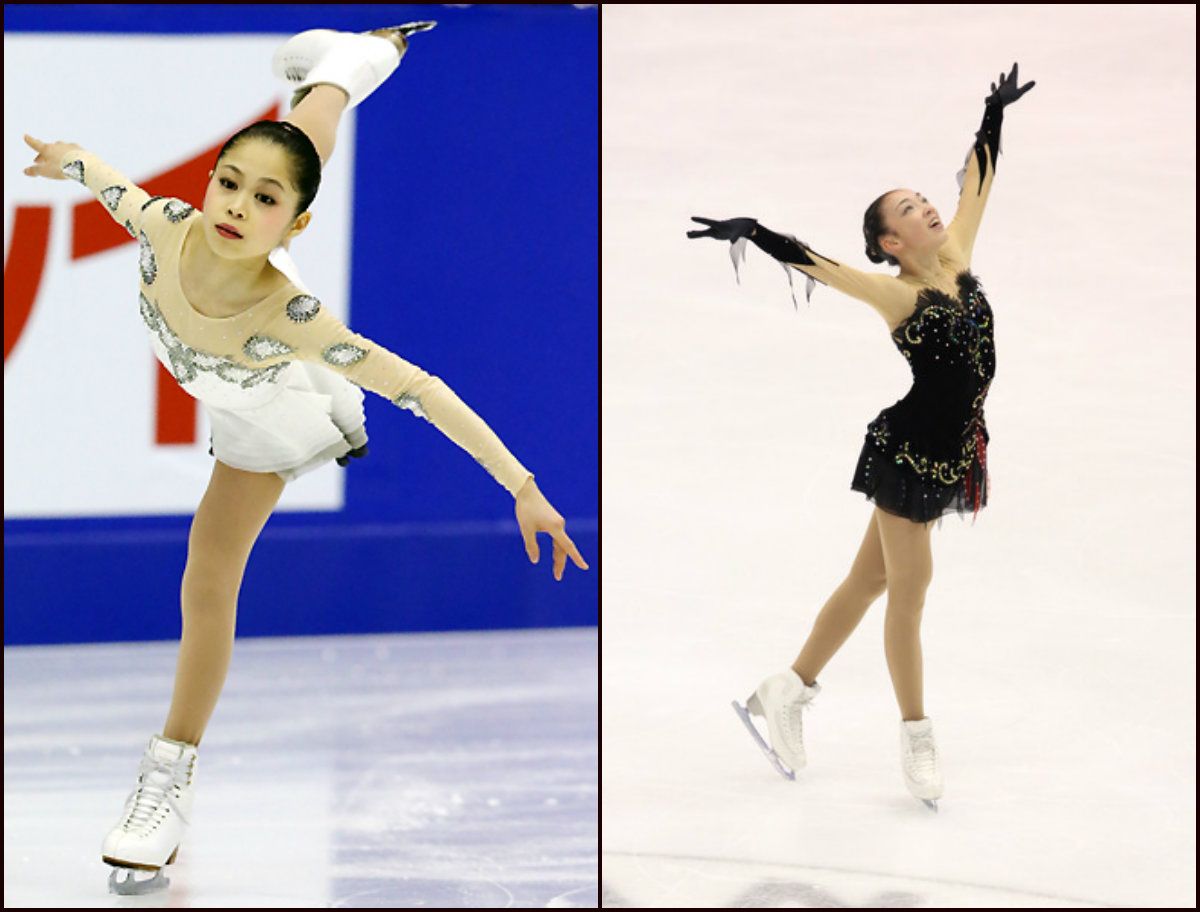 Miyahara and Hongo
Team Japan isn't as strong this year as in years past but they are still in the mix.
Satoko
has had a solid season highlighted by her bronze medal at senior nationals where she beat out veteran Akiko Suzuki. She went on to win junior nationals and earn a trip to junior worlds. Satoko's skating skills and transitions are excellent. She's not a very expressive performer but her programs are decent. Satoko has the difficult technical content but her problem is her impact; her tiny jumps don't leave a big impression on the judges. That's not something that can be corrected right now so the best she can do is skate cleanly and try to rotate everything. If she hits, the base value of her TES should help to boost her in the standings.
Rika
has had a good season as well. She placed fifth at senior nationals and third at junior nationals. Rika has decent speed, nice jumps and I love her deep edges when she skates. She needs more control and refinement throughout her skating (like all the girls do) but she has a solid base to work with. Her SP has a 3-3 and her FS has the 2A-3T which should help her scores, but I don't really see her as a stand out competitor or top 5 threat at this point.
So-Youn Park, Hae-Jin Kim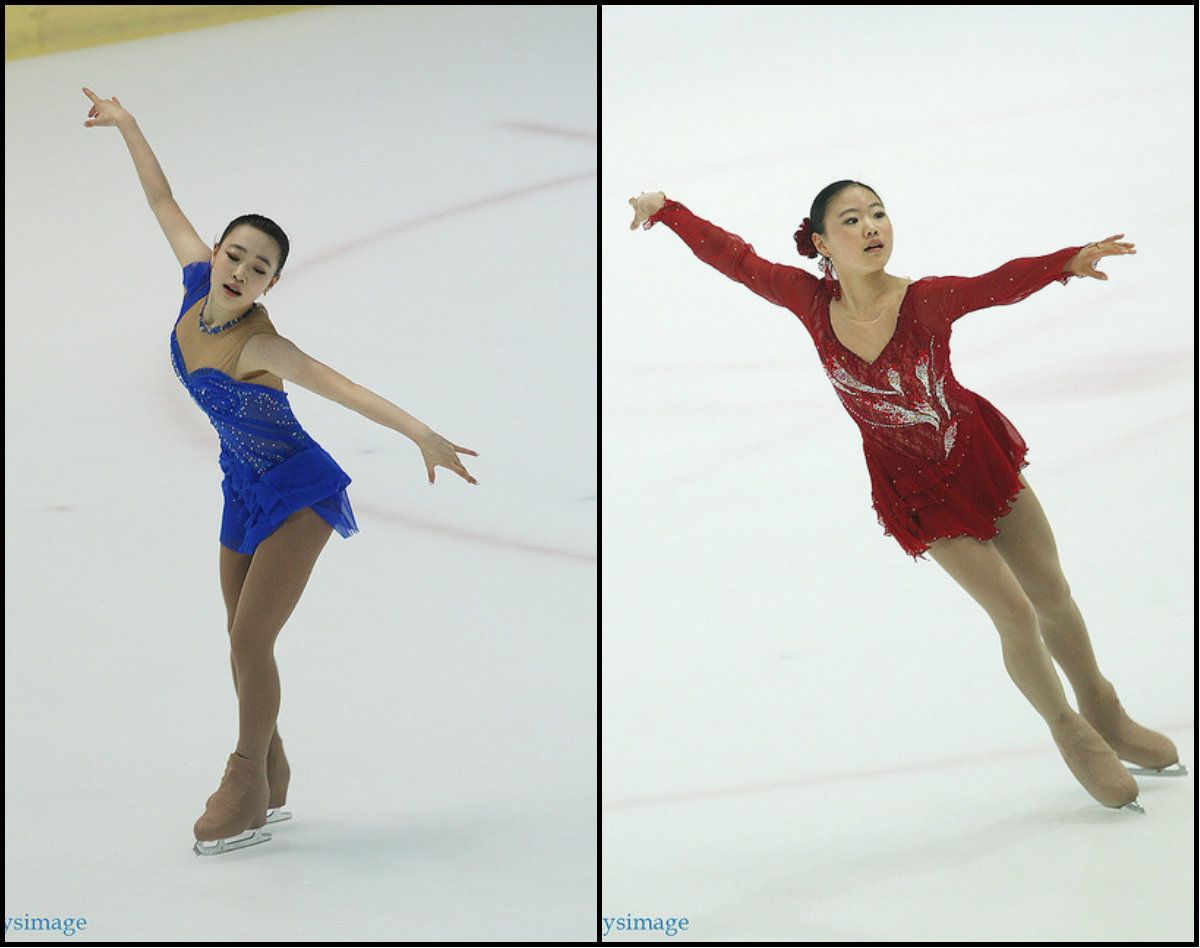 Park and Kim
Team South Korea is still in the building phase but I think it is awesome that this nation's role model is Yu-Na Kim. Her finer points are rubbing off on the next generation and it makes for some very lovely skaters.
I really love
So-Youn's
style. She reminds me of a mini-Yu-Na with the way she performs. She's a very beautiful skater to watch: excellent carriage, lovely use of her arms, great body lines (she could teach Yu-Na a thing or two about pointing her feet!), gorgeous presentation, nice speed and good connection to her music and choreography. So-Youn finished second at nationals this year and is the top Korean lady coming into junior worlds. She has a 3-3 in the SP and two 2A-3Ts in the FS. That content combined with the rest of her skating could help her to a top 5 finish.
Hae-Jin
is in the history books as only the second woman from South Korea to win an ISU championship (she won JGP Slovenia last year). She didn't have her best showing at nationals where she finished fourth but this is her second trip to junior worlds so the judges know what she can do. Hae-Jin's presentation isn't as strong as So-Youn's but she does present herself well and has a good connection to her music and choreography. She has a 3T-3T in both programs. I'm not too sure about her chances for medaling but solid performances could give her a fighting chance for a position in the top 5.
There are a number of talented ladies in the field this year but I do feel like the battle will be between Elena and Julia...but the ice is slippery and anything can happen. I can't wait to see how it turns out!