So, um, this didn't turn out to be the knock-down drag-out fight I thought it was going to be. In the end, only two people brought their "
A"
game for both segments of the competition.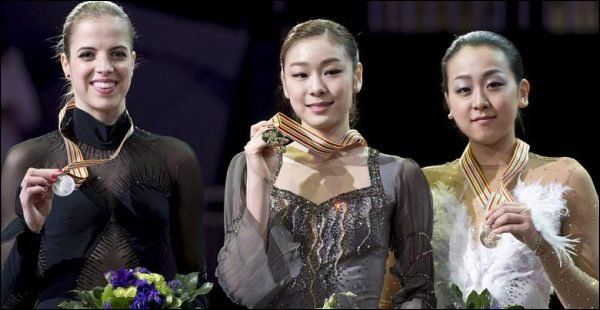 The Queen reigns supreme once again...
The final results: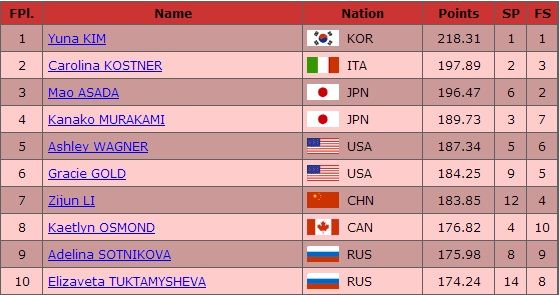 Yu-Na Kim (KOR): 69.97 (SP) + 148.34 (FS) = 218.31 (1st)
Yu-Na Kim…wow. I didn't think it could be done. I didn't think someone could be away from the sport for two years and just dive right back in. But she did and it's like she hasn't missed a step.
The SP was a breeze for Yu-Na. The only hiccup was the
e
she received on her 3F. Most fans/ubers went ape-shit over this call, but I didn't really care. So she lost like a whole 0.20 points… If it had made a big difference I'd have been upset, but she was in 1st place by several points going into the FS. I thought people were getting their panties in a bunch for no reason…
Yu-Na skated last in the FS following a number of decent but not outstanding efforts by the other top competitors. To say she breezed through the program is an understatement. Watching her skate I got this image of Yu-Na wearing sunglasses with her feet propped up, a glass of lemonade in one hand and a fan in the other. That's how
not-bothered
she looked out there. No tension, no nerves, no bobbles or issues. There was nothing to it.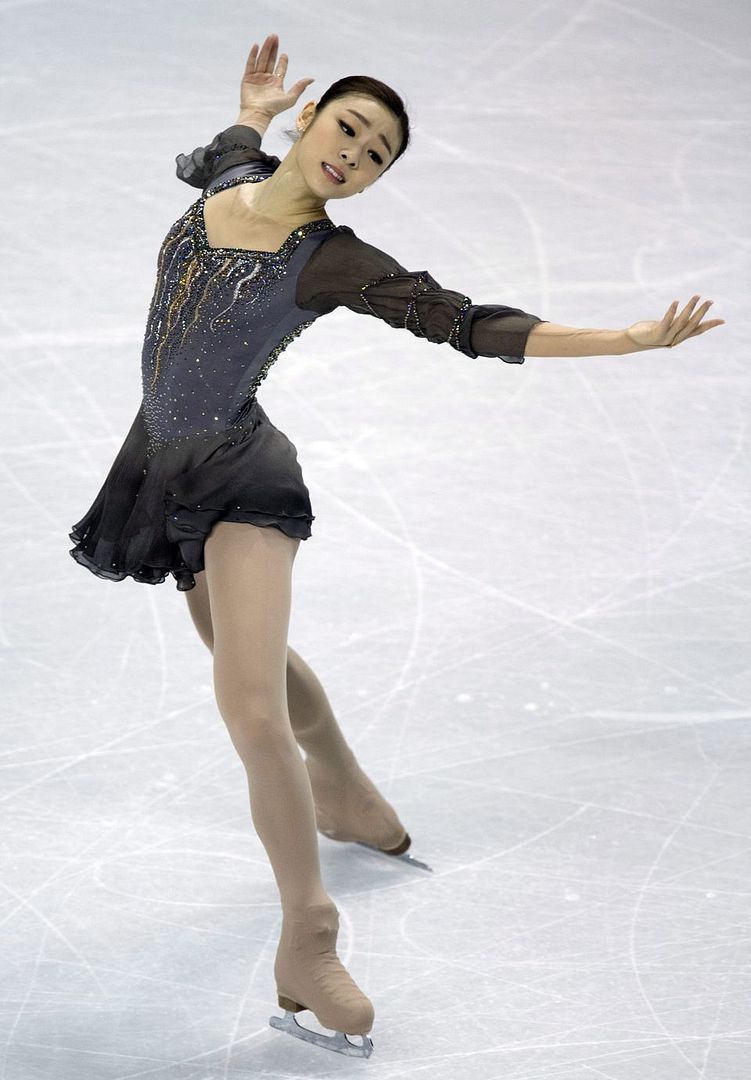 She makes it look so easy
Yu-Na was 100% clean and the judges went crazy with the scores. Personally, I think she was over-scored a bit but being that she was the only one of the top ladies who executed a flawless program, and the fact she was skating last, plus the fact this is her last world championships, the judges
made it rain
+3s and +2s on every single element. Yu-Na's base value of her FS was 58.22 but her total TES ended up being 74.73. That's
16.51
points from GOE! Her PCS (which some complained were too low in the SP) shot through the roof. She earned mostly 9s and a number of 10s as well. Again, a little generous in my opinion but it didn't matter because it wasn't even close. Yu-Na was the crystal clear winner of this entire competition.
As clean and flawless as Yu-Na was, she still didn't excite me with her performances. I think it's just the programs. As much as I love her I can't get past
them
...it doesn't matter anymore though. She'll have new ones soon enough. Whether I like her programs or not, Yu-Na is amazing. I'm still shaking my head wondering how she managed to be so cool and calm throughout everything.
I'm in awe of her
. It seems like such a tense struggle for everyone else but it barely looks like an effort for her. Did she even break a sweat? It didn't look like it.
After yet another 20 point victory, Yu-Na is now officially the favorite heading into Sochi next year.
Carolina Kostner (ITA): 66.86 (SP) + 131.03 (FS) = 197.89 (2nd)
Scoring controversy seems to follow Carolina wherever she goes so you already know there were issues for her here.
Carolina's SP placed 2nd in the segment but there were plenty of people who questioned her scores, including me. In my opinion, Carolina has one of the best SPs of the season. Every nuance of the music is utilized and she just brings the music to life. As amazing as I find her interpretative abilities, she makes it hard for herself when she doesn't land the jumps. Carolina went down on her combo. With that mistake I figured she'd place lower in the SP than others who skated cleanly…so I was as shocked as everyone else when she beat out Kanako and Kaetlyn (both of whom had strong, flawless SPs) and placed 2nd. Thanks to the IJS, it's very possible to fall on a major element and still outscore those who skate cleanly…as long as you're one of the top skaters/favorites in the event. Everything else she did was good but I do think she was over-scored.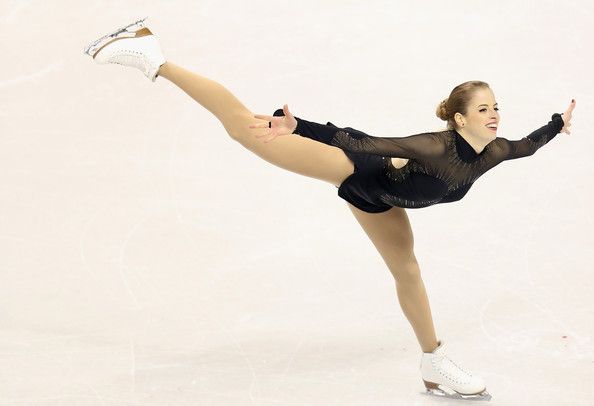 Falls and all, she was great to watch
Carolina's FS started off with her trying to stem the river of blood flowing from her nose. It took a few minutes for her to get it to stop but it also continued during her performance. I don't know if it was a big distraction or not, but it looked like she managed it well. With the exception of Torvill & Dean, I hate it when skaters use Bolero. It's so repetitive and difficult to skate to…but Carolina found a way to make it work. I actually loved the program! She opened well with a 3Lz and 3F-3T before popping her 3L attempt. She recovered on her next few passes before going into the sublime footwork section and she really had the crowd mesmerized with her performance until that final 3S. For that kind of fall to be the last thing anyone sees is really tough and embarrassing. She did enough to place 3rd in the FS which gave her 2nd overall and a silver medal.
Carolina has grown on me quite a bit and I really enjoy her skating. People come down hard on her thanks to the judges and their scoring, but I've learned we can't blame the skaters for what the judges do. I enjoyed both of her programs, mistakes and all, and I was happy to see her on the podium again.
Mao Asada (JPN): 62.10 (SP) + 134.37 (FS) = 196.47 (3rd)
Mao put up a decent fight in the FS but her SP woes are what knocked her out of the running for gold here.
Mao started off her SP with a very gutsy 3A that was fully rotated albeit slightly 2-footed. The judges appreciated the effort and didn't punish her for not landing it 100% perfectly. She earned 0.14 in GOE which really seemed to piss a lot of people off (everybody had a stick up their ass about something this competition). Again, it didn't bother me. After landing the toughest element, Mao lost her focus. She under-rotated the 3F in her combo and then popped the 3L. She finished out the rest well enough but missing those jumps hurt her score and she went into the FS in 6th place.
She went for it...can't ask for more than that
In the FS, Mao started off roughly. She went for the 3A, rotated it, but had a bad step out that resulted in a loss of 2.14 points. Next she under-rotated the 3F in what was supposed to be a 3F-3L combo. It looked like she was coming apart a bit. Luckily, after that mistake she settled herself down and was able to get through the rest of the jumps without any major problems. The FS wasn't perfect but it was the best overall effort she's put out all season. Mao rotated 6 of her planned 8 triples which is pretty impressive, plus she delivered her program very well. She earned the 2nd highest FS score and narrowly missed a silver medal. Even though she had to settle for bronze, I'm just glad she's found her way back to the podium.
Mao still has a long way to go if she plans on winning gold in Sochi. With Yu-Na back in form, Mao will need all of her jumps and then some if she wants a shot at that title.
As for the rest…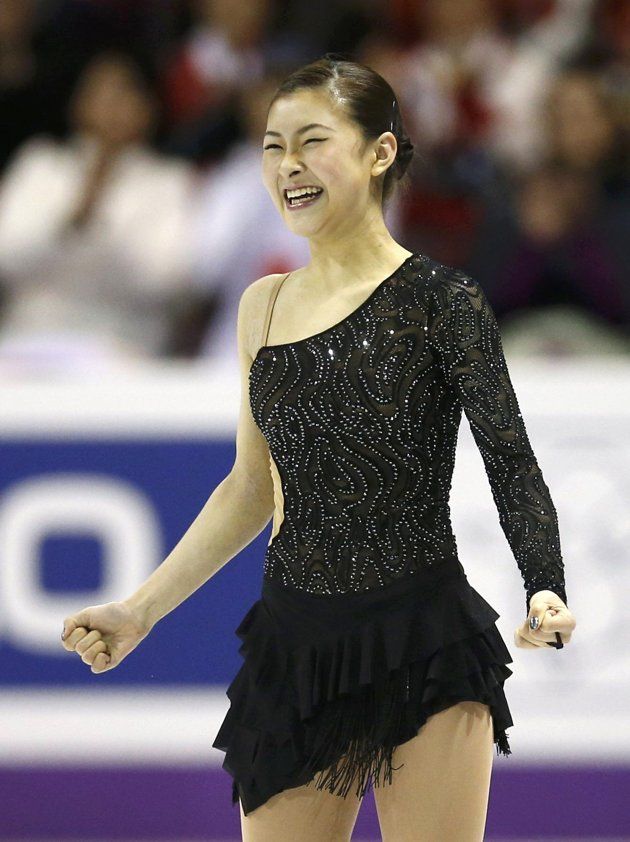 So happy to see her do so well!
Kanako Murakami (JPN; 4th)
was a delight in both programs. Along with Yu-Na, she was the only other skater who brought her
"A"
game to both segments of the competition. I really love her SP and she had her strongest skate of the season at exactly the right time. I was worried about her 3T-3T but she got the rotation on it and by placing it and the 3F in the 2nd half, she really boosted her points. I'm a fan of her tango FS and she knocked that one out of the park as well. Both of her loops received
<
and her lutz got an
e
, but other than that, she was excellent. I love her energy and passion and she really sold the program.
Most didn't even think Kanako could stay in the top 10, let alone to top 5. To place 4th here is a huge accomplishment and I'm very proud of her.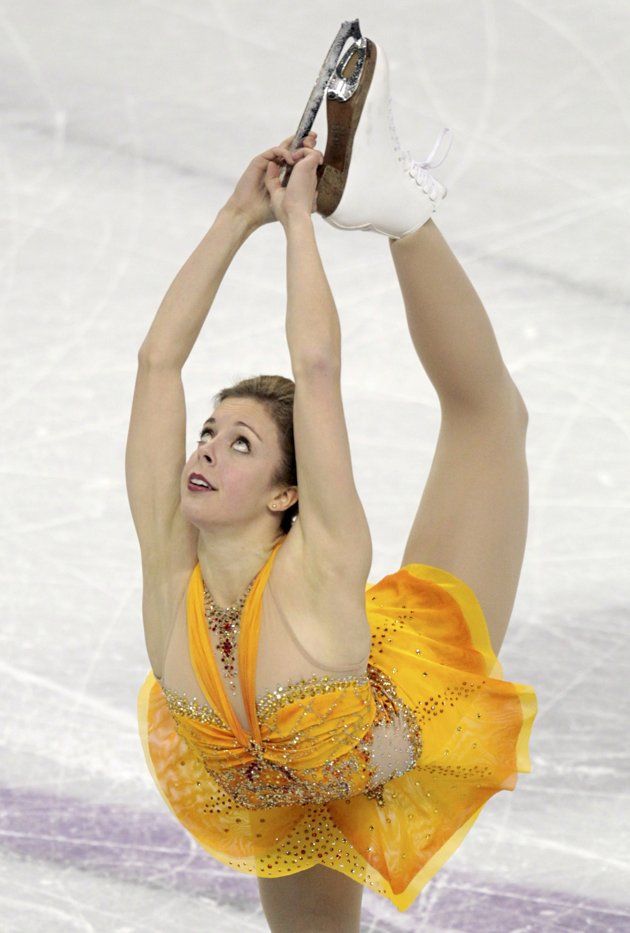 Still the top US lady
Ashley Wagner (USA; 5th)
did what she needed to and it has paid off. Her SP was very steady and solid. Given the mistakes of so many of the top 10 contenders, she decided to play it safe and leave out the 3F-3T. Smart girl. By skating cleanly she earned a good score that was high enough to put her in the final group of skaters. Ashley went for the 2A-3T but wasn't able to rotate the 3T. She held herself together on all of the jumps but had a silly fall during her footwork. Ashley lost a few levels on her spins and footwork which could have made the difference between 4th and 5th but no matter. She did what she needed to do and placed top 5. More importantly, she achieved her goal of restoring those 3 spots to the US. Kudos Miss Wagner!
Gracie Gold (USA; 6th)
seems to be getting a little better at this whole competing thing. She had a scratchy SP but she held it together and scored decently. Her FS had a few errors here and there as well but she kept it together and in the end had another decent skate. Again, I found Gracie's marks to be overgenerous but I decided not to complain. If the judges want to inflate her scores here, I'm okay with it because I wanted to see the US get that 3rd spot back. Ashley held up her end and Gracie held up hers (thank God because I really doubted if she could). Kudos to Miss Gold as well.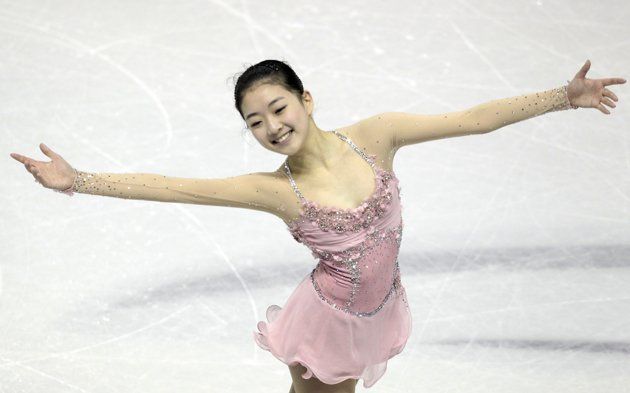 A beautiful, breath of fresh air
Zijun Li (CHN; 7th)
had the FS of the night in my opinion. She nailed all of her jumps including a soaring 3F-3T and a 2A-3T. Her choreography and interpretation were lovely and her final layback brought the house down. She received a standing ovation and a monstrous 127+ FS score. I actually thought she deserved to place ahead of Gracie but it was her SP that prevented her from placing higher.
I'm so proud of Zijun! I've been in love with her for the last three years and for her to have such an amazing performance on the big stage of worlds is a great thing. I think the judges will begin to pay more attention to her now. She's a gorgeous girl and a lovely and lyrical skater…I just love her!
Kaetlyn Osmond (CAN; 8th)
started off by dazzling everyone with her SP. She was electric and fiery, nailed all of her jumps and really brought that Canadian crowd to its knees. Kaetlyn placed 4th in the SP and made the final group of skaters. She started off her FS well but then things began to unravel. A few scratchy landings and two falls dropped her in the standings. She finished 10th in the FS but was able to finish 8th overall thanks to her solid SP.
Kaetlyn has a very bright future. She has so many great qualities and all she needs is polish, refinement and experience. She will be a force to reckon with in the future.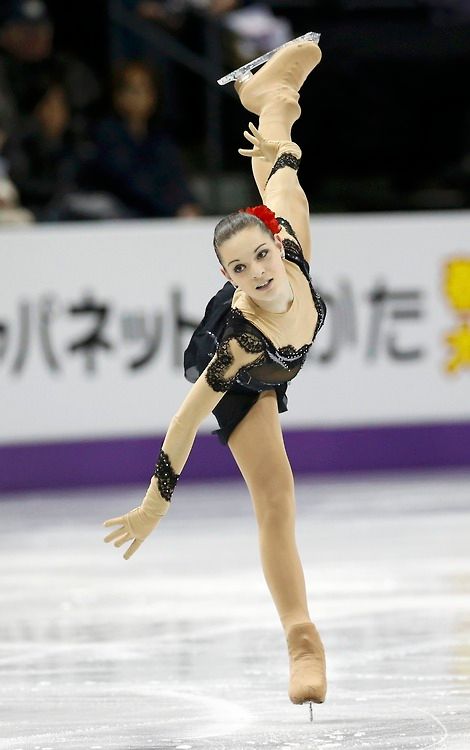 She's getting there...
Adelina Sotnikova (RUS; 9th)
had a very solid outing. No major mistakes in either program, just little ones here and there (loss of a level in a spin, a few < calls). Overall, I thought she was good. Adelina looks more confident and less nervous and jittery when she's out there. She's learning to compete and that's a great thing.
Elizaveta Tuktamysheva (RUS; 10th)
started off roughly in the SP, falling on a spin and then popping her axel. She had a hole to work her way out of and managed to put forth a very strong effort in the FS. She scored very well but her SP buried her too far to recover from. She was able to move up to 10th overall but I'm sure she had her sights on a higher placement than that.
Note: All of the debuting newbies placed 6-10 which is impressive considering it's their first time to worlds.
In terms of heartbreak…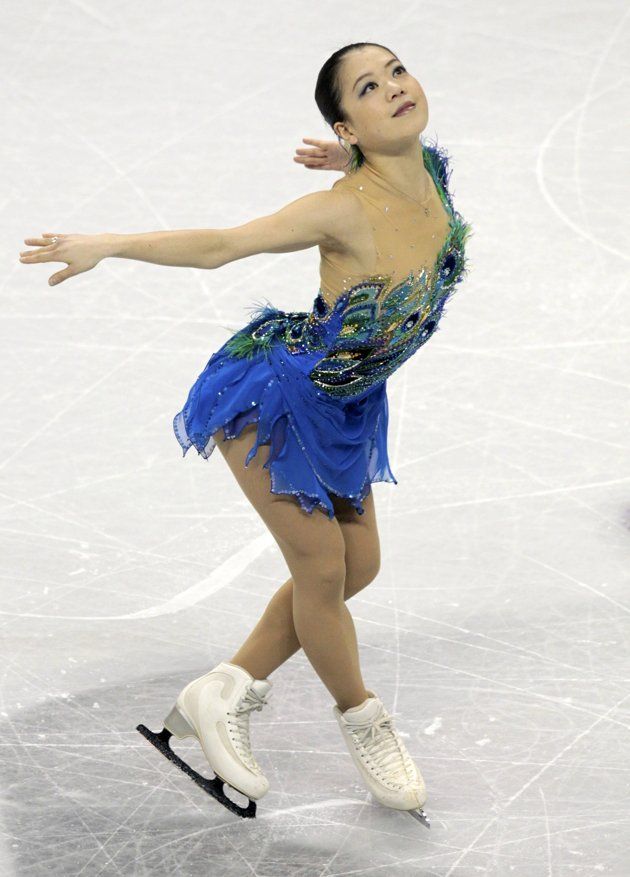 I'm still crying for her...
Akiko Suzuki (JPN; 12th)
must be shattered. She had a strong season and did so well at 4CC…but this competition was a disaster for her. In the SP she under-rotated her 3T-3T but was able to finish everything else strongly and placed in a good position to make a run at the top 5 in the FS. I don't know what happened to her but she came apart in the FS. That was so tough to watch. I really adore her and her skating and it broke my heart to watch her struggle like that.
Alena Leonova (RUS; 13th)
is another who struggled here. Several mistakes in her SP placed her 13th going into the FS. Alena nailed her opening 3T-3T in the FS but then struggled the rest of the way, placing 14th in the FS and 13th overall.
I feel sorry for both Akiko and Alena. To go from the podium one year to outside of the top 10 the next is a pretty devastating blow. Both ladies are the #3 for their country. If Miki Ando decides to come back next year and is in good shape, there's a strong possibility the Japanese Federation will choose Miki over Akiko next year. As for Russia, they now only have two spots which means Alena's chances of going to Sochi just became virtually non-existent. With Adelina, Elizaveta, Julia and possibly Elena as the top prospects, I don't think Alena has a shot of making it on that team.
Overall, it was a decent competition I suppose. Let it be known that Yu-Na Kim is still the Queen of Figure Skating…
HSIC
…the big
poo
…take a whiff. Two-time world champ, very likely to be a two-time Olympic champ…yeah, everyone should be utterly terrified now. Once again, she's raised the bar. These next 11 months are going to be very interesting.