I can't say it's a surprise but I'm still a little shocked that my prediction (had I made one officially) ended up being correct. There was a Russian sweep of the podium at junior worlds in the ladies event. We saw some great skating, some bad skating and some questionable results but hey, this is figure skating after all…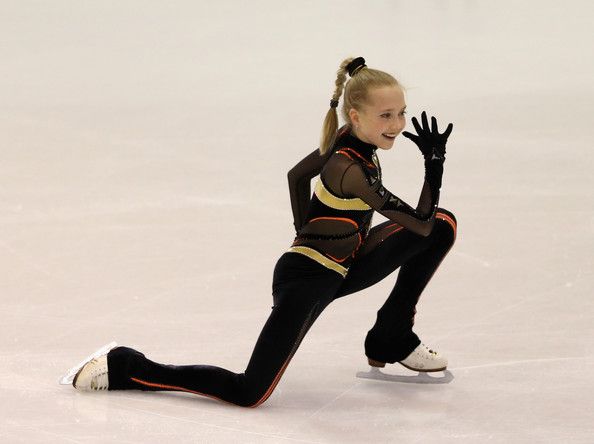 Perfect end to a nearly perfect season!
The final standings: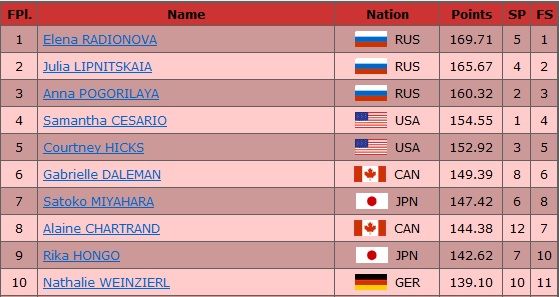 Elena Radionova (RUS): 53.48 (SP) + 116.23 (FS) = 169.71 (1st)
Elena has been solid as a rock this season so I'm not surprised she took gold here. She started off a little shaky in the SP, under-rotating her 3Lz in her 3-3 combo and then falling on her flip. Luckily for her the field at this year's junior worlds wasn't as strong as in years past. Even with the mistakes and her 5th place SP finish, Elena was only 1.21 points out of first. The FS has been an issue for some but not for Elena. She nailed six of her seven triples (the 3T in her 3Lz-3T was
<
) in the FS and earned level 4s for all of her non-jump elements as well as the highest PCS of the segment and walked away with the gold medal.
I like Elena. She's so adorable! I love her energy and the way she performs to the audience. She has much better musical connection than her Russian teammates, plus you get the sense she really enjoys what she's doing. Of course she needs to work on things like her technique (all of her flips got
e
calls here) as well as refinement and polish, but she has a solid base. Elena has to fight her way past the puberty monster for the next few years, but if she can come out on the other side I see a bright new star for Mother Russia.
Julia Lipnitskaya (RUS): 53.86 (SP) + 111.81 (FS) = 165.67 (2nd)
Julia was a bit of a question mark coming in. After injuries and a bad placement at junior nationals, I wasn't sure what to expect. She's excelled in the SP this season but Julia had issues here. She popped the 3T in her 3Lz-3T and also lost points on her 3F (
e
). Like Elena, despite her mistakes Julia was only 0.83 points off of the lead heading into the FS. She turned in one of her better performances of the season in the FS but a doubled salchow and a few
e
calls as well as the lack of a 3-3 made it difficult for her to catch Elena and she had to settle for silver. I'm not sure how happy she was about it… For the record, Julia has
the
scariest
bitchface
of any of the competitors in the ladies field, junior or senior. Yikes!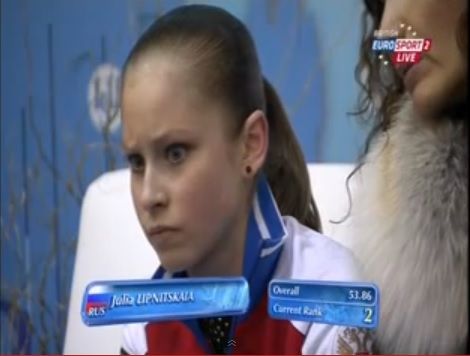 The best bitchface in the biz!
Julia looks as though she's grown some more since we saw her at TEB. The height helps her appearance on the ice and, so far, she seems to be retaining her jumps (though her flip edge was consistently problematic here). Unfortunately, I see no improvement in Julia's attention to her music or choreography and that is devastating because she could be amazing if she actually performed. As of now her skating is very cold and mechanical; all she does is skate. There is little to no performance. Julia should hang out with Elena during the off season…she might learn a thing or two about engaging an audience.
Anna Pogorilaya (RUS): 53.98 (SP) + 106.34 (FS) = 160.32 (3rd)
Anna has been flying under the radar for most of the season in terms of being a threat but she seems to sneak in and deliver when she needs to. She had a strong SP, hitting her 3Lz-3T but losing some points on her 3F (
e
) as well as her flying spin. Anna placed second in the SP, only 0.71 out of first. Her FS needed to be flawless. The program was ambitious in content and she executed everything (no
<
or
<<
) but she was very sloppy. Even though she stepped out of several of her jumps, it didn't matter. Her difficult content helped to keep her on the podium and she was able to snag that bronze medal.
Anna is like the Miki Ando of this group of Russians; she's a solid jumper but there isn't much else to her skating. I hate to say it but I don't find her particularly interesting. She lacks the presentation of Julia and the appeal of Elena. Among this newbie group of Russians she doesn't stand out much. But girlfriend can jump and that will always be a plus for her…just ask Miki. Those who can deliver when it counts will cash-in in the long run. It will be interesting to see if her skating gains any refinement or personality in the years to come.
As for the rest…
Samantha Cesario (USA; 4th)
skated very well. She had some of the best presentation and programs in the field and was the surprise leader after the SP. Samantha skated last and delivered what appeared to be a strong FS but four
<
calls and one
e
call lost her a lot of points. I still think based on the strength of her programs she should have been 3rd but the judges obviously thought otherwise…
Courtney Hicks (USA; 5th)
turned in two decent programs. As huge as her jumps are it baffles me how she gets hit with
<
and even
<<
. Her 3-3 in the SP received a
<<
and in the FS she fell on a 3S that was judged
<<
. Courtney has a lot to work on in terms of refinement and presentation but her speed and powerful jumps definitely make her one to watch in the future.
Gabrielle Daleman
and
Alaine Chartrand (CAN)
finished
6th
and
8th
respectfully, injecting yet another shot of hope into the arms of fans of Canadian ladies figure skating. I love Daleman's power and speed and Chartrand has a lot of potential too. It seems like Kaetlyn Osmond is just the first in a line of upcoming competitors for Canada…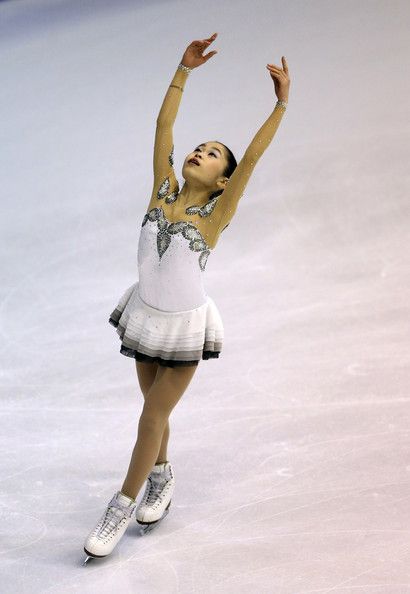 Satoko Miyahara (JPN; 7th)
had what appeared to be a good competition, particularly in the FS, but her tiny jumps are killing her. She received a total of nine
<
calls in this competition and three
e
calls. Satoko had some of the best skating skills in the competition but the judges don't like to give out good PCS if the TES aren't there (don't ask me why, it's not supposed to be like that…). Hopefully someone will work with her on her speed, power and height. If she can't improve upon those things she is in for a rough road…
So-Youn Park
and
Hae-Jin Kim (KOR)
finished
12th
and
19th
. I really felt as though both girls were under-marked especially in the SP. Both had lovely programs and skated well compared to the field. So-Youn in particular is wonderful. Her straight back and lines would give Dick Button happy piddles of glee. She is absolutely gorgeous to watch but until she can put together programs that grab the judges from a technical standpoint, it's unlikely she (or Hae-Jin) will receive the attention they deserve.
So that's it for the junior ladies. I covered the entire season!
+3
for me! Now it's time to prepare ourselves for the showdown…the main event: the senior world championships begin next week and, holy crap, the competition is going to be
fierce
! My preview for the senior ladies is on the way…